The Perfect Spring Quiche Recipe
Try this herbed lemon quiche with chicken and asparagus for the perfect spring quiche to serve at ladies luncheons, bridal showers, or baby showers!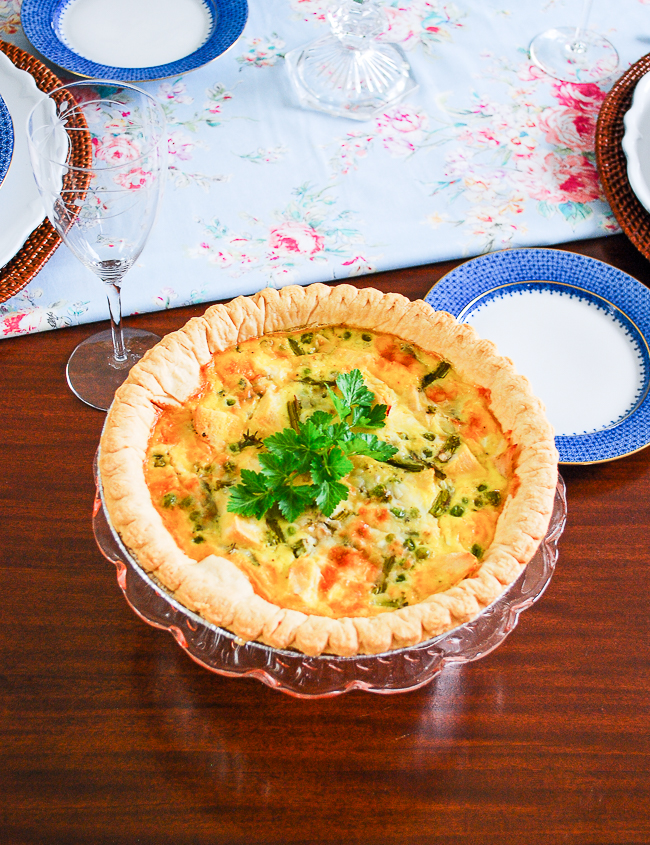 I love a yummy quiche: the cheesy egg goodness…the flaky crust…the endless options for fillings…what's not to love?
For my spring table setting in pink and blue, I decided to create a spring menu to go with that pretty pastel tablescape perfect for a ladies luncheon or a celebratory shower. Quiche is always an excellent option for lunch: it is light and easy to serve. Pair it with a baby greens salad and some fresh fruit for a lovely spring menu.
As a nod to spring, I created a quiche full of spring flavors from the fresh asparagus and lemon to the English peas and herbs. Mix in some chicken and Havarti cheese for the perfect spring quiche recipe!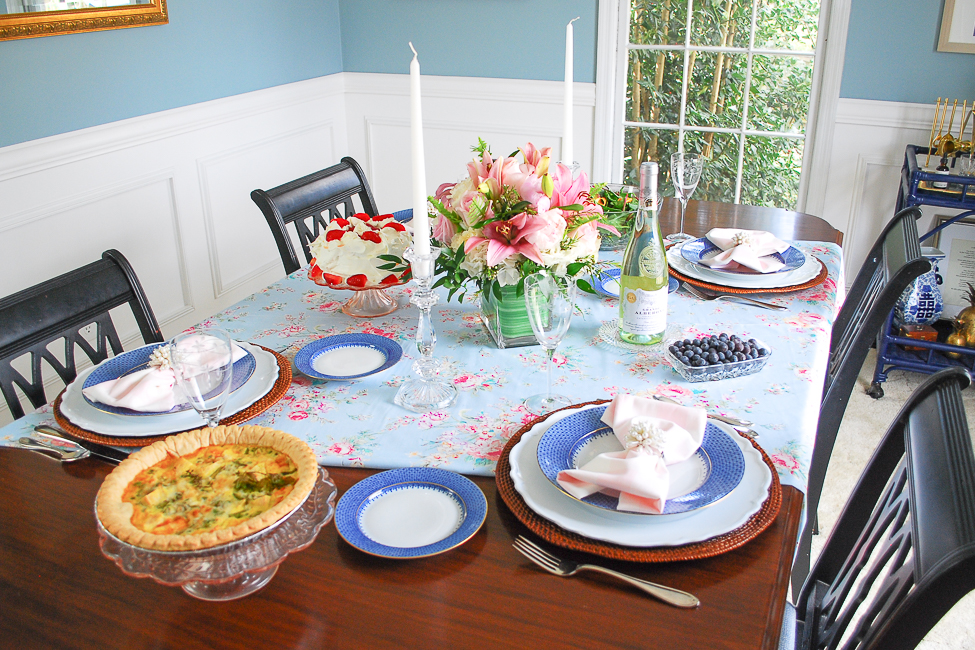 The Perfect Spring Quiche Recipe
Ingredients
Makes 2 Quiches for 8 Large Servings
10 eggs
2 Frozen pie crusts – or make your own
2 Meyer Lemons – use zest and juice. Meyer lemons really have the most flavor, but regular lemons will do.
Cup chopped asparagus – chop in about 1/2 inch sections
Cup of English peas – fresh or frozen
1 Cup of chopped green onions
2 Cups shredded chicken – bake your own in EVOO, lemon, and herbs or use a rotisserie chicken
1 1/2 Cups shredded Havarti cheese
1/2 Cup grated Parmesan cheese
2 Cups heavy cream
2 Teaspoons dried Italian herb mix
6 Sprigs fresh parsley
6 Sprigs fresh thyme
1/2 Tablespoon EVOO
Salt & Pepper
To Make the Herbed Lemon Quiche with Chicken & Asparagus
Pre-heat the oven to 400 degrees.
In a medium skillet sauté green onion and asparagus with EVOO, 1 teaspoon Italian herbs, and salt and pepper to taste. When tender pour in peas and stir until heated through. Zest about a teaspoon of lemon rind and stir. Remove from heat and squeeze 1/2 a lemon over veggies. Set mixture aside.
Prepare pie crusts as directed on package. I like to place them on a large baking sheet lined with parchment paper to catch spills.
In large mixing bowl beat together the 10 eggs. Slowly whisk in the cream and then fold in most of the shredded cheese (reserve some to sprinkle on top of quiches) as well as 1 teaspoon Italian herb mix, 1/2 teaspoon of lemon zest, and juice of 1/2 a lemon. Add some salt and pepper to taste.
In the 2 pie crusts: pour a bit of the egg mixture on bottom then layer your chicken and veggies. Pour more egg mixture in between layers until you are about 1/4 of the way from the top of the crust. Squeeze the juice from remaining lemon between the 2 pies. Roughly tear 4 sprigs of the parsley and 4 sprigs of the thyme over top then sprinkle with remaining cheese.
Bake covered with aluminum foil in the oven for 20 minutes. Remove the foil and bake until done about another 10 minutes. The quiche is done when the outer edges appear firm and the center just slightly jiggles when bumped. The quiche will continue to cook once removed from the oven, so be sure to take it out at that point.
Garnish with remaining sprigs of parsley and thyme.
---
I hope you enjoy this recipe! It really is the perfect spring quiche for a light meal that combines some of the best spring flavors!
To see the full pink and blue tablescape head here.