Spring Table Setting in Pink & Blue
Freshen up the dining room with this spring table setting in pink and blue, mixing romantic florals, elegant china, and feminine details.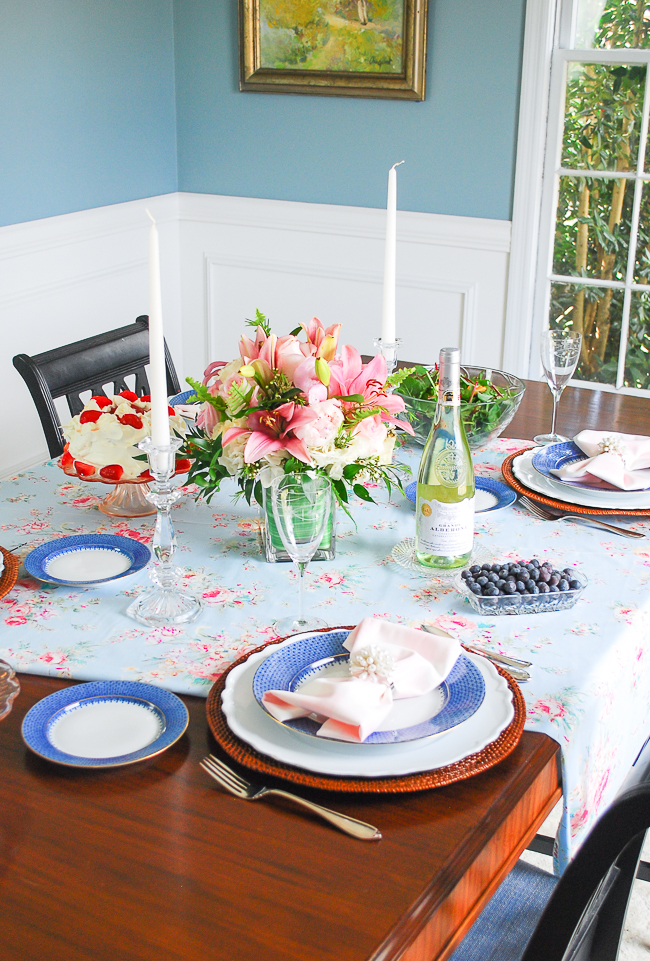 Spring is almost here y'all! Are you ready for warm weather, pretty blossoms, and fresh green foliage?
I most certainly am, and to get us all in the mood I've set a spring table in pink and blue to inspire us.
S. sent me this beautiful bouquet of pink lilies, white and pink tea roses, and peonies for my birthday the other week. Didn't he do well? Anyway I loved it so much, I just had to design a spring tablescape using it for a centerpiece.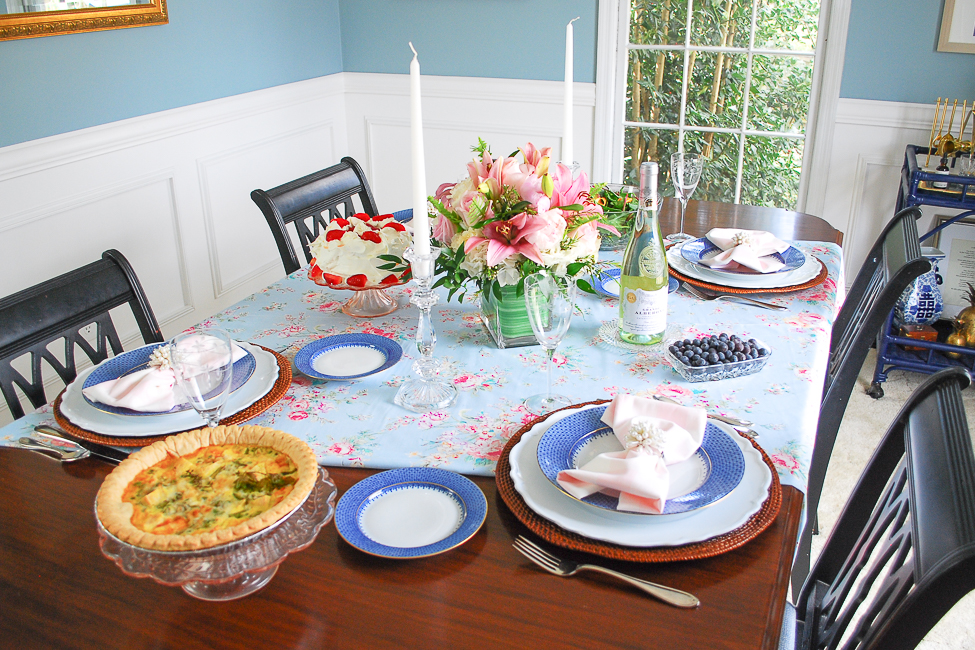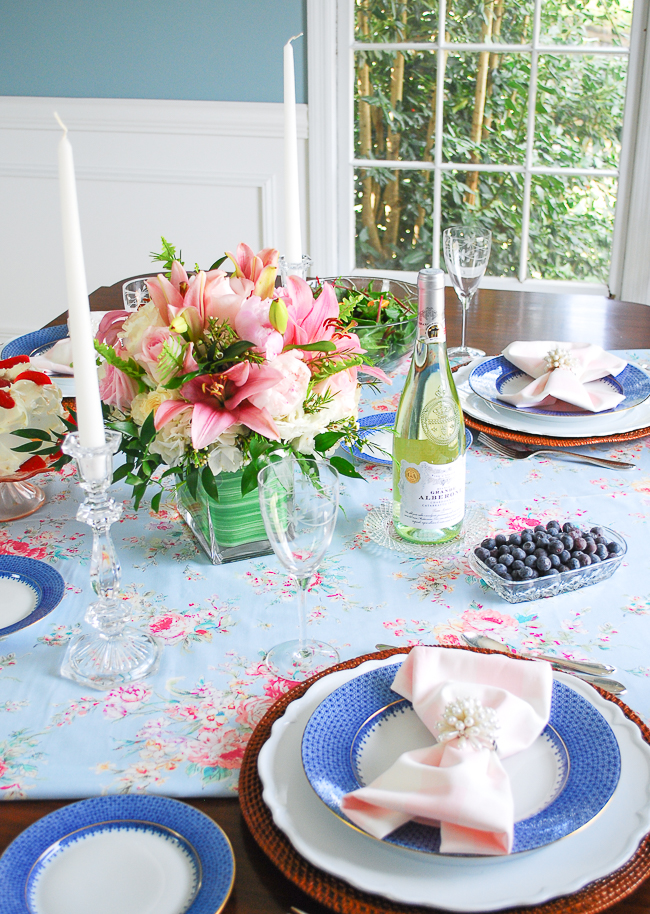 *This post contains affiliate links.*
I love the contrast of pink and blue for spring, so I hunted out a romantic floral fabric with those colors to serve as a table runner. You can always use swaths of fabric as runners and turn them in different ways. A runner doesn't have to go straight down the middle of the table.
My blue lace Mottahedeh china works beautifully layered on top of a rattan charger and a white scalloped edge charger. Each place setting is finished off with a white and pink gingham napkin and pearl napkin ring. This extra touch of pink helps tie in the spring floral arrangement and pick up the pink roses in the runner.
Crystal wine glasses and candle holders with white tapered candles finish off this spring tablescape.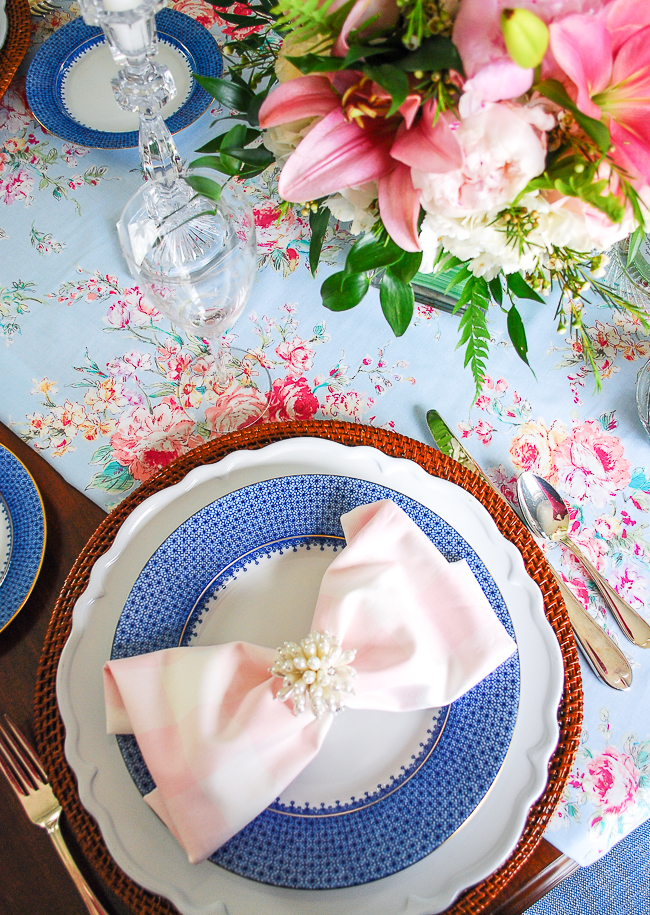 The key to creating a pretty spring table is a mix of pastels in patterns that don't feel too childish. Gingham is perfect for spring, but balance it with a romantic floral like this print calico and sophisticated feminine details like a set of pearl napkin rings. I bought mine several years ago from Pier 1. I couldn't find them anywhere to link here, but I've included several beautiful options below.
Get the Look of This Spring Table in Pink & Blue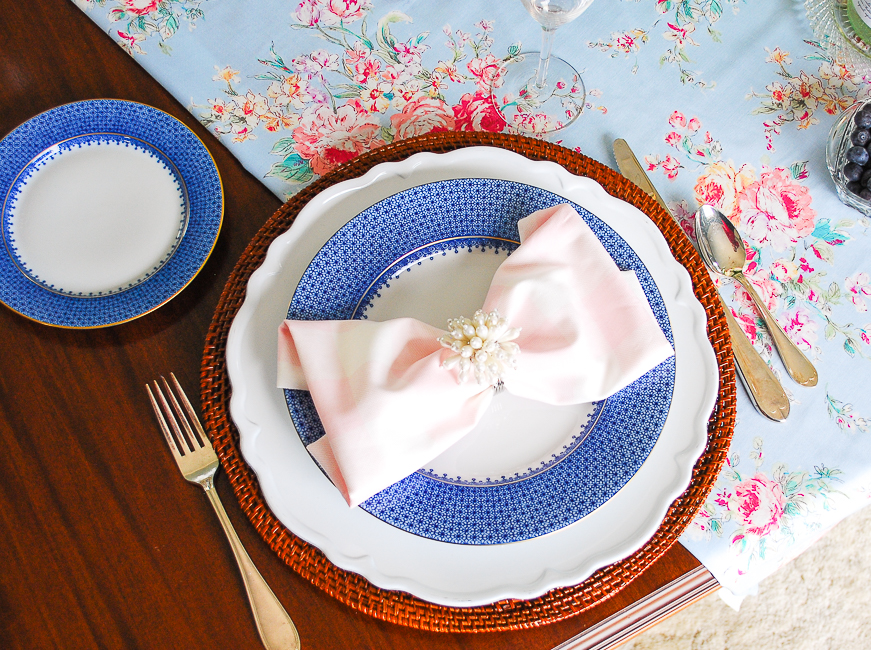 For the menu, I recommend a light quiche of chicken and asparagus flavored with herbs and lemon, fresh fruit, and a leafy green salad. Pair these dishes with a fresh white wine or bubbly champagne. I am loving Grande Alberone's Chardonnay blend right now.
Followed up the meal with a delicate trifle cake with strawberries, whipped cream, and champagne. Head here for my quiche recipe and here for the strawberry champagne trifle!
This spring table setting is perfect for a ladies luncheon, and it could easily be used for a shower for brides or babies just add in a few themed touches.
Transform This Spring Table for a Bridal or Baby Shower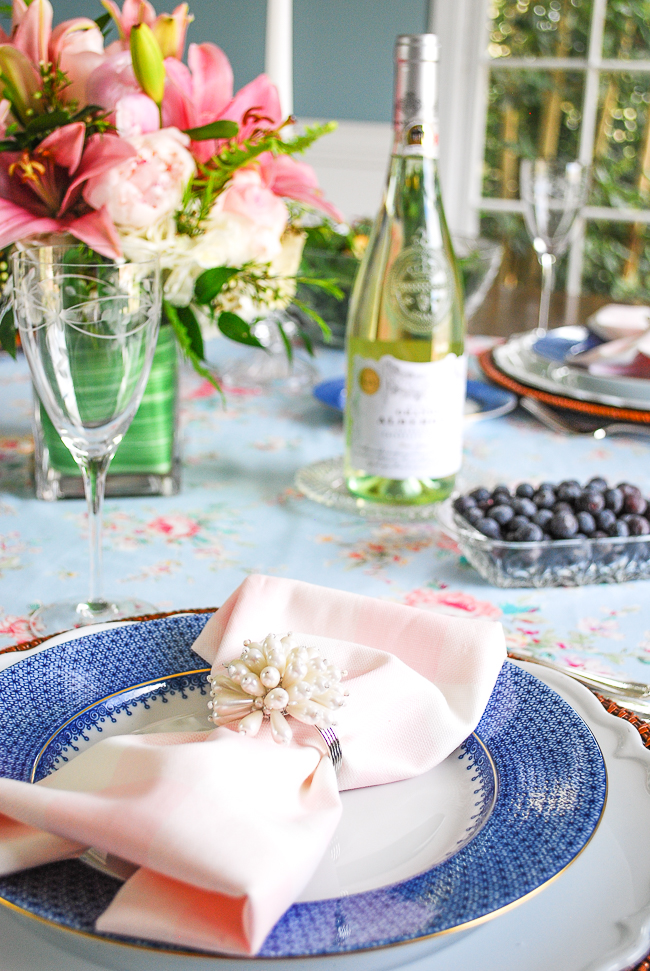 Happy Spring Y'all!!
Partying with Designthusiasm…Between Naps on the Porch…