Natural textures, chinoiserie accents, and a blue and white palette create a cozy yet chic family room!
I am dreaming of new furniture in our family room. Our current sofa is about 9 years old, and while I loved the sofa when I purchased it, now it is starting to show some age, and I'm bored with the overall look and color. Plus S. hates sitting on it. Our other furnishings are almost as old and starting to show some wear and tear too.
The other weekend I just happened to find myself in a furniture store where there just happened to be the most perfect sectional! It was comfortable and stylish. Total coincidence I promise!
Our family room is a long narrow space with a sliding door on one end, a fireplace in the middle of the longest wall, and two other doorways to a hall and to the kitchen. Needless to say, the space is a little difficult to work with. A sectional would be the perfect solution to streamline the space and provide ample seating for movie nights and relaxing evenings.
In terms of decorating the family room, I want a space that is both chic and cozy. The family room has to be practical; we use this room every day; we have dogs; and it has to withstand all of that. But I am not willing to give up style either, so for the family room decor I've tried to balance our practical needs for the room with my traditional, preppy style. I've chosen a classic color palette, blue and white, and paired it with chinoiserie accents and natural textures for a laid back, chic feel. Take a look below!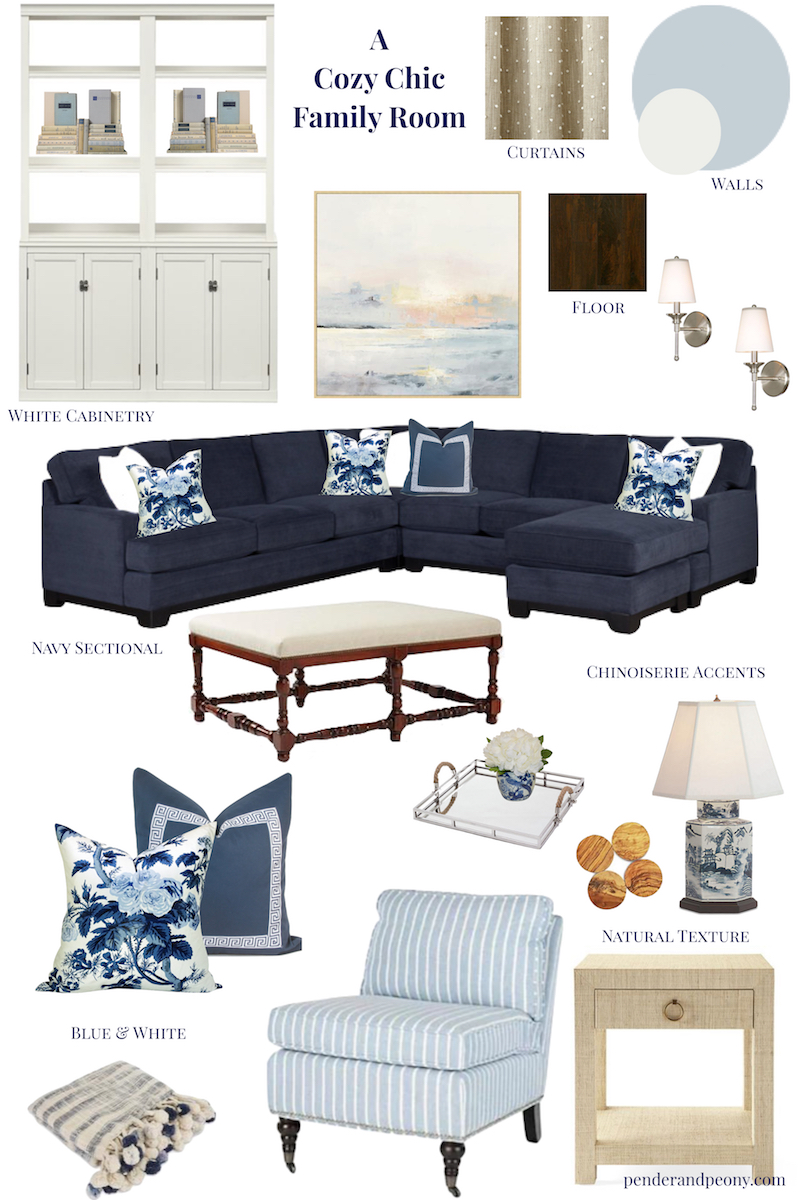 *This post contains affiliate links*
Bookcase // Painting // Curtains // Flooring // Paint // Sconces // Sectional // Ottoman // Floral Pillow // Navy Pillow // Tray // Peony // Coasters // Lamp // Throw // Chair // End Table
I'm having trouble deciding on the sectional fabric for the family room. I was originally planning on going with a beige fabric to keep the palette bright and more neutral, then I started playing around with other colors and leaning more towards a blue and white color scheme and navy seemed like the natural choice. I'm worried that the room will be darker with a navy sectional and that this choice is a bit too bold. With beige I'm worried it won't stand up to our dog and that it is a little too boring. Anyway, here is the room with a beige sectional: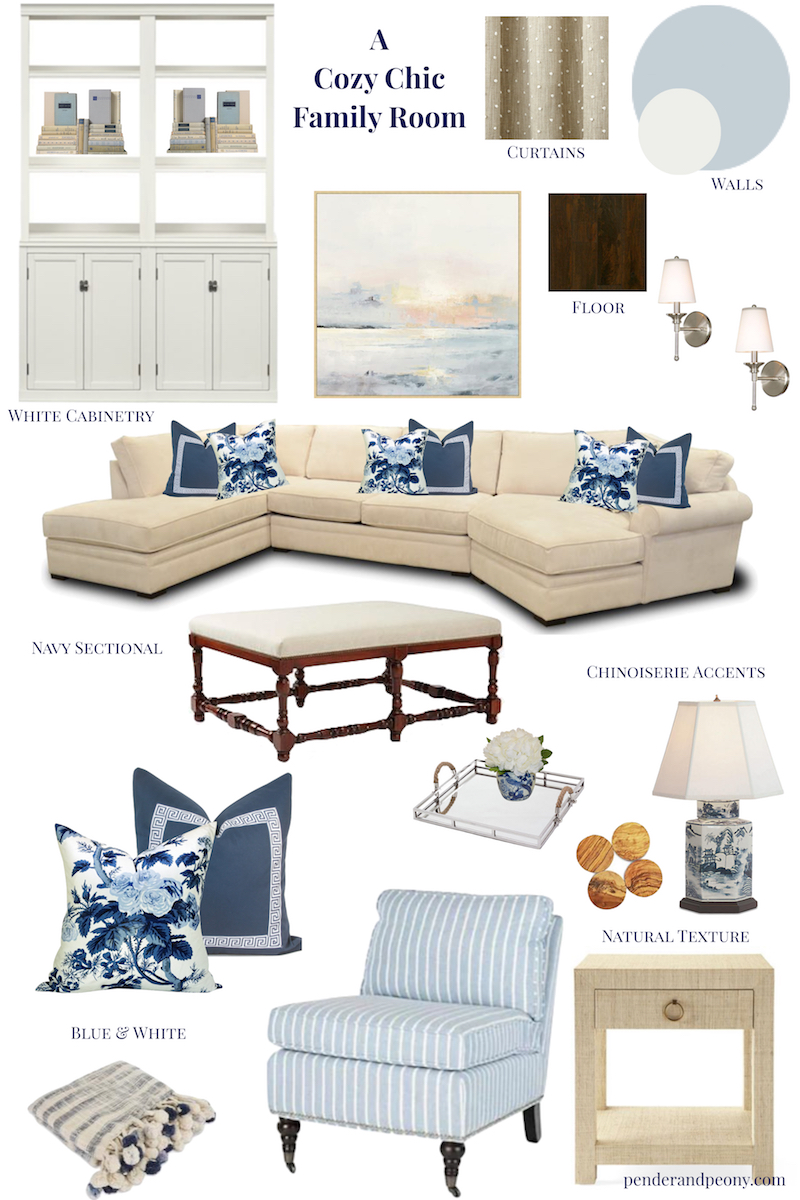 Which color would you choose for the sectional?
Navy or beige?
To keep the family room casual, I want to introduce a lot of natural textures like wood, rattan or raffia, linen, and jute. I love these raffia end tables from Serena & Lily. The raffia adds just the right amount of texture and the color and style is contemporary. The curtains are another way I plan on adding natural texture, and these polka dotted ones from Ballard Designs are so sweet. Finally, the area rug in a natural fiber will complete this theme. I'm loving this rug, this one, and this one. Oh the choices!
Here are the rooms that inspired my family room decor:
Check out more of my inspiration on my Pinterest board for this room.
I would love your advice about the sectional fabric color! Comment below!
SaveSave
SaveSave
SaveSave
SaveSave
SaveSave
SaveSaveSaveSave
SaveSave