An Art Deco Bar Tray under $150
The bar cart is particularly à la mode at the moment, and I will admit I am a huge fan. Then again I am a huge fan of anything that encourages cocktails at 5 O'clock in snazzy glasses. But I am not a fan of the high price tag attached to most of the bar carts for sale. Nor do I think it is necessary to spend extravagantly in order to create a chic space where you can whip up a classic mixed drink and display stylish barware.
For several weeks I mulled over ways to incorporate a bar area in my dining room. I wanted something flexible that could be moved, re-styled easily for different holidays or parties, and that did not cost a small fortune. While rummaging the aisles at my favorite antique mall, The Depot, I discovered this wooden waiter's stand for $15. I just knew I could use it one way or another, and…voila my solution was apparent: The Bar Tray!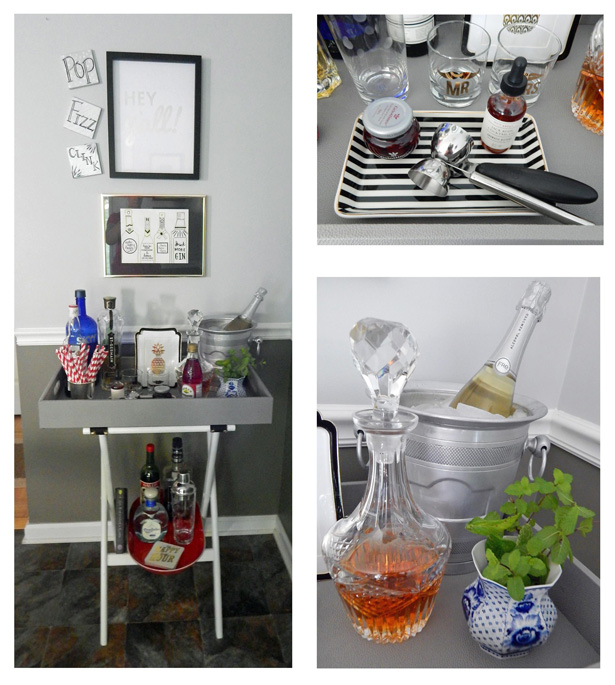 I brought the stand home, cleaned it off, sanded it down, and painted it white with some left over paint. Then the real fun began: gathering up my bar accessories, deciding on a style (my inspiration: Art Deco), and shopping for the missing elements. In about a month, I had my bar tray in position and styled for a grand total of $145! The main strategy I used to keep this bar tray under budget was to use decor and barware I owned. S. and I are budding cocktail crafters, so we had already purchased the bar tools and cocktail guide book. I also took out wedding gifts like the champagne bucket, glasses, and decanter. One of my favorite features is the witty bar themed art, particularly the Evelyn Henson bottles, and I am quite proud of the "Pop, Fizz, Clink" canvases I painted. Who doesn't love the POP of a champagne cork?
My Shopping List:
Tray…………………….$29
Tray Stand…………….$15
Witty Bar Art………….$55
Striped Dish…………..$12
Frames………………..$15
Cocktail Shaker………$8
Paper Straws………….$6
Square Canvases…….$5
Grand Total = $145.00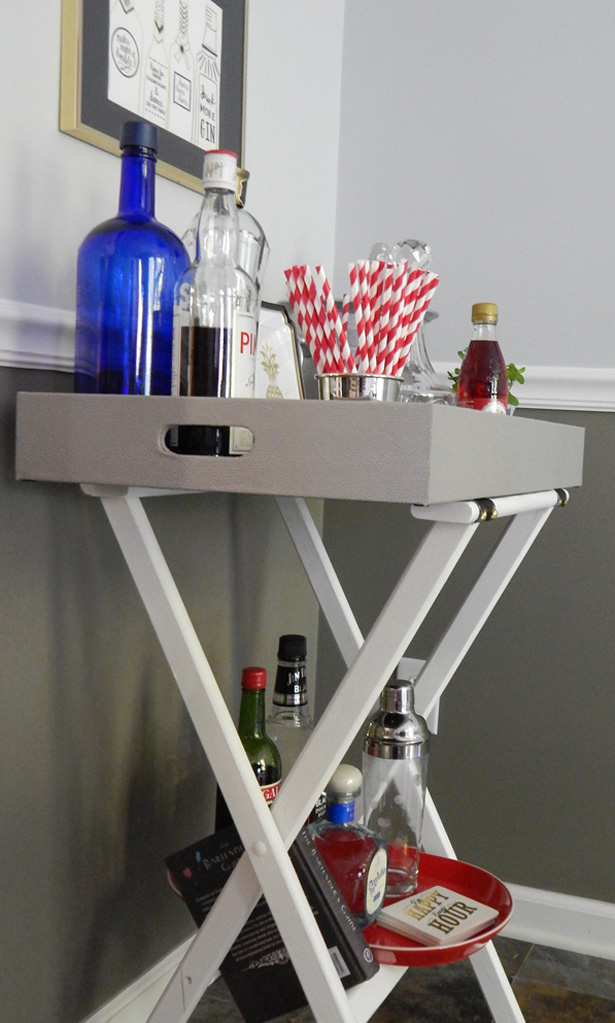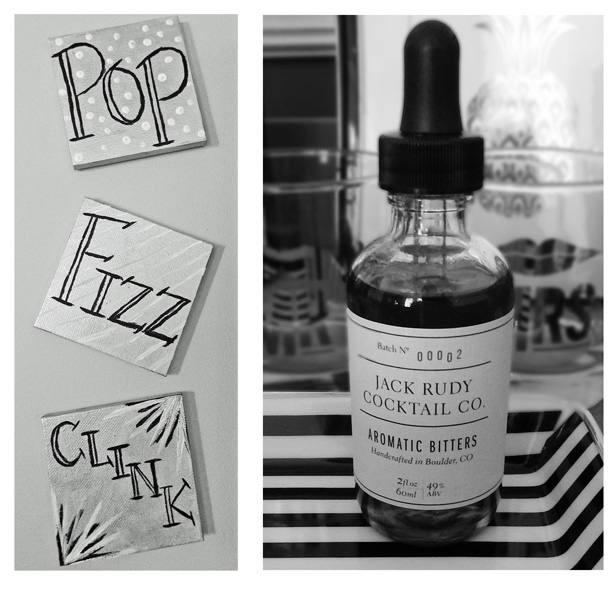 Tips & Tricks:
1. Use what you already have
2. Shop antique malls and discount stores like TJ Maxx for the pricier items
3. Pick your favorite liquors with the best labels to display
4. Try a color scheme, but treat silver, gold, and black as neutrals
5. If you can't find it, make it
6. Add something fresh like mint or flowers
7. Showcase antique treasures or mementos
8. Make it festive with paper straws and witty art
9. Use containers and vases to organize
10. Remember it is all about the laughs shared and stories told around the bar tray that count
Cheers Y'all!