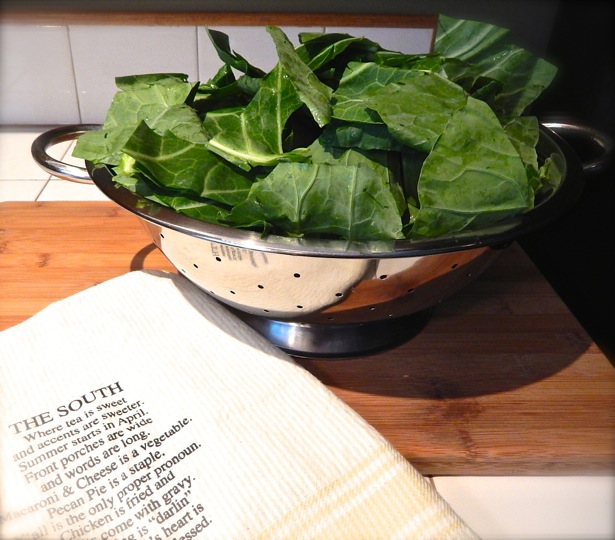 Collard greens are a staple on our family table, and a tradition New Years Eve because folklore has it that collards and black eyed peas will bring you good fortune and luck in the new year. The below recipe is my version of this Southern classic derived from watching my grandmother and mother fix these through the years, although they would use a ham hock for flavor and not bacon. On a recent trip to Nashville, I tried collards fixed with bacon and simply loved the taste, so I've amended my recipe to include this smoky flavor. Collard greens are especially good October through February.
Ingredients
Makes 4 to 6 servings
3 bunches of collard greens — you can always substitute turnip greens or mustard greens
1 cup of water
1 cup of chicken stock
½ of a medium onion — chopped
Tbsp. of sugar
Tsp. garlic — minced
¼ cup of apple cider vinegar
2 strips of bacon
2 dashes of tabasco
1. Wash greens to remove grit and dirt. Remove and discard stems and any discolored spots. Chop greens into 1 inch strips.
2. Add water, stock, onion, sugar, and garlic to large pot. Bring to a boil.
3. Add strips of bacon and let heat through. Add greens and reduce to simmer. Stir in vinegar and Tabasco.
4. Cover pot and let simmer for 45 minutes to 2 hours.
Collard Greens oh Collard Greens,
Your leafy emerald is rarely seen,
On plates without a one eyed bean,
And when dressed with a tangy sheen
And wrapped in smoky strips of swine,
Lord Collard, you are oh so fine.
~Katherine