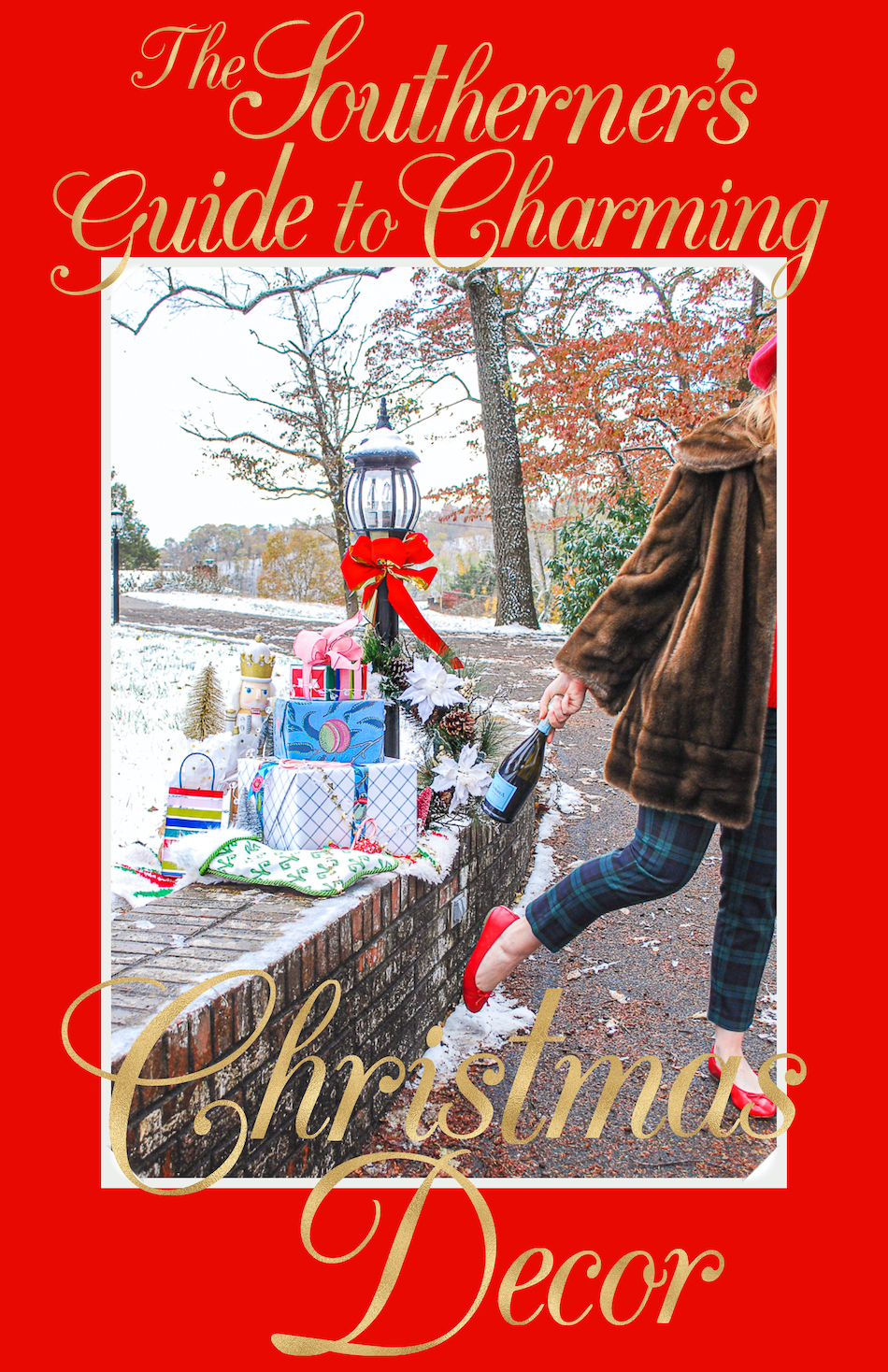 Over the top Christmas light displays…
A wreath on the door and probably every window…
A poinsettia in every room…
And the nativity set in a most prominent position…
Christmas in the South is truly unique, marked by long standing traditions and an abundance of Christmas cheer displayed for all to see.  If you are lucky enough to be a Southerner or if you have spent a Christmas in the South, you know this to be true. 
Sure not every Southern family celebrates Christmas the same way, but as the first region to celebrate Christmas in the United States, I think we Southerners feel a special commitment to make the holiday bright, meaningful, and especially charming! 
Why charming? Well, by definition Charm is the power or quality of giving delight and isn't that what decorating for Christmas is all about? Adding to the delight of the season in celebration of Christ's birth?
And we Southerners have a special kind of charm! 😉
The Rules of Southern Christmas Decor:
First of all, you can never have too many Christmas trees!  
This is a fact universally recognized across the South.  It doesn't matter if the trees are 12 foot tall or table-top size, more than one Christmas tree is a must in a Southern Christmas home.
Drape greenery around anything that will stand still long enough!
Use greenery to adorn mantles, stair rails, columns, and really anything that is not moving.  Be sure to mix your evergreen boughs with classic Southern plants like boxwood and magnolia.
Flowers are not just for summer!
Bring on the flowers with planters of paper whites, amayrillas, and poinsettias.  If you are feeling particularly ingenious, you can even make a Christmas tree out of poinsettias.
Citrus fruit as decor is classic and will never go out of style!
Use it as decoration and stocking stuffers.  Citrus fruit was once a rare and prized commodity in the South usually arriving from tropical ports in the winter months, so many Southerners gave oranges as gifts and treasured this once a year treat.  This tradition continues although many kids aren't quite sure why.
Around here we put our crazy on display and add a bow!
Embrace your creativity and add a touch of Christmas whimsy even if you are a traditionalist.  Your whimsical element can be more subdued like a velvet bow on a spaniel statuette or you can channel your inner Steel Magnolia with a wreath bedecked by baby Jesuses.
---
I've incorporated many of the above Southern Christmas decorating tips in my home.  I do every year mostly subconsciously because this is how my mother and her mother before her decorated their homes – it's Southern tradition!
Fundamentals of Charming Christmas Decor:
Click on the images to watch these videos or read the posts to master these basics of holiday decorating:
How to Tie a Multi-Loop Bow | How to Make a Fresh Greenery Wreath
How to Wrap a Pretty Present | My 10 Favorite Tools for Holiday Decorating
How to Make Custom Christmas Tree Picks
Southern Secrets to Christmas Decorating:
Use balance and the right proportions for an Effortless Look.
Play with the main decorative elements before making any permanent decisions about placement. Try arranging pieces in different positions and different groupings. Think about:
Proportion
Symmetry and asymmetry
Height and depth
Remember the rule of 3
When you think you have reached a pleasing arrangement ask yourself these questions:
1. Does it feel balanced?
2. Are the objects close enough to create a relationship but far enough to avoid crowding?
3. Does my eye naturally move from one element to the next?
Holiday Decorating Tip No. 2 – Get Creative and Embrace Whimsy
Transform decorations in creative ways and Use Unexpected Elements.
Let's be honest – decor from big-box stores can look a bit too mass produced, so add your personal touch.  Make it reflect your style and family for charming Christmas decor!
Get creative with the decoration itself:
Paint it or sprinkle it with glitter.  
Deconstruct it to transform it into something else.  
Put it in an unexpected location.
Give it a jaunty bow.
Think about different ways a decoration can be used other than its intended purpose.  One of the most basic examples of this is using Christmas ball ornaments in glass vases as a centerpiece.  This is pretty and easy to do, but totally transforms the ho-hum Christmas ball.
Add charm and whimsy with unexpected elements like the pink and green grasshoppers above.
Holiday Decorating Tip No. 3 – Use the Rule of Three
Repeating elements are key.
The rule of 3 is a classic decorating rule that we often forget about.  Basically, it means that  objects look better in groups of 3 (or other odd numbers).  I don't know why, but our brains read groupings of 3 as appealing and memorable. 
3 is also a good number to form a pattern.  Patterns are essential to creating cohesion and association in your arrangement.  So when you buy berry sprigs for garland or ornaments for your tree you need at least 3 to catch attention and create flow. 
There is no doubt that using the rule of 3 will help you achieve charming Christmas decor!
Holiday Decorating Tip No. 4 – Color Scheme
Choose a color scheme and stick with it.
Certain colors are emblematic of specific holidays: orange and black for Halloween, red and green for Christmas, etc.  But these days you don't have to use traditional colors.  Just make sure that your holiday color scheme works with the existing colors in your house. Think of your existing decor as the backdrop and pick colors that will look good with what is there.
With so many choices it is easy to get overwhelmed and use too many colors.  Choose 2 or 3 main colors to decorate with for the season and stick with them.  A simple holiday color scheme will have a bigger impact.
Metallics are a great way to add interest without going overboard.
Be sure to consider how these chosen colors make you feel.  If you want a serene winter wonderland  in your living room, don't choose red and lime green.  But if you want to pay homage to The Grinch Who Stole Christmas, it's the perfect combination.
Holiday Decorating Tip No. 5 – Layer Texture
Varied Texture is Important to Create Feeling and Interest.
Variations in surface will help make your holiday decor more interesting and appealing to the eye.  Varying textures add depth and dimensionality.  In most basic terms, texture is how things feel or at least how they are perceived to feel.  Just think about the difference between a soft fleece throw and a silky sheet.  You can both see and feel the difference between the fuzzy fleece and smooth silk.
In this way, texture contributes to the feeling of your seasonal decor.  Smooth textures will make a vignette seem sleek and bright, while rougher textures often create a feeling of coziness.
Adding texture can be as easy as mixing fabrics with different textures.  For instance, use a table runner in a satin or smooth fabric on top of a linen or velvet tablecloth.
Using natural elements like greenery is often the best way to add texture to a decorative vignette!
I hope the Southerner's Guide to Charming Christmas Decor will help you create that special Christmas magic in your home and celebrate this wonderful holiday season.
Merry Christmas Y'all!
If you are looking for more Christmas decorating help and local to the East Tennessee area or Western North Carolina, check out my personalized holiday design services. I will work with you to decorate your home for the holidays, designing tablescapes, custom florals, front entry displays, and tree decor. Learn more here!