A Joyful Nativity Scene Decoration
Create a joyful Nativity scene decoration amongst the tinsel and lights as a vivid reminder of the meaning of Christmas. Fill your tableau with meaning and love to inspire you throughout the holiday season and share God's gift!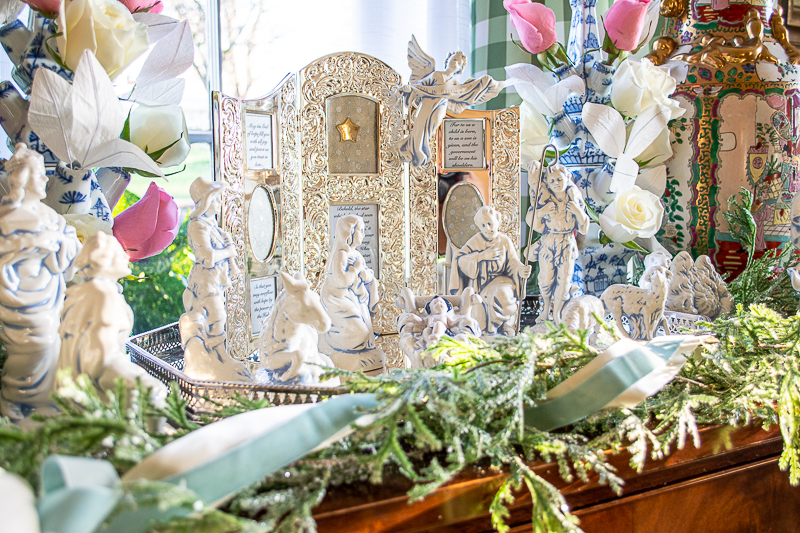 Do you remember as a small child standing in awe of your family's Nativity scene?
Being fascinated by the camels?
Touched by Mary's tenderness?
Delighted by the angels?
And intrigued by Baby Jesus?
As a child, I knew He was special, but at the same time I wanted to cup Him in my hand and cuddle Him. There is something about Baby Jesus laying in a manger that intensifies our connection to Him and makes Him relatable — God's presence here on Earth.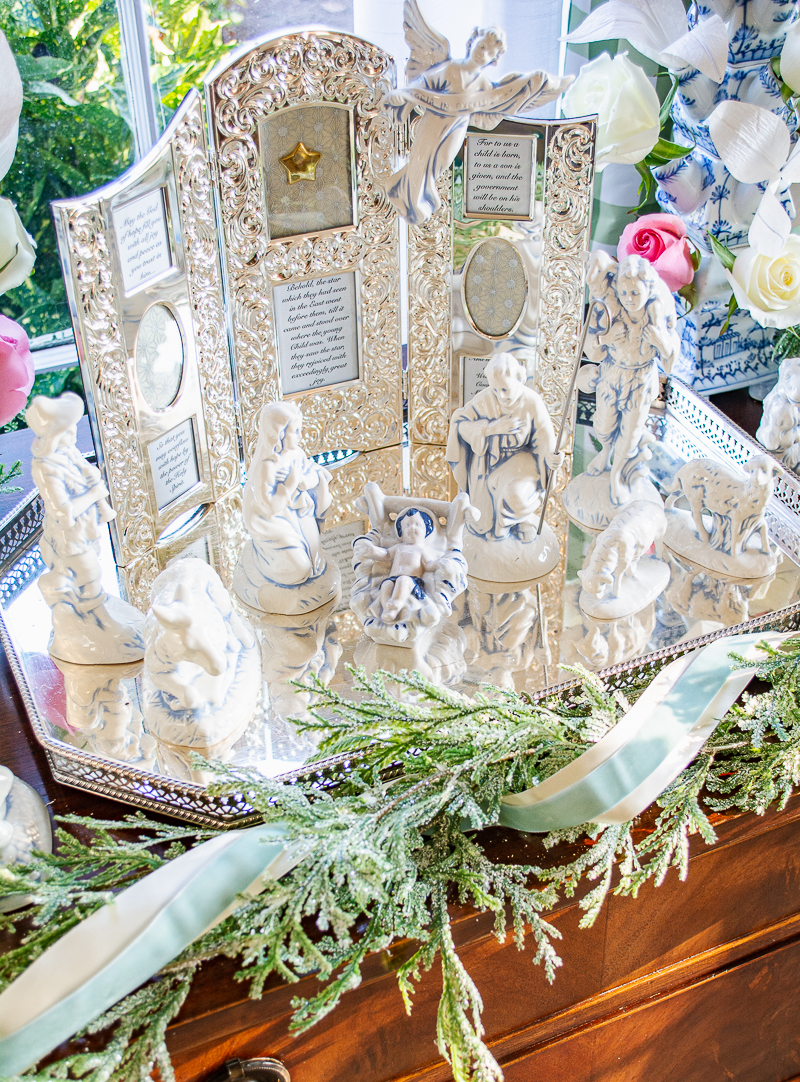 The Nativity scene was always placed in a prominent position in our formal living room. It was all white and stood out among the glitter and gold. It gave reason to the exuberance…the celebration…the festivity — a vivid reminder of the gift God gave us!
I've been looking for my very own nativity set for years now. One that felt heartwarming and awe inspiring at the same time. I wanted something elegant, expressive, and classic that I could set up and enjoy for years to come. If you've been reading P&P for a while, it will come as no surprise to you that I stubbed upon my dream set in a little out of the way junk hole.
There sitting on a dusty shelf covered in gunk, shone this beautiful blue and white ceramic set. It caught my eye with its simplicity and feeling. It was not expensive, and actually the figurines made by Atlantic Mold are quite common — only unique in how people chose to paint them. By some miracle the set was complete with Mary, Joseph, the shepherds, angel, and wisemen. Camels, sheep, and a donkey were even there too! The nativity set spoke to me, and I knew it was the one to recreate my childhood mixture of awe and love!
The Nativity – Meaning & Display
I found the set back in the summer, and I've been patiently waiting to get it out, clean it up, and put it on display. Though December is not yet here, my patience ran out, and I decided to go ahead and create a joyful Nativity scene decoration on the sideboard in our formal living room to enjoy and share with you.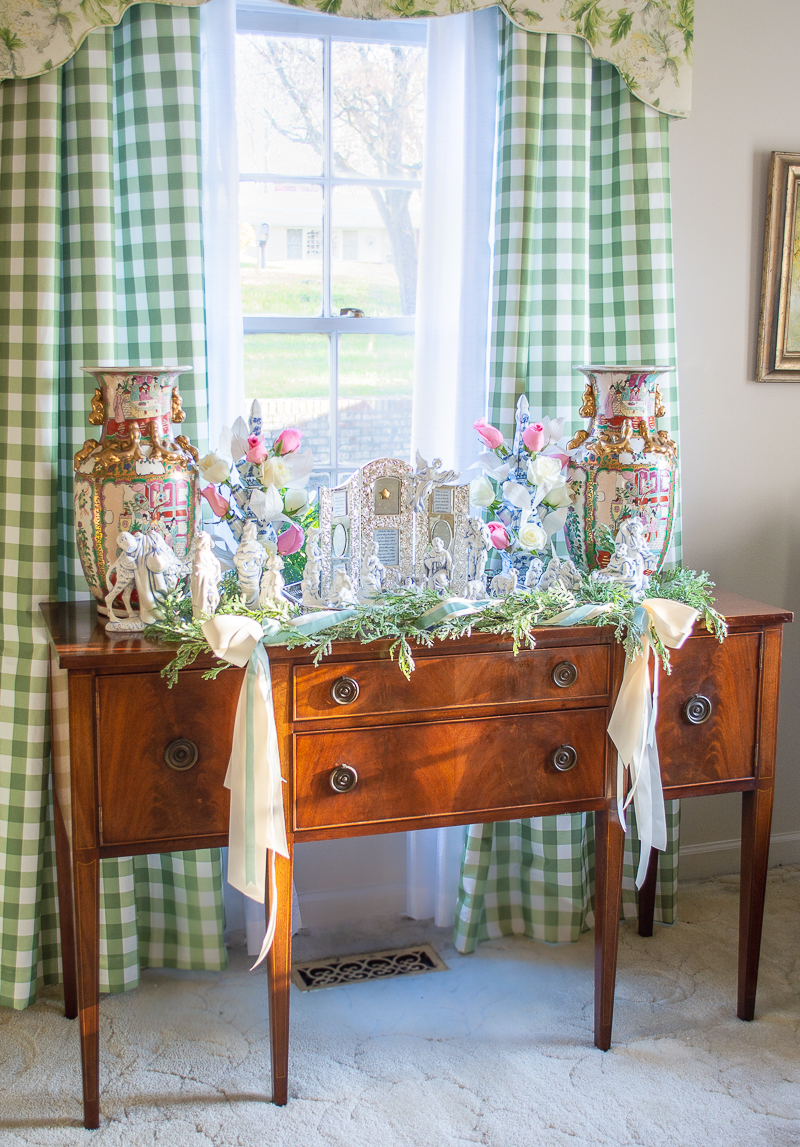 Although the traditional manger crèche has much significance, I decided to create a different tableau for my nativity setting. One that feels celebratory and symbolic all the same. In many ways the Nativity scene is fantasy — influenced much by Christian hymns as well as actual Bible verses. The point of the Nativity scene as Pope Francis stated in a letter last December:
It does not matter how the nativity scene is arranged: it can always be the same or it can change from year to year. What matters is that it speaks to our lives. Wherever it is, and whatever form it takes, the Christmas crèche speaks to us of the love of God, the God who became a child in order to make us know how close he is to every man, woman and child, regardless of their condition.
Dear brothers and sisters, the Christmas crèche is part of the precious yet demanding process of passing on the faith. Beginning in childhood, and at every stage of our lives, it teaches us to contemplate Jesus, to experience God's love for us, to feel and believe that God is with us and that we are with him, his children, brothers and sisters all, thanks to that Child who is the Son of God and the Son of the Virgin Mary. And to realize that in that knowledge we find true happiness.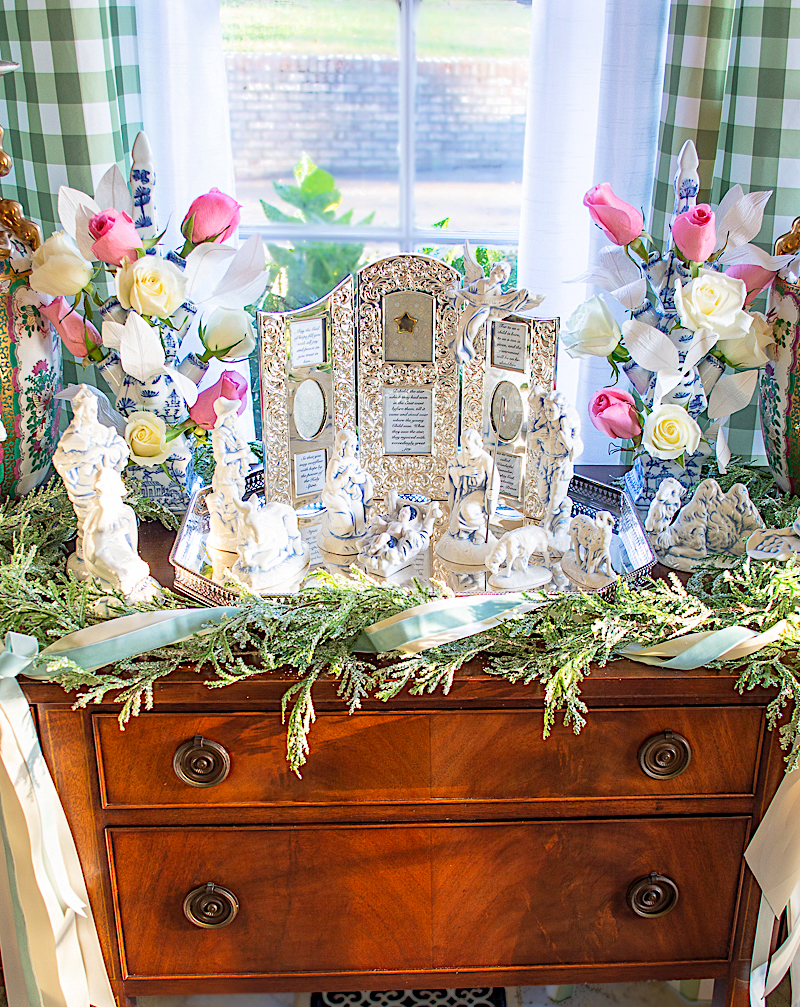 My Joyful Nativity Scene Decoration
I arranged my nativity set across the entire top of the sideboard, elevating the holy family and the shepherds, who were the first to come visit Jesus, on a silver tray. The wisemen approach from the left side and other figures representing the lowly and the commoners of Bethlehem are to the right.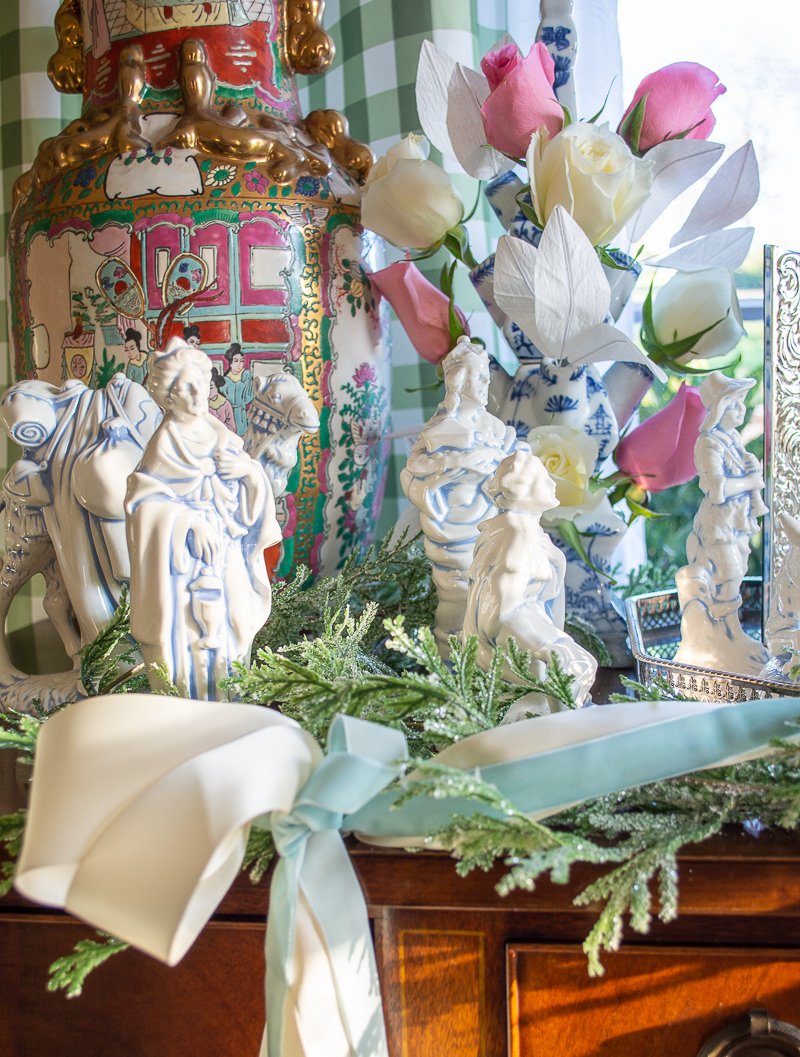 I nestled evergreen cedar garland across the front and between the outer figures, finishing it with white satin and blue velvet ribbons. The cedar represents the everlasting life of belief in Jesus Christ, and blue has long been associated with the Madonna, signifying her purity and holiness.
Behind the holy family I used a vintage silver tri-fold frame for a background. In the picture slots I placed Bible verses about the Christmas story and/or star motifs as a narrative guide. The angel who announced Jesus' birth hangs from the top.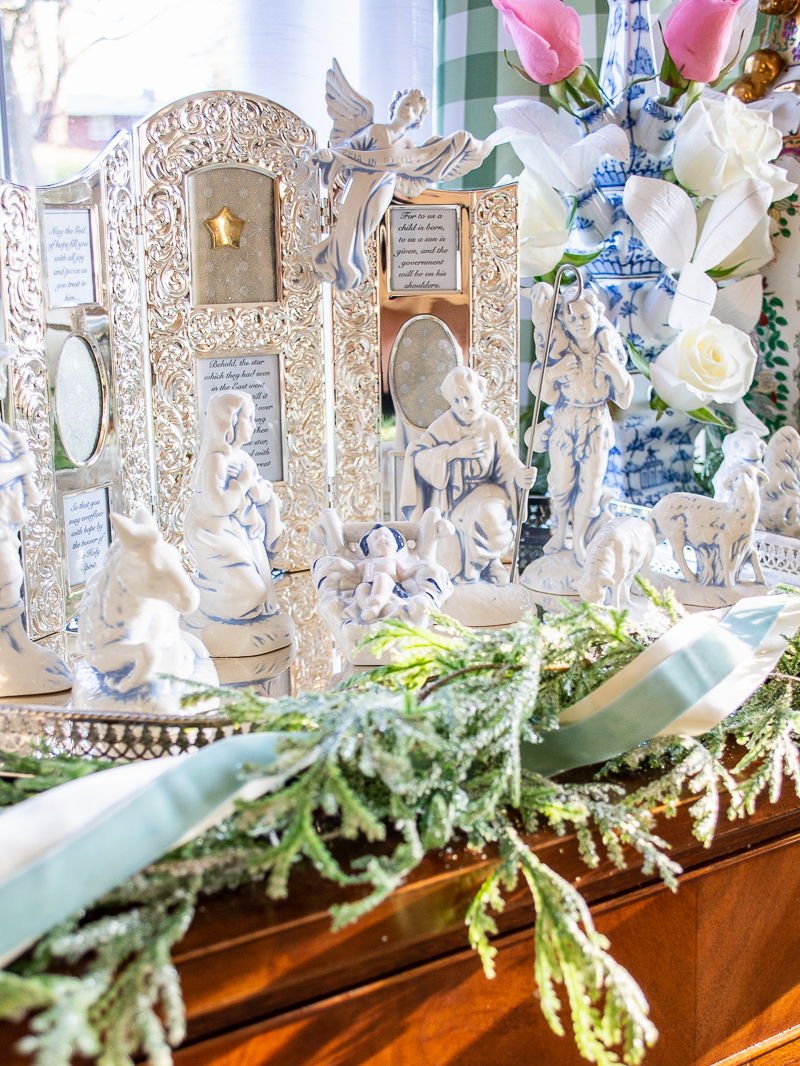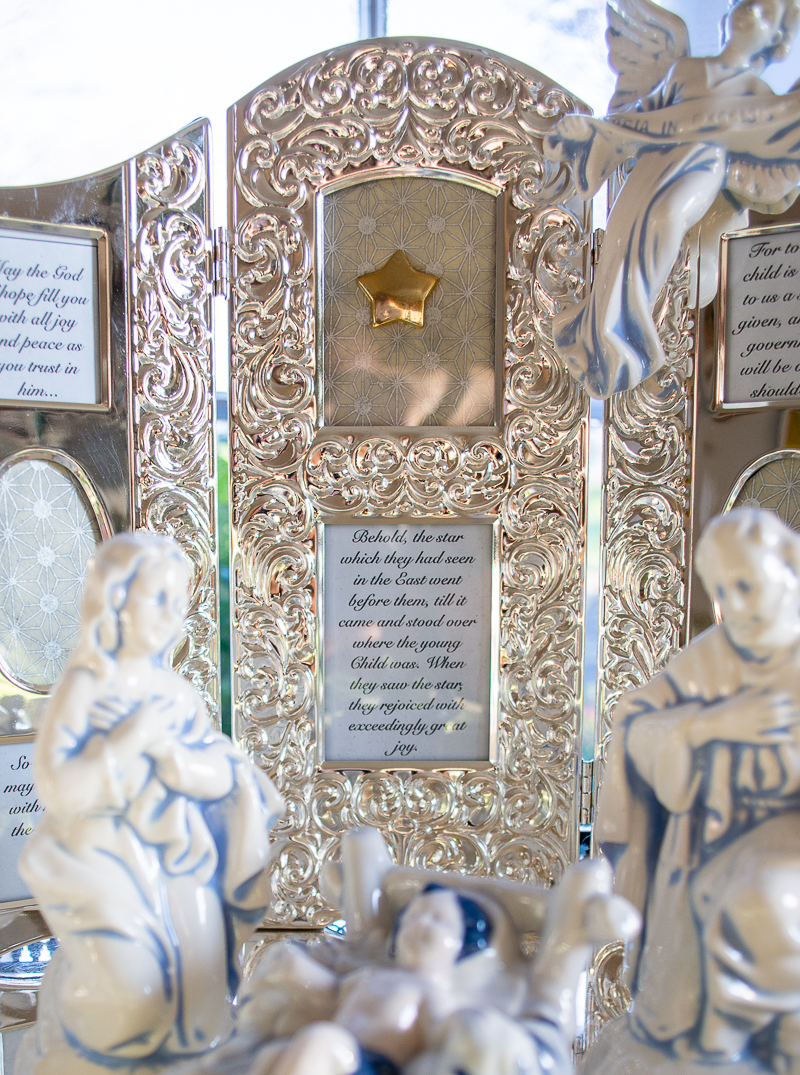 Silver may seem a bit of a contrary choice at first given Jesus poverty and humility. The depiction of silver as a symbol and metaphor is rather complicated in the Bible — at times an emblem of the evil of worldly riches and at others representative of the truth of redemption. In gemology, silver is said to represent unconditional love and hope, which really speaks to me as the essence of the Nativity story.
The entire Nativity scene is flanked by blue and white tuliperes filled with pink and white roses as well as a pair of Rose Medallion vases. I chose to fill the tuliperes with roses because of their symbolism for love. White roses are said to signify purity, and pink roses represent gratitude and joy.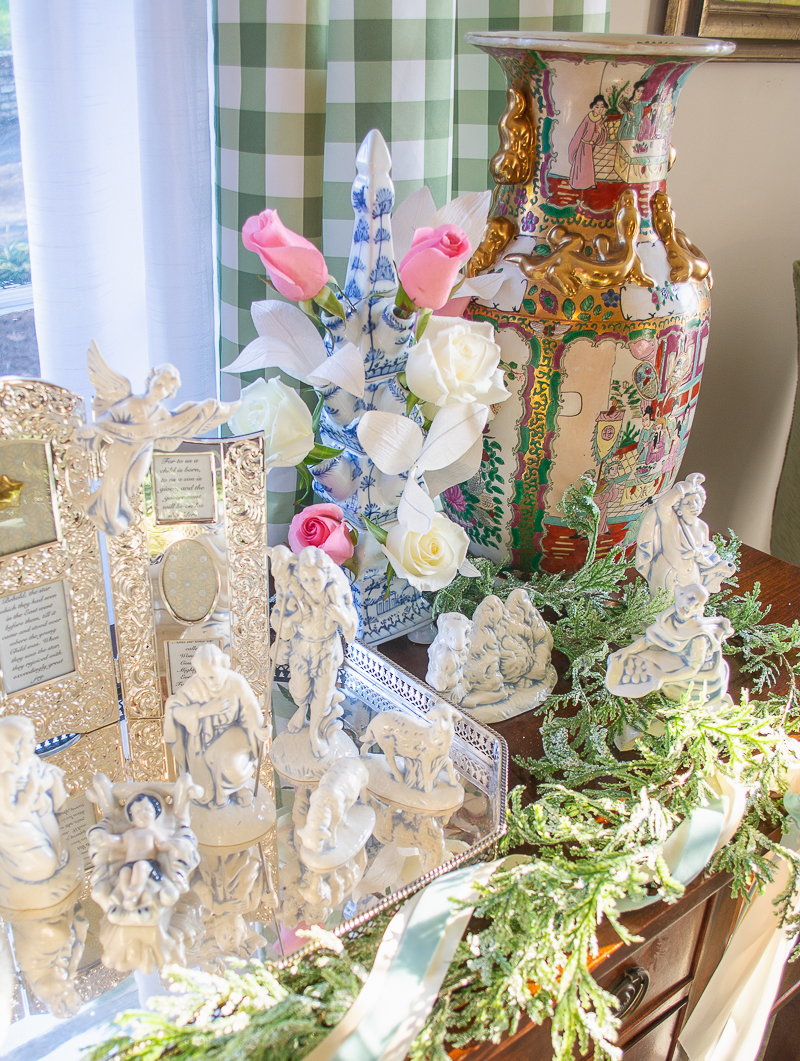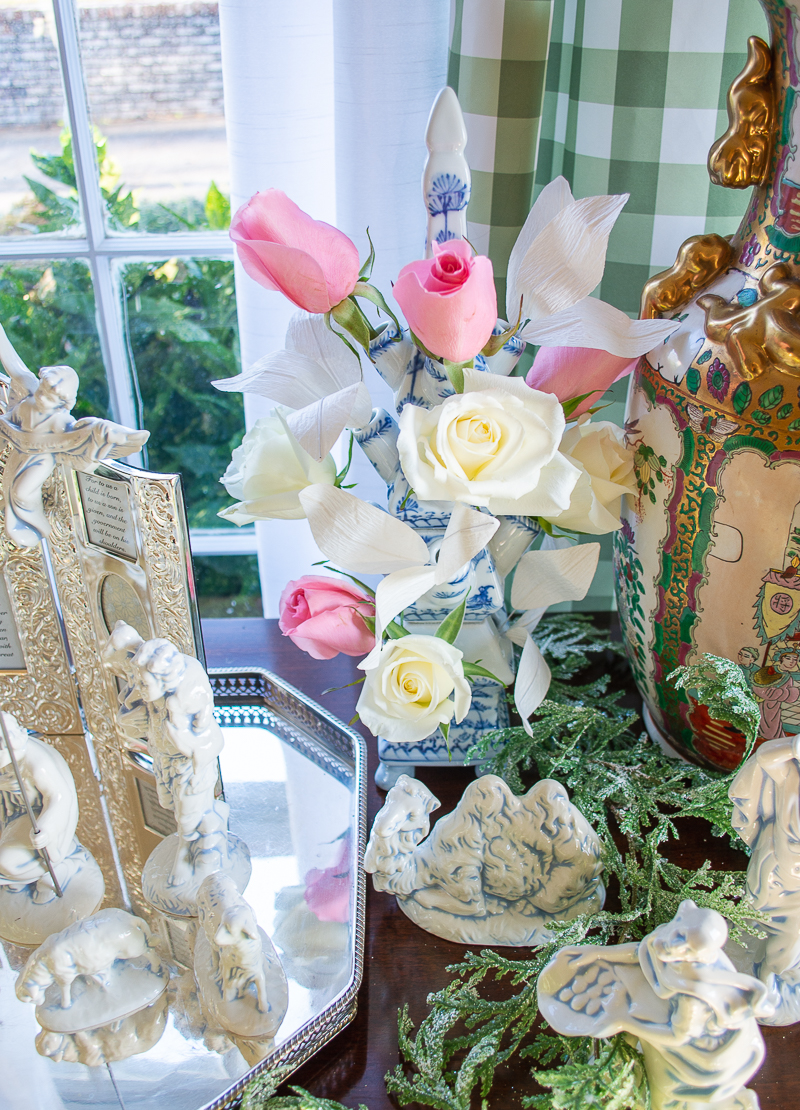 For the photos, I wanted you to see the nativity set in its entirety for inspiration, but traditionally Jesus is not put out until Christmas and the wisemen until Epiphany on January 6th.
When I sat down to write this blog post, I had every intention of writing a straight forward how to post about decorating your Nativity scene, but the more I thought about it the more I felt compelled to share why I created this joyful Nativity scene decoration and the way it resonates with me. I hope my celebratory tableau inspires you to be creative and intentional with yours.
Choose a set that inspires you and display it in a way that tells and celebrates Christ's birth story. Let the display be as plain or elaborate as you and your family need. Include verses and symbols that remind you of what Christmas is really about — the greatest gift!
If you are searching for your keepsake nativity set, here are some joyful options:
Vintage Nativity Sets
New Nativity Sets
Other Christmas Story Decor
The Merriest of Christmases Peonies!