Downtown Shopping, Asheville
While strolling the streets of downtown Asheville, there are plenty of sights to see from street performers to 1920's architecture and public artworks to views of the Blue Ridge Mountains, but even with these delights the shops will soon beckon you inside. Asheville is full of a variety of stores offering unique wares with often local hand-made goods. There are crafts, vintage finds, unique fashions, and uncommon home decorations.
On a recent weekend getaway, S and I stopped by some of my favorite stores and found some new ones to add to my must-frequent-list. Although it is hard to tackle all the great shopping available in downtown Asheville in one short article, I've chosen some of my top picks below.
Home Décor, Gifts, and Furniture: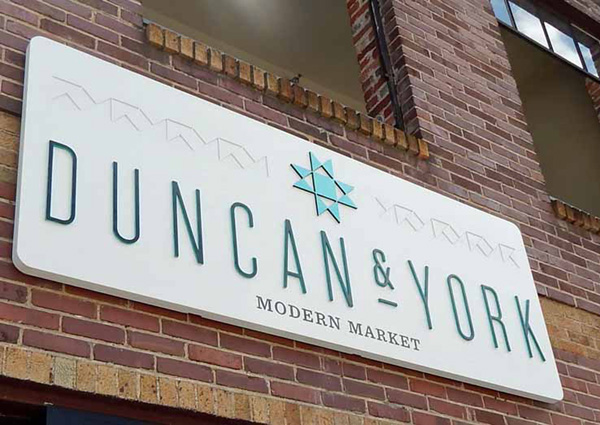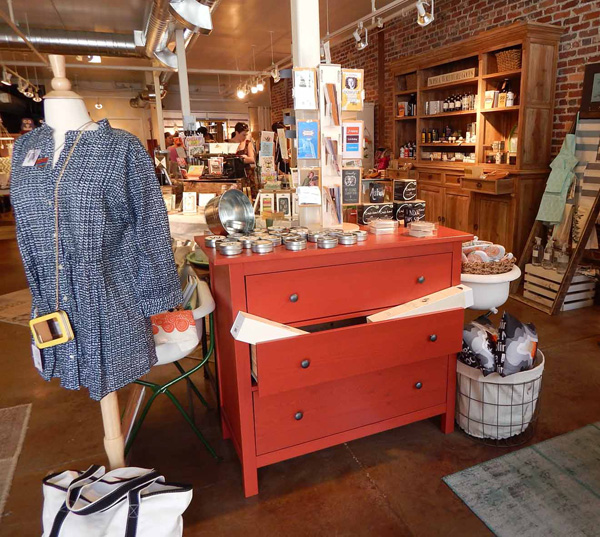 Duncan & York is a sweet store just down the street from Tops for Shoes (see below) on Lexington Avenue, featuring one-of-a-kind treasures. There are lotions and soaps, purses and jewelry, stationary and kitchen gadgets. I found an awesome print by Thimblepress of North Carolina with the state flower, the dogwood, stretched across it.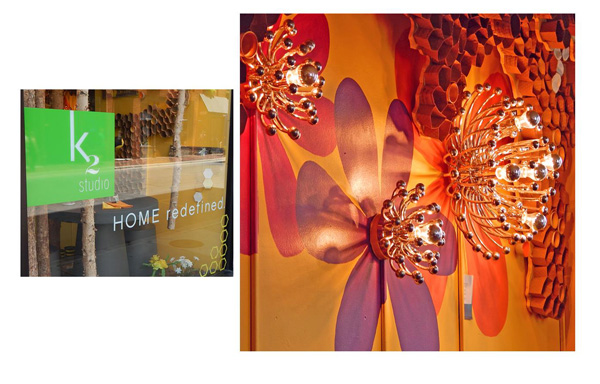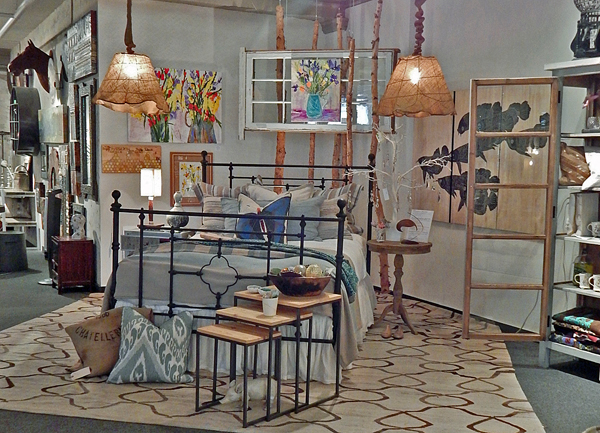 K2 Studio at the corner of College Street and Lexington Avenue opened 15 years ago in the Historic Kress Building. Here you will find an eclectic array of home decorations and furniture selected with an eye towards local, green, and craftsmanship.
---
Jewelry: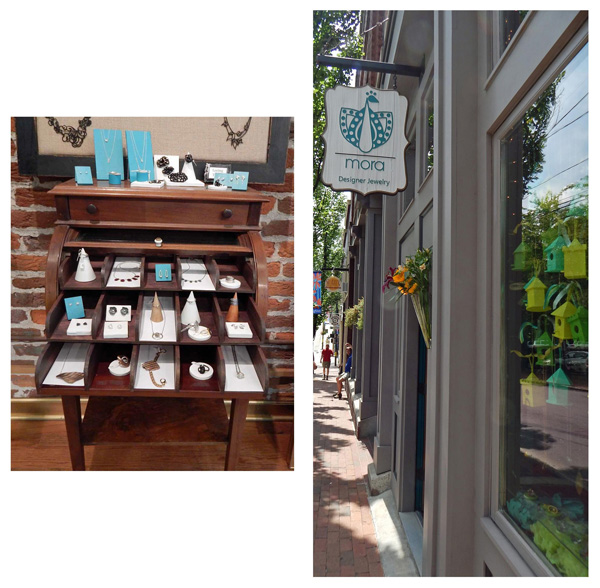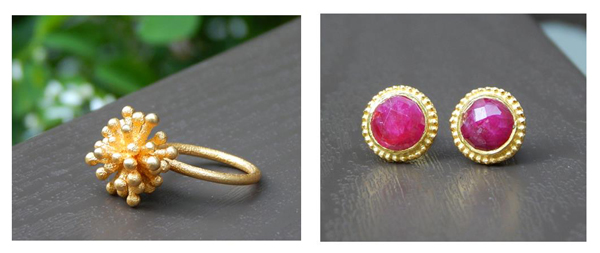 Mora Designer Jewelry located at 9 West Walnut Street is a true delight. The shop clerks are eager to help you try on anything your heart desires, and believe me your heart will find plenty to adore in this designer jewelry store where all of the pieces are lovingly crafted by artists! I couldn't walk out without the brilliant star-burst ring above, which was designed by DeSiGNERiCA using a 3-D printer! How cool is that! I also snagged charming little studs by Treisi. The clerks were so friendly that I stayed chatting to them for a long time! We talked about everything from how the shop first came about, how they meet demand by buying different amounts of wholesale silver earrings, necklaces and rings each month, and what their favorite part of working there is! I would definitely recommend them, even if it's just for a chat!
---
Vintage: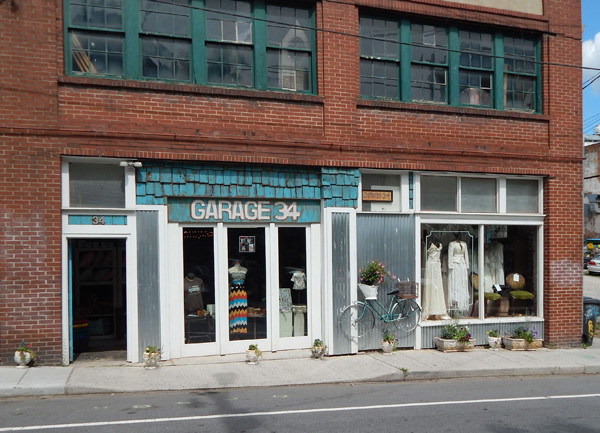 Garage 34 is a unique blend of for-profit boutique and non-profit art center on South Lexington Avenue. As their website describes it, "Garage 34 is an 'indie handmade shop' for the global gypsy including: independent handmade goods, antique housewares, vintage rentals, custom wedding decor & vintage wedding dresses." My favorite discoveries: handmade prints with witty sayings from G34 Art and this "home sweet home" t-shirt.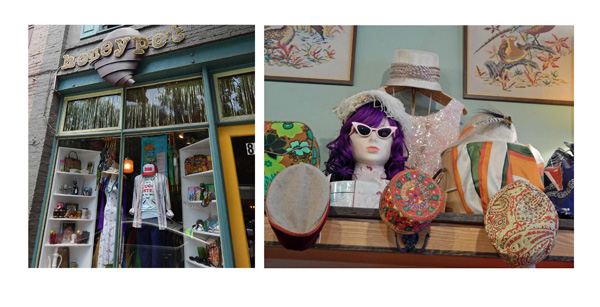 Honeypot on North Lexington Avenue offers premium vintage clothing for men and women. Any blast from the past trend you are trying to restore to fashion glory can be found here — whether it's go go boots from the 60's, maxi dresses from the 70's, or the grunge punk look of the 90's.
---
Clothing: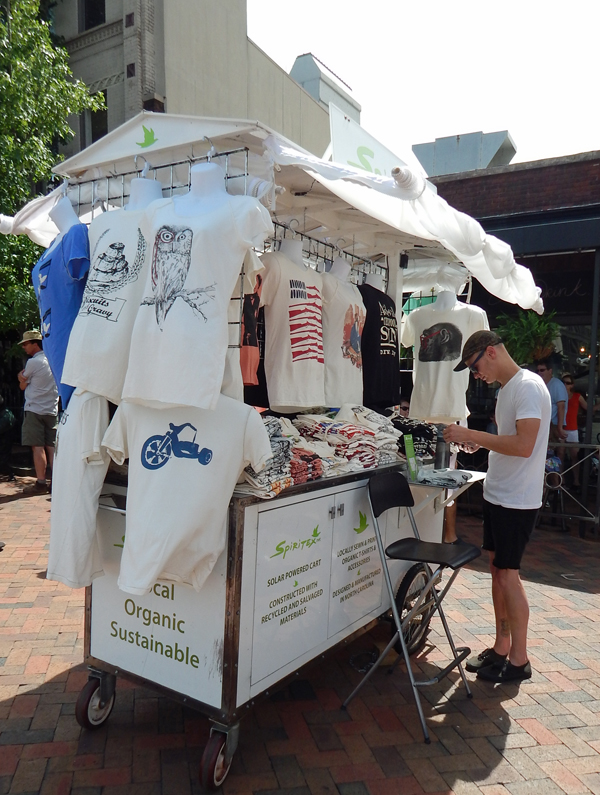 Spiritex is a clothing boutique featuring locally made products that are organic, sustainable, and ethically made. Even the organic cotton fabric in these shirts is spun, knit, and dyed in the Carolinas. The photo here features their Graphic T-Shirt Cart, which can be found rolling the streets of Asheville or for a more upscale experience, you can visit their storefront at 14 Haywood Road.
All of the t-shirts on this cart will have some sort of special meaning, and that's the beauty of graphic design. You are able to create clothing that means something. Whether it's for a fundraising event, creating awareness for your brand, or just because you want to wear a t-shirt that you have designed, it can open a lot of doors. You can even look at how to design and print your own custom t-shirts here if you want to get in on the mix. I might even consider it myself you know, as when we passed this cart, there were some beautiful shirts on display. And I would love to wear my own designs. But I think, for now, I'm just going to stick with shopping for clothes instead.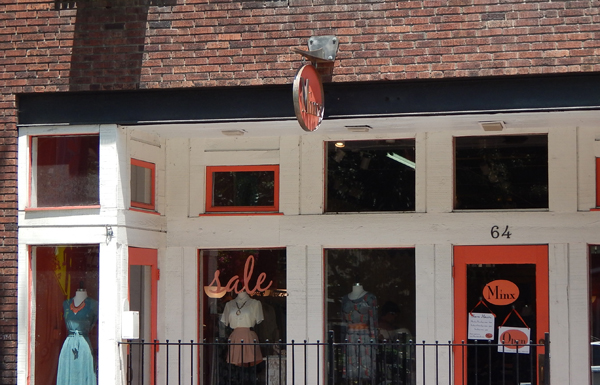 Minx on North Lexington Avenue is one of my all time favorite boutiques for great tops, cute dresses, and stylish accessories. The store opened back in 2002 before downtown Asheville was much of a shopping destination and I was still asking my mother to borrow the keys to the car. Minx carries a variety of brands like Everly and Tulle at a range of price points.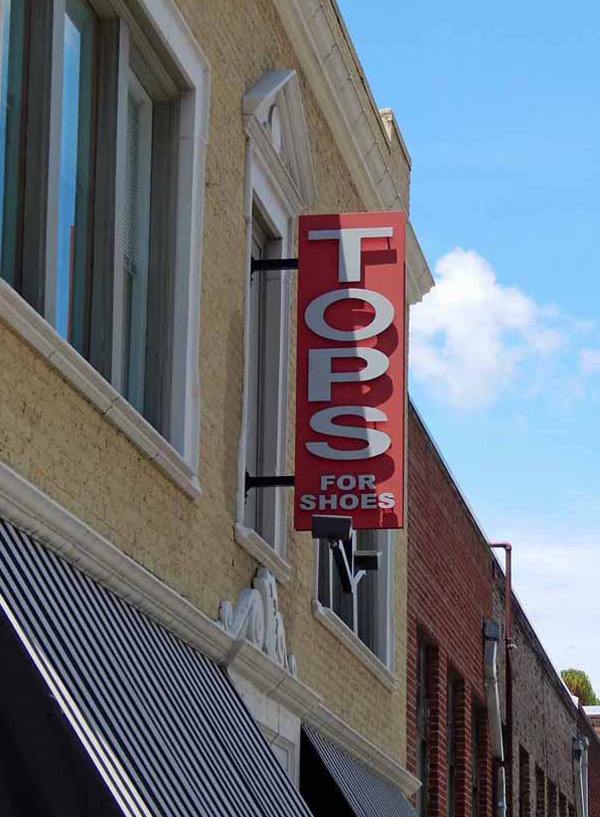 Tops for Shoes is the veteran retailer of downtown having started in 1952, and undeniably it is the top shoe buying experience in Asheville…and probably this little corner of the Southeast. With 100,000 pairs of shoes and trained, professional salesmen at your disposal, Tops just might be nirvana for women with shoe fetishes. Don't miss their Penny Sale where you buy one pair of shoes on sale and get the second pair for a penny.
So what is your favorite shopping haven in Asheville?