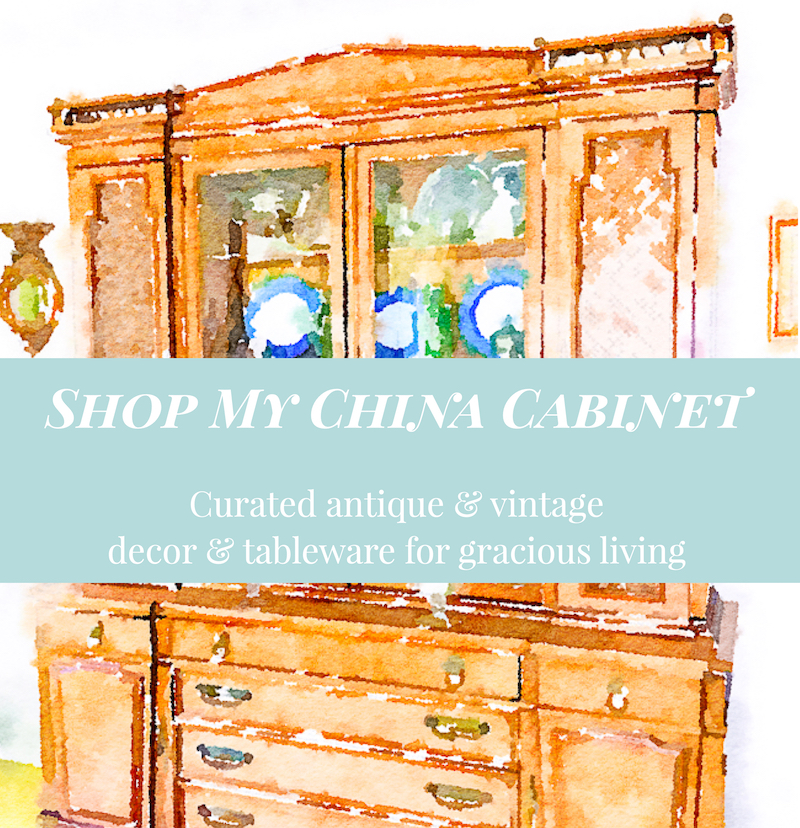 Hey y'all!
I'm excited to bring you lovely peonies more than just entertaining tips and shopping links with this sale of hand selected vintage and antique tableware and home decor. 
On the 2nd and 4th Thursdays of the month,  I will be hosting an Instagram flash sale to offer the decor, tableware, linens, and serving pieces I've discovered on my thrifting adventures, estate sale hunts, and auction scouting. You can shop the remaining treasures here on the website after the flash sale is over.
Why shop the flash sales?
Better Pricing & The Early Bird Gets the Worm
How do I shop an Instagram flash sale?
At 8:00PM EST I will start posting the photos of what's for sale with a description of the piece and the price. When you see something you want, comment SOLD on the photo of it.
Turn on post notifications, so you don't miss it. Sale is first come first serve. You can comment backup to be next in line for the item.
After commenting, send me a direct message with your zip code and email address, so I can send you an invoice via PayPal. Your invoice is due within 24 hours.
If you don't send me a message quickly or pay your invoice, I will move on to the next person in line.
Once you are all paid up, I will mail you your antique or vintage treasure!
All sales will be final. Shipping to U.S. residences only.
Perfect for Fall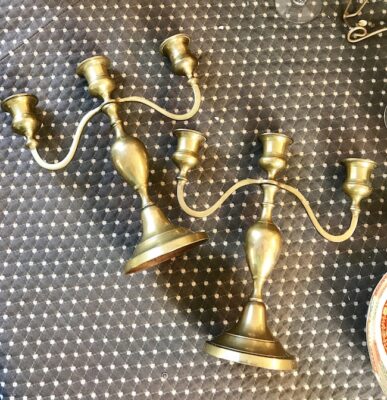 Pair of Solid Brass Candelabra
A stylish touch to any tablescape for that bit of vintage shine. Add a colorful taper for a modern feel.
Size: 11 1/4"H x 10 1/2″W. Good condition.
$72 + Shipping

Japanese Arita Teacups – Imari Peacock Pattern
The perfect fall palette all in one teacup! Set of 4 or 8 available.
Cup Size: 2 1/2"H x 3 1/4″ D. Saucer: 5 5/8″ D. Excellent condition.
Set of 4 $38 or Set of 8 $68 + Shipping

Rustic Vintage Wooden Toolbox
The options are endless with this vintage toolbox, especially if you love that farmhouse style. Fill it with pumpkins for the hearth or use it as a container for a floral arrangement.
Size: 10"H x 21 1/2″L x 7 1/2″ W. Good condition with general wear and scratching.
$52 + Shipping

Vintage Brass Potpourri Dish
This little vintage brass dish is just calling out for some pumpkin spice potpourri!
Size: 2"H x 5″ D. Good condition with some tarnish spots.
$28 + Shipping
Antique & Vintage Decor & Tableware

Capodimonte Style Tureen with Dish
Can you say Palm Beach chic? A vivacious coral ceramic tureen in the Capodimonte style with snail knop and border set on shell under plate.
Size: 14"H x 10″W. Good condition.
$75 + Shipping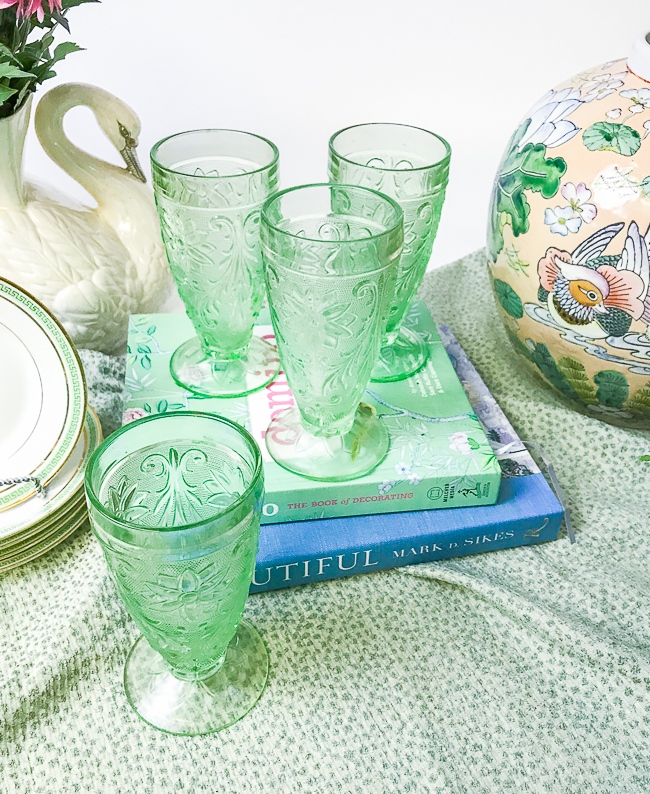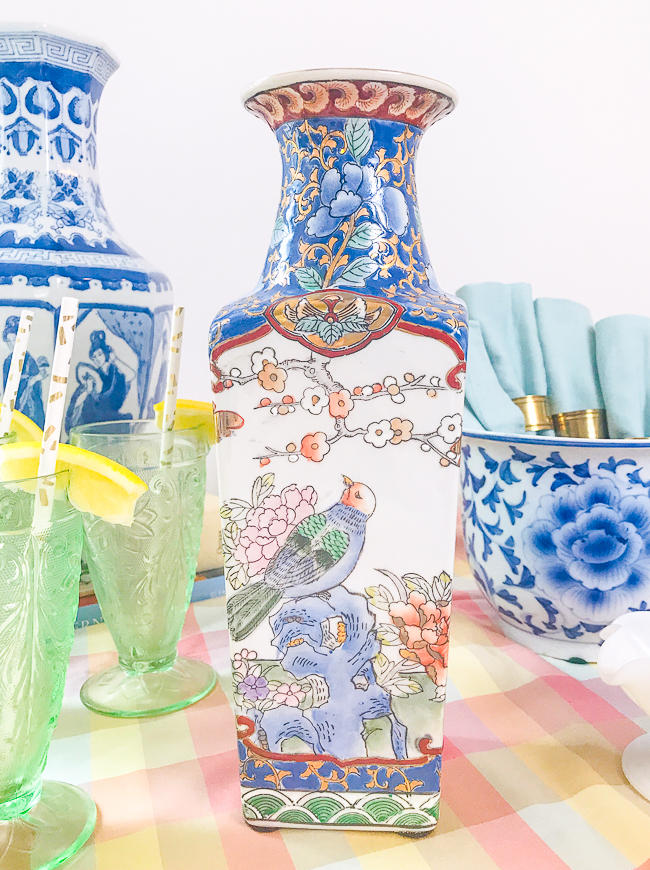 Chinoiserie Vase with Cherry Blossoms & Birds
This vase is so charming with the cherry blossom and bird motif. The pastel colors are lush and soothing.
Size: 12.5"H x 4"W. Excellent condition.
$48 + Shipping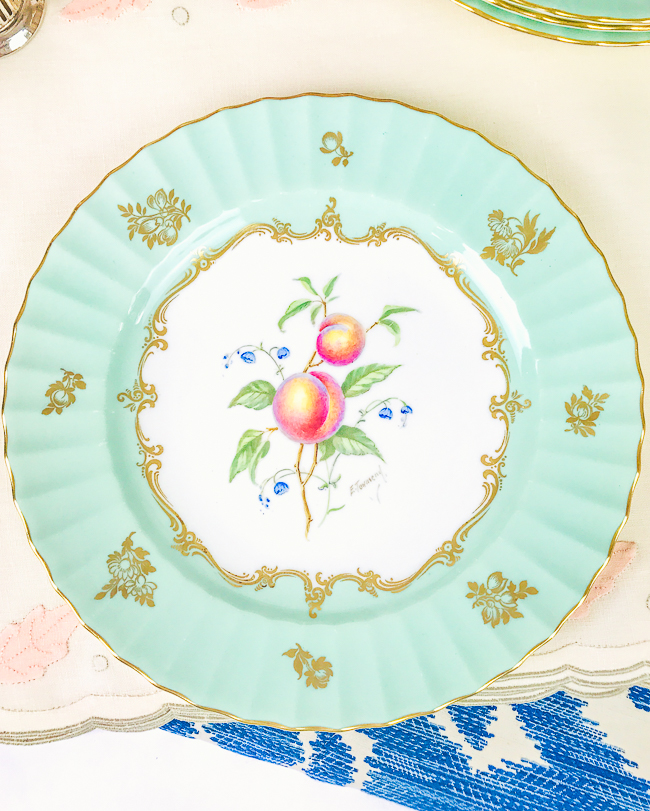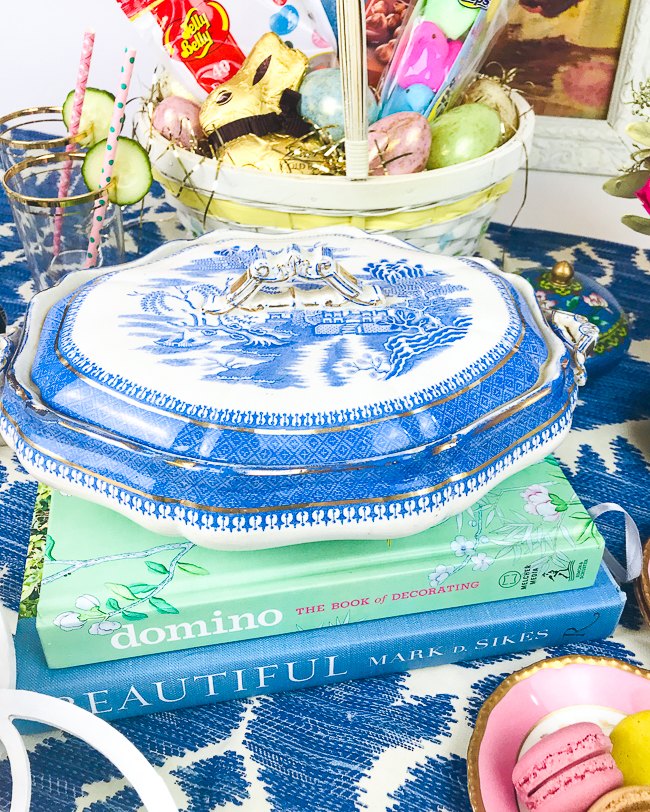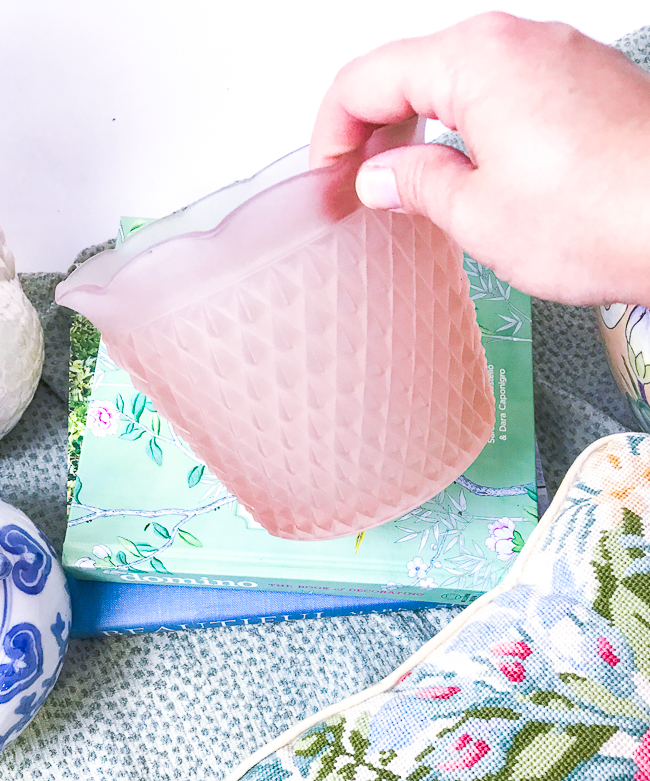 Pink Frosted Glass Cachepot
Simply can't get enough pink! How about you? This frosted glass cachepot would be great as a champagne cooler or planter!
Size: 7" H x 5.5"W. Excellent condition.
$24 + Shipping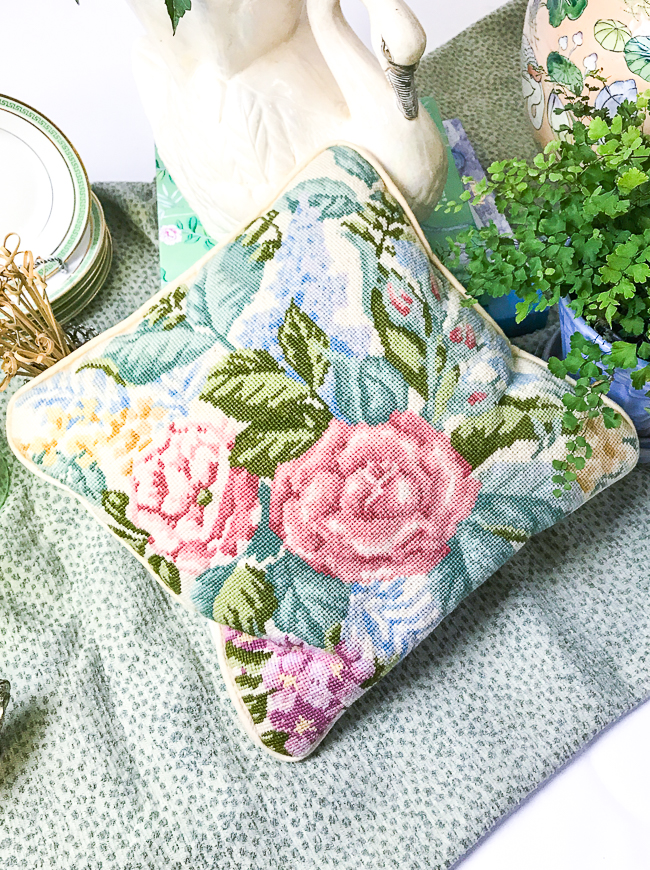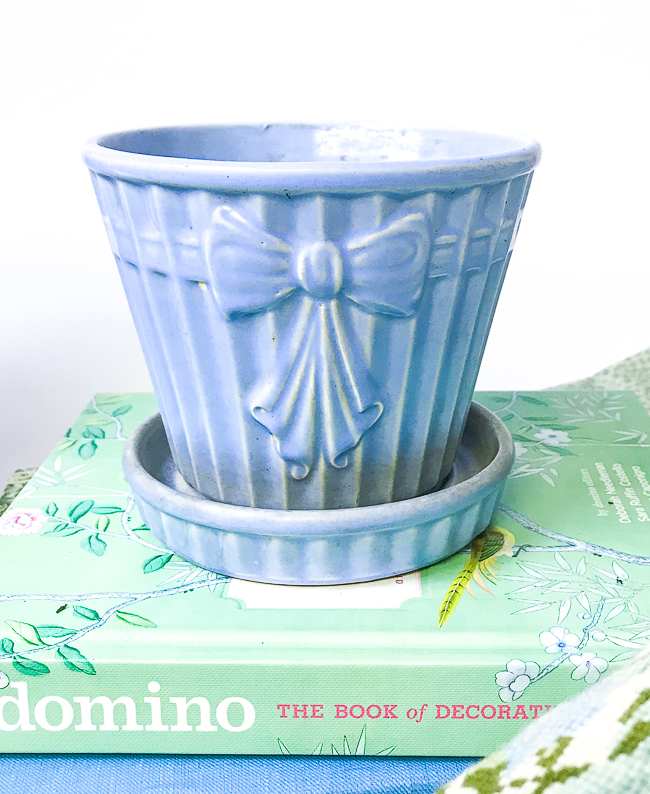 Blue Bow Planter
A sweet addition to any console or entry table is this blue bow planter with a pretty fern peaking out over the top. The subtle blue glaze and fluting reminds me a bit of Arts & Craft pottery.
Size: 5.5" H x 4.5"W. Good condition with some staining and pitting to surface.
$28 + Shipping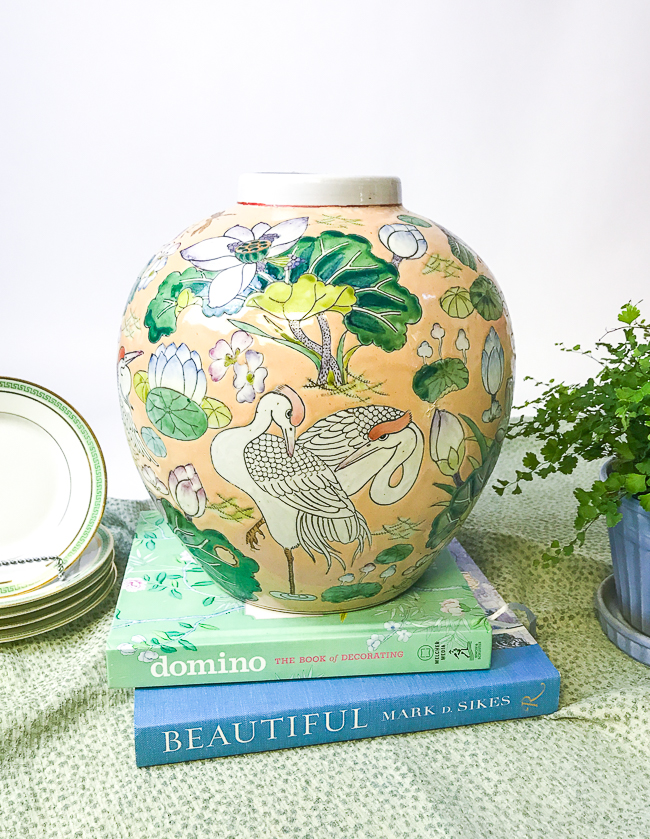 Peach Ginger Jar with Scenes of Birds & Lotus Flowers
Large ginger jar with missing lid in a subtle peach color. Chinoiserie scenes of lotus flowers and various birds, including cranes and ducks around body of vase. This piece just begs for a big bunch of white hydrangeas blossoming over the top!
Size: bowl – 11″"H x 10.5″ W. Excellent condition with minimum wear, but missing lid.
$62 + Shipping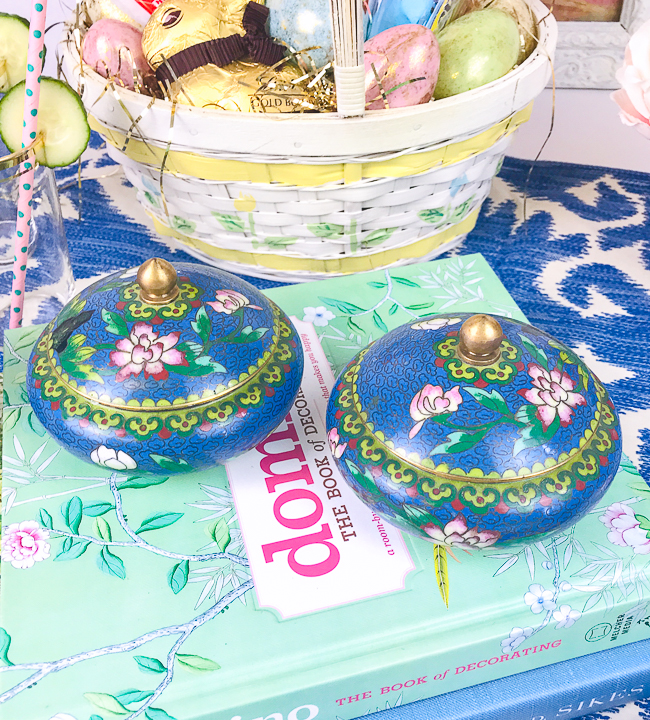 Pair of Cloisonné Jars
These cloisonné jars are utterly charming with their Carolina blue ground and touches of lime green and rose pink. Use these on your vanity to hold hair pins and lipsticks or at your desk for paper clips and the like. Great Chinoiserie accent. The art of #cloisonné is so complex. Did you know it can take up to 37 kiln firings to complete the enamel application?
Size: 3.25" H x 4.25" D. Very good condition.
$34 + Shipping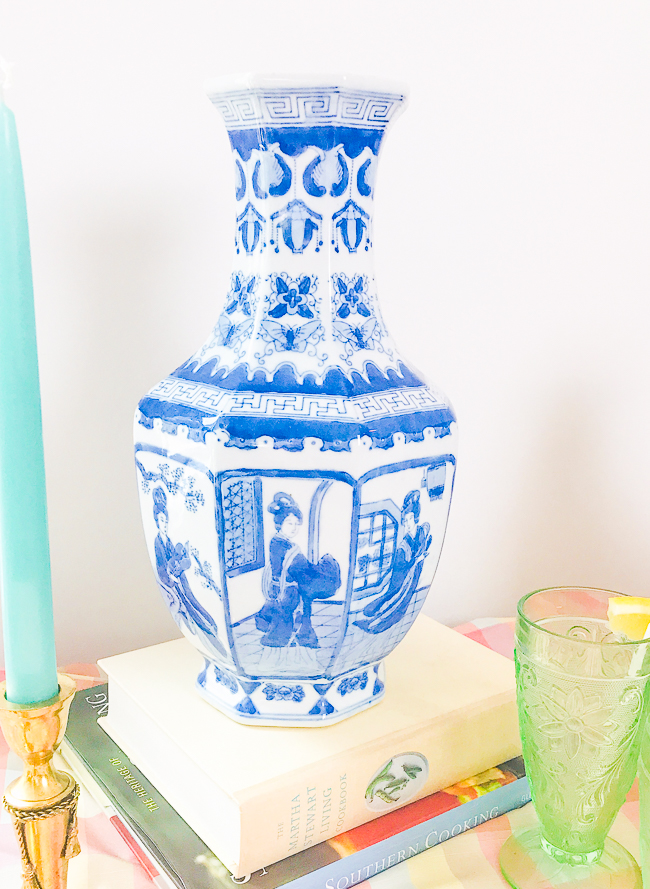 Blue & White Hexagon Shape Chinoiserie Vase
Geisha vignettes span the body of this lovely blue and white hexagon shaped vase. The greek key border, Chinese lanterns, and butterflies are particularly chic. This vase is sure to make a statement wherever you place it. Pair available.
Size: bowl – 14.5"H x 7.5″ W. Excellent condition.
One Vase $75 + Shipping or Two for $140 + Shipping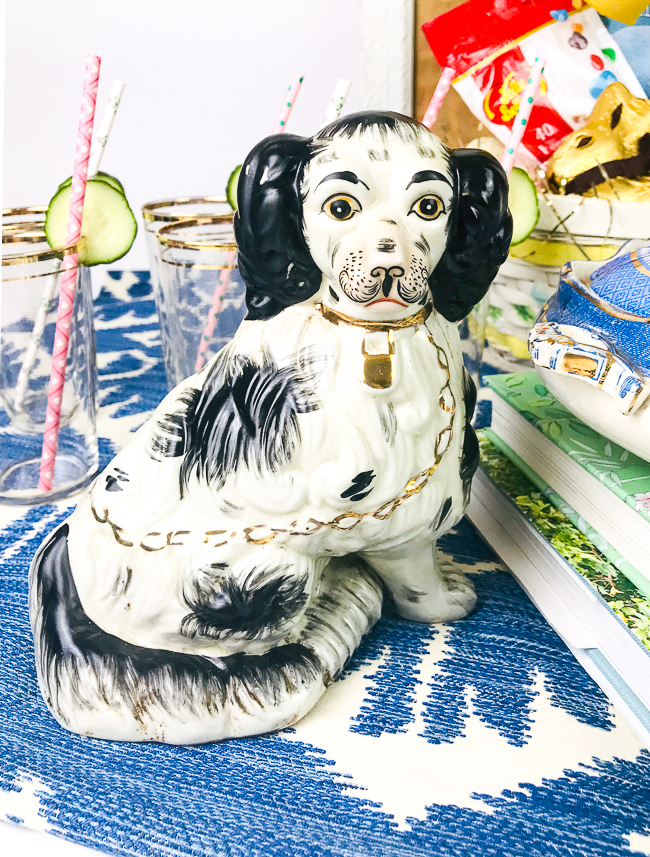 Staffordshire Style Spaniel
Black and white Staffordshire style spaniel with gilt collar and leash. This charming little fellow deserves a prominent place on a styled bookshelf. He is just too cute!
Size: 7"H x 6"L x 4.25"W. Good condition with slight grime and crazing.
$38 + Shipping
If you have questions about an item for sale or want to see additional pictures, do not hesitate to reach out via penderandpeony@gmail.com or comment below!
Looking for a particular vintage or antique treasure? Let me hunt it down for you!
I'm happy to be on the look out for the pieces you are collecting – comment or email.