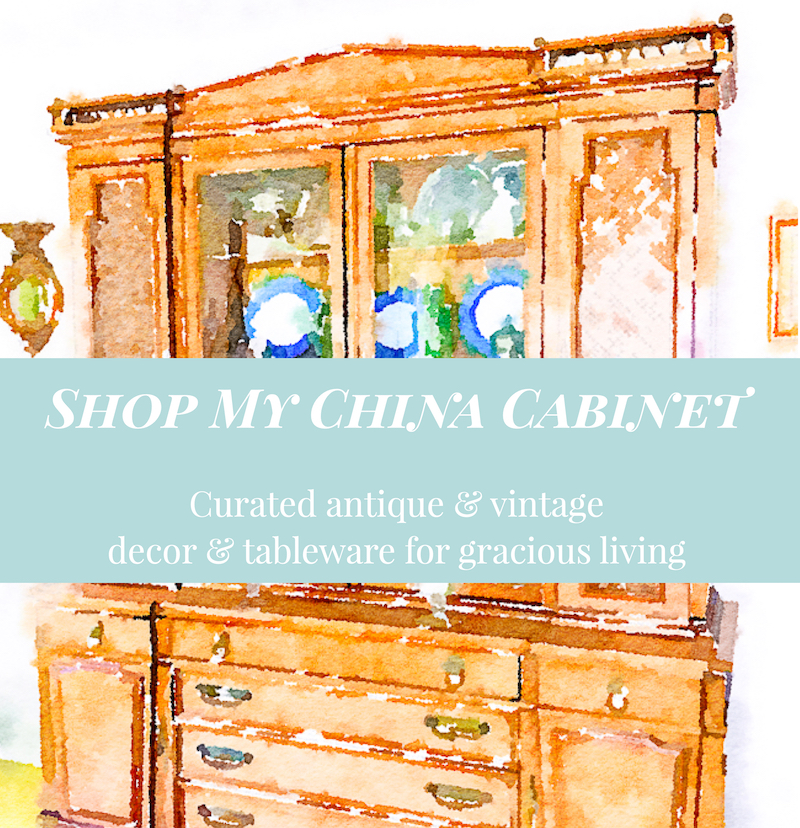 Hey y'all!
I'm excited to bring you lovely peonies more than just entertaining tips and shopping links with this sale of hand selected vintage and antique tableware and home decor. 
Twice monthly on Thursdays,  I will be hosting an Instagram flash sale to offer the decor, tableware, linens, and serving pieces I've discovered on my thrifting adventures, estate sale hunts, and auction scouting. You can shop the remaining treasures here on the website after the flash sale is over.
Why shop the flash sales?
Better Pricing & The Early Bird Gets the Worm
How do I shop an Instagram flash sale?
At 8:00PM EST I will start posting the photos of what's for sale with a description of the piece and the price. When you see something you want, comment SOLD on the photo of it.
Turn on post notifications, so you don't miss it. Sale is first come first serve. You can comment backup to be next in line for the item.
After commenting, send me a direct message with your zip code and email address, so I can send you an invoice via PayPal. Your invoice is due within 24 hours.
If you don't send me a message quickly or pay your invoice, I will move on to the next person in line.
Once you are all paid up, I will mail you your antique or vintage treasure!
All sales will be final. Shipping to U.S. residences only.
Antique & Vintage Decor & Tableware

Majolica Asparagus Plate – Salins
I have recently started to fall hard for the colorful and nature inspired Majolica pottery style. One of the classic forms are these lovely asparagus and artichoke plates. This one is most likely French by the earthenware producer Salins, which opened in 1857. This would look great on a plate wall with blue and white!
Unmarked in excellent condition with some slight pitting and kiln marks just noticeable to underside. Size: 8 3/4"D.
$62 + shipping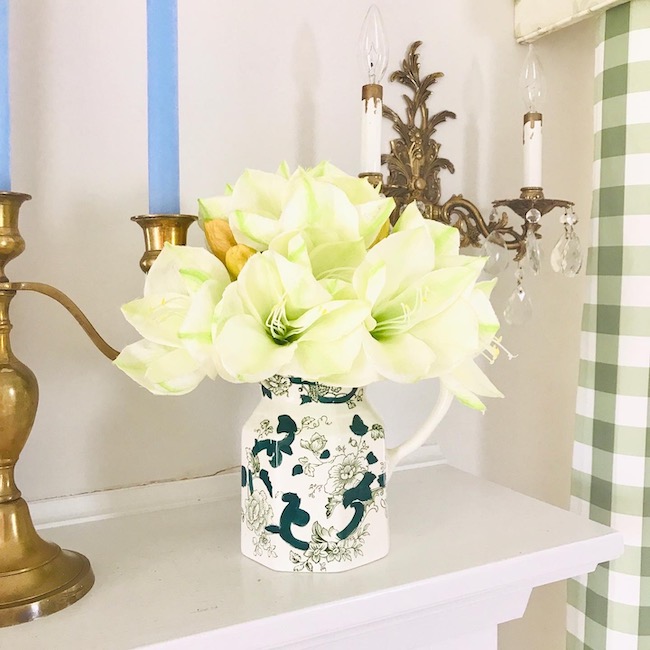 Mason's Ironstone Floral Pitcher
While blue and white may be the No. 1 color combo, green and white is a close second! This Mason's Ironstone pitcher in the Chartreuse pattern is a lovely addition to your vase collection.
Size 7" H x 7.5"L.
$44 + shipping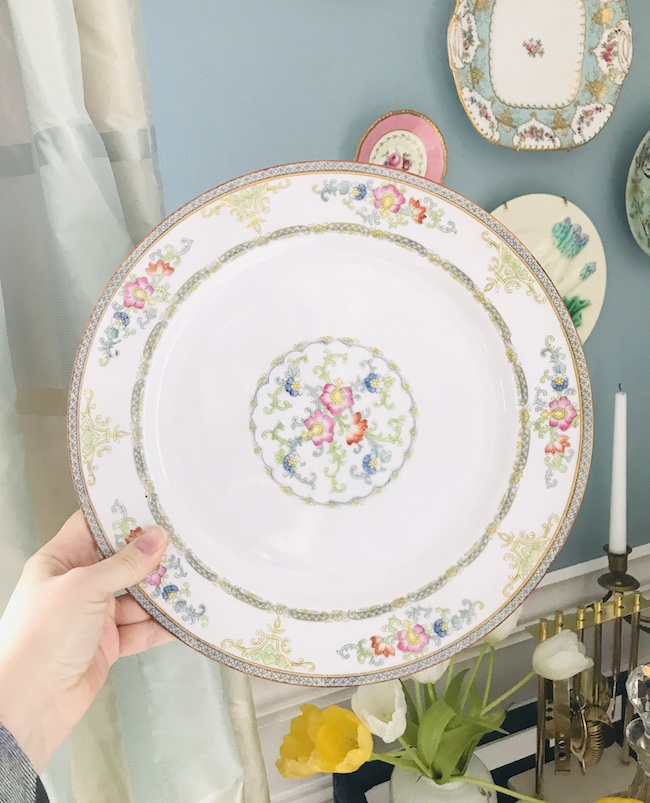 Noritake The Kiva Pattern Round Platter
Y'all this is such a pretty Asian floral pattern in pale blues, greens, and pinks – Noritake, The Kiva. 12" D. is perfect for serving or center it on in a plate wall.
$38 + shipping.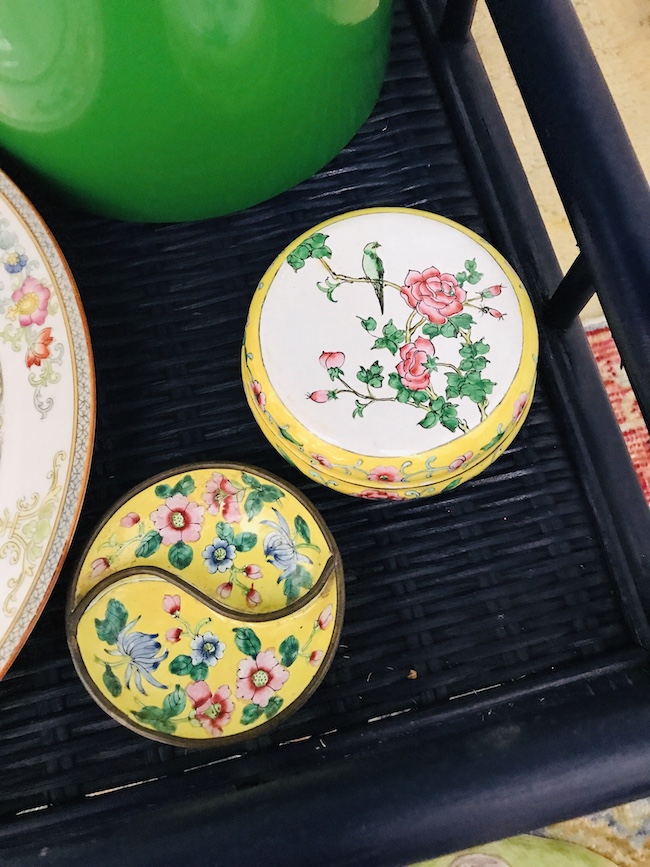 Enamelware Dish and Box with Bird and Floral Design
This colorful enamelware set is the perfect pop for your dresser or desk! With a sunny yellow ground and pink and blue flowers with a sweet little bird, it would look great in either place.
Box size: 1.75″ H x 4.5″D; Dish size: .75″ H x 3.75″W
$32 + shipping

Capodimonte Style Tureen with Dish
Can you say Palm Beach chic? A vivacious coral ceramic tureen in the Capodimonte style with snail knop and border set on shell under plate.
Size: 14"H x 10″W. Good condition.
$75 + Shipping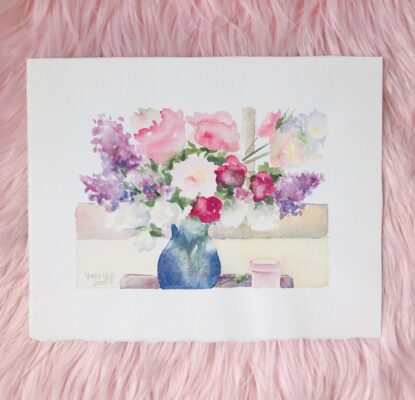 Floral Still Life Watercolor on Paper
Can't resist these pretty florals for a cheery spot during the dreary winter months.
Unframed 8" H x 10" L. 
$28 + shipping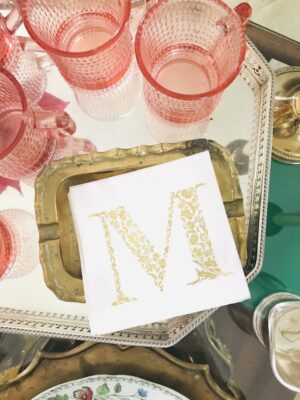 Vintage Brass Ashtray with Bamboo Rim
I love anything with bamboo detailing, and it is just perfect on this brass ashtray. I don't smoke, and I don't encourage you to either, but vintage ashtrays are just so swanky and this accessory of a bygone era is perfect for entry tables or vanities to hold your trinkets.
Size 7" L x 5" W. One corrosion spot.
$22 + shipping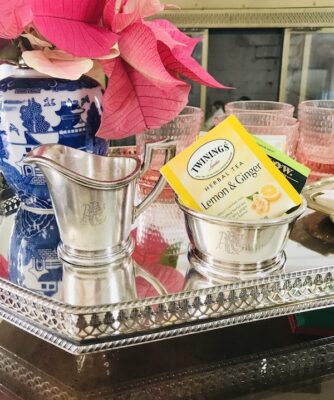 R. Wallace Silverplate Creamer & Bowl with Monogram
You can never have too much silver in my opinion. This creamer and bowl set with monogram ABGC is charming. I love the clean lines and luster surface. Made by R. Wallace, silver soldered.
Size: Creamer 3.25" H x 4"L. Bowl 2"H x 3.5"D.
$32 for pair + shipping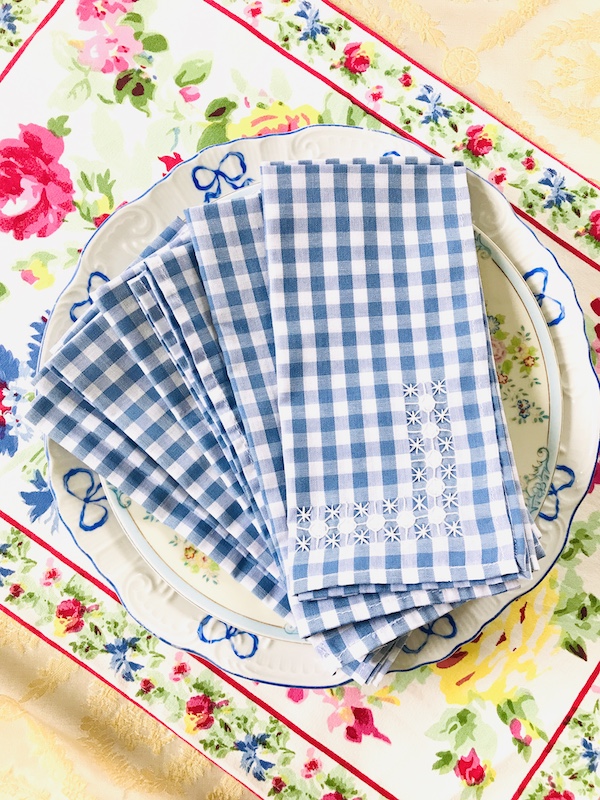 Blue & White Gingham Napkins with Embroidery, Set of 8
seriously blue and white gingham is just perfect for your Easter tables, and this set of 8 napkins with hand done embroidery in the corner is charming. They look lovely folded neatly or pulled through a napkin ring in a tuft. Size 15" square
$32 + shipping for set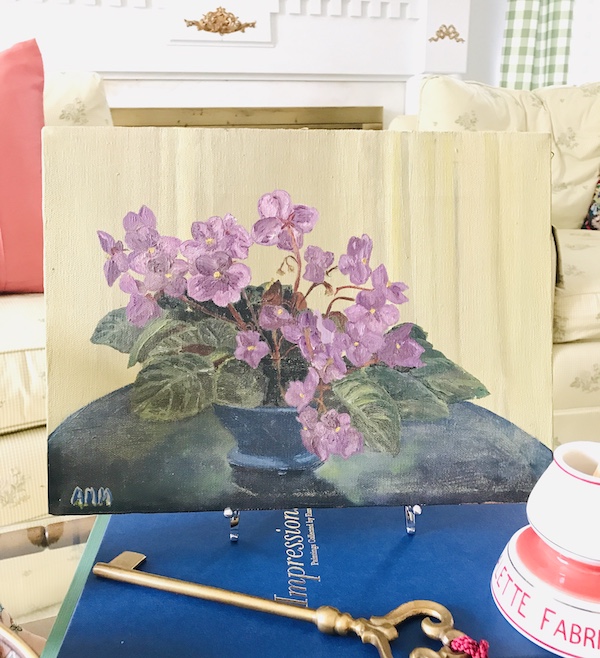 Floral Still Life Painting of Violets
Violets are supposed to represent abundance, devotion, and remembrance, so what a lovely symbol to hang on your wall with this little still life painting of potted violets. Oil on canvas. Signed lower left "AMM" – very good condition. Size: 9"H x 12"W.
$39 + shipping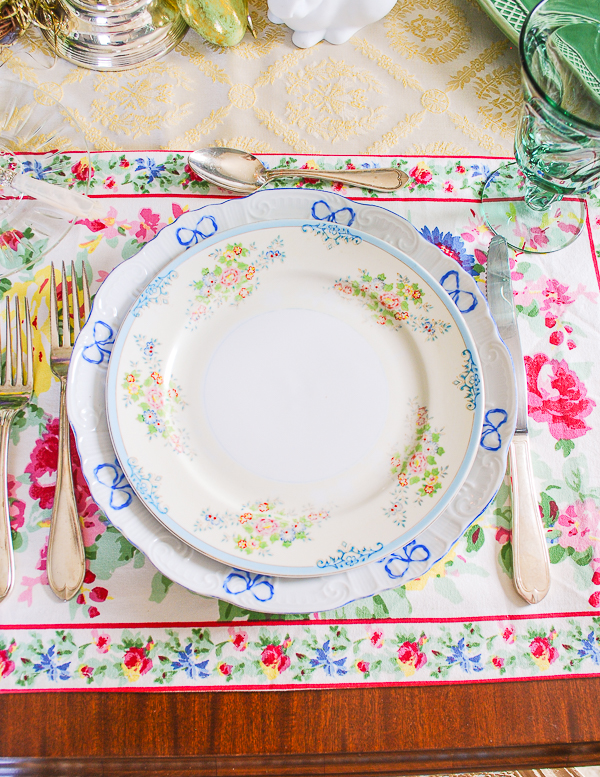 Japanese Floral Salad Plates, Set of 6
 These are the perfect spring floral layer for your place setting! The pale cream background perfectly sets off the baby blue border and pink, blue, green, and orange floral sprays. Made in Japan. Set of 6 or 12 salad plates available. Size 8.5"D. Some of the designs on plates are a bit faded. Email me if you want all 12.
Set of 6 $43 or 12 $79 + shipping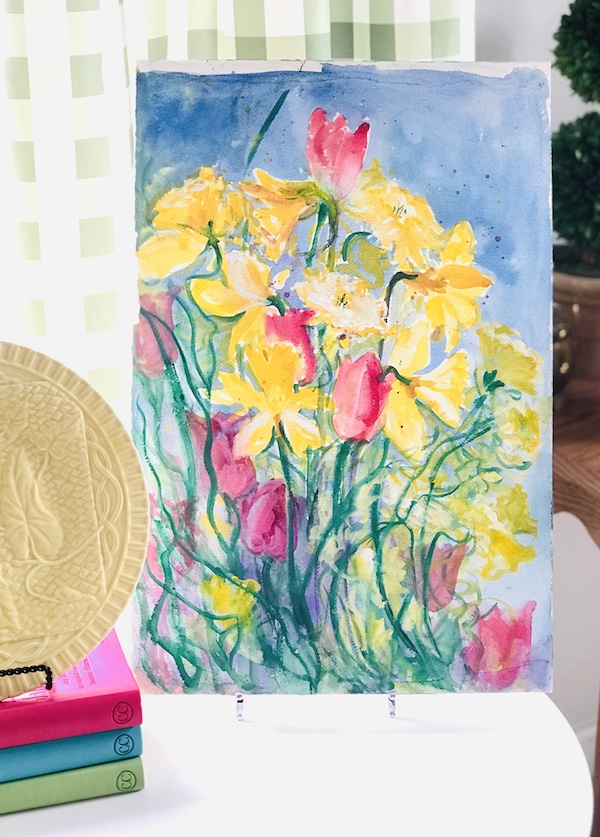 Floral Watercolor of Tulips and Daffodils by Susan Lingg
The prettiest spring florals I ever did see! If this daffodil and tulip watercolor and acrylic painting on paper doesn't put you in the mood for spring, I don't know what will. Painted by Susan Lingg – an artist from my home town in the mountains of N.C. Unframed, 18"H x 12"W.
$45 + shipping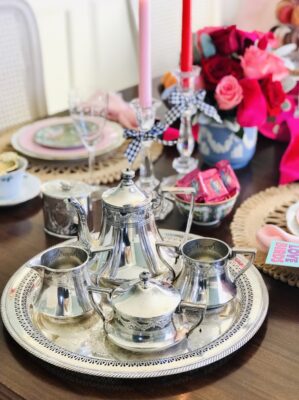 4 piece E.G. Webster & Son Quadruple Silver-plate Tea Set & Wm. Rogers Silver-plate Tray
Every chic hostess needs a silver tea set! This E.G. Webster 4 piece set in quadruple silver plate is so lovely with its floral garland design. It is simple and elegant. The Wm. Rogers tray looks perfect underneath.
Tea set Size: tallest 7"H, shortest 3" H. Tray: Size 15"D.
$79 for entire set and tray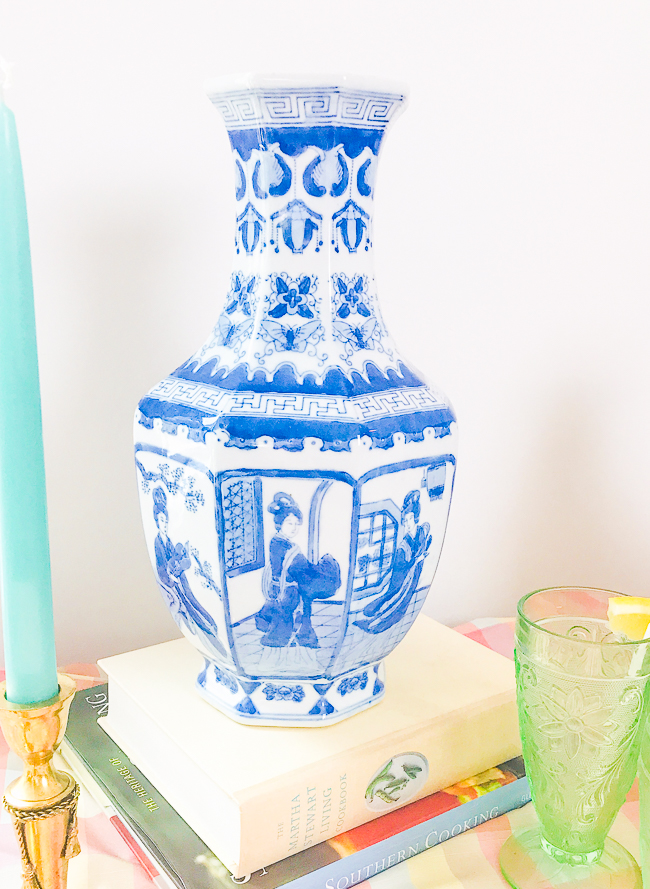 Blue & White Hexagon Shape Chinoiserie Vase
Geisha vignettes span the body of this lovely blue and white hexagon shaped vase. The greek key border, Chinese lanterns, and butterflies are particularly chic. This vase is sure to make a statement wherever you place it. Pair available.
Size: bowl – 14.5"H x 7.5″ W. Excellent condition.
One Vase $75 + Shipping or Two for $140 + Shipping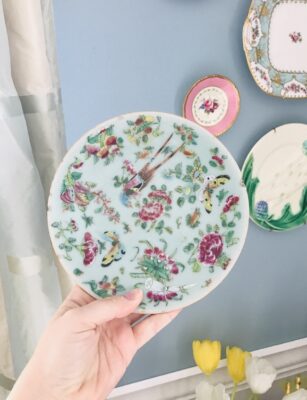 Antique Famille Rose Celadon Plate
Y'all this antique famille rose celadon plate is so stunning and unique! I hung one on the plate wall in my dining room and love the color and whimsy it adds.
Size 7"D. Some chips to edge consistent with age.
$39 + shipping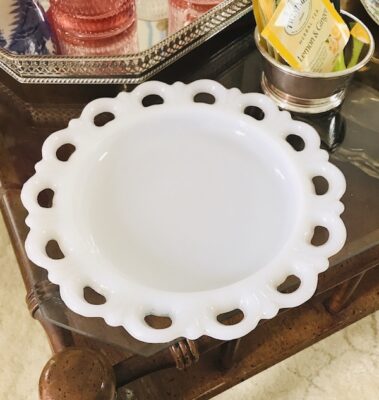 Milk Glass Dish with Pierced Scalloped Rim
Such a pretty dish for entertaining anytime of year, and the scolloped rim really sets it apart!
8" D. Great condition. 
$20 + shipping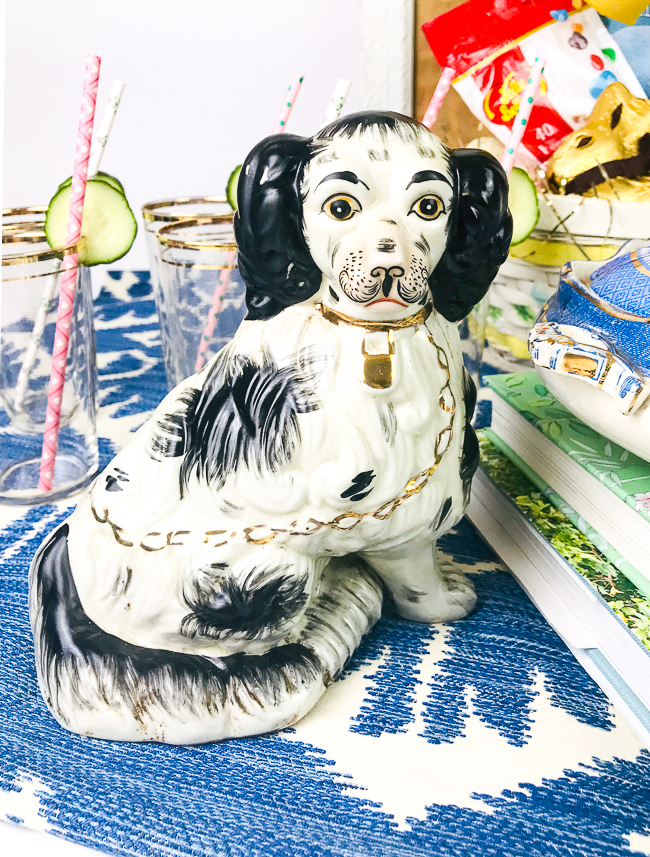 Staffordshire Style Spaniel
Black and white Staffordshire style spaniel with gilt collar and leash. This charming little fellow deserves a prominent place on a styled bookshelf. He is just too cute!
Size: 7"H x 6"L x 4.25"W. Good condition with slight grime and crazing.
$38 + Shipping

Blue and White Vase with Bird and Lotus Flower
This is a lovely little blue and white vase with bird and lotus flower design. It is pre-drilled for lamp base just grab a kit from the hardware store and a pretty shade to make a one of a kind lamp!
Size 10.5"H x 5"W.
$33 + shipping 
Holiday Entertaining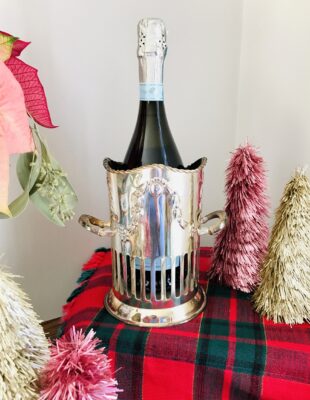 Silver-plate Champagne Caddy
Pop the champs lovelies cause this silver plate Champagne caddy is just perfect with the bell flower garland and twisted rope rim.
Size 7 1/2″ H x 7"W.
$38 + shipping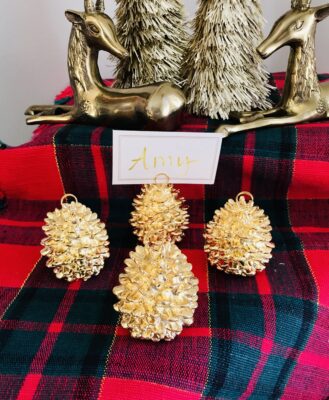 Pine Cone Place Card Stands
These Department 56 gold pine cone place card holders are pure magic! They will add just the right sparkle to your place settings this Christmas. Set of 4.
Size 2 1/4" H.
$26 + shipping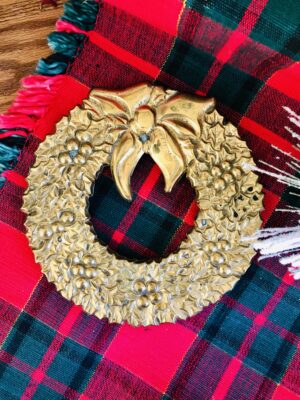 Brass Wreath Trivet
Trivets are one of those tableware items that you appreciate the older you get, and this brass Christmas wreath is just right for your holiday table.
 Size 7" D.
$22 + shipping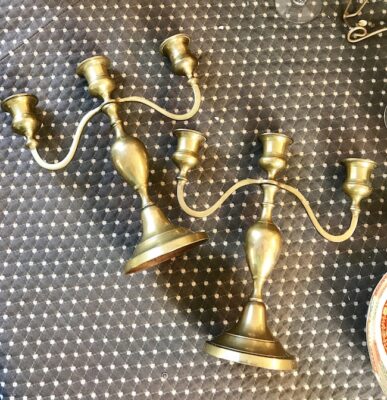 Pair of Solid Brass Candelabra
A stylish touch to any tablescape for that bit of vintage shine. Add a colorful taper for a modern feel.
Size: 11 1/4"H x 10 1/2″W. Good condition.
$72 + Shipping

Japanese Arita Teacups – Imari Peacock Pattern
The perfect fall palette all in one teacup! Set of 4 or 8 available.
Cup Size: 2 1/2"H x 3 1/4″ D. Saucer: 5 5/8″ D. Excellent condition.
Set of 4 $38 or Set of 8 $68 + Shipping

Rustic Vintage Wooden Toolbox
The options are endless with this vintage toolbox, especially if you love that farmhouse style. Fill it with pumpkins for the hearth or use it as a container for a floral arrangement.
Size: 10"H x 21 1/2″L x 7 1/2″ W. Good condition with general wear and scratching.
$52 + Shipping

Vintage Brass Potpourri Dish
This little vintage brass dish is just calling out for some pumpkin spice potpourri!
Size: 2"H x 5″ D. Good condition with some tarnish spots.
$28 + Shipping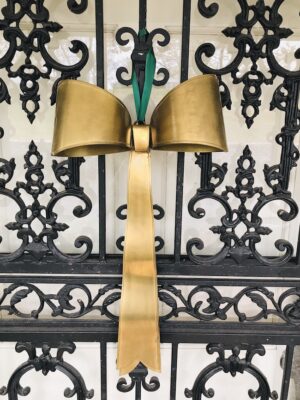 Brass Bow Hanger
This is an absolute show stopper! If you love bows and brass that is! Hang this lovely on your front door or on a wall. Would be great for those in apartments!
Size: 23" H x 11" W x 4" D.
$45 + shipping
If you have questions about an item for sale or want to see additional pictures, do not hesitate to reach out via penderandpeony@gmail.com or comment below!
Looking for a particular vintage or antique treasure? Let me hunt it down for you!
I'm happy to be on the look out for the pieces you are collecting – comment or email.