What is Grandmillennial Style?
An interior design aesthetic that re-embraces traditional style...
A push to return to the collected interior...
A celebration of color and pattern...
A lifestyle that seeks joyful everyday pleasures at home...
We grandmillennials adore:
Traditional interiors with charming twists,

Bright colors,

Bold patterns, especially romantic florals and preppy lines,

Chinoiserie,

Antiques,

& That little extra embellishment, especially if it's monogrammed!
But don't bore us with all-white spaces, minimalism, or that mass produced farmhouse trend!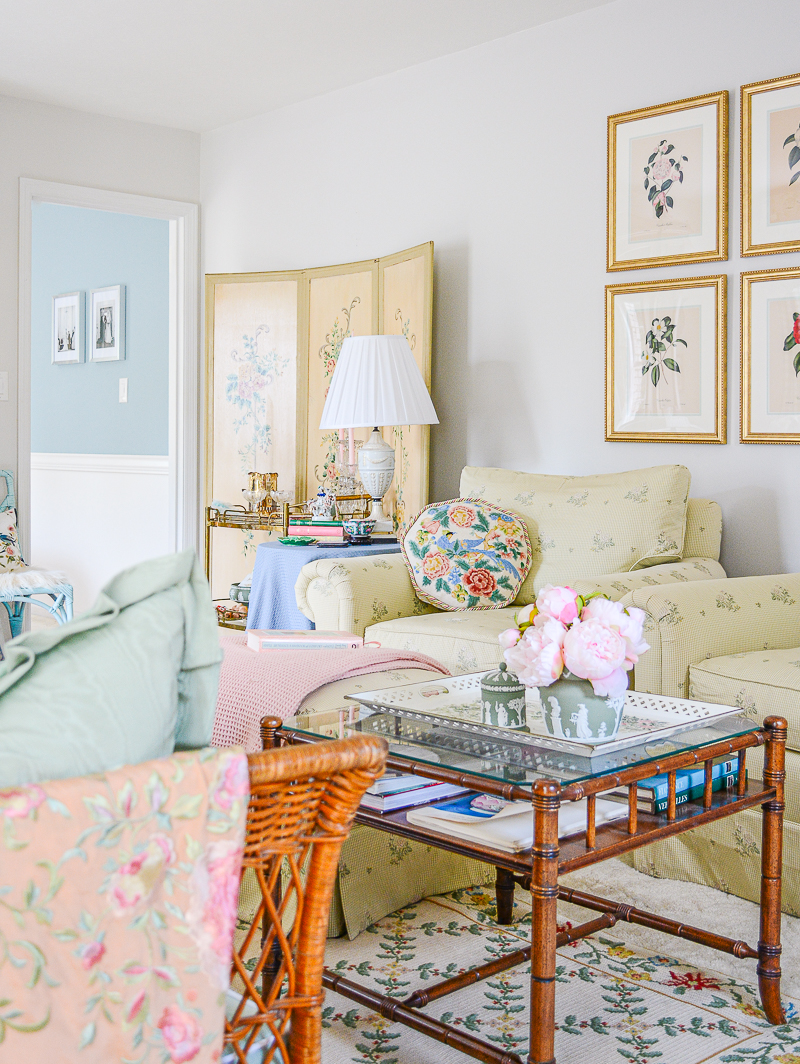 Thanks to Emma Bazilian and House Beautiful as of September of 2019 this resurgence of classical design received an official denomination – Grandmillennial!
While the term suggests an age range for this aesthetic, most grandmillennials agree everyone is welcome! And we fully recognize that it's older generations we have to thank for keeping traditional design around. In fact, many of us site our grandmothers' homes as the inspiration behind our love of antiques, florals, and charming curios.
Grandmillennials, undoubtably, have a nostalgia for the warmth, comfort, and charm they remember from their youth, and a longing to create spaces in their own homes that embrace character, elegance, and whimsy.
In paying homage to the classical design pioneers like Elise de Wolfe, Albert Hadley, Sister Parish, and Nancy Lancaster, grandmillennials hope to bring a fresh perspective to traditional style -- updated to meet today's modern living.
In the Grandmillennial interior, you see traditional motifs and lines but a brighter approach to color; more streamlined, utilitarian furniture; a preppy mix of high and low; and loads of whimsical playfulness!
Are You A Grandmillennial?
Take the quiz to see if you're a tried and true member of the club!
#1.

When confronted with beautiful fabrics you immediately...
#2.

You are so tired of seeing rooms with...
#3.

You're selecting new furniture for your dining room, would you rather buy...
#4.

Classical design is essential to a beautifully decorated space!
#5.

A family celebration is in the works, do you...
#6.

Your style and design icons are...
#7.

When you see a room brimming with collected curios, art, and heirlooms, you...
#8.

You get starry eyed for...
#9.

Every room needs a dose of Chinoiserie ceramics!
#10.

Needlepoint is always a good idea!
Results

It's confirmed! You are a grandmillennial my friend!
Looks like your tastes veer in a different direction! You do you! 🙌
If you've got traditional tastes, love decorating and entertaining, and are always hunting out unique decor, I think you'll like it around here!
Welcome to Pender & Peony!
Here we pursue classically charming curios, traditional interiors with colorful frills, and joyful pleasures for gracious living! You don't want to miss...
Grandmillennial Decor Under $150