3 Things You Should Know About Tobacco Leaf Porcelains
Curio IQ Series: Let's take a short and sweet lesson in antiques! The 3 things you should know before buying and collecting Tobacco Leaf china.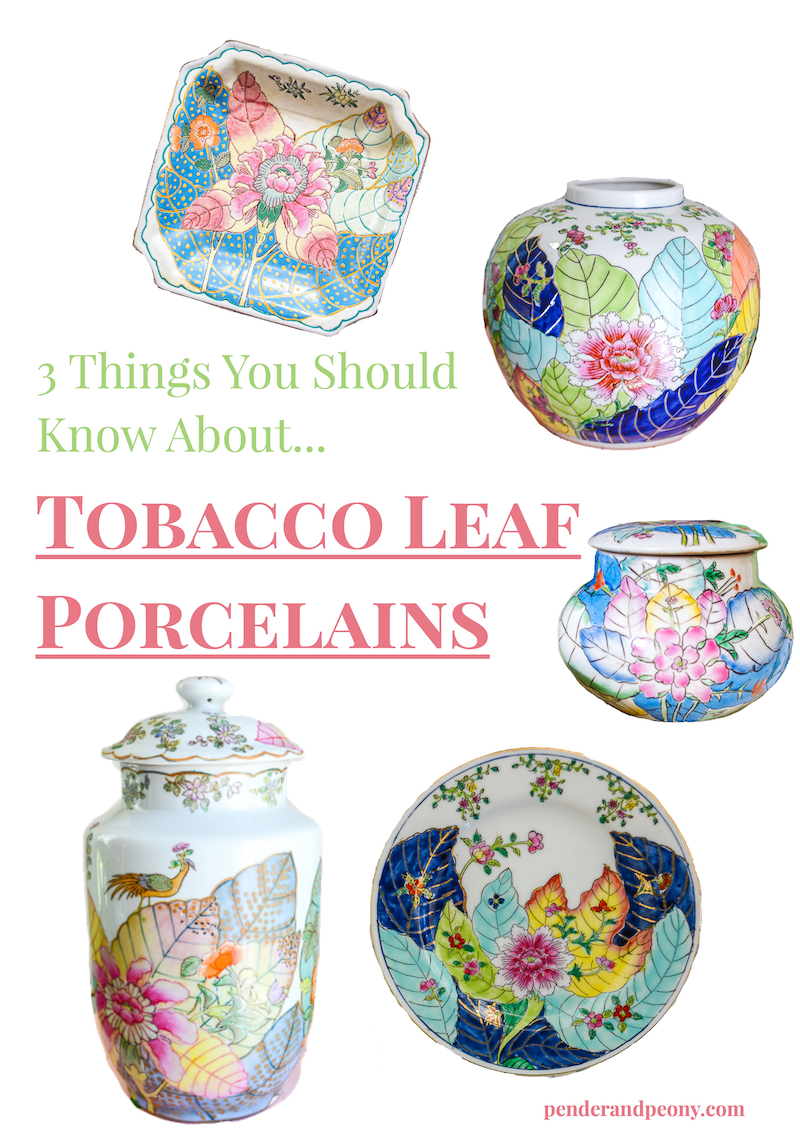 Tobacco Leaf porcelains are one of the most easily recognized china patterns out there. The distinctive multi-colored leaves and the bold pink flower instantly catches your eye. For centuries it has been a coveted porcelain design, and, thus, is both rare and expensive.
If you've been wowed by Tobacco Leaf dinner plates on an elaborately set dinner table, then chances are you were looking at Mottahedeh dinnerware, which is a reproduction of this 18th century pattern. To view early productions of Tobacco Leaf, check out the Winterthur and Mount Vernon collections.
No. 1 One of the Earliest Famille Rose Patterns
The Tobacco Leaf design originated in China during the Qianlong period (1736-1795) of the Qing dynasty, and it is an early Famille Rose ware designed for the export market.
Due to it's age and covet-ability, it is rare to find an 18th century piece in antique shops, thrifts, or estate sales. You are more likely to find vintage versions of tobacco leaf or Mottahedeh's popular version. Do not be fooled by retrospective reign marks on the bottom. As porcelain intended for the export market, these ceramics would not have had seal marks applied.
If you want to collect 18th century Tobacco Leaf, look to your trustworthy regional or international auction houses.
No. 2 Despite the Name, It's Not Likely a Tobacco Plant
The pretty pink flowers painted on these porcelains are most likely hibiscus or passion flowers against tropical foliage not a tobacco plant. If you look up images of a flowering tobacco plant, you will quickly notice the differences. Tobacco leaves are broad and serrated as shown in these porcelain designs, but there ends the commonalities.
We know by the 18th century, European merchants were regularly commissioning porcelains with very specific aesthetic dictates and providing silver and ceramic forms as well as engravings to Chinese potters for imitation. The Chinese potters who created this floral design were most likely influenced by the botanical discoveries of Captain James Cook's voyages to the South Pacific and textile designs from India.
No. 3 Multi-colored Leaves and Pink Blossom Always, Phoenix Sometimes
There are numerous variations on this design motif. Pierre L. Debomy's 2003 inventory details 38 tobacco leaf motifs alone with more than 21 variations on those 38.
You can distinguish this porcelain design by the brightly colored enamels depicting multi-colored leaves with serrated edges and defined veins, a large pink flower with curing petals, and other small blossoms. Sometimes a red or orange phoenix or bird is shown perched atop a leaf with a sprig of flowers in its beak.
Although the pattern was majorly influenced by the tastes and aesthetic desires of Europeans, Chinese artists still incorporated many symbols and motifs common to their culture. The phoenix was believed to represent peace and prosperity for example.
---
Learn more about collecting and authenticating Tobacco Leaf china in my book: The Grandmillennial's Pocket Guide to Chic Antiques
---
Tobacco Leaf Porcelains Around the Web: