Strolling the Autumn Forest
Inspirations for fall decorating and entertaining mixing moody botanicals with worn plaids, French Country with English Cottage, and bold color with burnished metallics.
Two years ago I started the tradition of creating a flatlay mood board for autumn decorating and entertaining, and I love doing this creative exercise. It pulls together my ideas and inspirations. It lets me see how things will read together. And it always generates new ideas!
I'm calling this fall's inspiration board: Strolling the Autumn Forest! I always feel the pull of the countryside this time of year with the bountiful harvests and lush foliage abounding. So where better than to draw inspiration!
Strolling the Autumn Forest is all about those wandering paths through the woods finding mother nature's bounty in plentiful acorns, squatty fungi, velvety feathers, and lush florals. Design wise it's about:
Moody botanicals like this Gucci scarf
Provencal prints mixed with worn plaids — Hello Pierre Deux!
Burnished metallics — golden wheat, copper pumpkins, and buttery leaves
Vibrant color — fuchsia, peach, eggplant, rust, sage, and smoky blue
Rich texture — quilted textiles, velvets, wools, silks, and suede
Don't you want to just dive right in?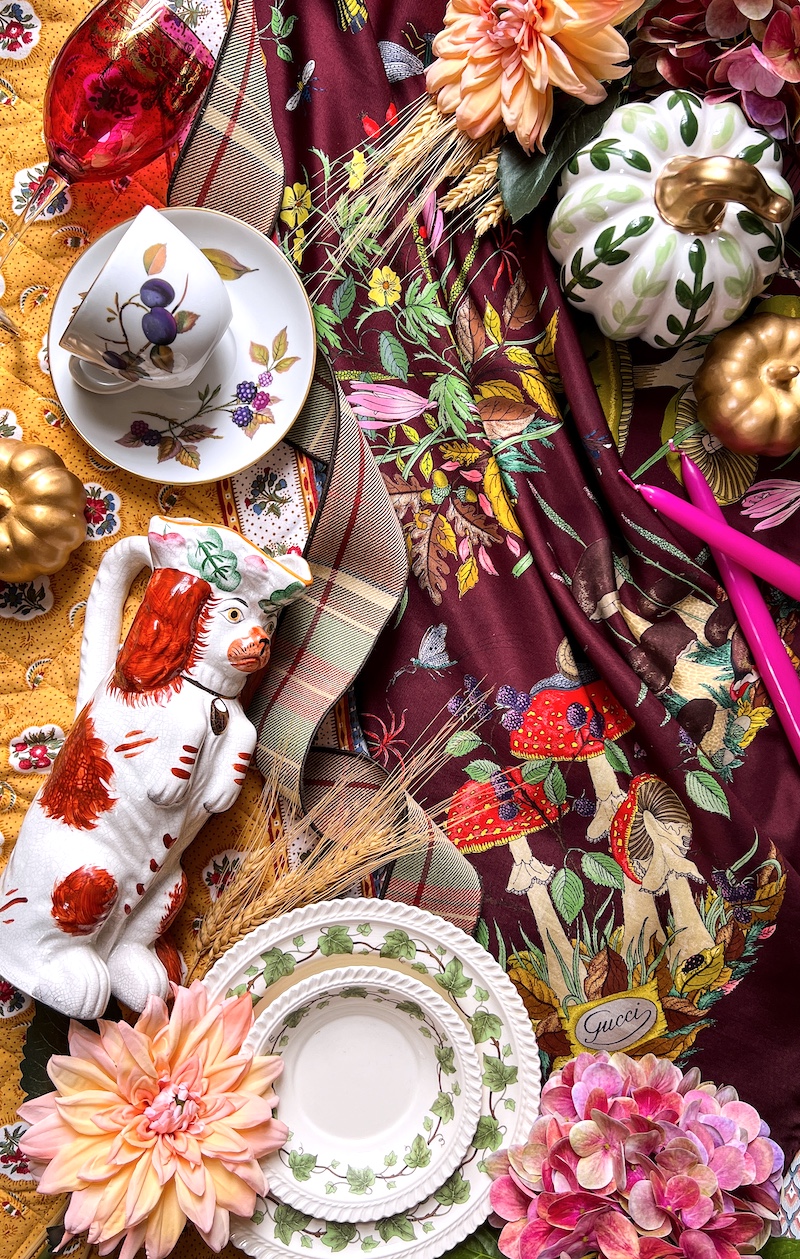 Mood Board sources: Staffordshire begging spaniel, Royal Gadroon Ivy Dishes, Royal Worcester Evesham Dishes, D. Stevens Plaid Ribbon 10-3940, For Pete's Sake Green Vine Pumpkin, Fuchsia Bohemian Goblet
I started decorating my formal living room for fall this past weekend, and you can catch glimpses of the decor in the top video. Head to this blog post to see how it turned out.
If you like a heavy dose of Chinoiserie in your decorating, check out this fall table! It incorporates the atmosphere of Strolling the Autumn Forest but with pagodas, cranes, and the Indian tree motif.
This fabulous old school Pierre Deux table runner in Avignonet will be featured in a French Country tablescape coming later this month. You might remember Deux for his quilted handbags that were all the rage in the 80's before Vera Bradley really took off.
My goal with these flatlays is always to provide inspiration for you and me, and to direct my decorating for the season as well as the themes for my weekly flash sales. If any of this autumn inspiration speaks to you, be sure to stop in these sales on Instagram every Thursday:
September 8 Chinoiserie Fall Table
September 15 Vintage Botanical Silk Scarves
September 22 Hunt Club – Equestrian Inspired
October 20 French Provencal Tablescape
If you are eager to start shopping for autumn, here's some lovelies I've discovered around the web that complement the look Strolling the Autumn Forest:
click on an image below to shop these finds
Autumn Decor:
Autumn Fashion: