Summer Al Fresco In The Garden
Summer al fresco in the garden dining idea — perfect for patriotic parties, relaxed dinners outdoors, and cooking for friends and family this July!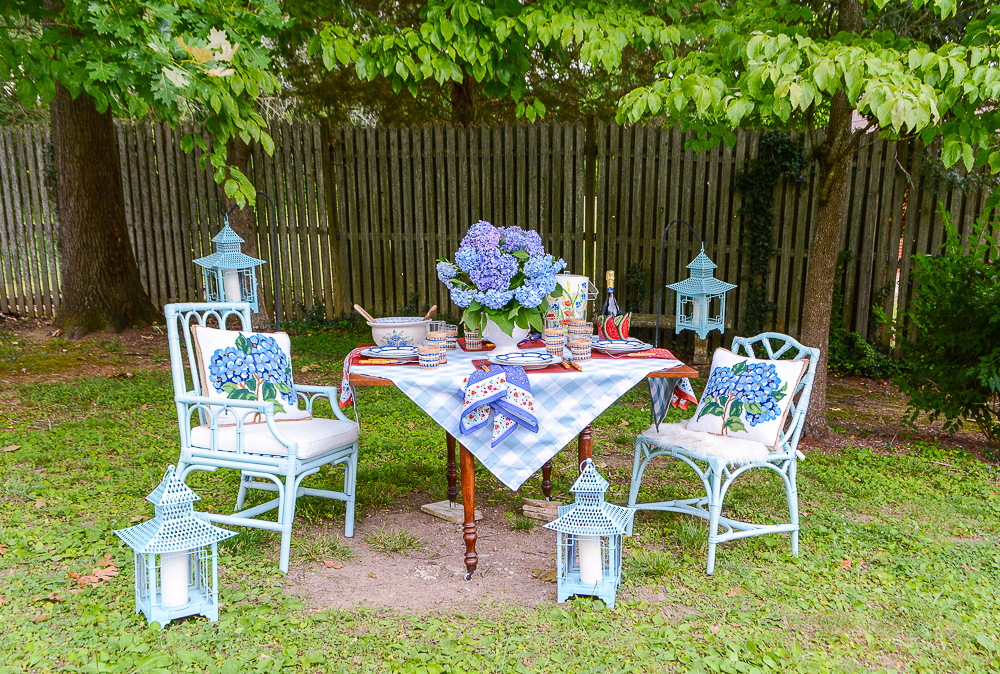 As the summer sunset slides down and shadows play under the canopy, torches blaze and twilight starts to twinkle.
The heat slowly breaks and the cicadas take over the chorus from twittering birds.
It's time to meander out of doors for a dinner al fresco, don't you think?
We'll linger over cold wine and crisp garden greens, juicy watermelon and smoked chicken, savoring that je ne sais quoi of a summer evening in the South.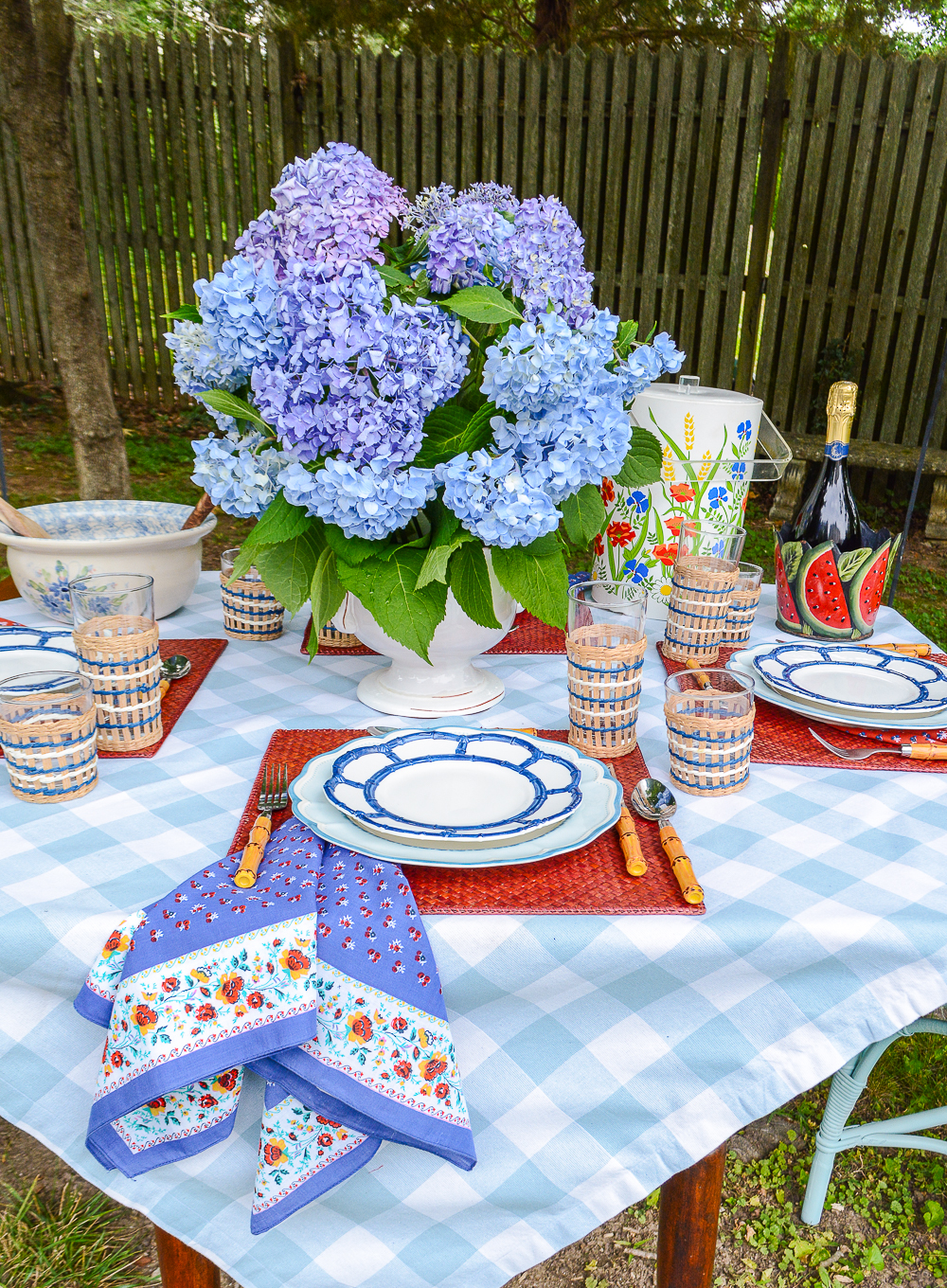 Welcome friends! With July just around the corner I wanted to share a summer dining idea for al fresco dinners, featuring a red, white and blue summer tablescape. This patriotic inspiration feels festive but laid back and elegant but effortless.
I recently read Martha Stewart's classic book on entertaining from 1982, simply titled Entertaining, and I was so charmed and inspired by her timeless advice. I'm sure many of you are already familiar with this work, but I loved these two thoughts:
Any form of entertaining involves expanding a private world to include others. It calls for an extrovert's heart and an introvert's soul. It is essential that you consider guests' inclinations and interests in the planning, but it is equally important that you follow your own instincts.
—-
The table can establish or augment a mood, for it is in fact a stage set and should be so considered. A table is an empty space, and filling it is a gesture of thoughtfulness.
Doesn't this just deepen your approach to hosting and make you feel how meaningful it can be to open your home or garden up to friends and family? I love that she encourages us to follow our own instincts when it comes to planning the menu, choosing the setting, and creating the decor. I think so many of us second guess ourselves too often. Consider your guests' comfort and do what feels right!
I also couldn't agree more that setting the table beautifully and arranging linens, flowers, and tableware in a pleasing way is an act of thoughtfulness. It is an act of care and gesture of generosity! Whether you use paper plates or fine china, flowers from a florist or clippings from the backyard just take a little care with how you put it all together and add a few personal touches or festive seasonal decorations.
Martha's book further inspired me to reimagine where I choose to set up the party. Her section on "Creating an Ambience" was so on point. Try to look at your home and garden in a different light and see if there's an opportune space to set up the table outside your norm.
With this in mind I had hubby drag our old farm table out to the back lawn under the oaks and dogwoods for this summer al fresco dinner.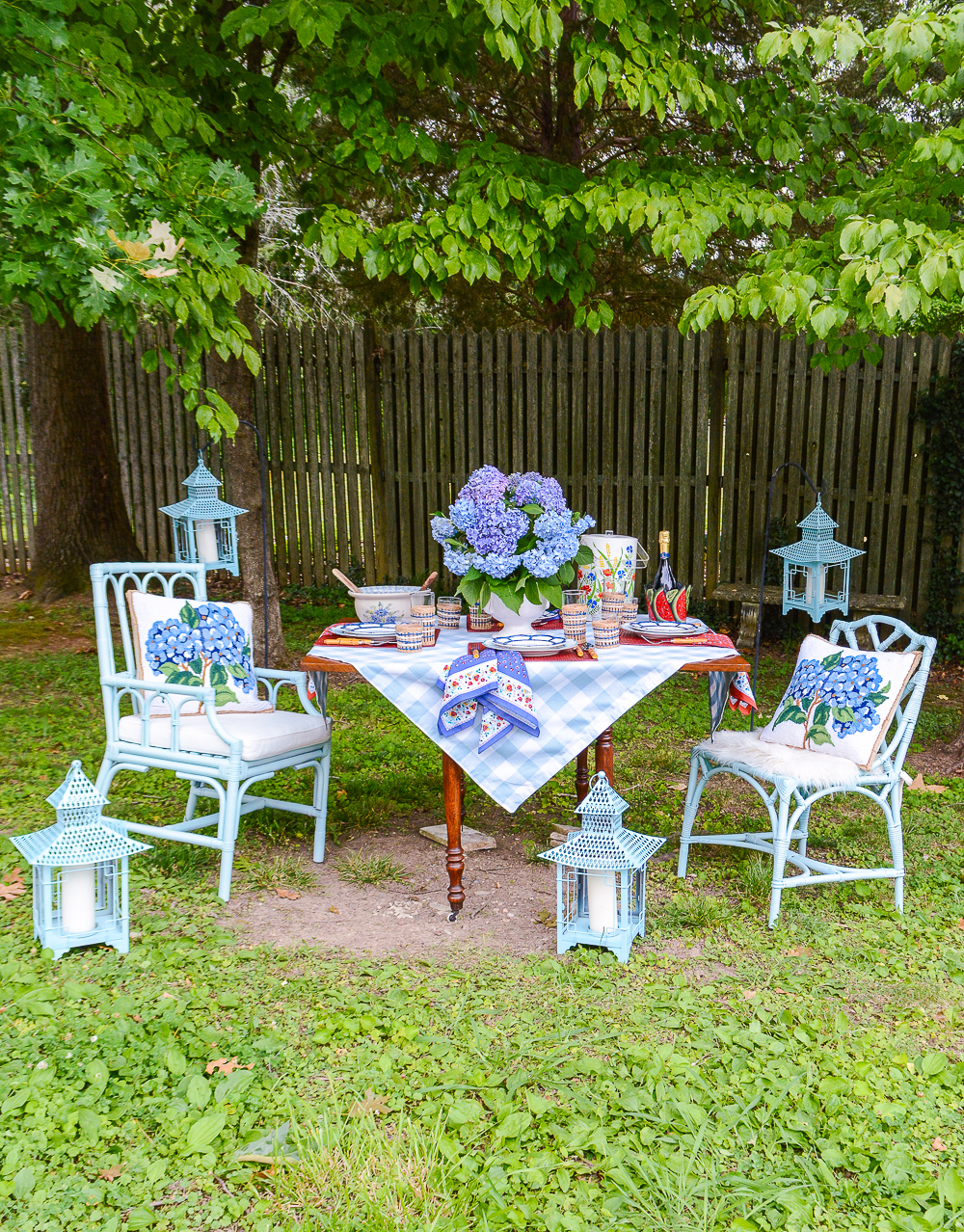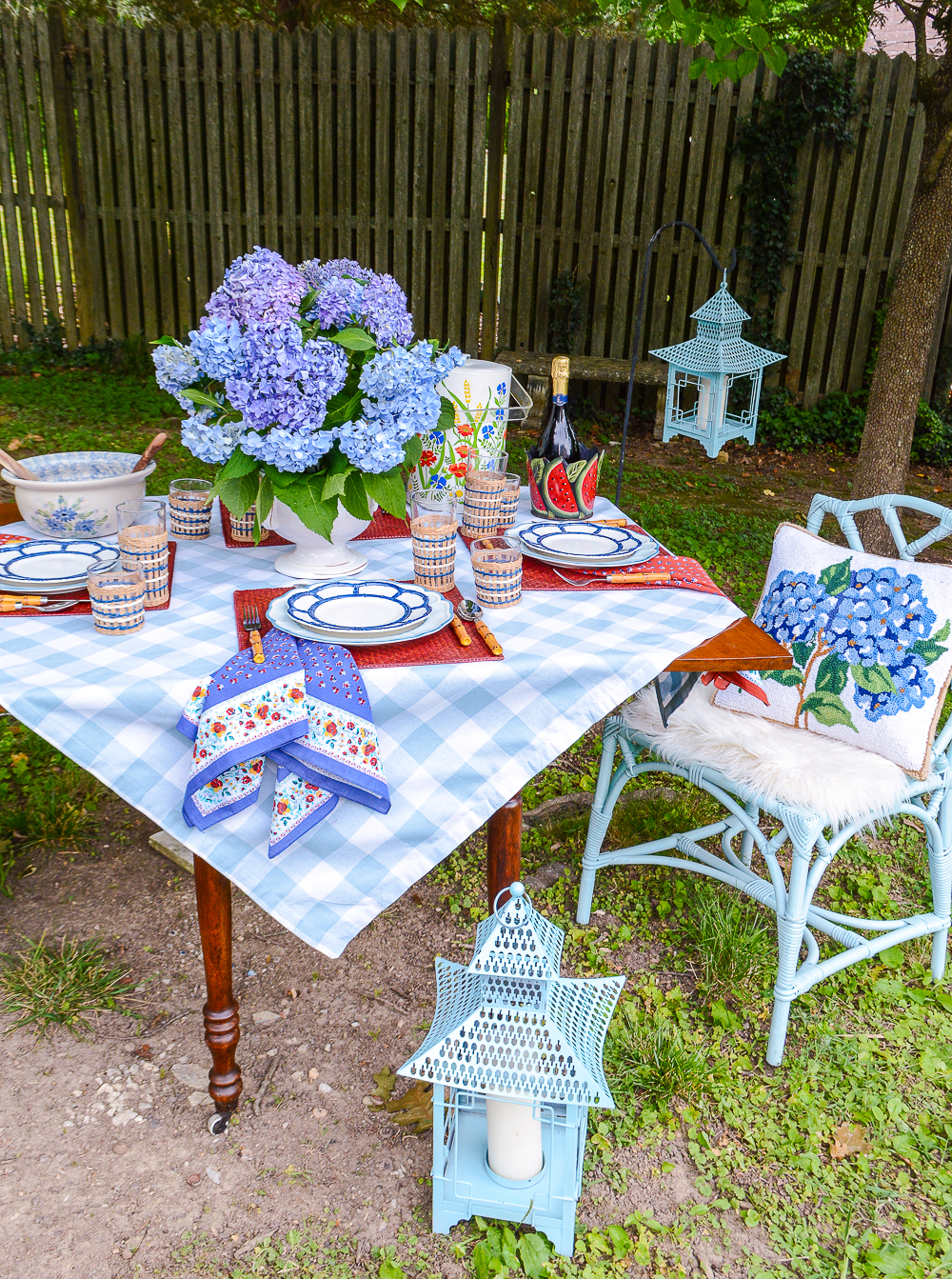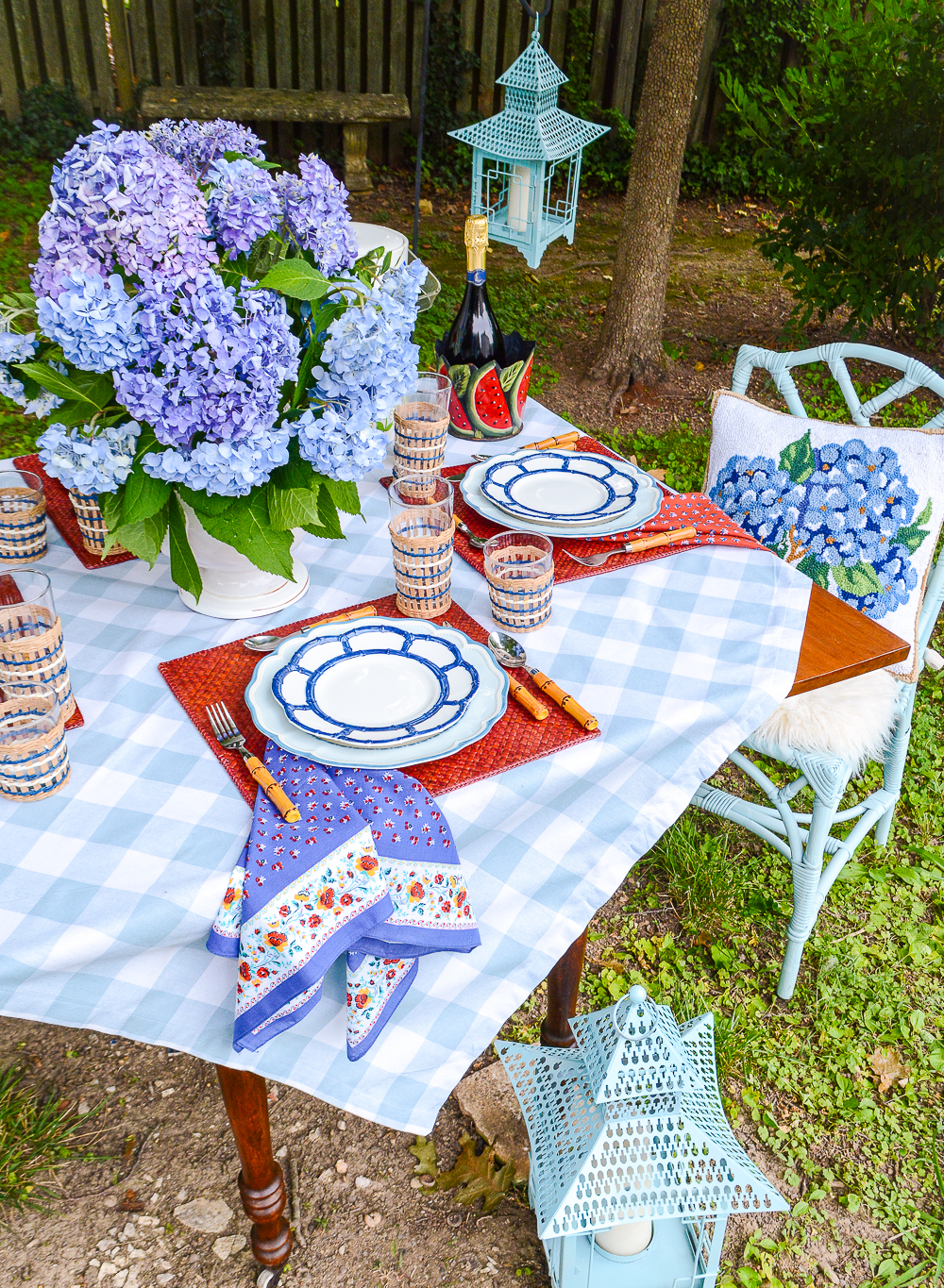 This white and blue summer tablescape has a few choice pops of red to give it a patriotic look that is perfect for 4th of July celebrations. I kept the flowers simple with just a big bunch of hydrangeas from my garden in an elegant white cachepot.
The linens start with a summery classic – gingham – laid over top of this antique table paired with Italian floral oversize napkins. I love the bandana like feel of these and soft mix of primary colors.
For dishes, I used my blue bamboo trimmed melamine salad plates and Lenox's Provençal dinner plates in a pale blue. The summery vibe continues with raffia wrapped glasses and red woven placemats. Stop in the June 23rd Instagram flash sale to shop this set up!
Citronella candles in Chinoiserie pagoda lanterns will keep the bugs away and light up the evening.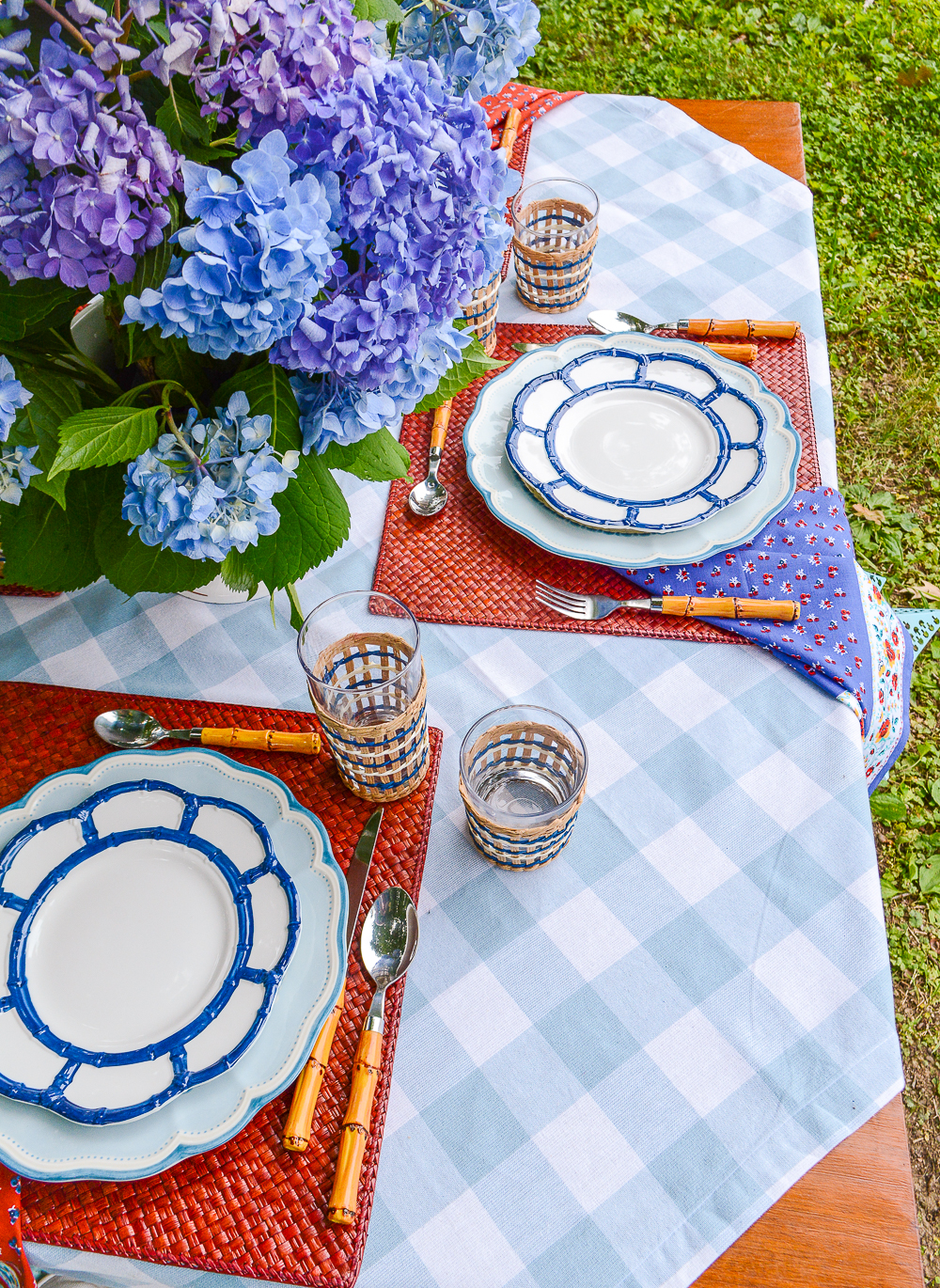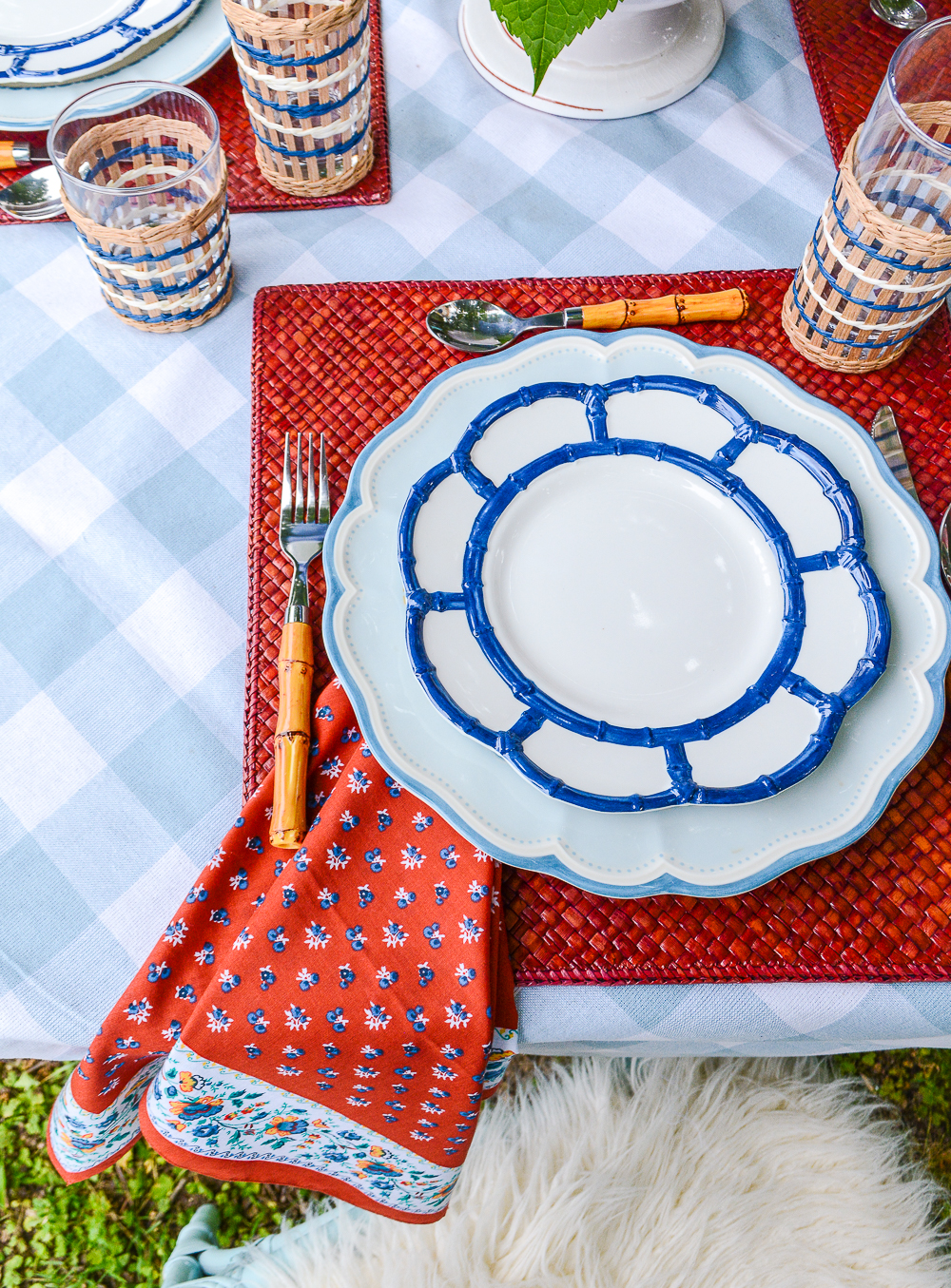 Our summer al fresco dinner started with a salad of greens fresh from the garden dressed in ranch pineapple dressing. I know that sounds so odd, but seriously it's amazing. Just make some homemade ranch and add a 1/3 cup of pineapple juice and crushed pineapple bits. Top with some dried cranberries and toasted almonds. It's sweet and tangy deliciousness!
Then for the main course we enjoyed smoked chicken breasts, tabbouleh with cucumber and tomato, and fresh watermelon.
For a special cocktail treat, I made my Aperol pops with prosecco. Recipe coming soon!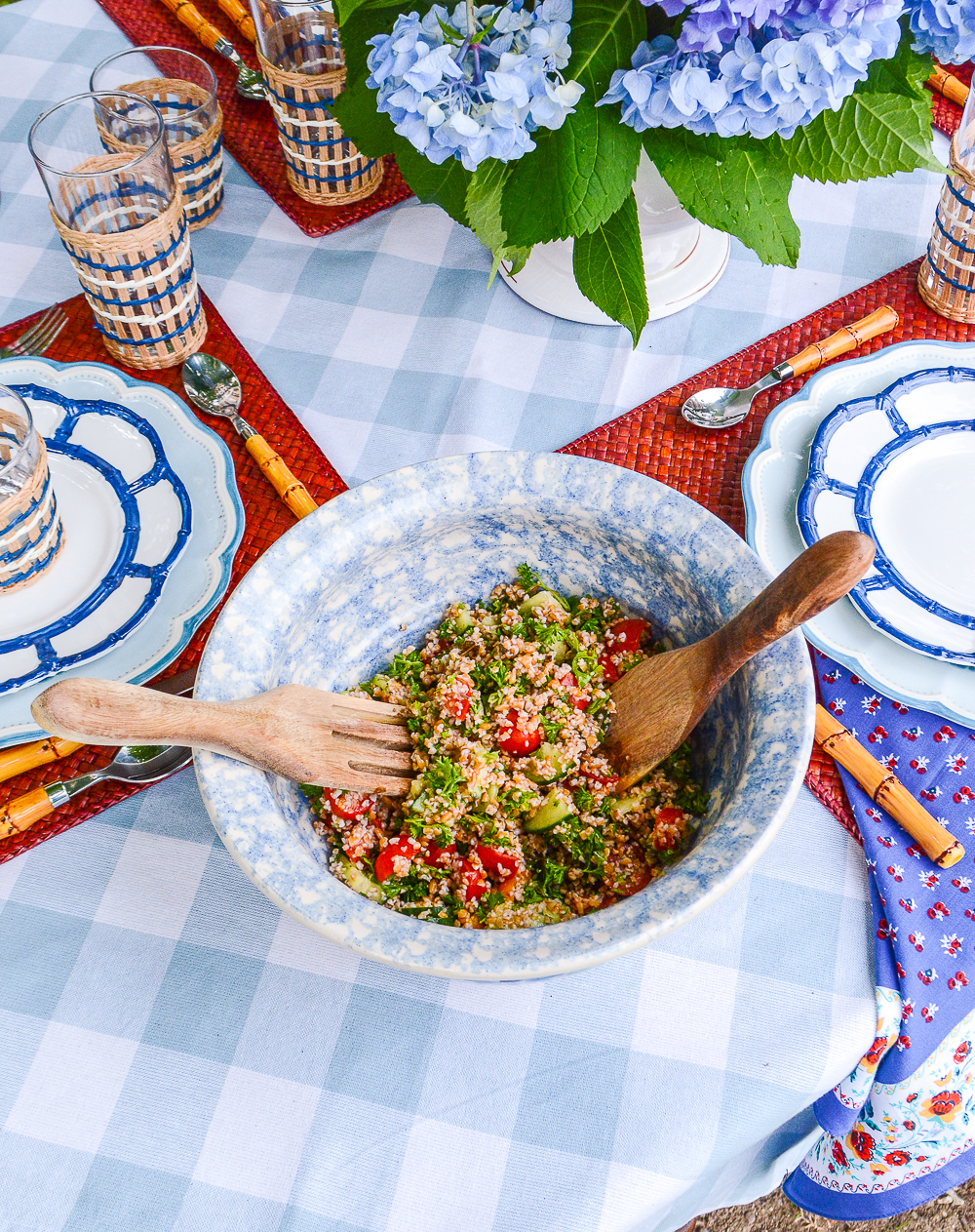 Thanks for stopping in! I hope you're feeling inspired to host an al fresco dinner this summer. Enjoy!