A Regency Inspired Shower Tablescape
Hosting a baby or bridal shower this spring? Let me help you dream up ideas and a refined look with this Regency inspired shower tablescape!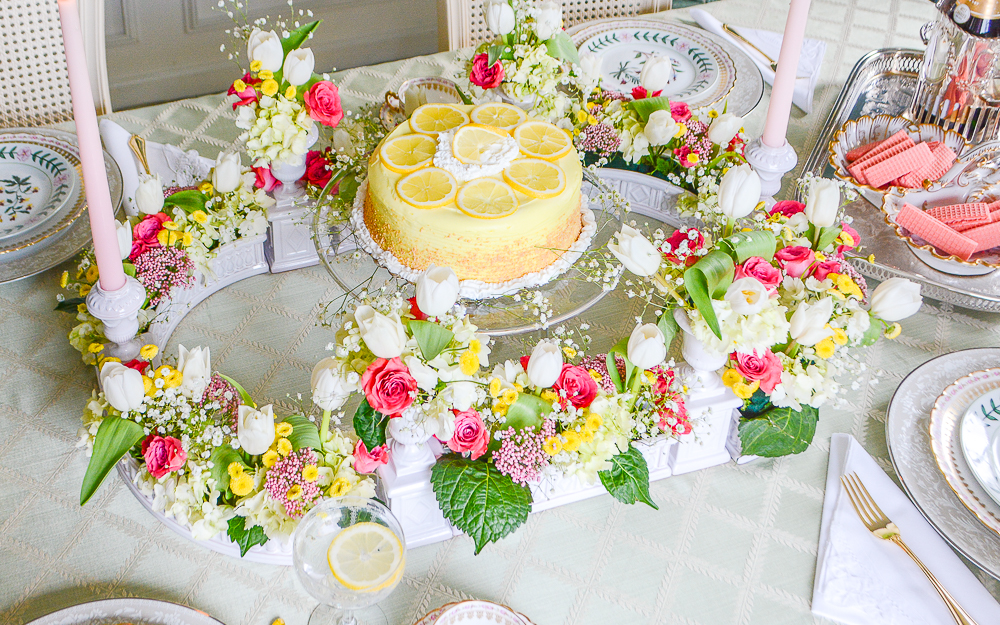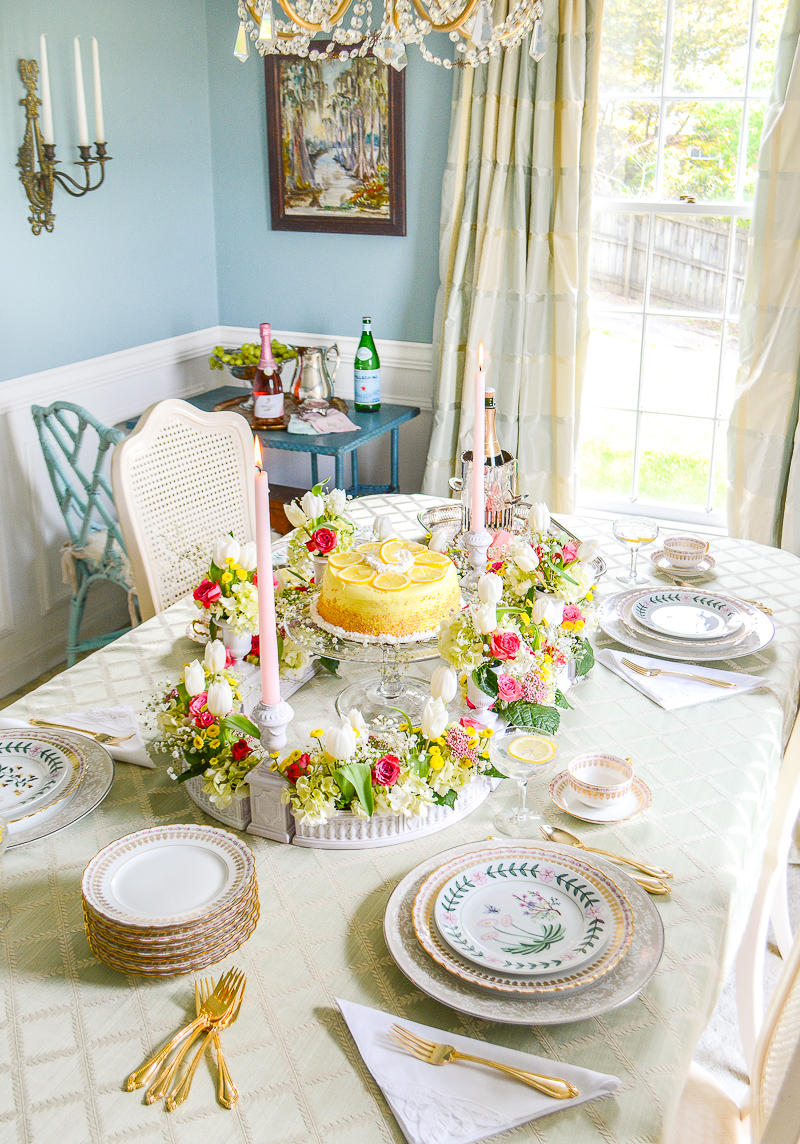 Showering a mother to be or a bride to be is one of the happiest occasions! With June on the horizon and wedding season almost here, I wanted to share a tablescape inspiration for honoring the lady in your life who is about to take one of these momentous steps.
This look is refined and feminine channeling French formal gardens and Regency style. I love the lightness and elegance of this look. You don't need a specific theme for a memorable shower just special details, bountiful florals, and yummy food. Choose your nibbles, flowers, and games with the honoree's tastes in mind, and be sure to think through:
Size and type of meal and how it will be served - be practical! My menu here.
Drink options - cocktails and mocktails
Party games or another fun activity like a craft
Music - set the mood with your tunes!
Gift drop zone and opening - many are choosing not to open gifts as part of the celebration's activities. Ask the honoree her preference.
Personalized touches - monograms for the couple or new baby are always a classic touch!
Covetable party favors - nobody really wants themed knick-knacks. Instead think luxury consumables like a decadent candy or specialty lotion.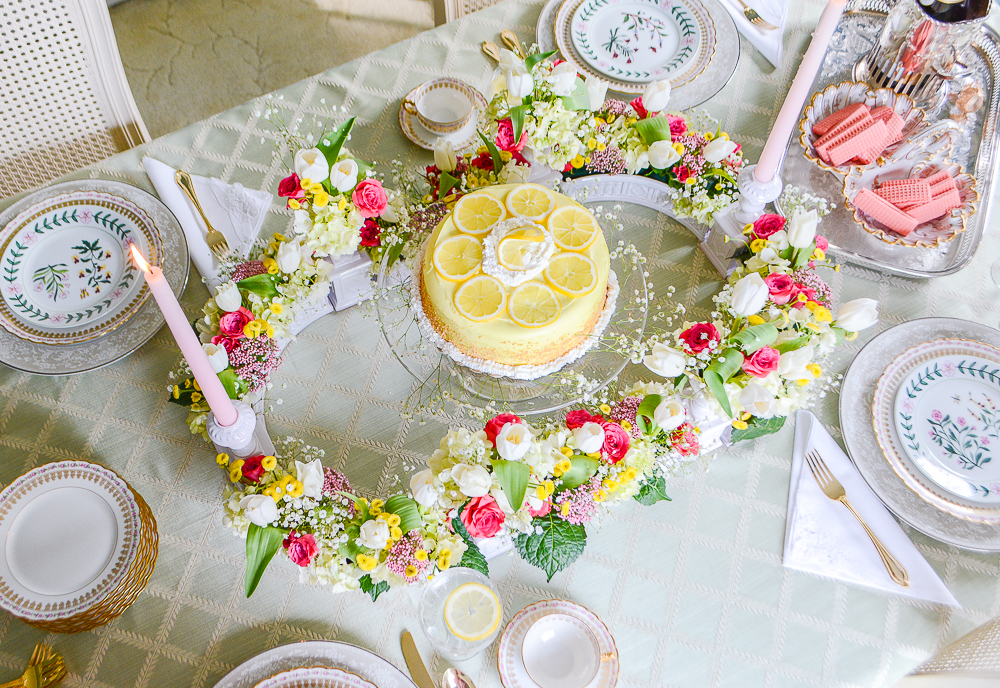 Regency Inspiration
Georgian style with strong Neoclassical details is always my vision of elegance and class. This look makes the perfect inspiration for a ladies' luncheon to honor expectant mothers or brides. With the cinematic visuals of Autumn de Wilde's Emma and popularity of Bridgerton, more of us have come to appreciate and admire the flair of Regency sophistication.
The Regency era extended from 1811–20, when George, Prince of Wales, ruled England as Prince Regent in place of the "mad" George III, his father. The Prince ascended the throne as George IV in 1820. But in the arts, "Regency" describes a style that emerged in the 1790s and flourished until George IV's death in 1830. Architects and designers were hugely influenced by the archeological discoveries of ancient Greece, Rome, and Egypt at the time.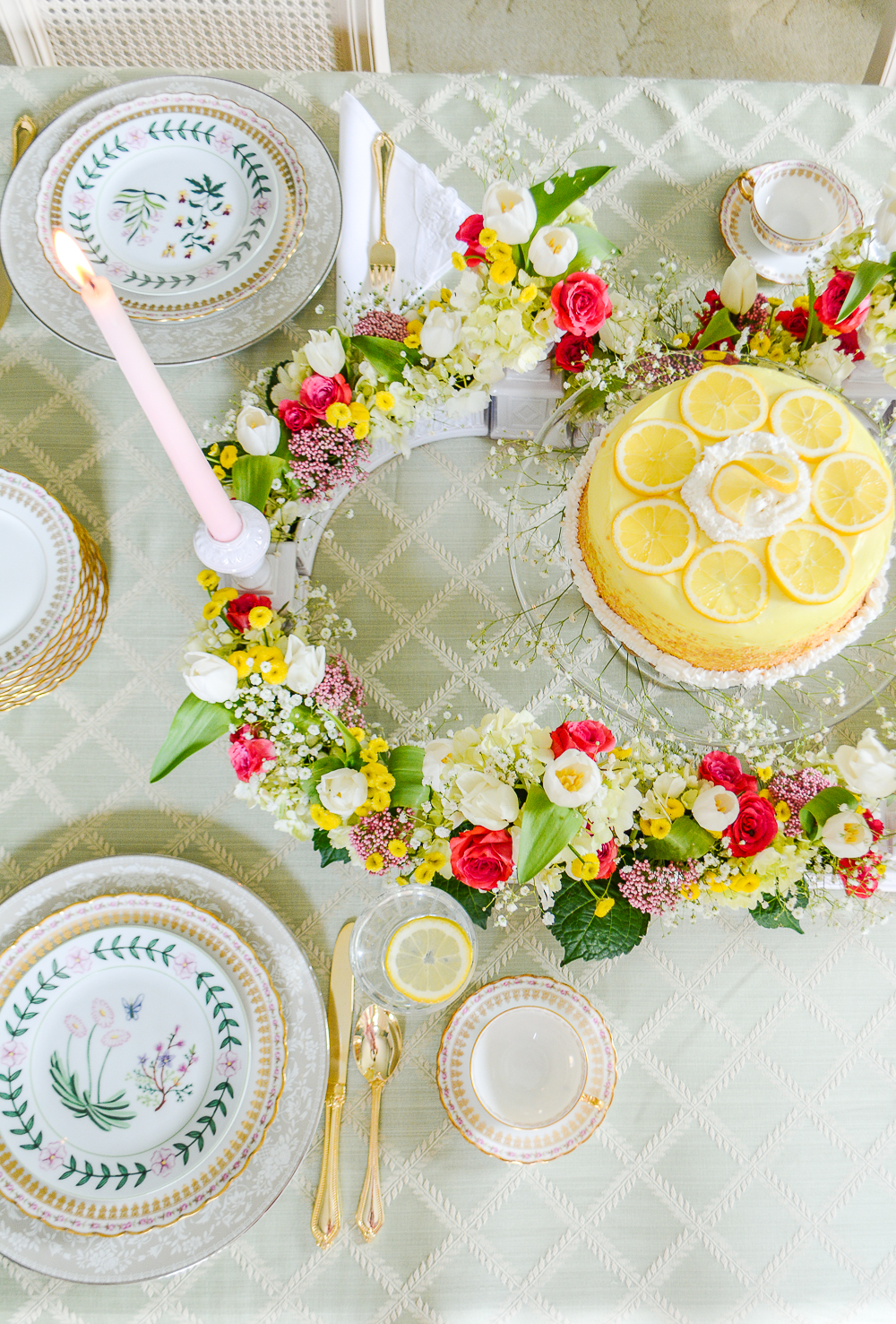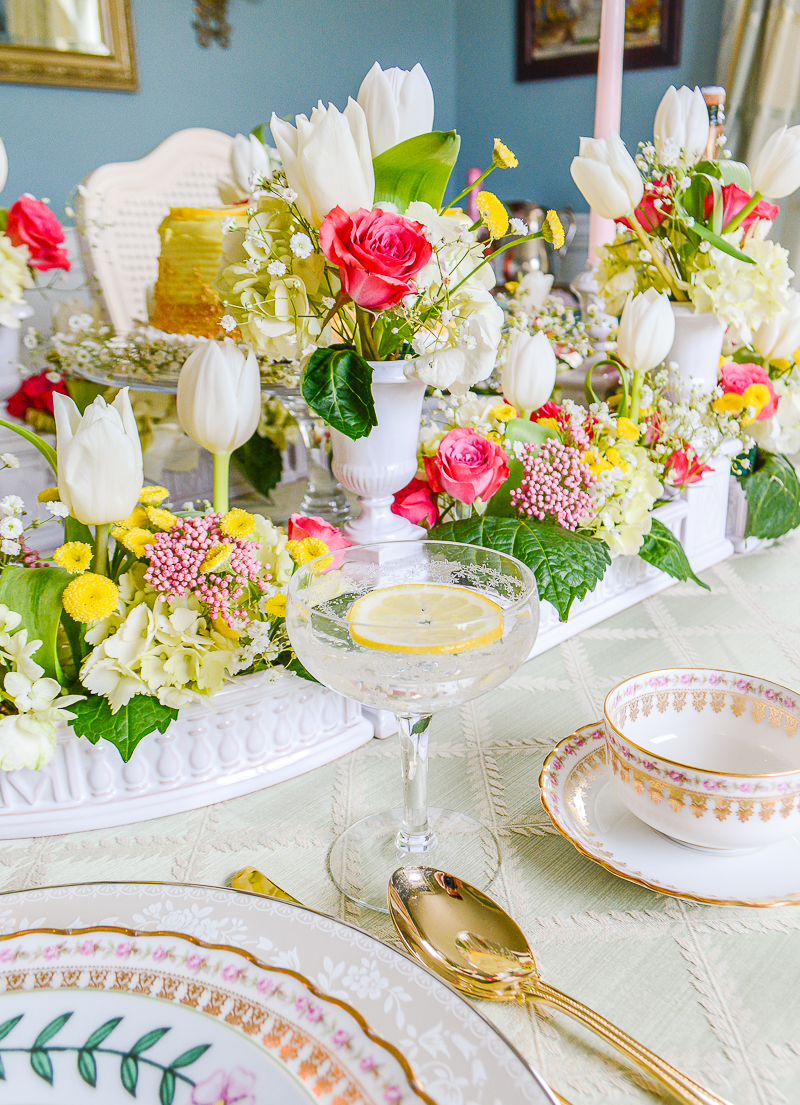 To capture this look use symmetry, pastels, playful blossoms, and Classical motifs like laurel garlands, urns, rosettes, swags, guilloche, and shells. Regency style was less severe than Early Georgian with more playful details from the Rococo but far greater simplicity.
Table service during this period was set à la française, which meant the dishes for each course were set on the table and guests served themselves with the help of the host and hostess. There were two main courses (several dishes each) and then dessert. Dinner was served early evening and could last several hours.
Tableware was elaborate and decorative with porcelain, silver, and glass dressing the best tables. Service à la russe started to become fashionable by the early 1800s, which entailed a switch to servants serving each course around the table to dinner guests. Decorations on the table became more elaborate after this.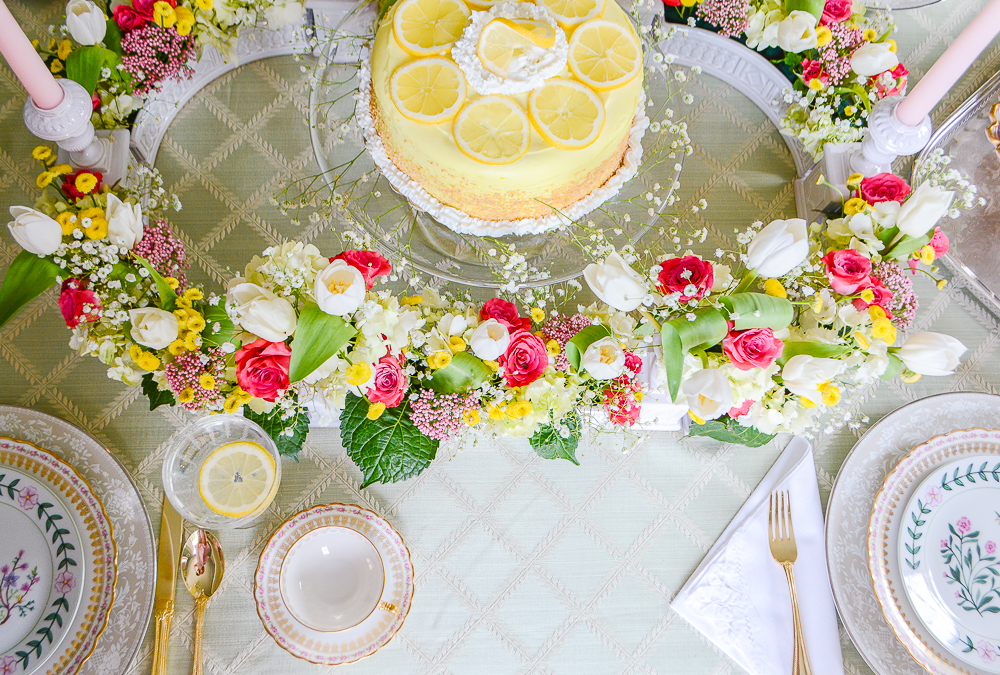 The Centerpiece
One of the most elaborate centerpieces to decorate a Regency table would have been the surtout de table similar to the vintage Niderviller ceramic one I have here. Pronounced sir - too, these decorations usually featured a mirrored plateau with pierced balustrade and could be made in silver, porcelain, or ormolu. Many were designed to include Grecian figures and fancy tazza, epergne, and candlesticks. Check out this ornate one at the Cooper Hewitt!
My ceramic one resembles a parterre, playing off French formal garden design with low boxwood hedges in symmetrical arrangements enclosing flower beds, gravel paths, and tall urns. The magical thing about most surtouts is you can create different arrangements with them and expand or shrink them as your space allows. The channels can be filled with flowers or greenery... really whatever your imagination dreams up.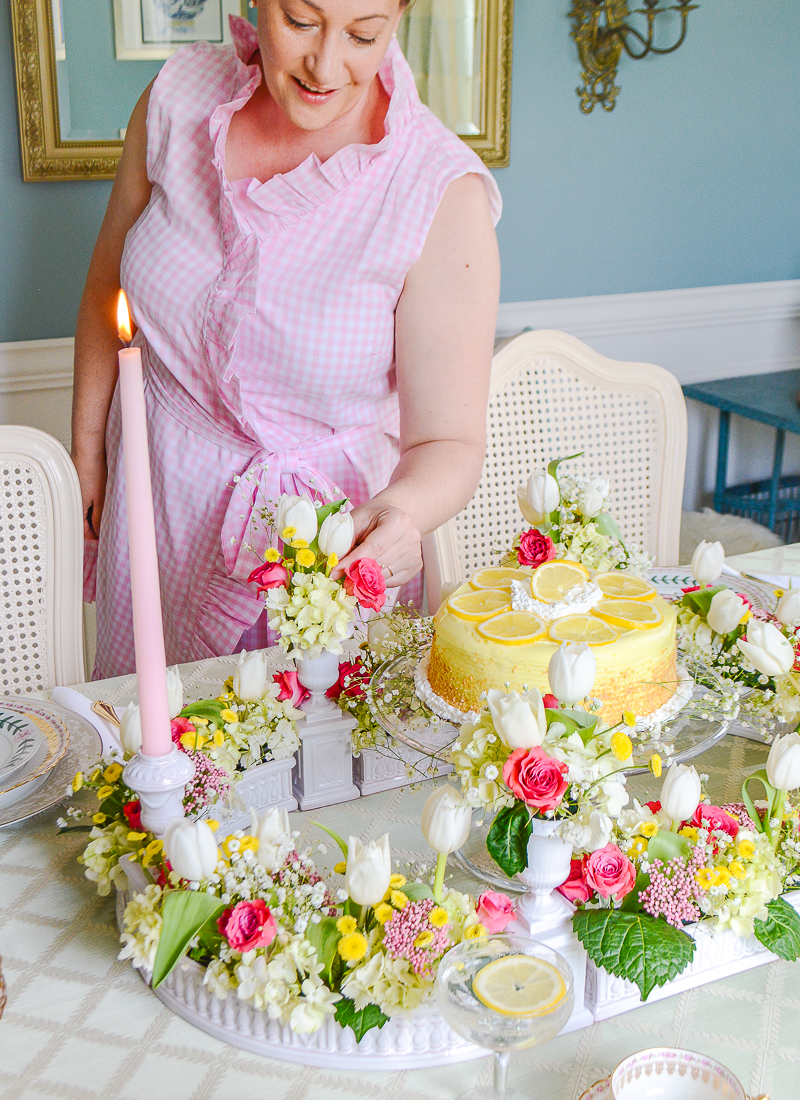 These centerpieces bring the drama but feel light and airy at the same time, allowing conversation to flow over top and accenting the dishes and desserts you place at the center. For this Regency inspired shower tablescape, I chose to arrange a riot of happy spring blooms with white tulips and hydrangea, hot pink spray roses, soft yellow English daisies, and baby's breath filler.
If you can't get your hands on a surtout (this white ceramic one has already sold), try gathering a variety of small bud vases and containers to scatter down the table center mixing in candles and porcelain figurines. Consider placing your dessert in the center and let it shine as part of the decor.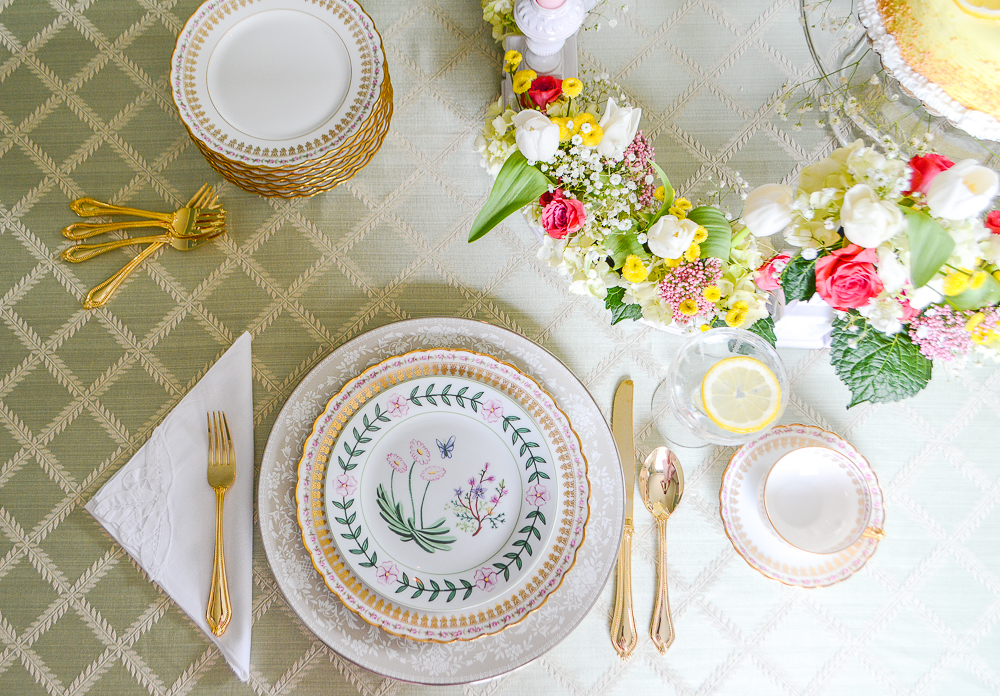 The Place Setting
For my Regency style place settings, I went with a mix of florals, including a Godinger botanical appetizer plate, then a Haviland Limoges dinner plate, and finally a Mikasa charger. It is most important to keep your plates and flatware limited to what you will actually use during the meal. For this shower, I'm envisioning a luncheon with light appetizers and for the main course a Southern classic trio salad plate with fruit and crackers. More on the menu in this post.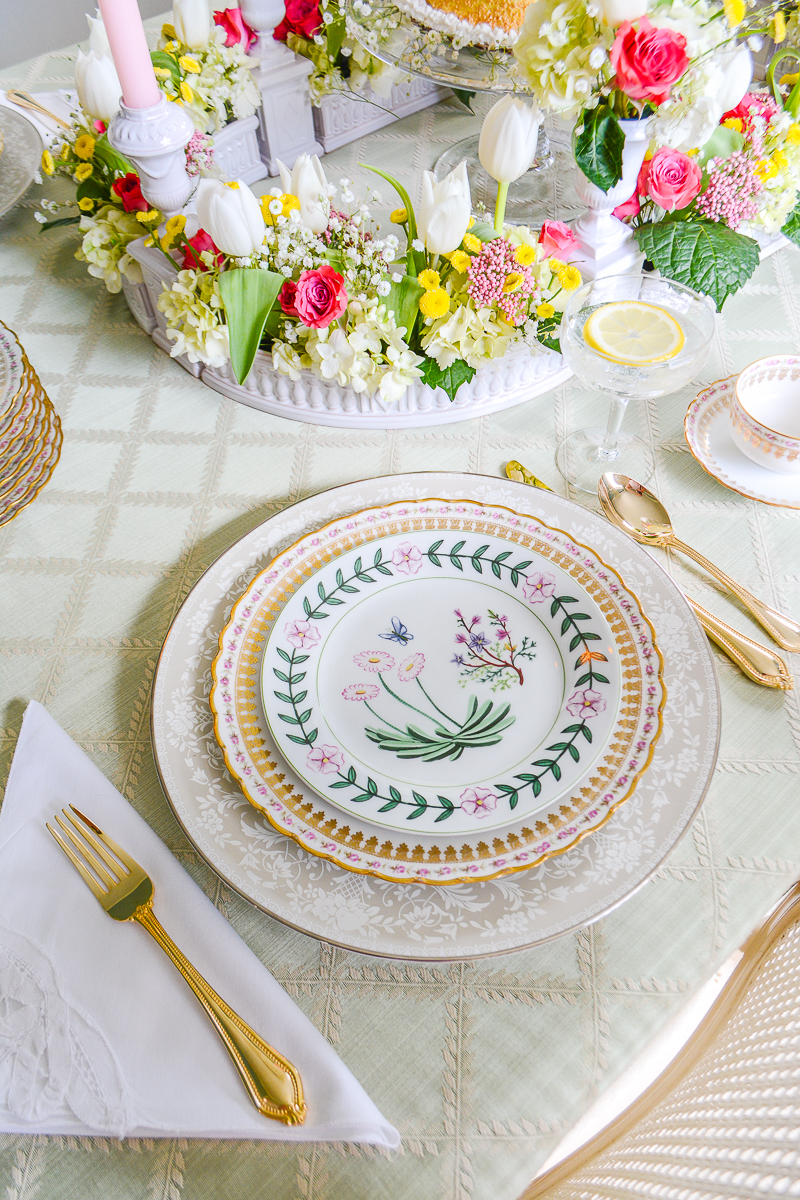 Gold flatware and elegant white napkins with a battenburg lace detailing enclose the plates, while crystal coupes with floral swag etchings and coffee cups in the same Haviland Limoges pattern finish off the setting.
This Regency inspired shower tablescape feels pretty, feminine, and refined...just right for a luncheon shower to celebrate brides or mommies-to-be, don't you think?
Regency Shower Tableware Sources
The tableware in this post was available to purchase in my June 2, 2022 Instagram flash sale.
Additional sources:
Green Laurel Leaf Tablecloth - Lenox
Glass Cake Stand - Pottery Barn, old
Gold Flatware - Yorkshire Bead, International Silver Co.
Pink Gingham Dress - Elizabeth Wilson Designs, past season
Ceramic Surtout - Niderviller, French