Two Traditional Christmas Decorating Ideas for the Grandmillennial
2021's traditional Christmas decorating ideas from Pender & Peony sure to please Grandmillennials and lovers of classic Christmas decor!
It's time to reveal my 2021 Christmas decorating inspirations!
Y'all know by now I love themed Christmas decor. I get immense joy each year coming up with a theme and figuring out how to make it work with my existing decorations as well as new and vintage decor.
Why two themes? Because I put up a Christmas tree in my formal living room and one in my family room and enjoy doing different looks for each that fit the vibe of the space.
I'll be a busy elf the next week or so making the Christmas magic happen in my home, so I can share more inspiration and DIYs with you throughout November. Both of these ideas are a fresh approach to traditional Christmas decor just perfect for Grandmillennials who like that little updated twist.
Drum roooooooooolllllllll please!
Let the anticipation build…
Keep scrolling…
You're almost there…
Traditional Christmas Decorating Idea One
Southern Grandmillennial Christmas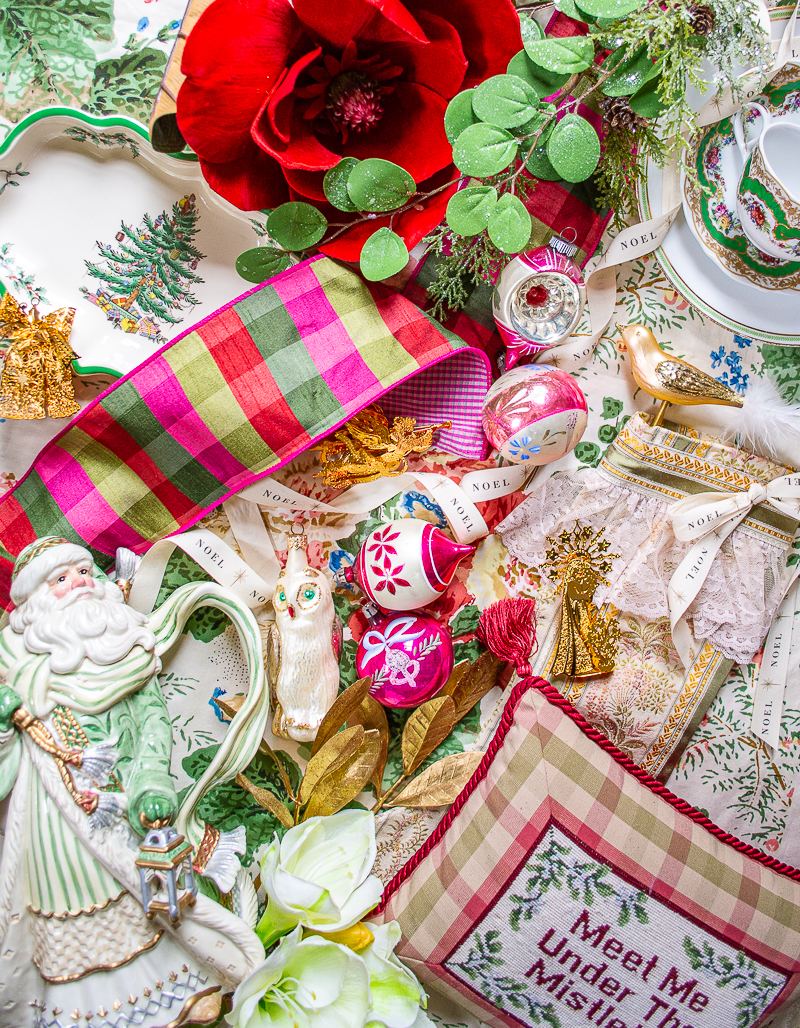 Feeling inspired by my Southern roots, I'm going with a Grandmillennial Christmas look in my formal living room that features classic Southern elements like magnolia, plaid, amaryllis, and vintage baubles.
I loved this pink, red, and green plaid ribbon so much from last year that I decided to re-use it again this year. I took it as a personal challenge to create a completely different look with it, and I absolutely love the direction this traditional Christmas idea is going!
If you are a lover of pink and green too, this inspiration is definitely for you, but using classic winter greenery, Christmas motifs like Santa, and a sophisticated chintz keeps the look from going cheesy and juvenile.
I actually found a swath of Lee Jofa's Althea hollyhock fabric in blush while out vintage hunting, and I adore how it looks with this pink and green plaid ribbon. I plan to use the fabric in some DIY ornaments, and possibly as a tree skirt.
The look is complete! See how the mantel and Christmas tree turned out here!
Sources & Suggestions:
The pink and green plaid ribbon is D. Stephens. which seems sold out online. This would be a lovely alternative or this plaid.
Many of the ornaments in this Grandmillennial Southern Christmas look will be available in the upcoming flash sale on my Instagram next week 11/11/21 as well as Spode Christmas tree dishes and other decor to get this look. Below are some suggestions for florals, ornaments, and decor available now on the web:
Traditional Christmas Decorating Idea Two
Après Ski at the Christmas Lodge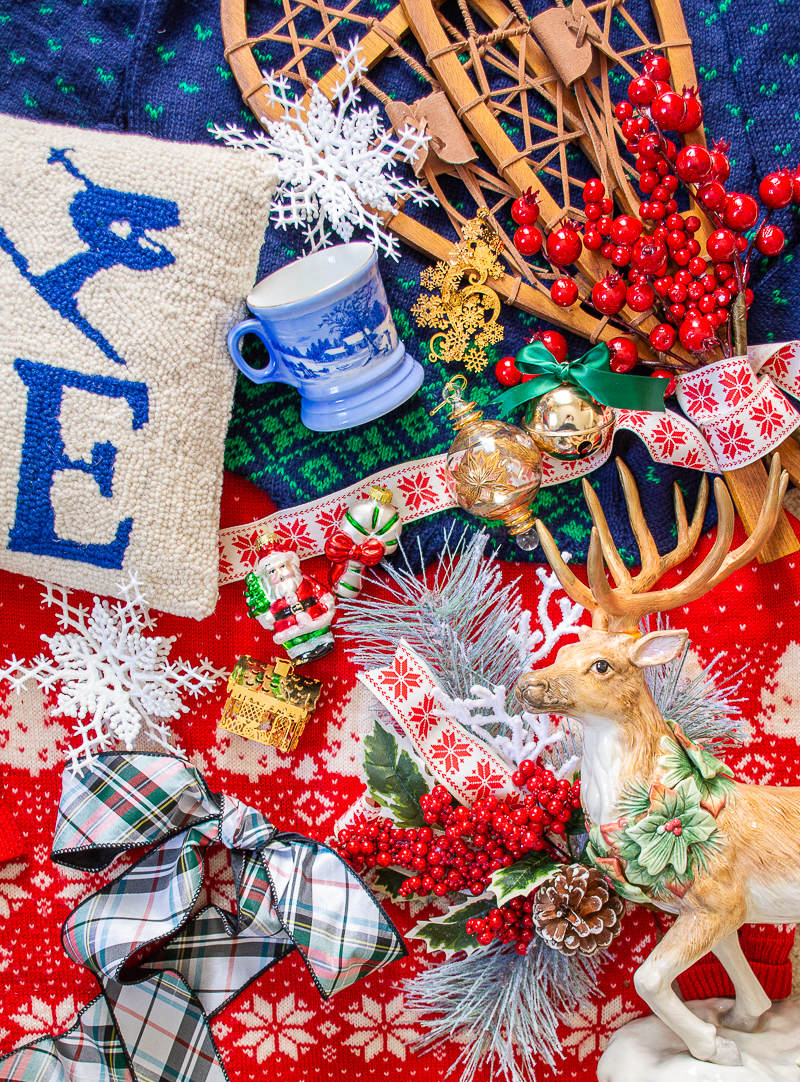 I have such fond memories of going skiing with my father growing up — the thrill of the slopes, the terror of getting on the lift, and a cozy cup of cocoa by the fire in the lodges.
We lived in the mountains of N.C. so usually made a yearly trip to Wolf, Cataloochee, or Sugar Mountain. My gear was all 80's-90's neon (I'll try to dig up a good photo ?), but for this look I wanted to go farther back to the vintage ski style of the 50's and 60's à la Slim Aarons' jet set images and the travel posters that showed Aspen or Mont-Blanc or Vermont.
For my Après ski Christmas look, I'm going for cozy cabin with winter wonderland vibes and just a hint of après ski glamour. Think vibrant plaids, fair isle sweaters, flocked pine, reindeer, and vintage ski accessories. I've even got a pair of my dad's wooden cross country skis!
If you love classic Christmas winter decor and want to create that cozy vibe in your home for the holiday season, this is definitely the look for you! See the completed après ski look in this blog post.
Sources & Suggestions:
Vintage decor for this look will be available in my 12/2/21 flash sale on Instagram. The plaid ribbon is a wired dupioni from Reliant Ribbon, and unfortunately I couldn't find any online sources.
Below I'm linking to florals, ornaments, and decor to help you create this look:
I know it feels a bit early to start decorating for Christmas, but with lag times in shipping this year, I highly recommend planning out what you are going to do, and ordering any new trimmings, decor or florals you want now!
I hope my two traditional Christmas decorating ideas for the Grandmillennial have inspired you!