Red, White & Plaid – A 4th of July BBQ Made Easy
Inspiration for your backyard Independence Day celebration with a red, white and plaid Americana tablescape and 4th of July BBQ made easy menu! Recipes and vintage sources included!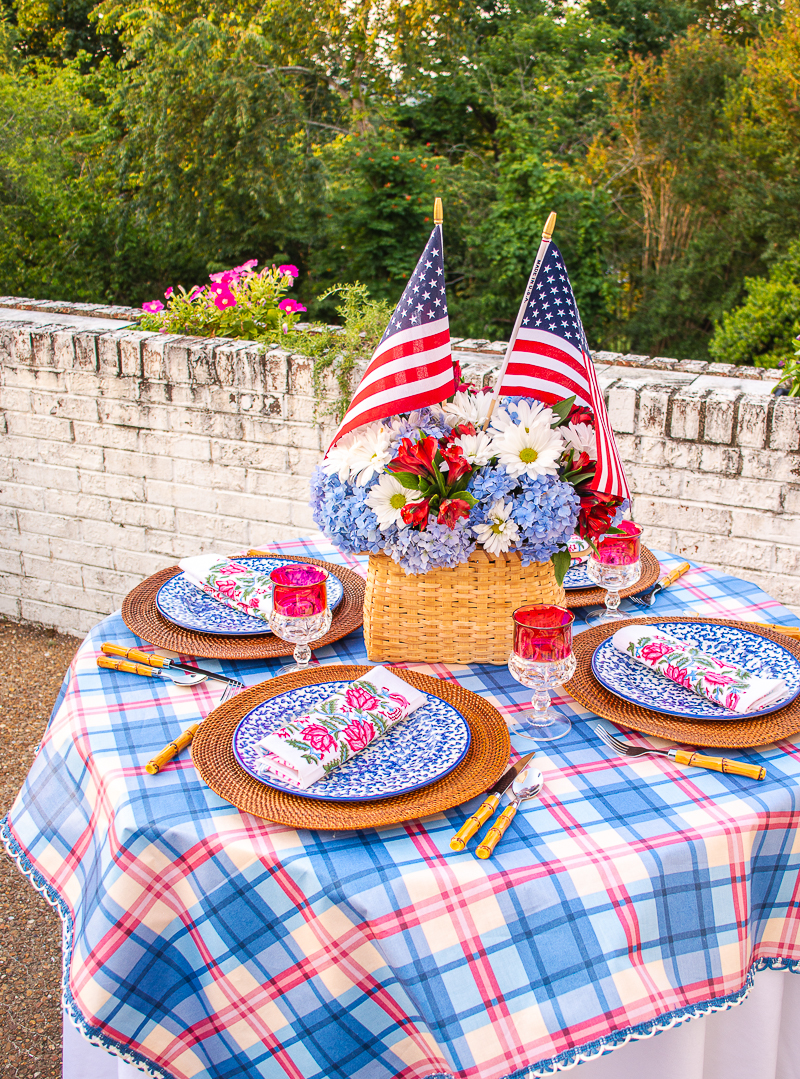 With COVID restrictions lifted and July 4th just ahead, I know a lot of you are planning big summer gatherings for Independence Day celebrations. Keep it simple but festive with my red, white and plaid table inspiration and this 4th of July BBQ made easy menu!
Getting back into the swing of entertaining can be trying, so stick with a casual backyard party for the fourth and please guests with good company, festive patriotic decor, delicious BBQ, and refreshing drinks!
Let's start with the patriotic tablescape inspiration and then we'll cover my easy BBQ menu with recipes: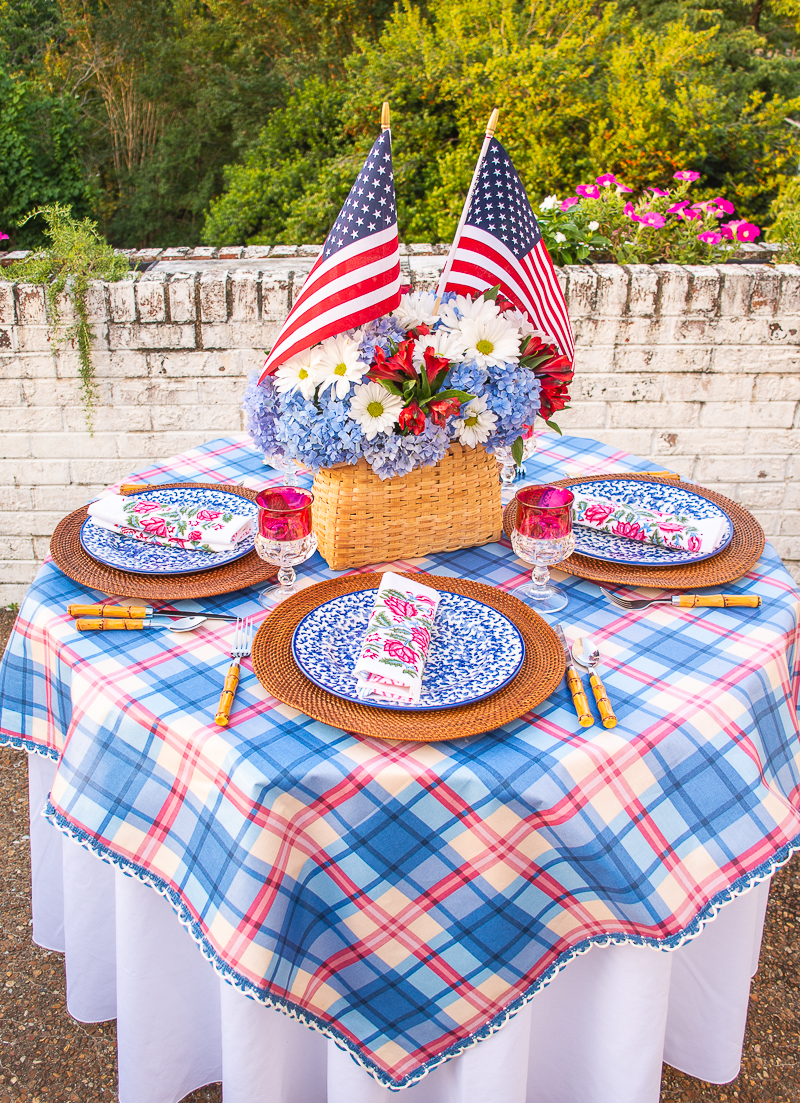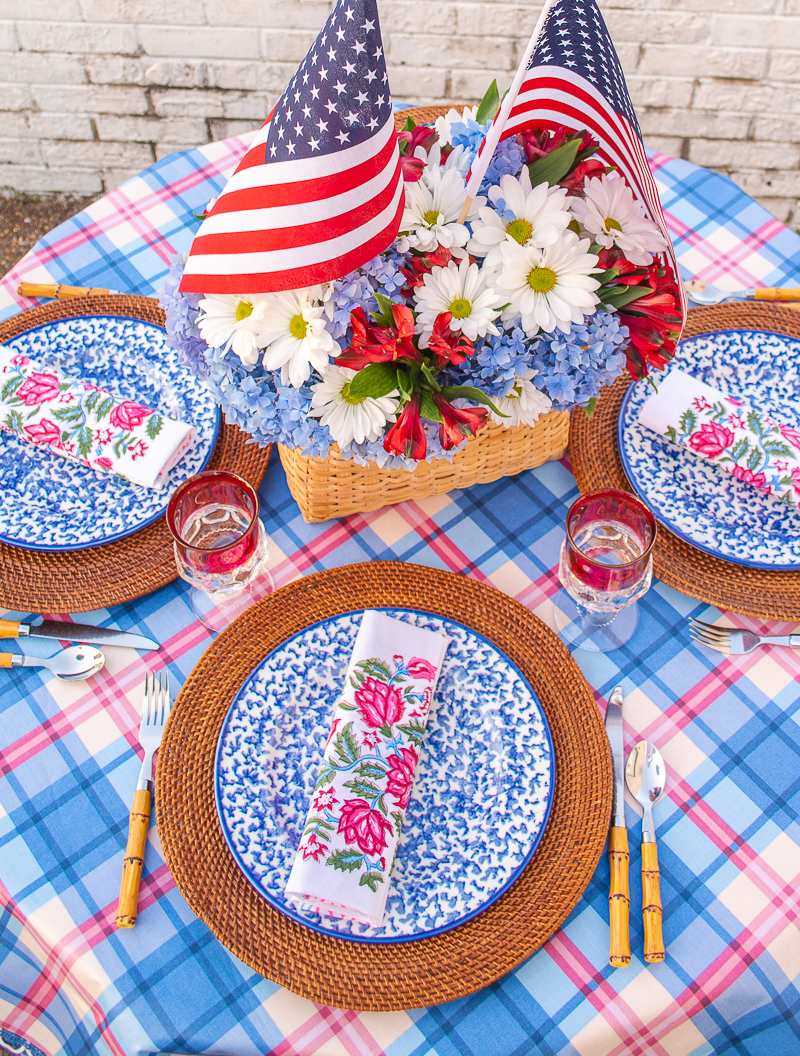 The Americana Tablescape
I've nicknamed this July 4th table my red, white & plaid look! It features a classic patriotic mix of red, white and blue (although the reds swing from washed out Nantucket to hot pink) balanced with rustic wicker. A mix of patterns keep it feeling festive and modern with just a hint of country.
The Linens
When I laid eyes on this blue, white, and red plaid fabric I just knew it was perfect for a 4th of July table. I love plaid any time of year, but if feels particularly festive and Americana for Independence Day. This fabric is a coated cotton, and the selvedges label it "Independence" from Designer Series.
I did a quick no sew DIY using Heat-n-Bond hem adhesive and hot glue to turn the fabric into a table topper. With hot iron and glue gun in hand, I literally created the topper in 20 minutes making hems and adding the trim.
The topper is layered over a basic white tablecloth, and I balanced out the plaid with an Indian block print napkin (similar here) that plays up the pinks and reds.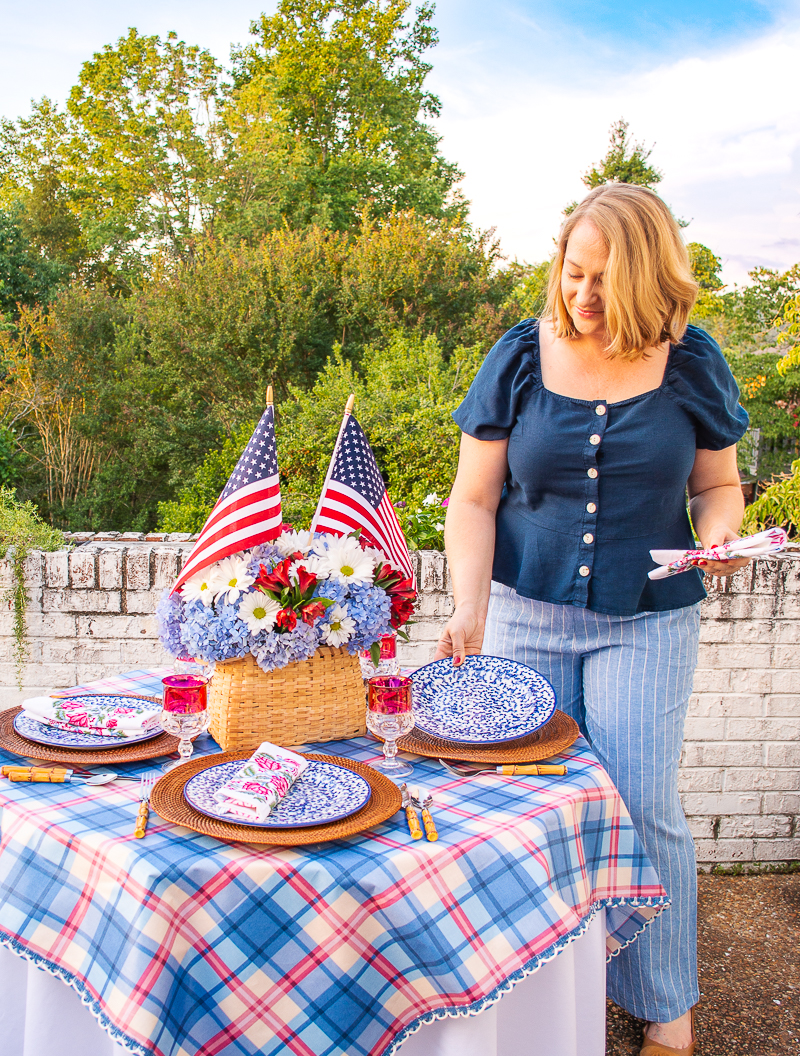 The Tableware
For dish ware, I used blue and white spongeware plates from Royal Majestic. The spongeware feels just a bit primitive and definitely all Americana. Rattan chargers and bamboo handled flatware add to the rustic elements of the tablescape, while Tiffin King's Crown goblets add a bit of sparkle.
The plates and goblets are available in the Curio Shop!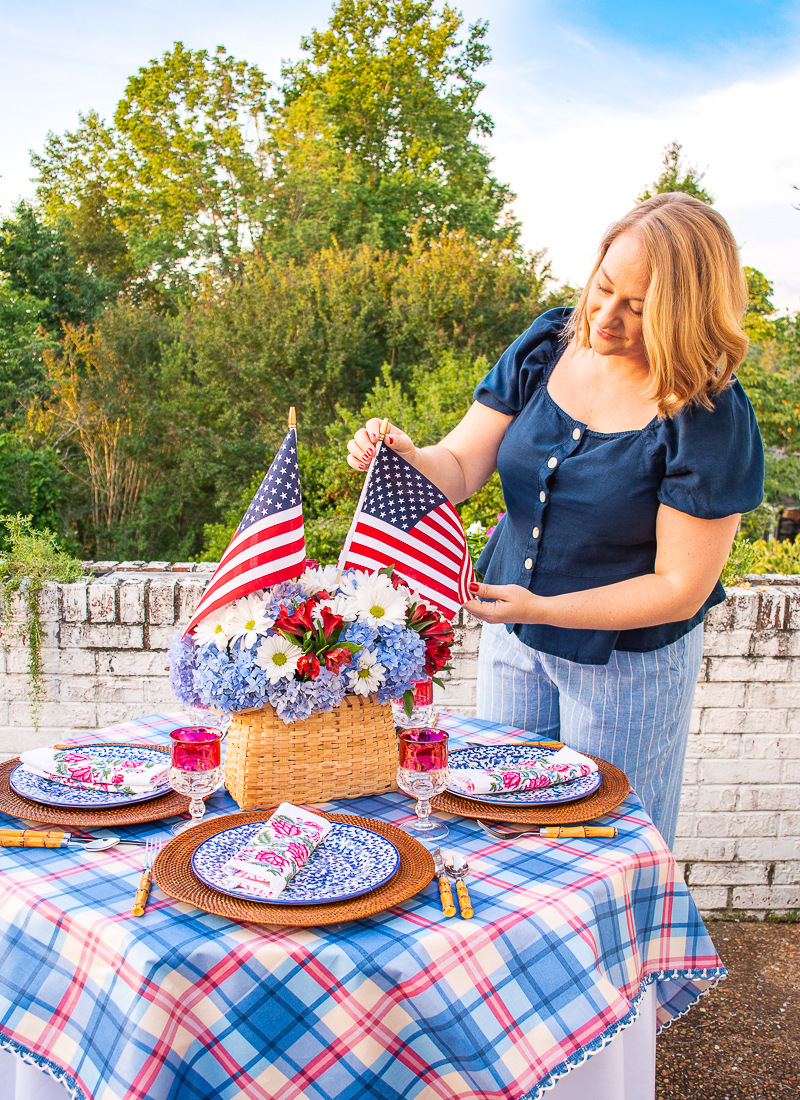 The Flowers
Keeping with the simple vibes of the tablescape with a hint of country, I used daisies, blue hydrangea, and Inca lilies for the floral centerpiece. These are arranged in a handmade basket from my great-grandmother and embellished with two American flags. It's easy to turn an antique or vintage basket into a vase just slip a glass container down inside it to hold the water and stems.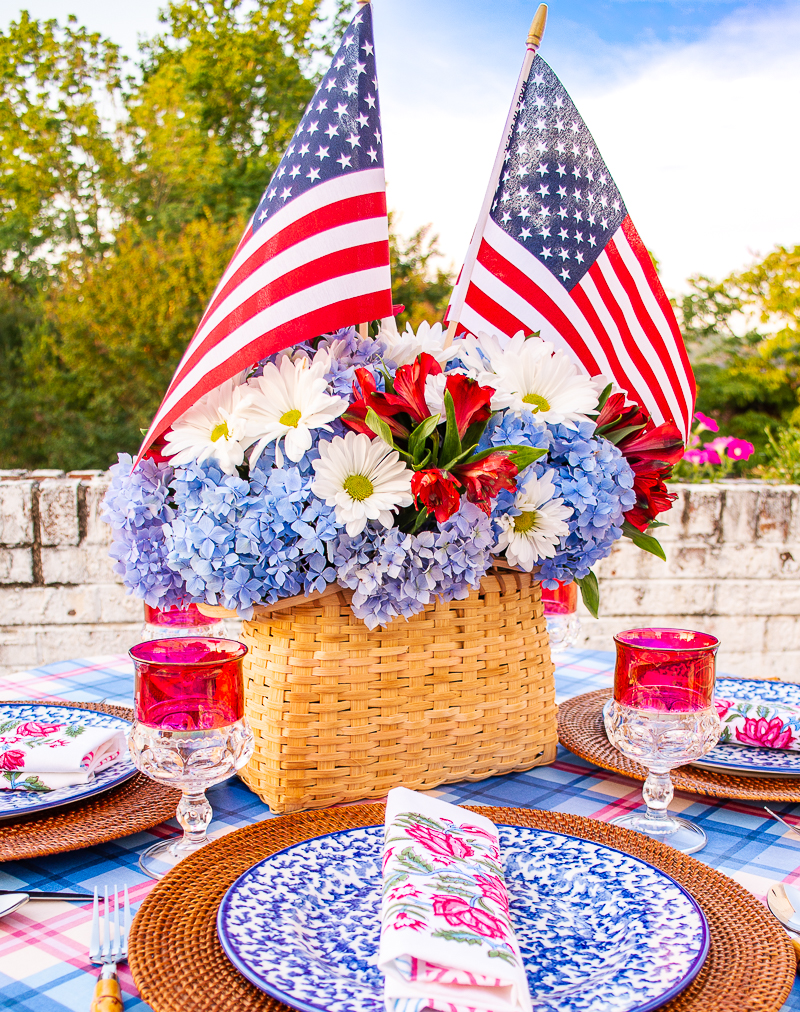 Now, who's ready for some delicious barbecue and watermelon?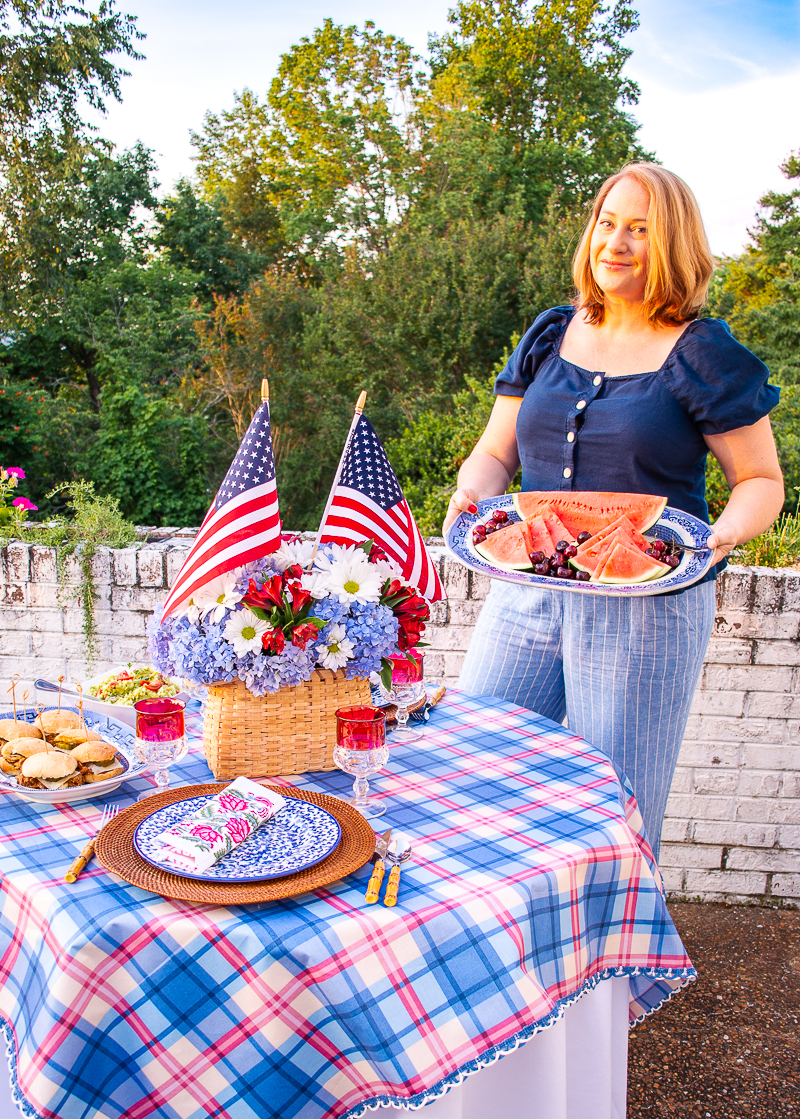 4th of July BBQ Made Easy
On the menu for this easy backyard celebration:
BBQ Chicken Sliders
Corn & Avocado Salad
Watermelon & Cherries
Cherry Mint Lemonade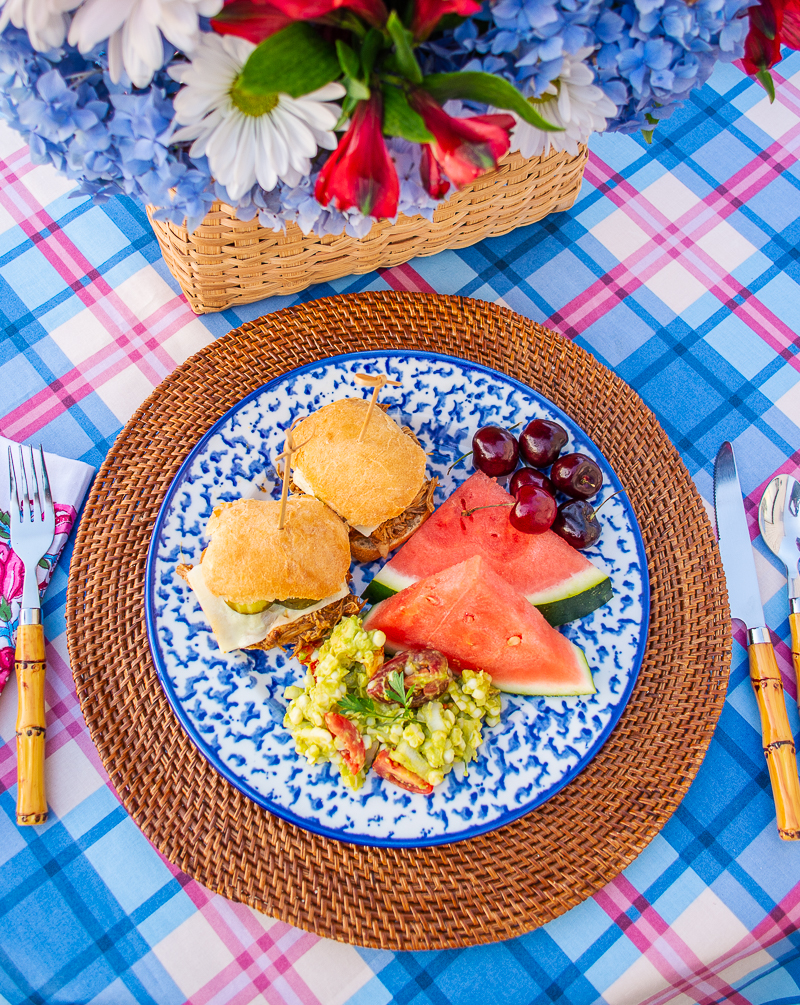 I love hosting dinners, but I don't like to get stuck in the kitchen the whole time and miss out on socializing. When throwing a backyard BBQ the great thing is that you can all gather together around the grill, but sometimes that can even be too much fuss. That's why these BBQ chicken sliders are made in the crockpot and require zero effort!
But don't worry they taste amazing as if you slaved over a hot smoker all day! The chicken is layered with pickles and sharp cheddar cheese on a Sister Schubert's roll for a divine flavor.
Pair these sliders with my corn and avocado salad for some tangy heat and cool off with a refreshing slice of sweet watermelon. This menu really is the best 4th of July BBQ made easy!
Now for the recipes…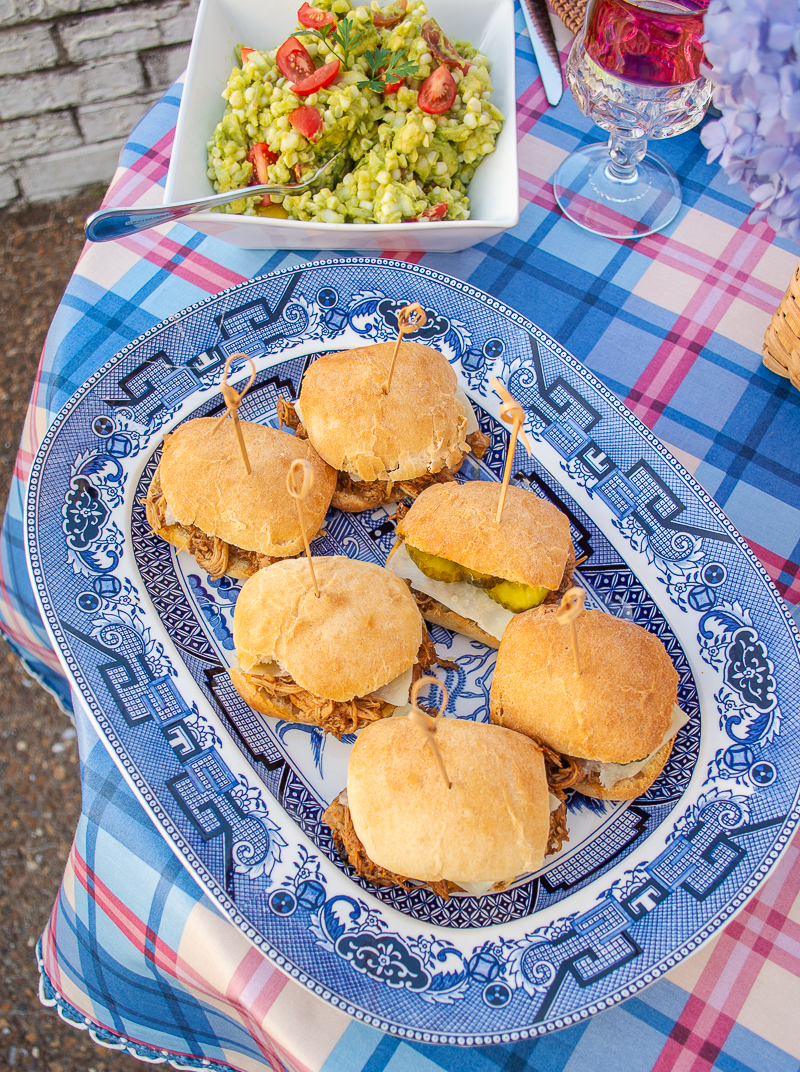 BBQ Chicken Sliders
Serves 4
Ingredients
4 Bone in chicken thighs
3/4 Cup vinegar based BBQ sauce
1/4 Cup of Sweet Baby Ray's BBQ sauce
Bag of Sister Schubert's rolls – 2 or 3 per person
Sliced dill pickles
Sharp white cheddar cheese like Cabot – one slice per slider
To Make
In a crockpot on high mix the chicken thighs with the 2 types of BBQ sauce. Cook about 2 -3 hours until meat is falling off bone and can be shredded. Remove skin and bone then shred. Leave on warm until ready to serve. You want most of the liquid absorbed, so the sliders don't turn to mush, so if need be boil off some of the sauce.
Heat the rolls via instructions and slice open. Layer on a spoon full of BBQ chicken, a slice of cheese, and a couple of pickles. Spear with pick to hold together.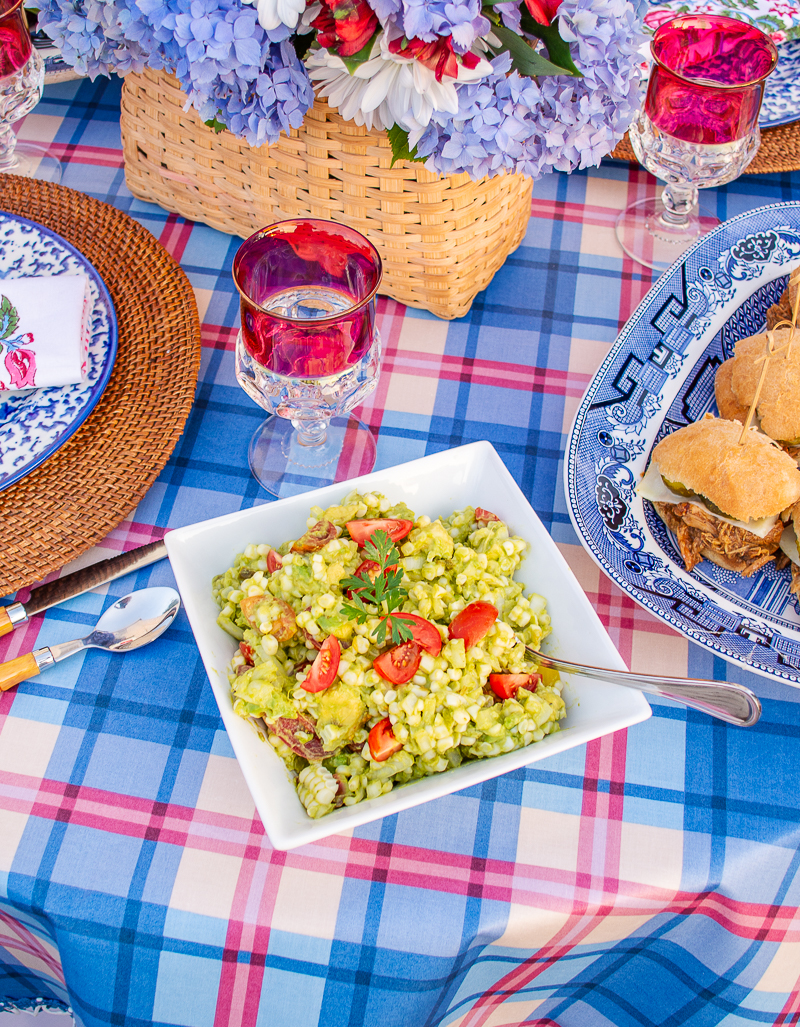 Corn & Avocado Salad
Serves 6
Ingredients
5 Ears of fresh corn on the cob with husks
1/2 Diced onion
2 Large Avocados pitted and cubed
1 Cup cherry tomatoes cut in half
1 Tsp diced pickled jalapeño
3-4 Sprigs of cilantro – chopped
1 Lime – halved for juice
To Make
First step to make this salad is to grill the ears of corn. Remove the outer layers of husk, but leave several of the inner leaves to cover corn on grill. When you pull back the husks brush off the silks. Place on the grill and rotate often until tender. It usually takes about 30 minutes.
Once corn is cooked and cooled off enough to handle shear off the cob. Dice up the onion. Cut up the tomatoes, avocado, jalapeño, cilantro, etc. Mix all together in large bowl. Squeeze the lime juice in and stir. Add salt and pepper to taste. If you like spicy dishes, add more jalapeño or some red pepper.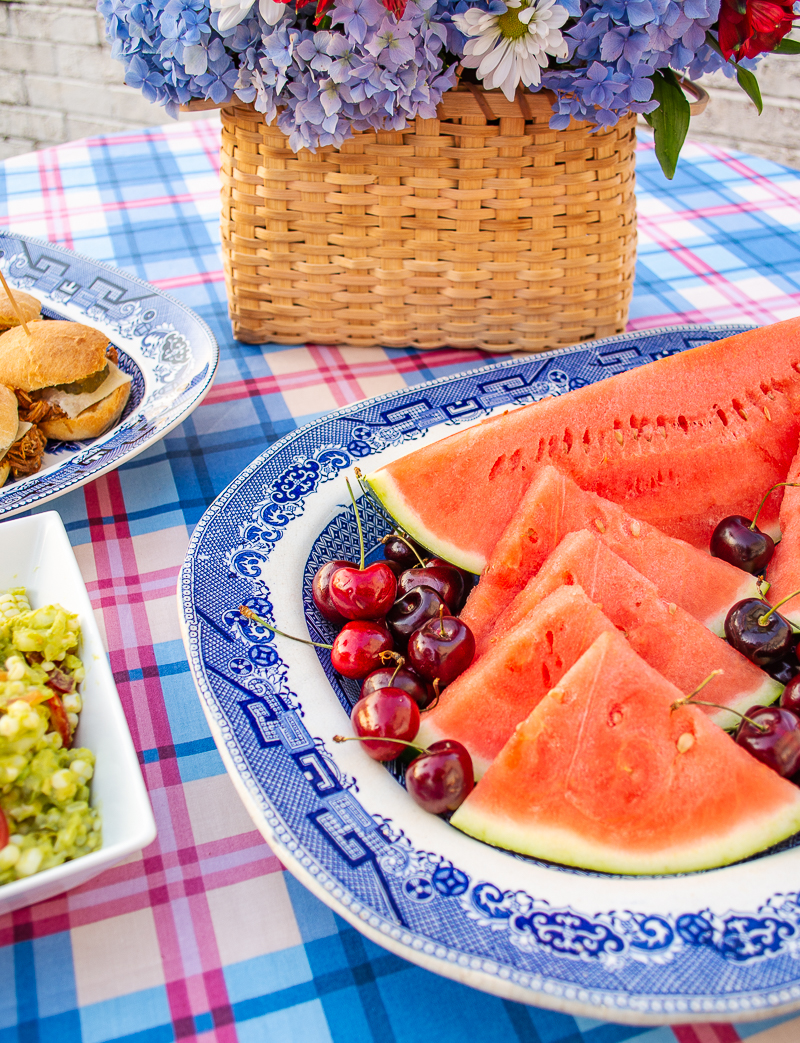 Watermelon
There is nothing to do to the watermelon but slice and enjoy! As a reminder, cut it so it is easily handled in wedges or remove the rind and cube for eating with a fork.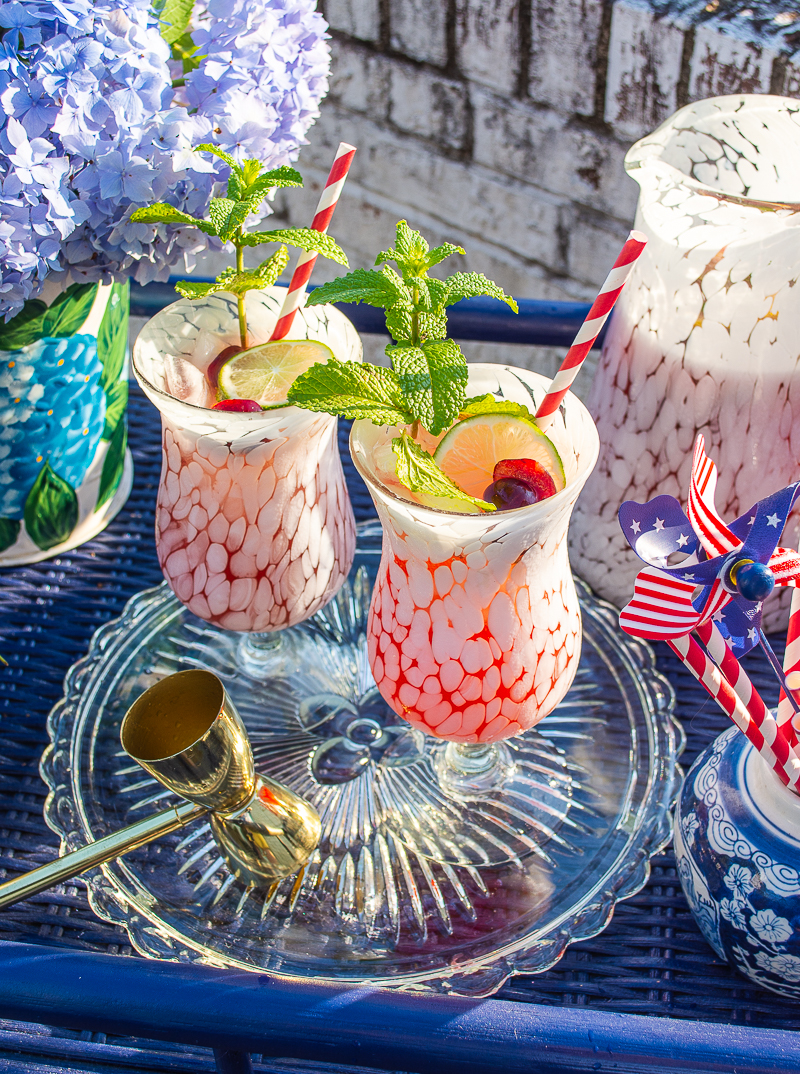 Cherry Mint Lemonade
I hope I've provided you with tons of inspiration for a backyard celebration this Independence Day, and proven a 4th of July BBQ made easy is simple and festive!
Happy 4th of July!