Grandmillennial Summer Finds at Amazon
Looking to spruce up your table, home, and wardrobe for summer on a budget? Don't miss my grandmillennial summer finds from Amazon, Walmart, and Target!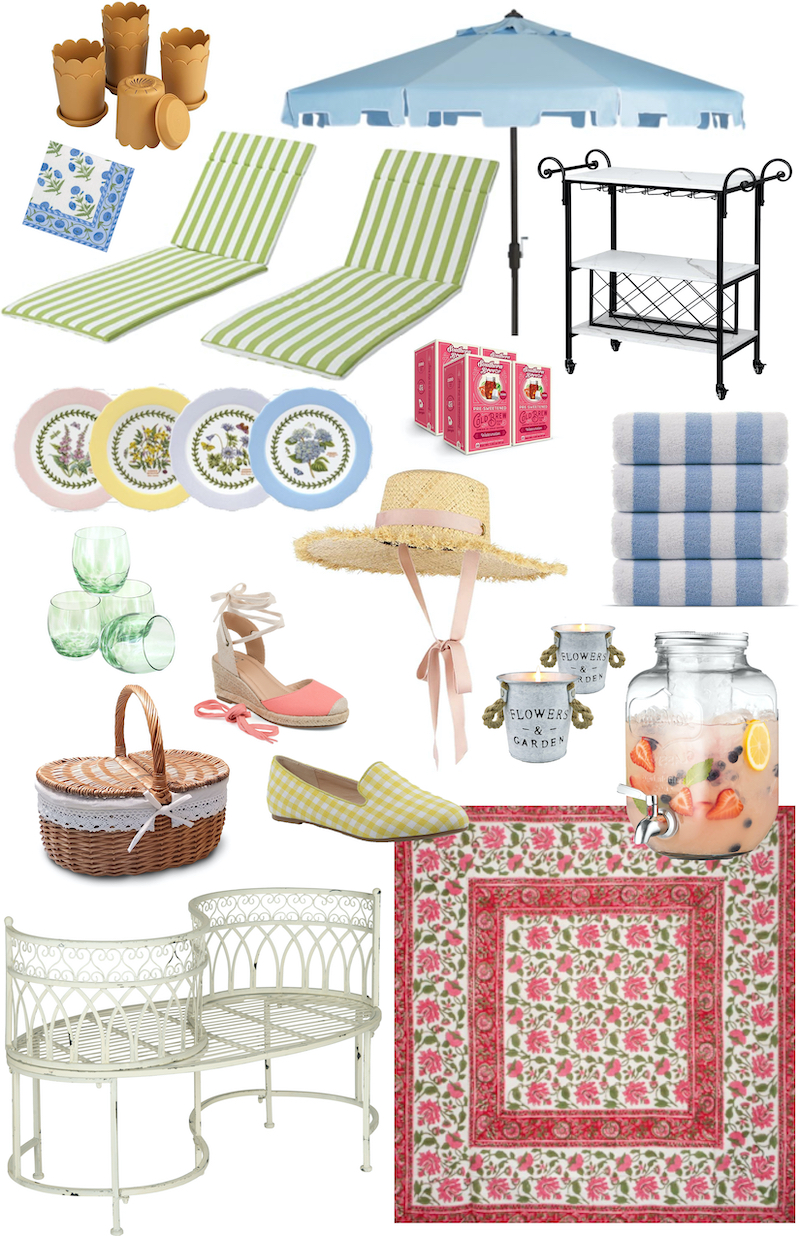 *Affiliate links included*
I'm finding my summer frame of mind with a little online shopping this week. As I was perusing Amazon, Target, and Walmart, you know the three staples, I was pleasantly surprised at the number of grandmillennial finds I came across perfect for the upcoming summer months. So I thought I would share the bounty with y'all and compile a list of everything that caught my eye!
Below you'll find lots of romantic florals, bright pastels, and extra little flounces that just make my traditional loving heart pitter patter. Don't miss this gorgeous vintage style kissing bench! Wouldn't it be loving tucked away in a shady garden spot?
This set of multi-colored Portmeirion dessert plates are enchanting and check off all my botanical dreams. I'm also seriously considering this faux marble serving cart for our balcony. It's has such classic French inspired lines and it looks perfect for serving al fresco dinners.
Grandmillennial Summer Finds
Grandmillennial Summer Entertaining
Parties and dinners with friends are back on the docket, and I could not be more excited. My mother has already planned a huge picnic party to celebrate my parents' 50th anniversary. We are eyeing these drink dispensers with ice insert for the beverage station.
If you are looking for chic flatware for al fresco dining, I highly recommend this faux bamboo set, and I think this pink Indian block print tablecloth would complete the look!
Summer Home Finds for the Grandmillennial
Aren't we all just a little gaga for that embellished or scalloped edge as grandmillennials? Yes indeed, and this patio umbrella at $108 has the perfect crenellated edge!
I also couldn't believe how good Drew Barrymore's new line at Walmart is. Seriously, go take a peek! My favorite piece is this wicker and brass floor lamp.
If you are a fan of daisies, don't miss these embroidered towels. C-U-T-E!
Grandmillennial Style for Summer
I'm all for easy breezy style this summer, so sweet dresses, culotte pants, and simple shoes! I added this Columbia toile button-down, which I love for hot weather, to my cart. I'm loving the pink ribbon and raw edge on this straw hat for $15.
And as much as I love Aperol, I think I need these charming Aperol spritz espadrilles.