Going Green: 15 Eco-Friendly Products to Shop Now
Put your everyday dollars into eco-friendly household and personal products that are better for the environment! This post shares brands making an effort to go green and 15 items you can shop right now to make a difference!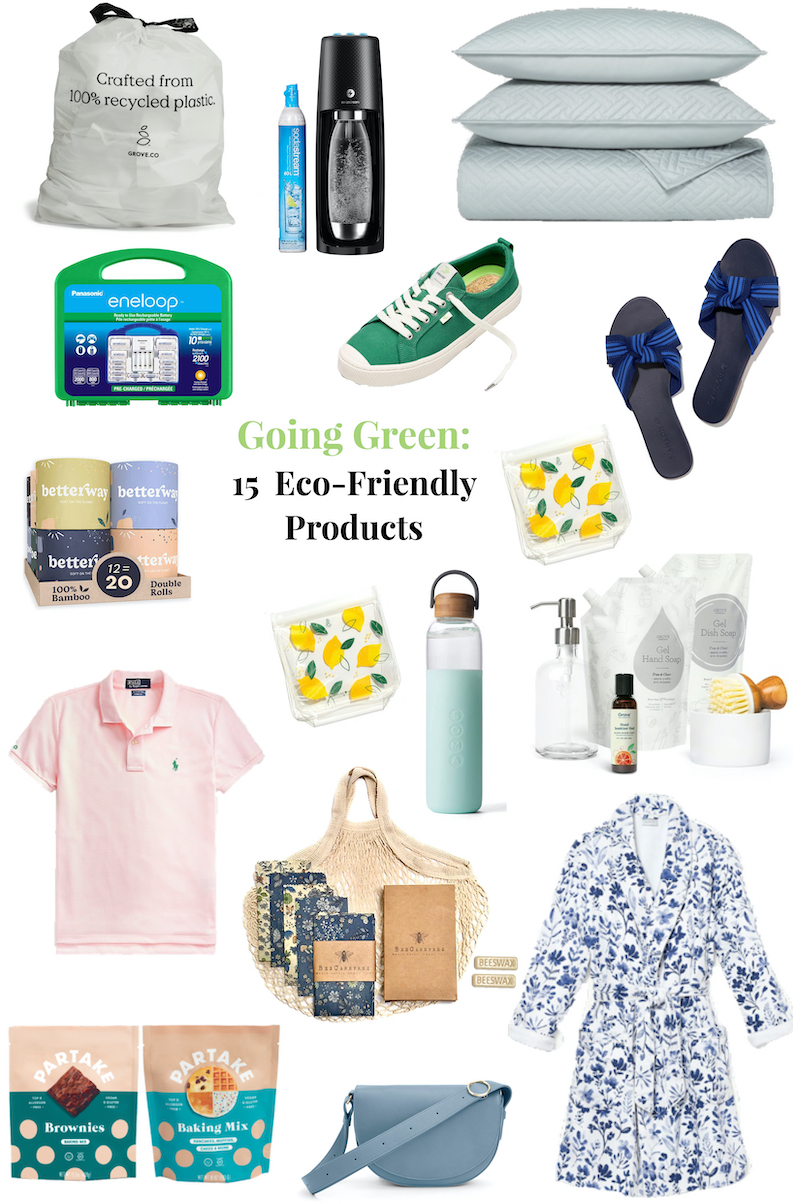 Click on a picture below to shop (affiliate links included):
Choosing eco-friendly products is not always easy, and I'll be honest, I have not been good about recommending them here on P&P nor have I made enough of an effort to incorporate these items into my every day life. But I'm amending that now!
Putting my everyday dollars, meaning the money I would normally spend on household and personal goods, towards options that are more eco-friendly and brands that are striving to be more environmentally conscious is something I can do today to reduce my negative impact!
As I discuss in this post about strategies for going green, clothing and plastics are two of our biggest problems contributing to greenhouse gases and environmental damage. Making some simple swaps to avoid plastic packaging and support brands using recycled materials and organic fabrics, is easily done if we know where to shop and what to shop for!
I recommend exploring Good On You's Directory of Ethical and Eco-Friendly Brands as well as reading this on green product marketing claims.
Eco-Friendly Brands:
If you know of a brand, service, or product that should be included here, please comment below!
Home Decor & Household Products:
Bloomist – ecofaux florals, natural sustainable materials
Lo Home – sustainable raw materials, USA-manufacturing, biodegradable packaging
Pottery Barn – GOTS fabrics, plant a tree campaign
Earth Easy – sustainable living products
Grove Collaborative – sustainable living products
Public Goods – sustainable living products
Boll & Branch – organic bedding and home textiles
Clothing:
Be aware that several of these companies only offer certain styles in eco-friendly fabrics or manufacturing methods. Watch for words like "conscious," "organic," and "recycled."
Ralph Lauren – reducing carbon emissions and water waste
Vetta – capsule wardrobes, eco-friendly fabrics
People Tree – fair trade fashion, organic fabrics
Unspun – custom denim, sustainable practices
Fair Indigo – organic cotton tees
Reformation – fair labor practices, eco-friendly production
Everlane – fair labor practices, organic fabrics
H&M – eco-conscious and sustainability practices
Patagonia – organic and recycled fabrics, eco-friendly production
Nuuly – fashion rental
AAKS – straw handbags made from ecologically-harvested raffia by Ghanian artisans
Beauty & Skincare
by Humankind – beauty and personal care, plastic reducing
Briogeo – naturally derived, sustainable ingredients and recycled plastics
Saie – sustainable ingredients, plastic reducing
Biossance – vegan, cruelty free ingredients
Arbonne – vegan, TerraCycle® participant
Kiehl's – renewable ingredients, sustainable packaging