Get Cooking! 50+ Kitchen Gadgets & Accessories
50+ kitchen gadgets and accessories you'll actually use for cooking and organizing your kitchen!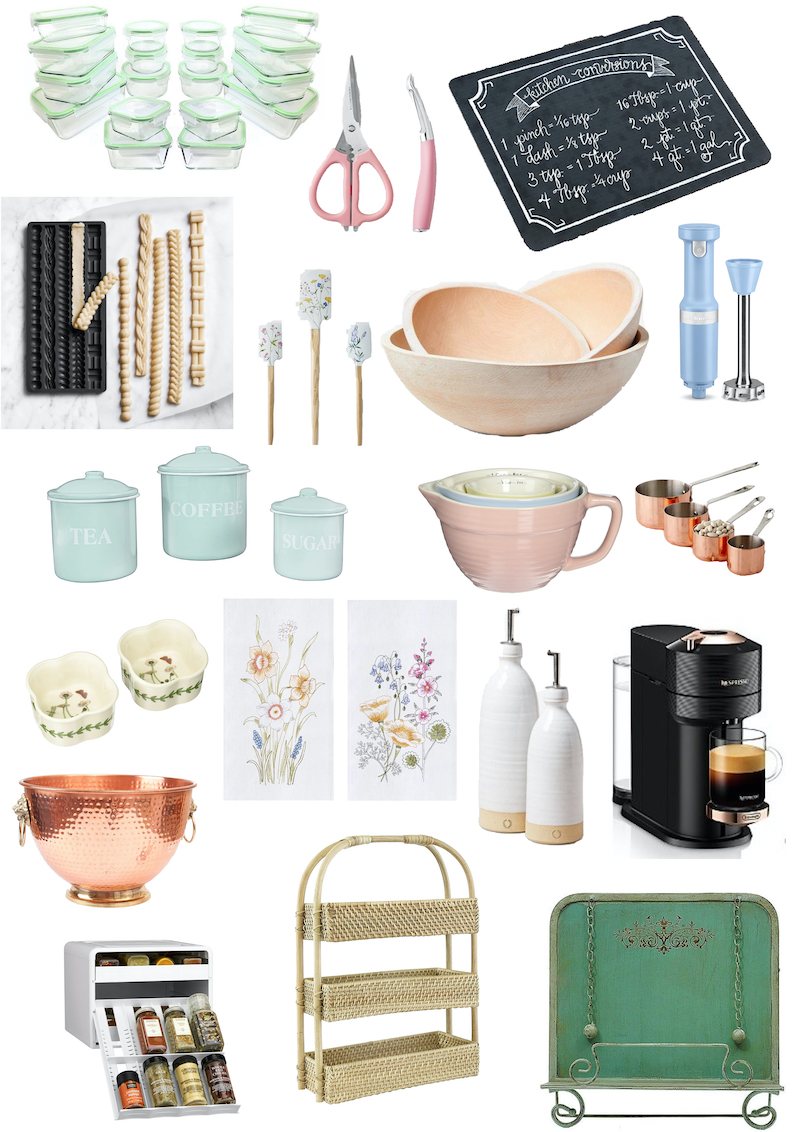 One of life's greatest pleasures is cooking a delicious meal!
I love the chopping…the sizzle of veggies in a skillet…the aromatic herbs…the mixing and mingling of ingredients and flavors! Just writing this makes me want to head into the kitchen to whip something up!
The kitchen is definitely one of my happy places! Tell me I'm not alone!
Form and function marry in this room all for one purpose — the storage and preparation of yummy foods, so it's important that you have all the right cooking tools at hand. The best kitchen gadgets and accessories really can improve your recipes and make cooking efficient and effortless! Oh, and these little helpers can look charming too!
Since S. and I are now both working from home, we are cooking even more than we use to, and I know many of you are in the same situation. Here's a round-up of our favorite tools, gadgets, and accessories for the kitchen that I promise you'll actually use.
50+ Kitchen Gadgets & Accessories
You'll Actually Use
Gadgets & Tools
*Post includes affiliate links.*
Our favorite non-stick cookware is Ozeri – We have had an Ozeri skillet for about 2 years now and literally food does not stick! But you don't have to worry about the harmful chemicals many non-stick pans have. Ozeri is a stone-derived coating that is free of APEO and PFOA, and the lesser known chemicals NMP and NEP.
Our favorite blender is the Ninja – I make smoothies about twice a week, and the Ninja will blend to perfection whatever you put in it. The single serve cups and blade are perfect when it is just me drinking a smoothie.
Our favorite espresso machine is Nespresso. – we just got this in the fall of last year, but we are so addicted. A cup of Nespresso coffee has fast become our favorite weekend morning treat, and don't get me started on the milk frother! SO GOOD!
On my wish list of kitchen gadgets to try are an immersion blender and an insta-pot. Have you tried either? Let me know what you love about them below?
Accessories
For kitchen accessories, I find simple, functional decor works best in pretty colors. I'm always using ramekins for little sauce bowls or sorting chopped veggies. These Portmeirion botanical ones are so pretty.
Oil and vinegar bottles that control the flow of the fluid are essential for dressing salads. This artisan pottery one is so rustic and elegant!
I also love a pretty hand towel to dress up the kitchen like these embroidered floral ones.
Storage
Efficient kitchen storage is paramount to cooking a great meal. This is something we are totally struggling with right now because we just don't have enough cabinet space. To help us sort our spices and herbs, I'm seriously considering this spice container because we could store it on the counter near the stove top.
We switched from Tupperware to a set of these glass food containers for leftovers and couldn't be happier. They are so much easier and safer to microwave food in!
Alright lovely peonies! Time to get cooking!
I hope you find something helpful for your kitchen in my round-up.