Collector's Notes: Antique Plates
Useful basics to understand when collecting antique plates and ceramics from European porcelains to folksy Staffordshire and Chinese export to transferware.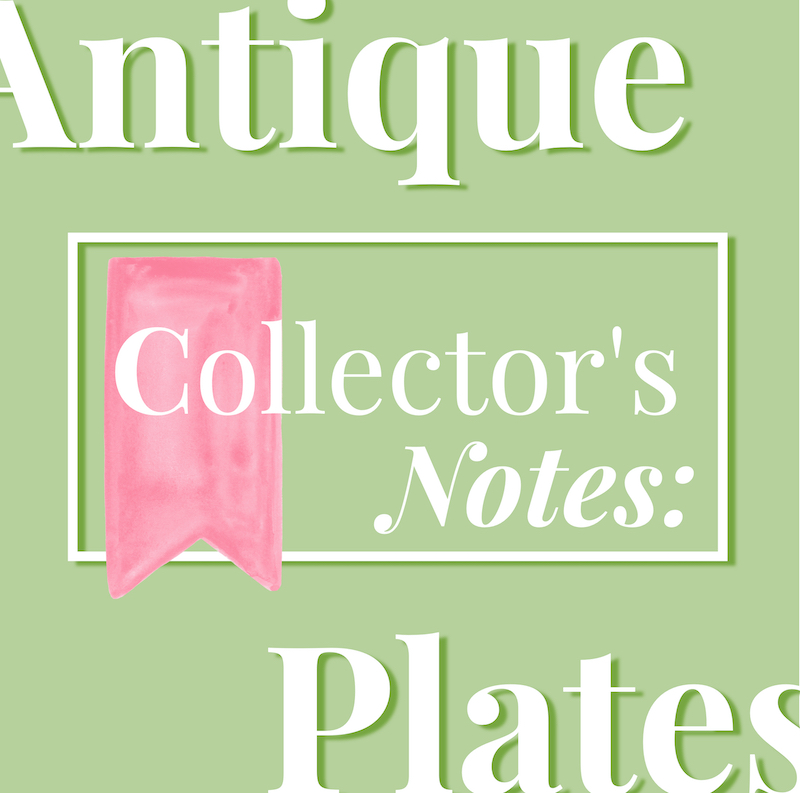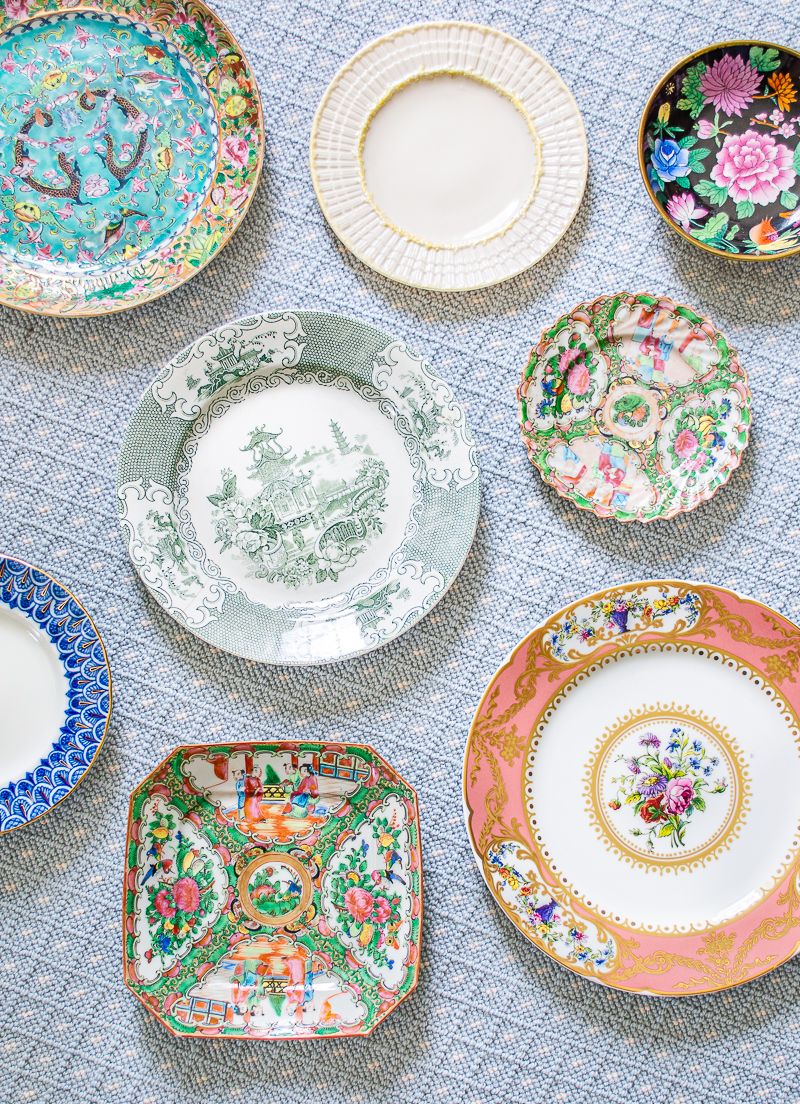 If you are a lover of china or collector of antique ceramics, your china cabinet or kitchen cupboards probably hold one or more of these ceramics:
No. 1 Porcelain
Commonly referred to as "china" because it was first produced by the Chinese in the late Tang dynasty over 1000 years ago. This form of hard-paste ceramic is made with kaolin – a sought after material of decomposed feldspar with granite and petuntse that has to be ground down into a fine white powder then mixed with water to form a clay. Kaolin (often called china clay) is the fundamental element of hard-paste porcelain that gives it the durable body, luster, and translucence.
The first European manufacturer to accurately re-create porcelain was Meissen in the early 1700s. Once the "secret" to hard-paste porcelain became known other European manufacturers began producing their own versions.
Popular types or brands of European porcelains include: Meissen, Rosenthal, Limoges, Haviland, Mottahedeh, Chelsea, Sèvres, Herend. Read more about Chinese export porcelains here.
Key characteristics include:
Translucence to the body, meaning you can see through the piece when held up to light.
Resonance – ringing sound when struck
Non-porous – water tight even when unglazed
White, grey or creamy when unpainted or glazed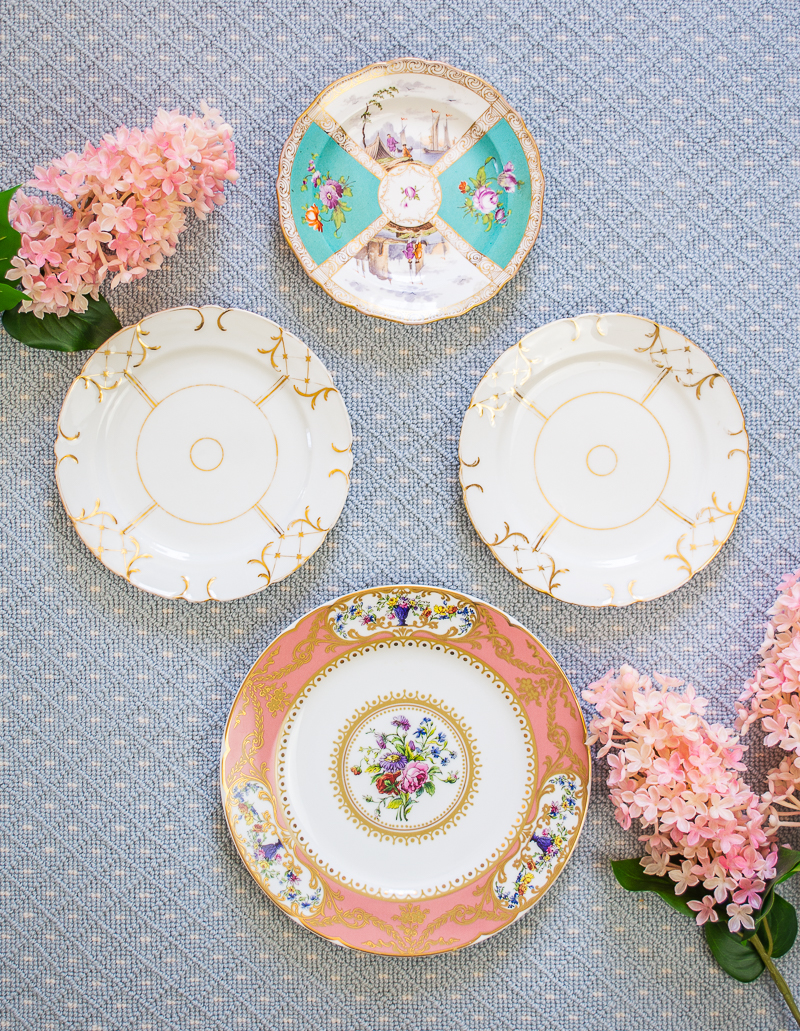 No. 2 Soft-Paste Porcelain or Semiporcelain
Developed in efforts by European potters to create Chinese porcelain, which was durable, white, and had the ability to withstand boiling water. There were a variety of different mixtures and materials used from glass, flint, quartz and or bone all to try and re-create the durable body and luster that kaolin gave hard-paste porcelain. Soft-paste refers to the need to fire these mixtures at lower kiln temperatures.
Bone china (historically called English Porcelain) is also important to include here as it was a key development in England in the late 1700's created by Spode. As the name suggests the paste mixture included 30-50% animal bone (usually cow) with feldspathic material and kaolin. This produced a much more durable form of porcelain compared to other soft-paste forms and was competitive with the whiteness, durability, and translucence of Chinese or French hard-paste porcelains.
Some important soft-paste porcelain manufacturers to know: Bow, Spode, Wedgwood, Worcester, and Minton.
No. 3 Earthenware
A type of pottery made from clay that remains porous even after firing. A slip or a glaze must be applied for the vessel to be water tight. This is the oldest type of ceramic dating back to the Neolithic era.
Depending on the type of slip or glaze used, you will see earthenware also referred to as creamware, tin-enameled or tin-glazed.
Important antique earthenware plates to collect are Staffordshire, Wedgwood, Delft, Faience, and Majolica.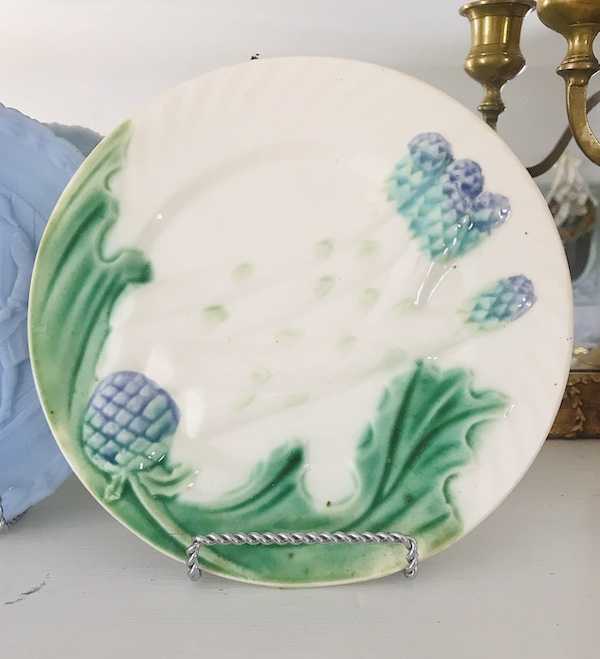 No. 4 Stoneware
A type of pottery that has been fired at a high temperature until vitrified and is, thus, impervious to water. Glazes are mainly decorative and generally only 3 types are used: lead glaze, salt glaze, and feldspathic glaze.
Popular types of antique plates made from stoneware are Ironstone, Jasperware, Basalt, and Celadon.
Key characteristics include:
Heavier
Opaque
Non-porous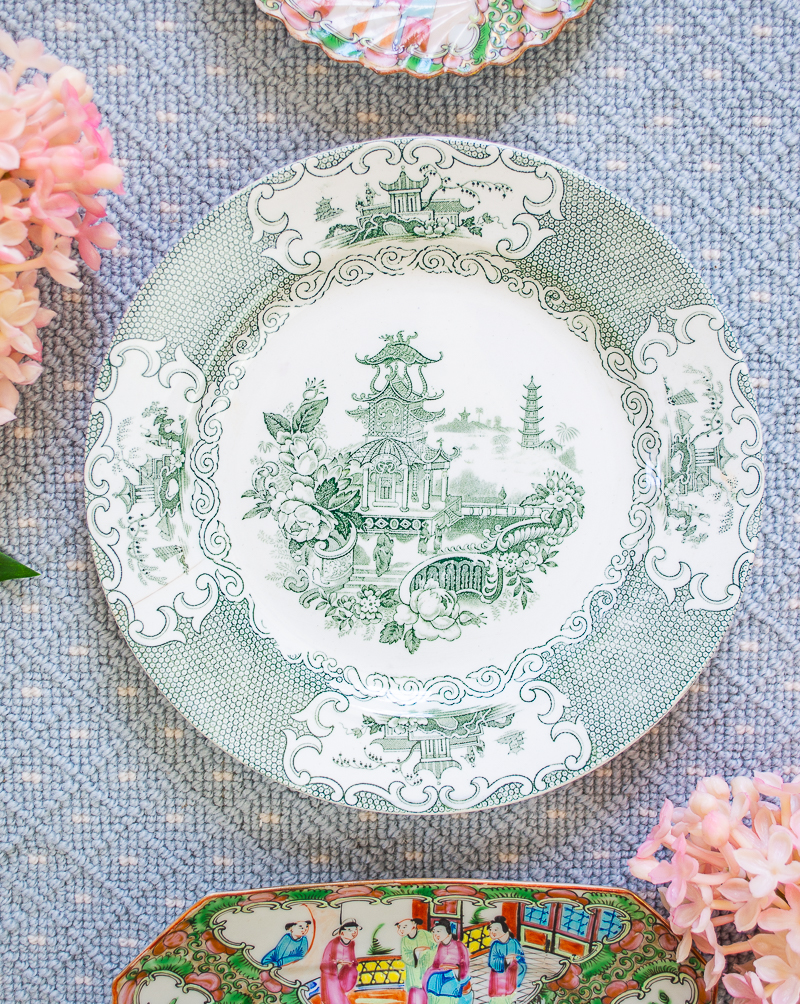 Shop available plates on Pender & Peony here!
Now that we've reviewed and clarified the different types of ceramic plates, let's look at some specific terminology used to talk about and identify antique plates.
Understanding Collector's Lingo Regarding Antique Plates
Regional Designation
It is often a point of confusion for beginning collectors when experts refer to a type or brand of plate by the region or city of manufacturing not the factory or brand name. For example, Limoges is not a manufacturer but a region in France where lots of porcelain makers sprang up in the late 1700s because kaolin was found there. These regional designations are largely useful because manufacturers in those areas shared common techniques and similarities in design.
Other important regions of production to know:
Dresden, Germany
Staffordshire, England
Canton, China
Sevres, France
Nippon – means Japan
Technical Terms
Lip – the outer flat raised width on the plate.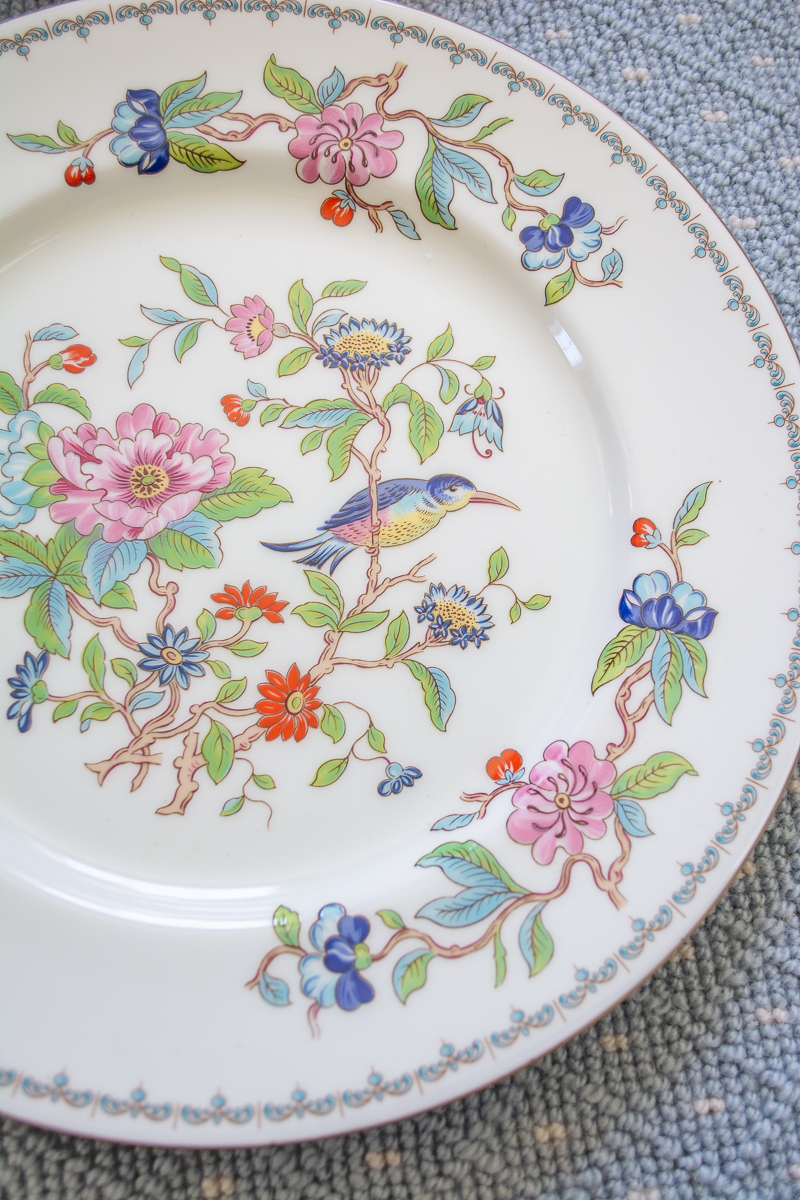 Well – the interior flat section where food is placed.
Rim – the outer most edge of the plate, often with gilt band.
Base or Foot – bottom or underneath side of the plate.
Glaze – a glossy or glassy film that is fused to the ceramic body during firing. It is usually formed from powdered minerals added to water and washed or painted over the object. A glaze can be shiny or matte. It is usually for decoration or protection, and most glazes can be considered specialized forms of glass. There are various types of glazes depending on the materials used the the effect achieved after firing.
Overglaze Decoration – layer of decoration added on top of the glaze. Example – Rose Medallion porcelains
Underglaze Decoration – layer of decoration applied to un-fired or un-glazed piece and then glazed on top of decoration. Example – blue and white porcelains
Reticulated – pierced lattice like design through the rim or edge of a plate.
Sprigging – applied molded or stamped decoration adhered to surface of a piece. Example – Wedgwood Jasperware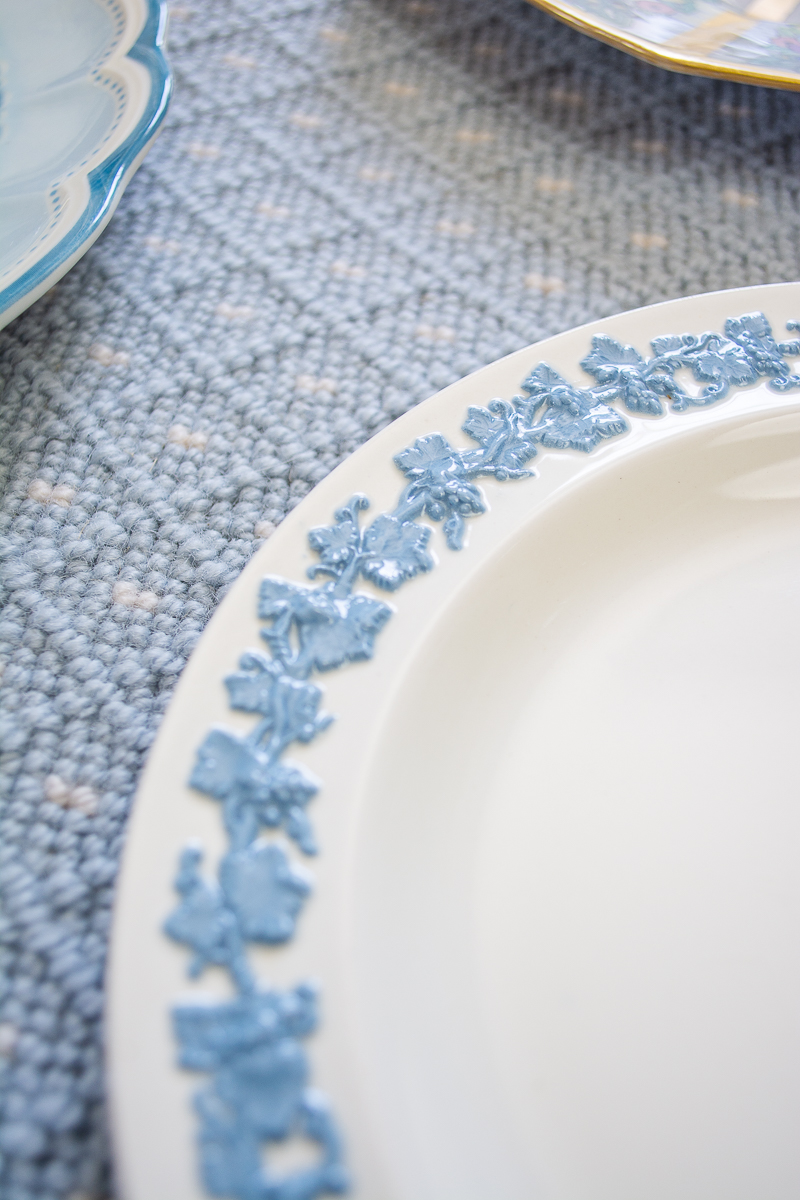 Gilt – thin layer of gold decoration painted in design on ceramic body. Process is called gilding.
Transferware – common design technique developed in the 18th century using printing techniques to apply decoration to a ceramic body.
Antique Plates' Marks
A significant portion of valuable antique plates are marked with a manufacturer's emblem or logo on the bottom, but not all particularly pre-19th century mass production. Manufacuters' marks often evolved over time either in design, color, or style, so they can be important in dating a piece as well as identifying who made it.
If the name of a country appears below the mark, it was likely produced after 1891. If it says "Made in…country name" then it was likely produced after 1914 due to import export laws established around this time.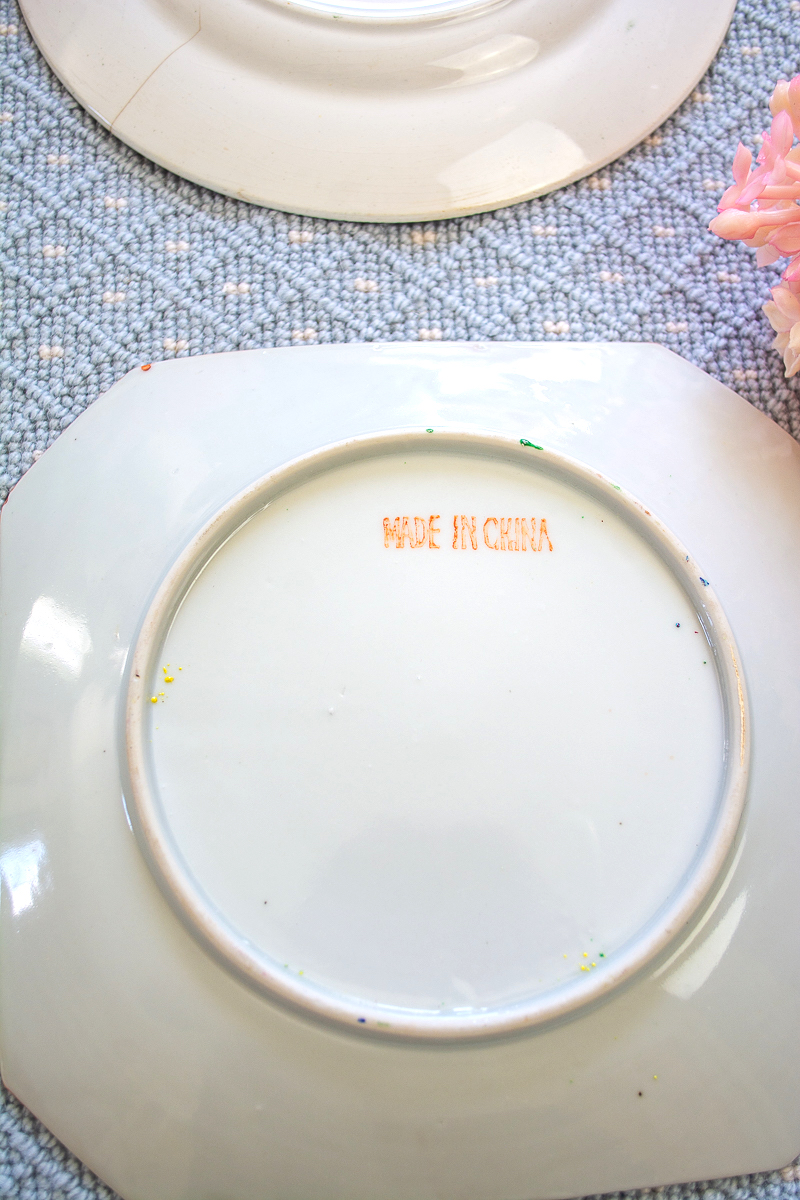 You may even notice several different marks on the bottom of a plate:
Manufacturer's mark
Artist's mark – hand painted
Date mark – coded number and letter series to identify when produced
Seller mark –

imported porcelain in the U.S.A was often also stamped with the department store name where it was sold.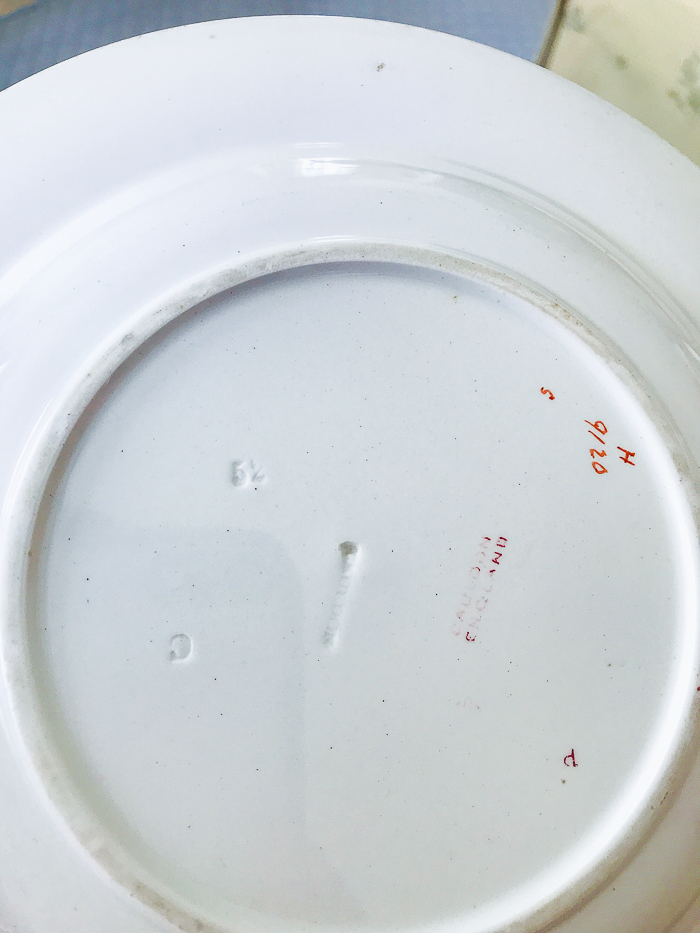 Pattern Naming
Pattern refers to the stylized design used to decorate a specific plate or group of ceramics. While a common enough practice now, most ceramic manufacturers did not initially name their patterns. Names either developed over time or they were identified with a pattern code, while some manufacturers have been assigned names by scholars like Arlene Schleiger did for Haviland.
Antique Plate Forms:
Dinner Plate — 9″ to 11″ Diameter
Salad Plate — 7 3/4" to 8 3/4" Diameter
Bread & Butter Plate — 6" to 7 3/4" Diameter
Saucer — 5″ to 6″ Diameter with indent for cup
Butter Pat — 3″ to 4″ Diameter
Luncheon Plate — 8″ to 9″ Diameter
Dessert Plate — 6″ to 7″ Diameter
Charger — 11″ to 13″ Diameter
Platter — oblong shape 10″ to 20″ Length
Additional Resources:
Gardiner Museum European Porcelain Exhibit
English Ceramics: Marks & History
China Pattern Identification Database