My Recipe for Coffee Table Style with Traditional Decor
With this 5 ingredient "recipe" you can master coffee table style using traditional decor!
Your coffee table is one of those key focal points in your living room that deserves some carefully styled decor. Sitting in the middle of your seating group, the eye is always drawn to this surface, and what you choose to display there contributes to your interior style.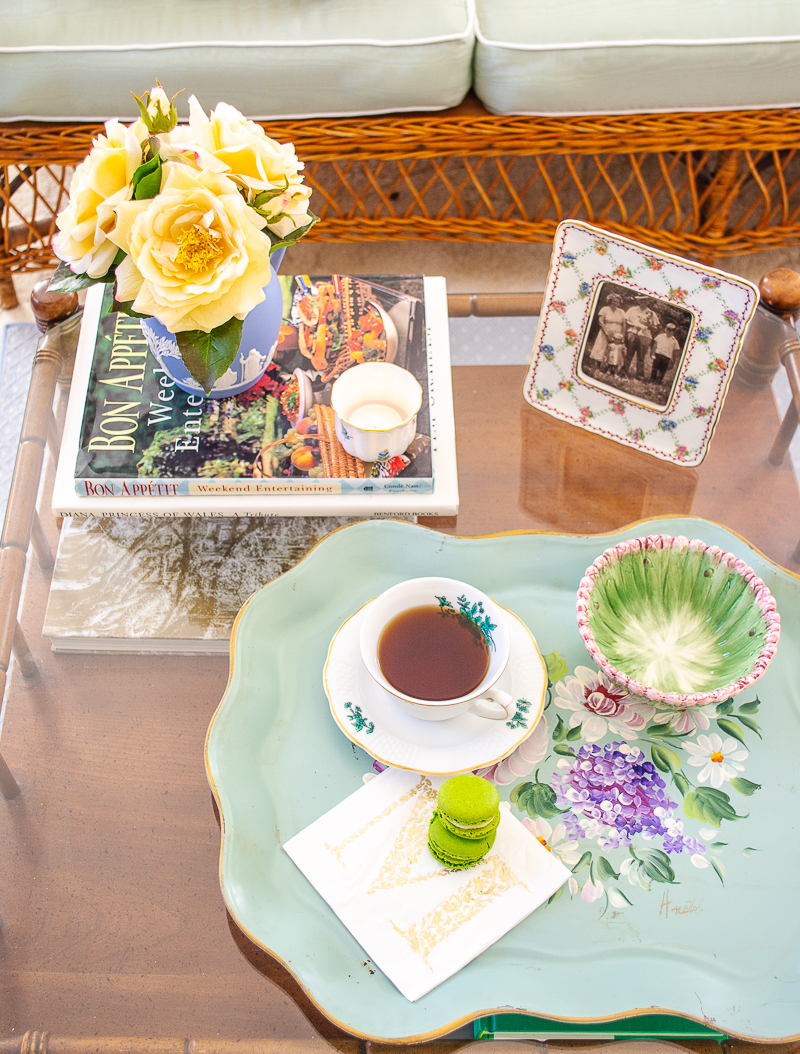 This table, although it may be an ottoman or bench, is also a bit of a workhorse, serving as a landing spot for magazines, TV remotes, and truthfully at times it may be more dining hotspot than anything else.
But you can bring organization and style to your coffee table with a few simple tricks and these 5 staples or ingredients:
No. 1 A Tray
Trays are one of those decorator's secrets that always make a vignette look organized and pulled together. Think of them as a coral for other decor, trinkets, and books!
No. 2 Books
Books on a coffee table...how original! I know, but seriously these are one of those traditional decor classics that should be a staple on your table. Collect ones that speak to you and your family's interests while traveling or hunting second hand shops and estate sales.
No. 3 A Candle
Flickering candlelight and pleasant aromatics are always a good idea for the coffee table.
No. 4 A Vase
Style your coffee table with something floral or botanical. The right traditional vase can remain year round in this vignette then simply switch out the flowers or greenery weekly or seasonally, depending on your choice of fresh or faux.
No. 5 A Catchall or Trinket Dish
This is that extra little organizational helper. It may be useful for housing remotes or other paraphernalia that ends up in this space. Or it may be more decorative, depending on how you use the room.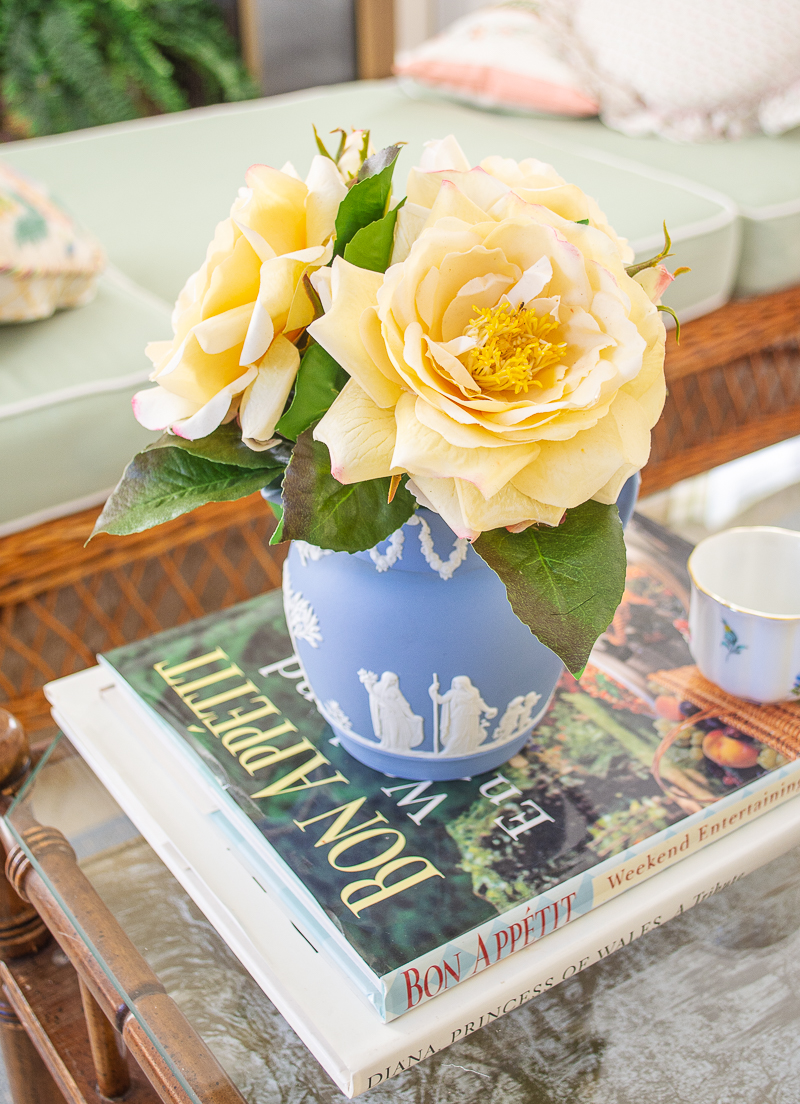 None of the 5 staples of coffee table style are ground breaking, but that's because they work, and it's up to you to choose pieces that coordinate with your interior style and play off each other charmingly.
Now that you know the staples, let's look at 3 different ways to mix and match these ingredients to achieve the look you want!
3 Looks for Your Coffee Table Using My 5 Ingredient Recipe:
Coffee Table Look 1
Grandmillennial Florals
This pretty floral themed coffee table vignette features traditional decor classics like Wedgwood Jasperware for the vase, floral tole ware for the tray, Herend, and a beautifully framed family photo.
It is an elegant look that feels fresh and feminine -- perfect for formal living rooms.
Using a stack of books on the back corner gives some height to the yellow roses in the Wedgwood pitcher.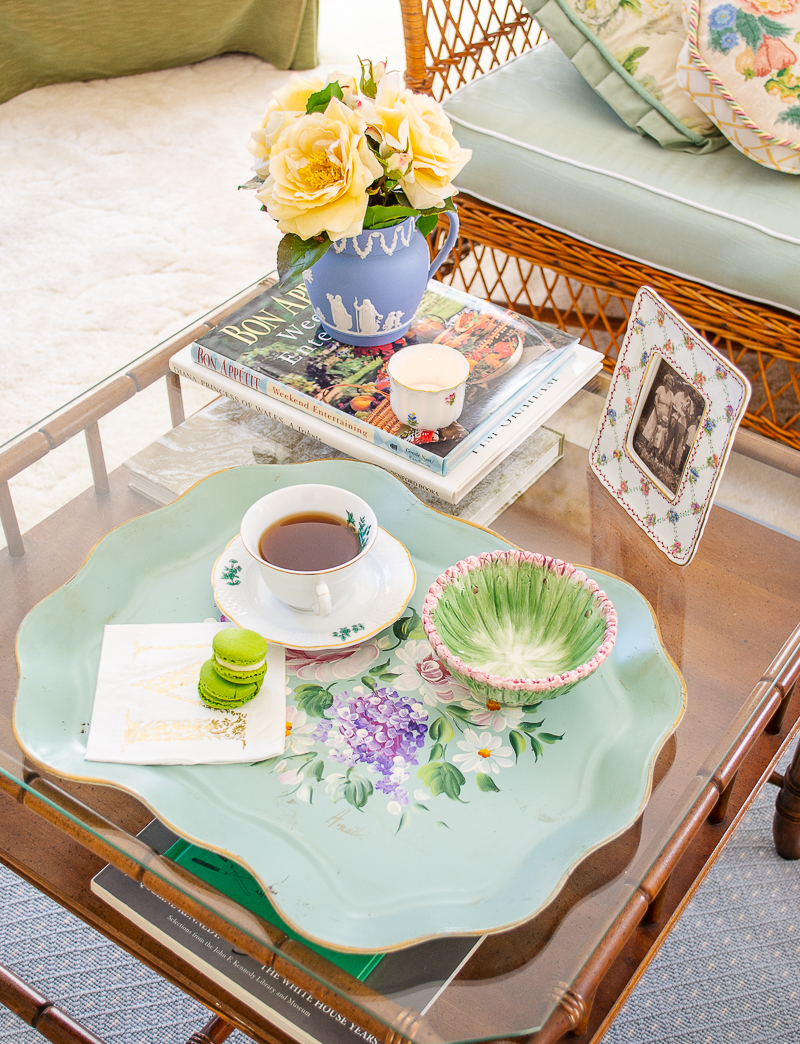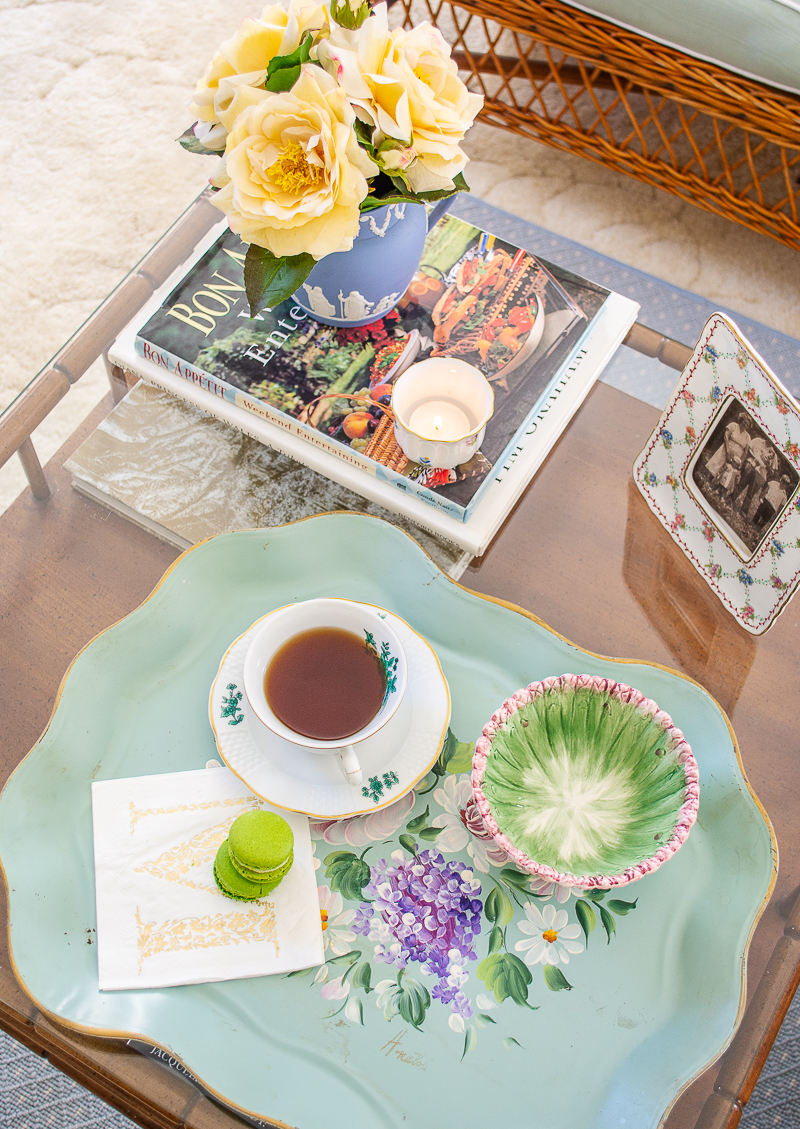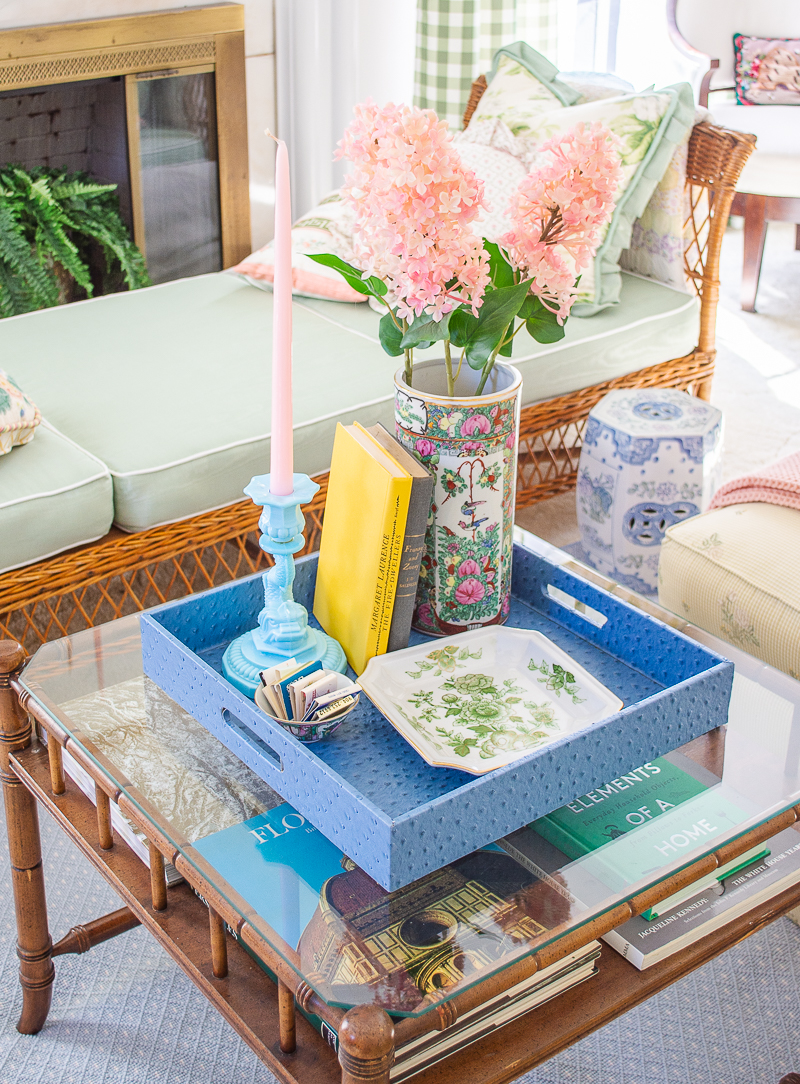 Coffee Table Look 2
Chinoiserie Chic
The 5 staples of my coffee table style recipe are brightly hued in this Chinoiserie themed display. A tall Rose Canton cylinder vase with pink hydrangeas adds height, while the blue faux ostrich tray corrals everything together.
For the candlelight, a pink taper contrasts with this aqua opaline dolphin candlestick for a pop of color. Remotes or other accessories can be placed in the green floral dish, for functionality.
Coffee Table Look 3
Eclectic
This last look marries eclectic elements for a more bohemian vibe. A small green Florentine tray serves as a catchall, while the Rose Canton box holds a fun collection of match books.
Books stacked on the back corner add height to the gorgeous camellia flower arrangement. A funky elephant pillar holds the candle for that important coffee table element.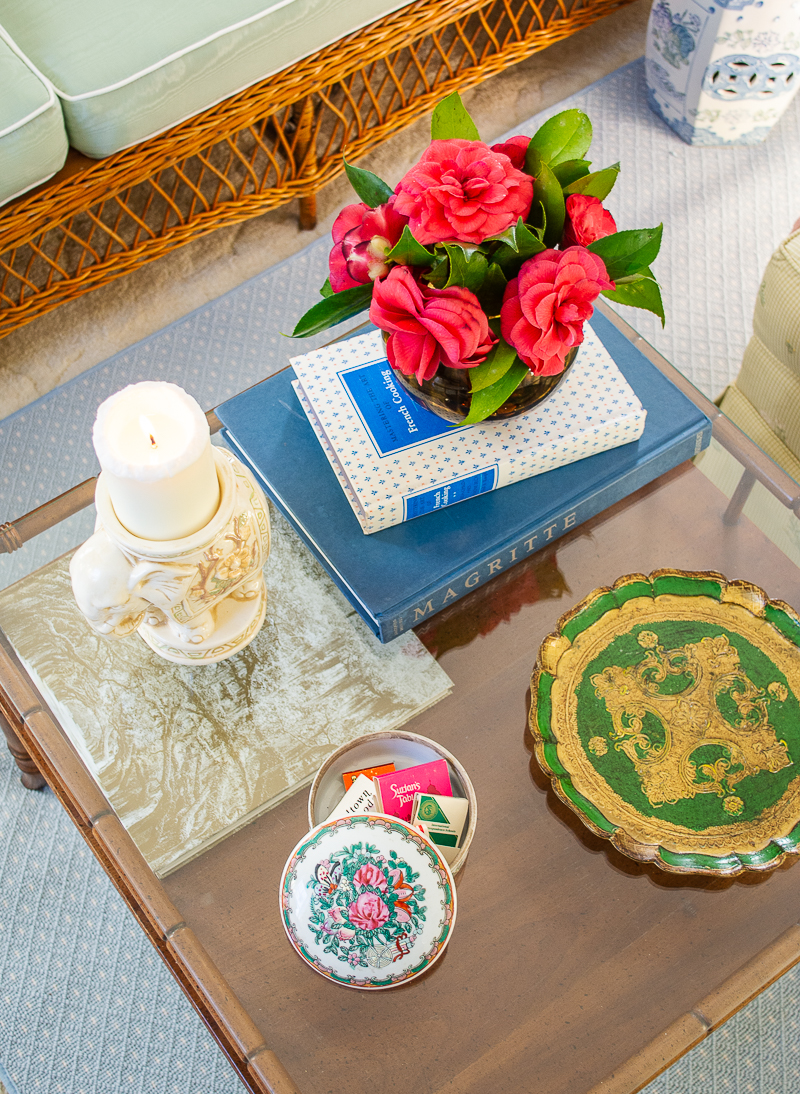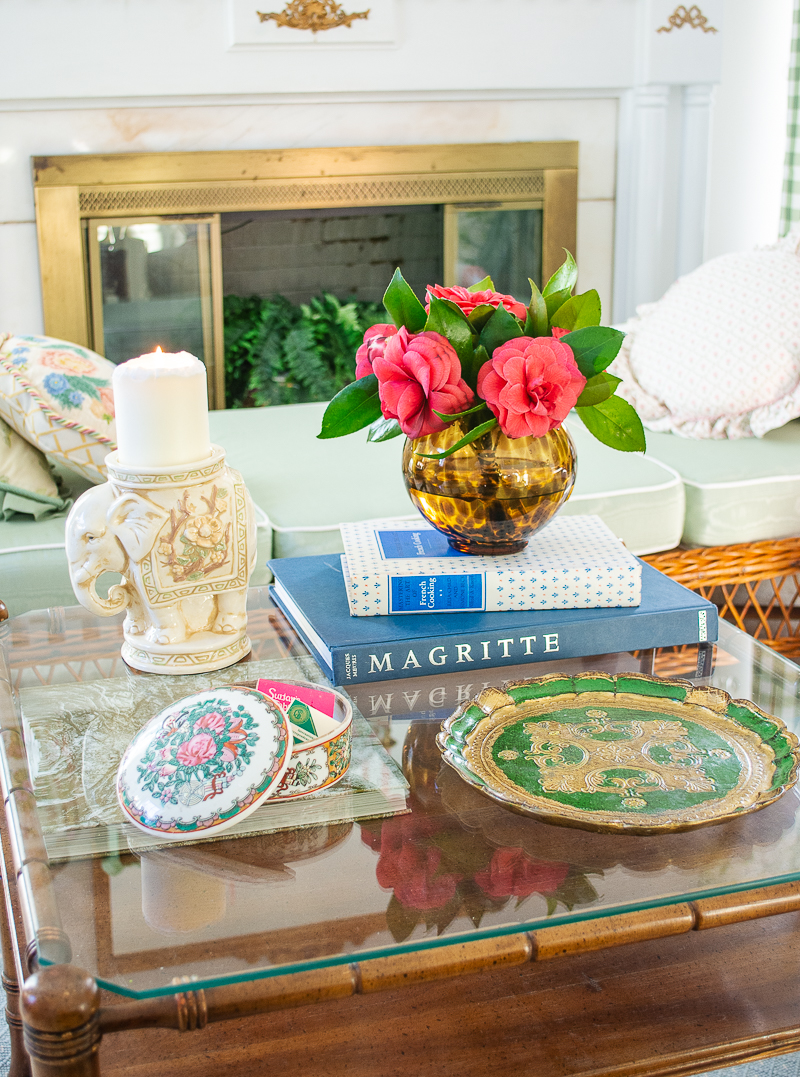 A few other styling tricks to try:
In terms of layout, work with the shape of your coffee table, so if it's square divide the space up into 4 quadrants like I did here or place the elements directly in the middle.

Always vary the height of your decor.

Tie eclectic elements together with color.

Never be afraid to take the dust jacket off a book to see if the color or design of the cover is better.

Don't forget to leave space for practical usability like setting down drinks.
This coffee table decor will be available on the first day of April for my Instagram flash sale at 8PM EST.