My Winter Skin Care Routine
A winter skin care routine using holistic botanical skin care products that get results and keep skin feeling refreshed and moisturized.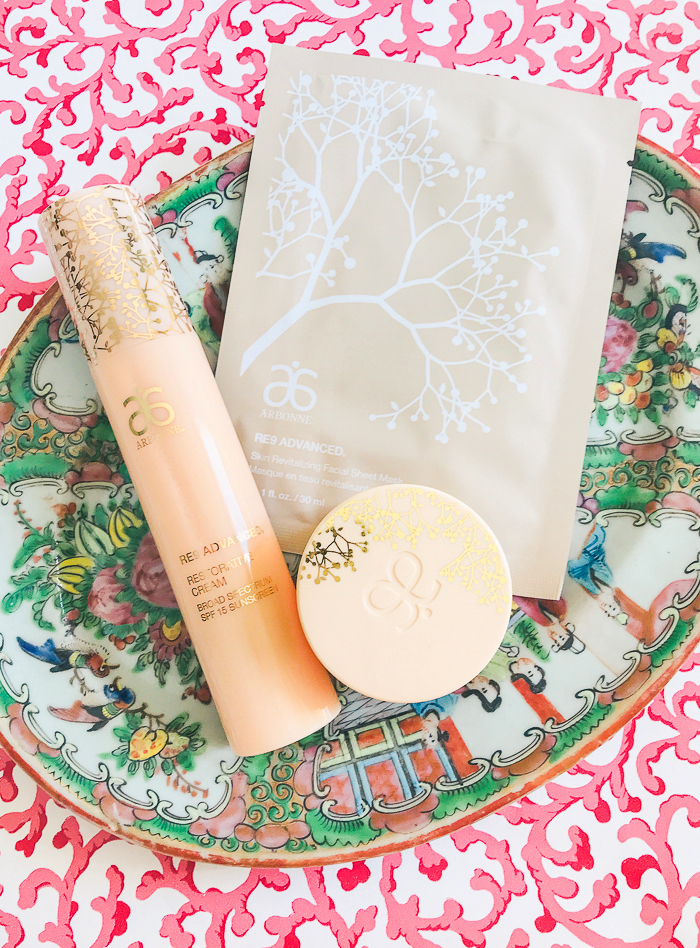 The dry hot air of winter heating sure does take its toll on your skin! And harsh windy conditions out-of-doors don't help either!
I've recently discovered a new skin care brand that is doing wonders to keep my skin moisturized and healthy — Arbonne. This vegan beauty and health care line is dedicated to botanically based products with higher ingredient standards. I've always been concerned about the food I'm putting into my body, trying to eat unprocessed foods, so it only makes sense to start really paying attention to what I'm putting on my skin and hair as well!
I've long been a fan and user of Kiehl's, which has a similar ethos, and between the two brands I feel like I've finally found a winning winter skin care routine!
Thanks to my friend Cameron for introducing me to Arbonne! She is a consultant for them, and we bonded on Instagram over our love of traditional decor. Feel free to reach out to her with questions about Arbonne.
So far I've switched my daily cleanser, moisturizer, and night time repair cream over to Arbonne products, and I'm so thrilled with the results that I just had to share with y'all!
My Morning Winter Skin Care Routine:
** Affiliate links included**
No. 1 RE9 Advanced Smoothing Facial Cleanser – Arbonne
Healthy skin starts with clean skin, and I try to wash my face every morning using this gentle foaming cleanser. Afterwards, my face feels refreshed but not dried out.
No. 2 Iris Extract Activating Treatment – Kiehl's
I use this treatment as a toner and primer before applying the rest of my potions and lotions. I've noticed an improvement in the brightness of my skin and texture.
No. 3 Daily Reviving Concentrate or Cannabis Sativa Seed Oil – Kiehl's
I switch between using these two oils from Kiehl's. I love the Sativa seed oil because it helps calm my skin and has reduced my acne break-outs. The Reviving Concentrate is just a good all around nourishing oil that helps protect skin. I like that it absorbs quickly and smells citrusy.
No. 4 Youth Dose Eye Treatment – Kiehl's
I'll be turning 35 this month, and I feel like protecting my eye area has become really key. This eye treatment is light weight, and I feel it has really improved the brightness of my under eye area as well as lessening my fine lines starting to show!
No. 5 RE9 Advanced Restorative Cream – Arbonne
I love this shear feeling moisturizer. It has SPF 15 that is mineral based and the mixture of sea buckthorn ceramide, olive squalane, and hyaluronic acid really lock in moisture. My skin feels soft and smooth after using.
My Nighttime Winter Skin Care Routine:
No. 1 RE9 Advanced Smoothing Facial Cleanser – Arbonne or Clearly Corrective Brightening Exfoliant – Kiehl's
Never skip cleansing your skin in the evening. It is so important to remove make-up and dirt at the end of the day. I use the Arbonne cleanser and this micellar water for eye makeup at night. A couple times a week I exfoliate with the Kiehl's Clearly Corrective Brightening scrub for that extra clean.
No. 2 Iris Extract Activating Treatment – Kiehl's
Again this goes on before any of my other skin care products. It comes in a large 6.8 oz bottle and only takes a few drops to pat face down, so using it twice a day is practical.
No. 3 Line-Reducing Concentrate – Kiehl's
You've probably heard about hyaluronic acid, and the hype is real. This is my anti-aging powerhouse serum because it is packed full of Vitamin C as well as hyaluronic. I have been using it for months and have noticed improvement in fine lines around my mouth and a minimization of pores. The serum does feel a bit warm on your skin after applying, but I've never had any resulting irritation.
No. 4 Daily Reviving Concentrate or Cannabis Sativa Seed Oil – Kiehl's
These two oils are key to moisturizing and protecting my skin.
No. 5 Rosa Arctica Eye – Kiehl's
I use this heavier eye cream at night. Unfortunately, Kiehl's just discontinued this formula, so I'll be hunting out another soon. I'll probably give this one from Arbonne a try.
No. 6 RE9 Advanced Night Repair Cream – Arbonne
Finally, the last step in my winter skin care routine is this luxurious repair cream from Arbonne. I seriously can't get enough of this product and take delight in coating my skin and neck in this at night. It is like applying whipped cream on your face. I know that sounds weird, but this product is thick and creamy, and it doesn't feel heavy once it goes on.
With my preferred client membership the cream is under $50, and at that price point it is the best nighttime cream I've tried!
Weekly Skin Care Treatments:
Once a week, I try to use a mask treatment to really target anti-aging and moisturize. Right now I alternate between Arbonne's revitalizing sheet mask and Kiehl's Amazonian clay deep pore mask.
It may seem like a lot of products to use, but for me I would rather spend money on protecting and nurturing my skin than covering up problems with make-up. Since I've been using these products in this winter skin care routine, I feel more confident going about sans make-up!
Feel free to leave me a question below!