The Color Orange
Another notable development over the course of the century and particularly evident in 20th century productions is the increasing intensity of the color orange. This color frequently appears in older pieces and newer ones as the floor of a figural scene, an accent to butterfly and bird wings as well as the rim color. Over time the orange becomes more reddish and more acidic.
Take a look at these two teapots! The one on the left is 19th century and the other is 20th century. Note the changes in colors.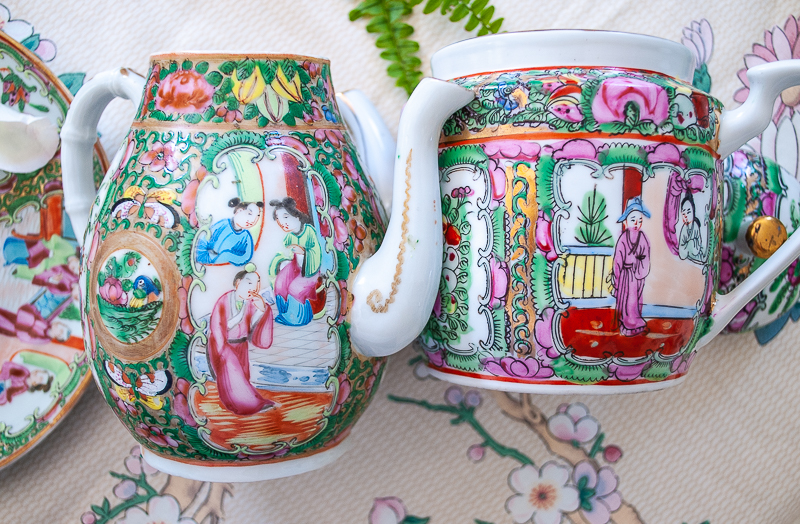 Weight & Shape
Porcelain for the Chinese export trade was fairly weighty and sturdy in the early 1800's but over the course of the century it became lighter.
Many of the forms for porcelain were derived from European silver, especially tableware pieces like gravy boats, teapots, and pitchers. Ken Rivenbark's Southern Heirloom series shows some fabulous examples of this relationship.
Marks
Early Chinese export porcelains are by and large unmarked on the bottom. As part of the United States' McKinely Tarriff Act of 1890, imported goods had to be marked with the country of origin, so you will commonly see pieces after 1891 with a red mark on the bottom of the porcelain stating "CHINA." After 1919, pieces were required to bear a "Made in China" mark — at least those pieces intended for the U.S. market.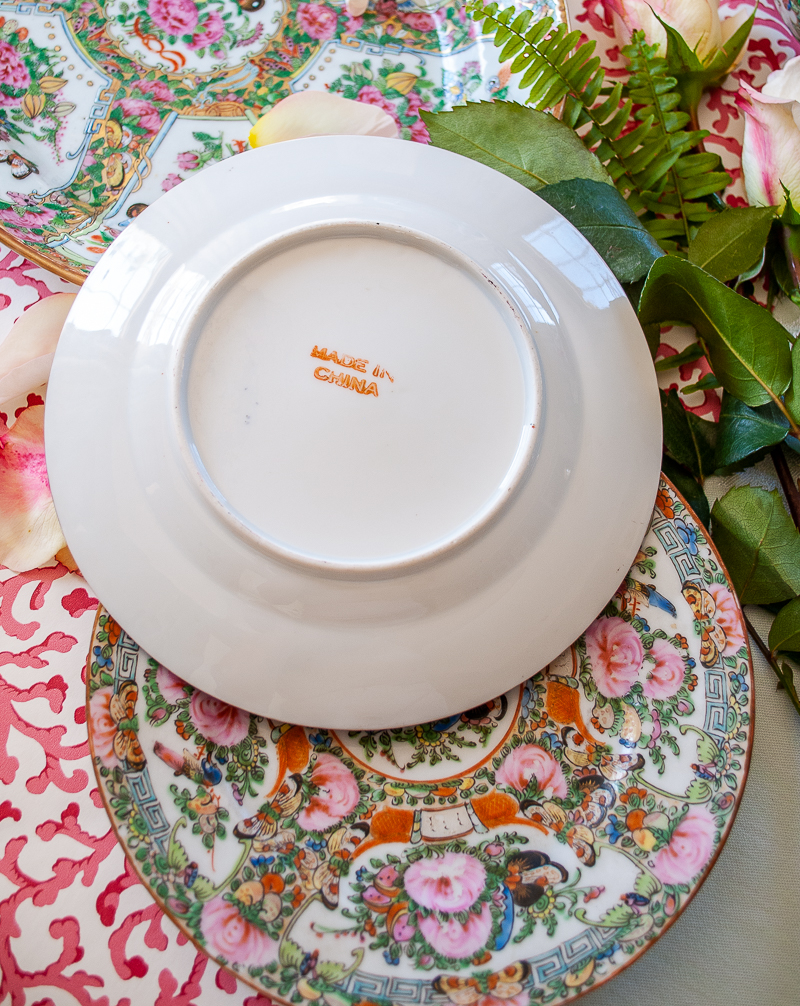 By the mid-20th century it is quite common to also see a Chinese character or seal mark for the factory where it was produced or you might even see an emperor/dynasty mark for the Qing although these pieces were produced after 1950 or so. For more on identifying late 20th century marks read this.
It is important to understand that marks or lack there of are not in and of themselves the determining factor to a piece's age or quality. Marks were often filed off of later pieces or altered. An early 20th century piece not intended for the American market probably won't have the "CHINA" or "Made in China" designation. Dynasty marks were often used to dedicate the ceramic as homage to an earlier emperor. These are just a few examples of the dilemmas with marks and dating!
Common 20th century marks:
ACF or YT – This mark indicates the porcelain body was made in Japan, but painted in Hong Kong. The porcelain trade in Hong Kong reached a peak in the 1960s and at this time demand was so high that workshops had to import plain porcelain forms from Japan to meet it. By the mid 1980s, this production slowed.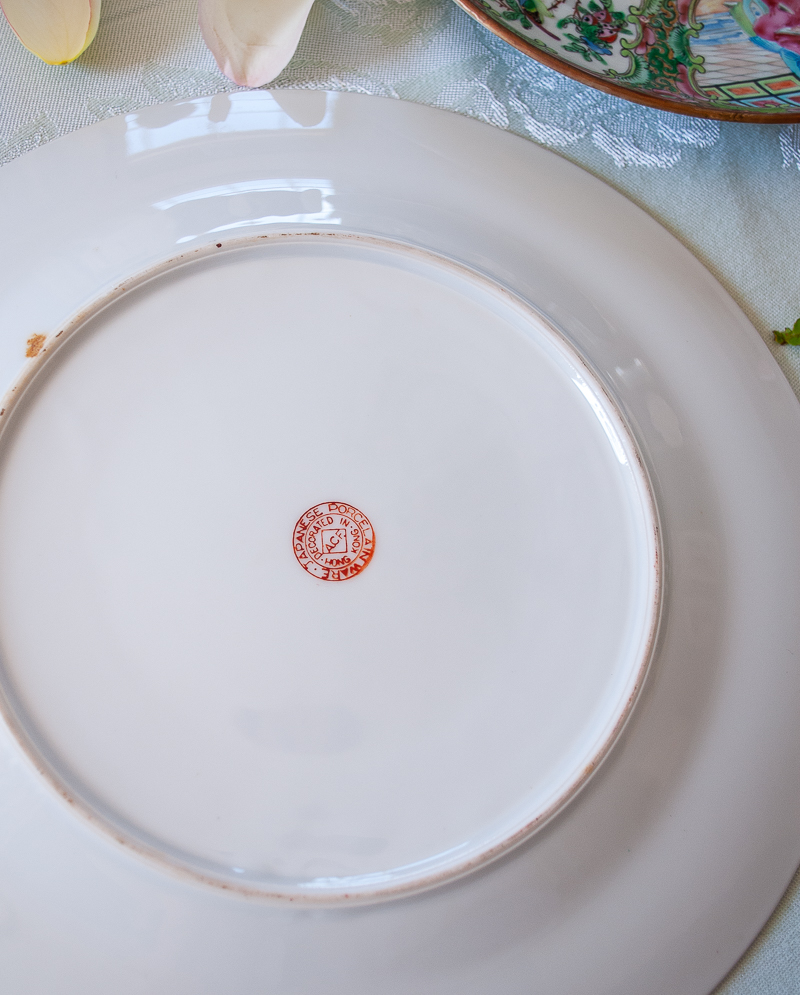 Macau – You will see a wide variety of more inexpensive enameled porcelains with a made in Macau mark on the bottom in enamel or paper form. This indicates the porcelain body was usually made elsewhere and then decorated in Macau. This production line really began in the 1950s and continued until the end of the 1980s.
Some notable characteristics of Macau porcelain are more cloudy or opaque enamels and a less "Chinese style" of decorations. Sometimes the borders in particular seem to have a Middle Eastern influence.
Symbolism
Whole decorative arts tomes are dedicated to deciphering Chinese porcelain symbolism, so I won't go into detail here just give you a few examples that I find particularly inspiring.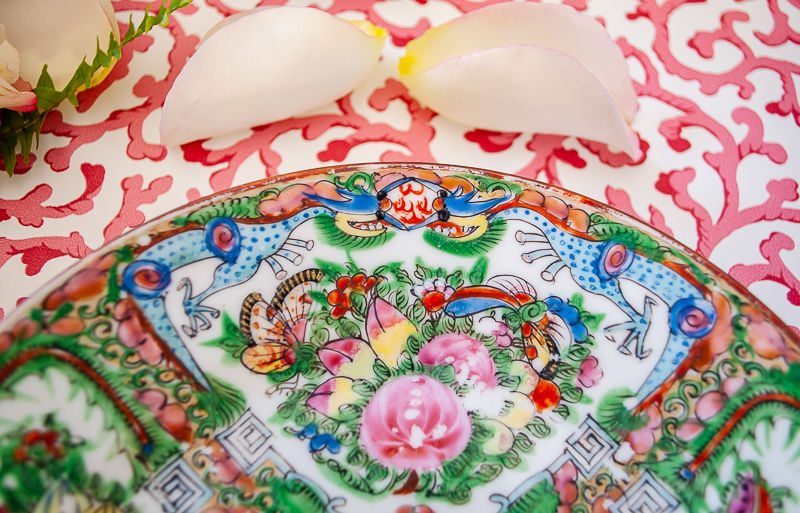 Butterflies – represent social happiness, love, and fealty
Crickets – a fighting spirit
Magpies – (common bird depicted on Rose Medallion) are said to attract joy
Peony – symbolizes beauty and opulence
Dragons – first a symbol of the emperor, but also representing power, joy, and rebirth
Rose Medallion & Canton Collector's Notes:
No. 1 Look for Rose Medallion porcelains with vivid coloring that feels luminous but not harsh.
No. 2 Designs should be detailed and artistically rendered.
No. 3 The older the piece, the more unique the shape, and/or the larger the form expect to pay more.
No. 4 Many mid-20th century Rose Medallion pieces are worthy of collecting and you will often see these noted as vintage.
No. 5 Examine the bottom of a piece for marks. Run your finger over the central area to detect rough patches in the glaze, which may indicate filing to remove 20th century mark.
No. 6 In terms of condition, antique Rose Medallion pieces could be 200 years old, expect to see some wear and tear: hairline cracks, old repairs, and flake like losses to the enameling. If the integrity of the piece is compromised, meaning it is unstable and likely to deteriorate further with handling, avoid it!
No. 7 When buying online, don't hesitate to ask the seller for more detailed photos, so you can detect the nuances of the porcelain.
No. 8 Be wary of buying a particular pattern in Famille rose just because it is currently popular. For instance, tobacco leaf is seeing a major resurgence right now and is commanding high prices, but if it doesn't appeal to you as much as Rose Medallion — stay true to your tastes!
For more on collecting and decorating with Rose Medallion read: 5 Ways to Decorate with Rose Medallion