Recipe for a Grandmillennial Christmas Table

Gather round in big ways and small.
We've got a feast for ALL from the littles to the tall.
Christmas is nigh and celebrations afoot -- let the halls be decked and delicacies cooked!
Longing for memories past is true... for present tribulations are deep and blue.
Yet sweet moments of JOY are here to be found too.
For unto us a SON is born and the light in the dark he shall be!
So read this revelers all.
For I've got a recipe that's sure to please,
With candles aglow and color anon -- we'll set a marvelous scene for tradition's repast.
Gather fork and knife and follow this receipt steadfast!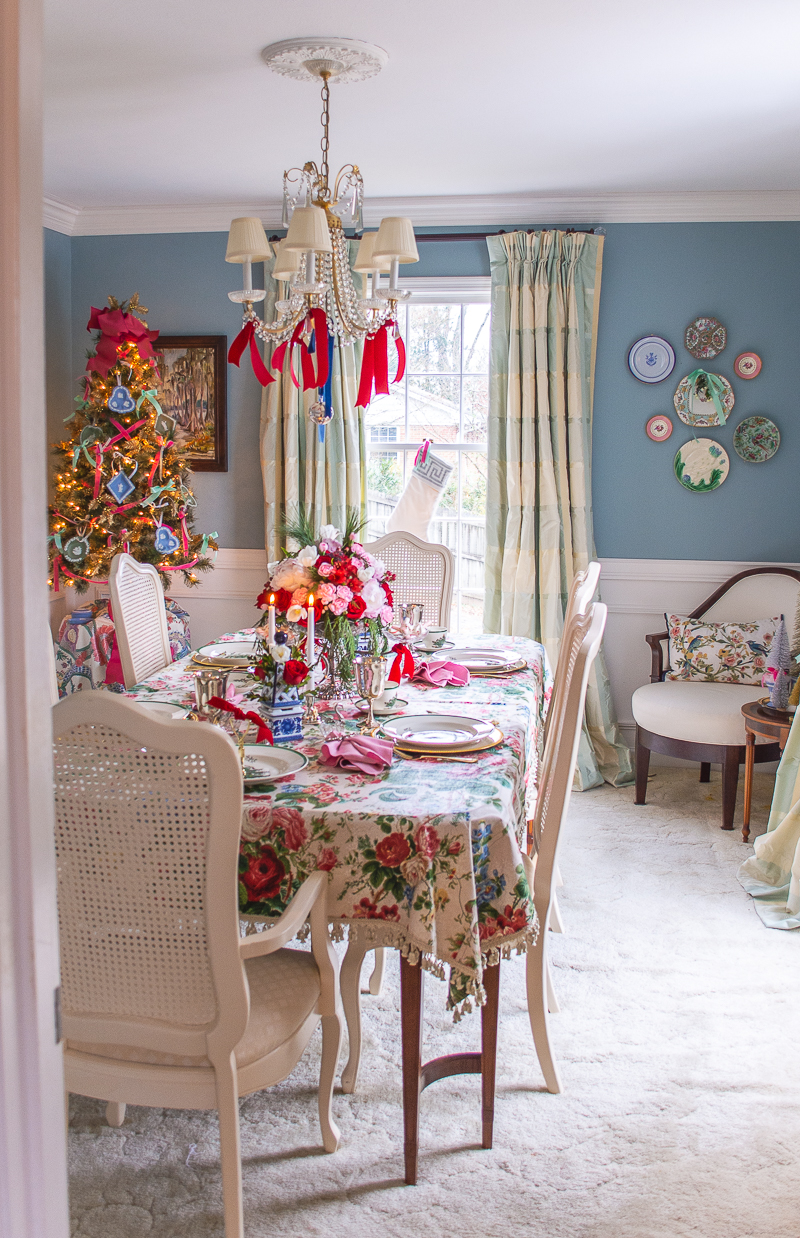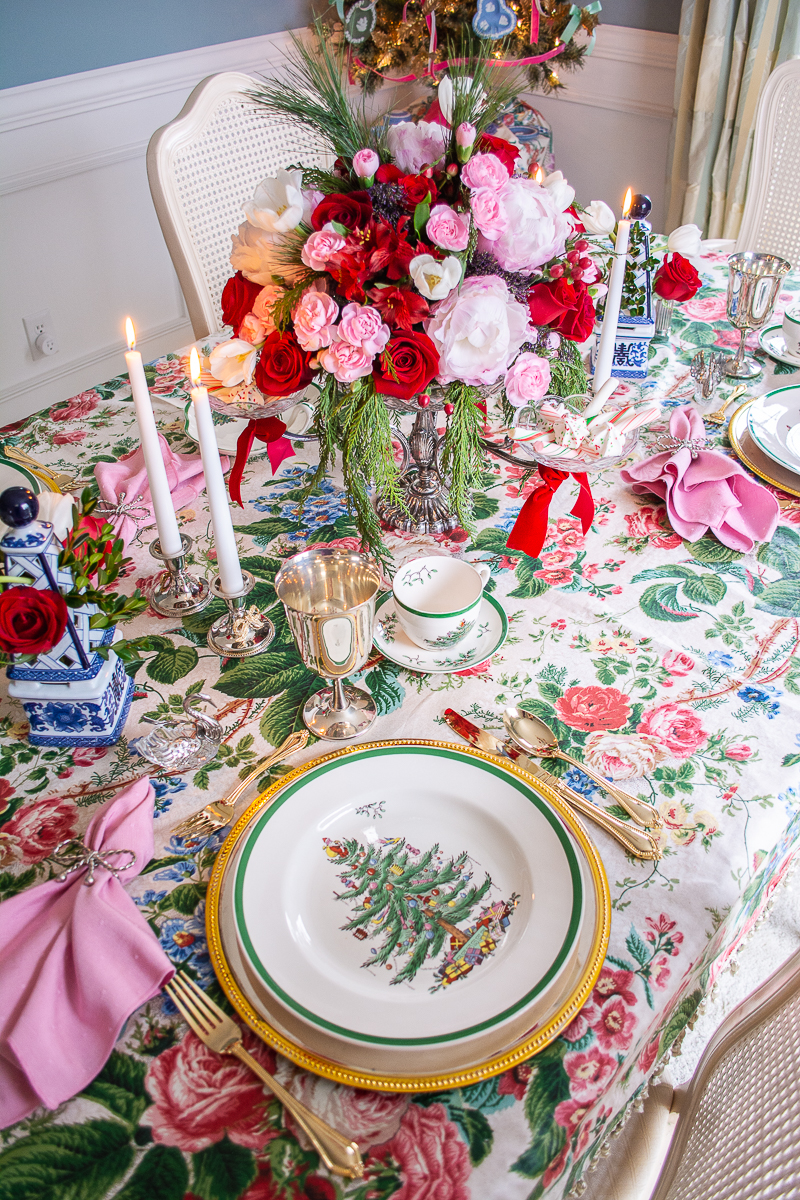 A Recipe for a Grandmillennial Christmas Table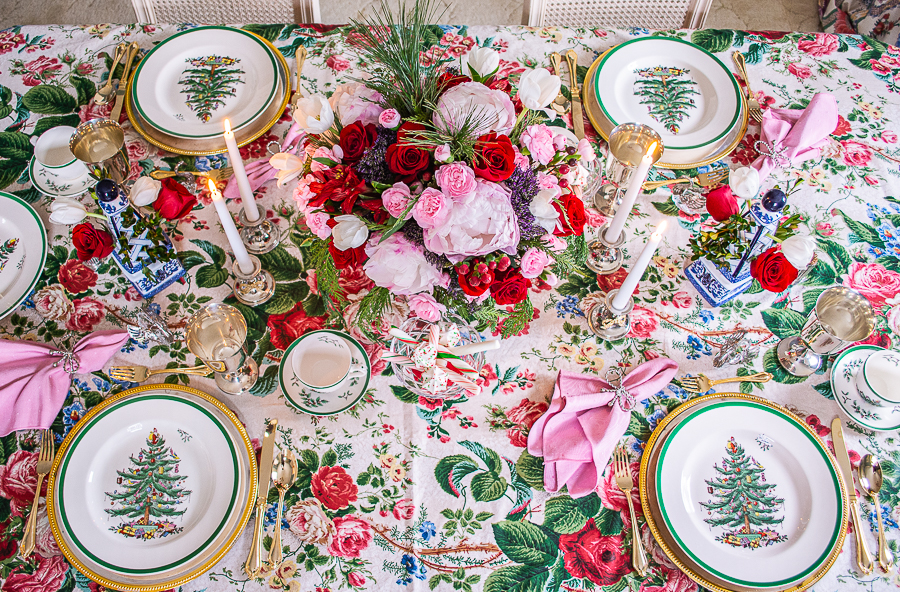 A Bold Dash of Florals
It's no secret we grandmillennials have awoken to a newfound love and appreciation for pretty as well as bold floral fabrics. Chintz is back, and we can't get enough! For a grandmillennial Christmas table start with a colorful chintz tablecloth and don't neglect to arrange a decadent bouquet of flowers for your centerpiece.
This chintz tablecloth was custom made using a vintage Waverly print called "Park Lane."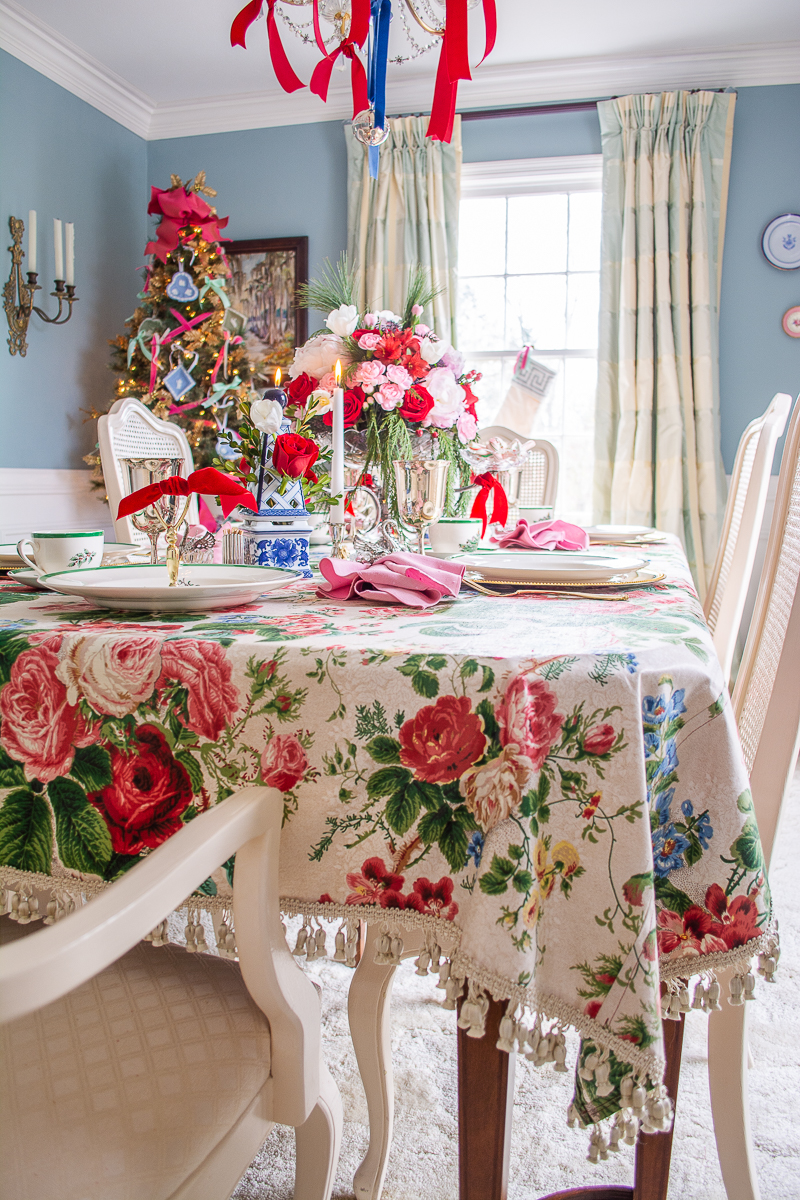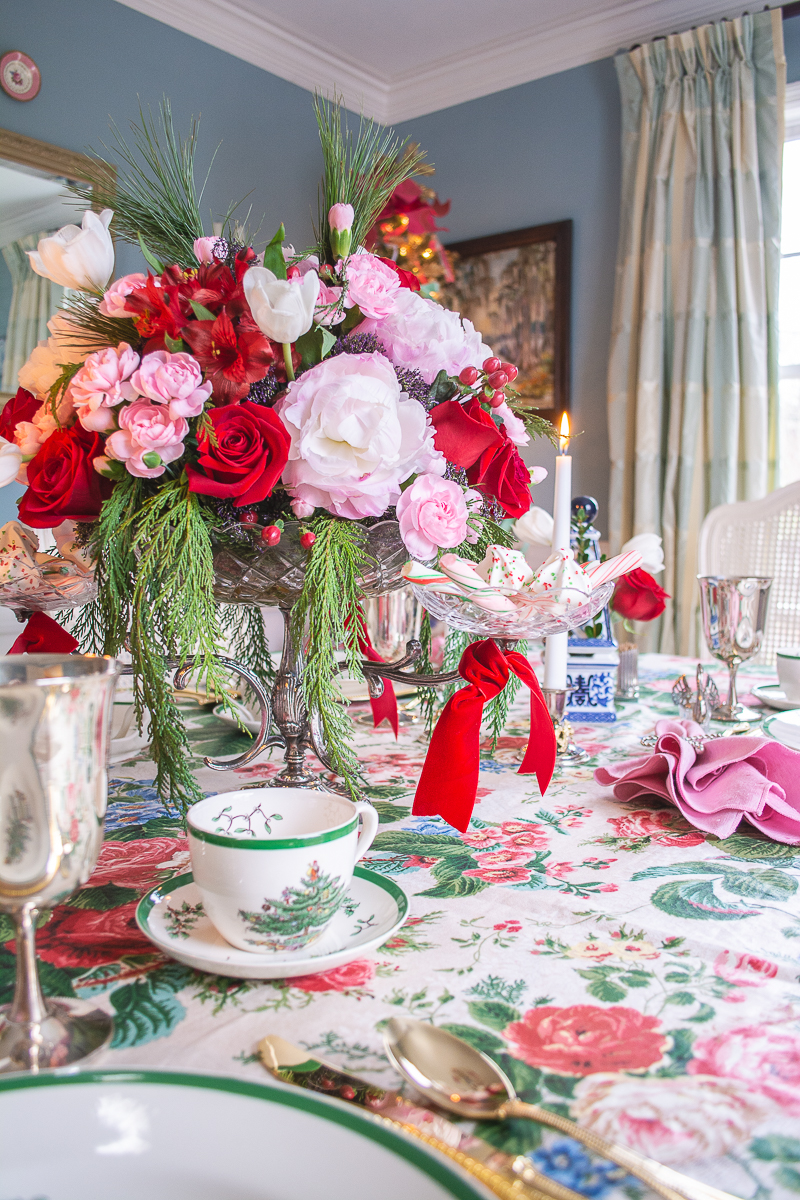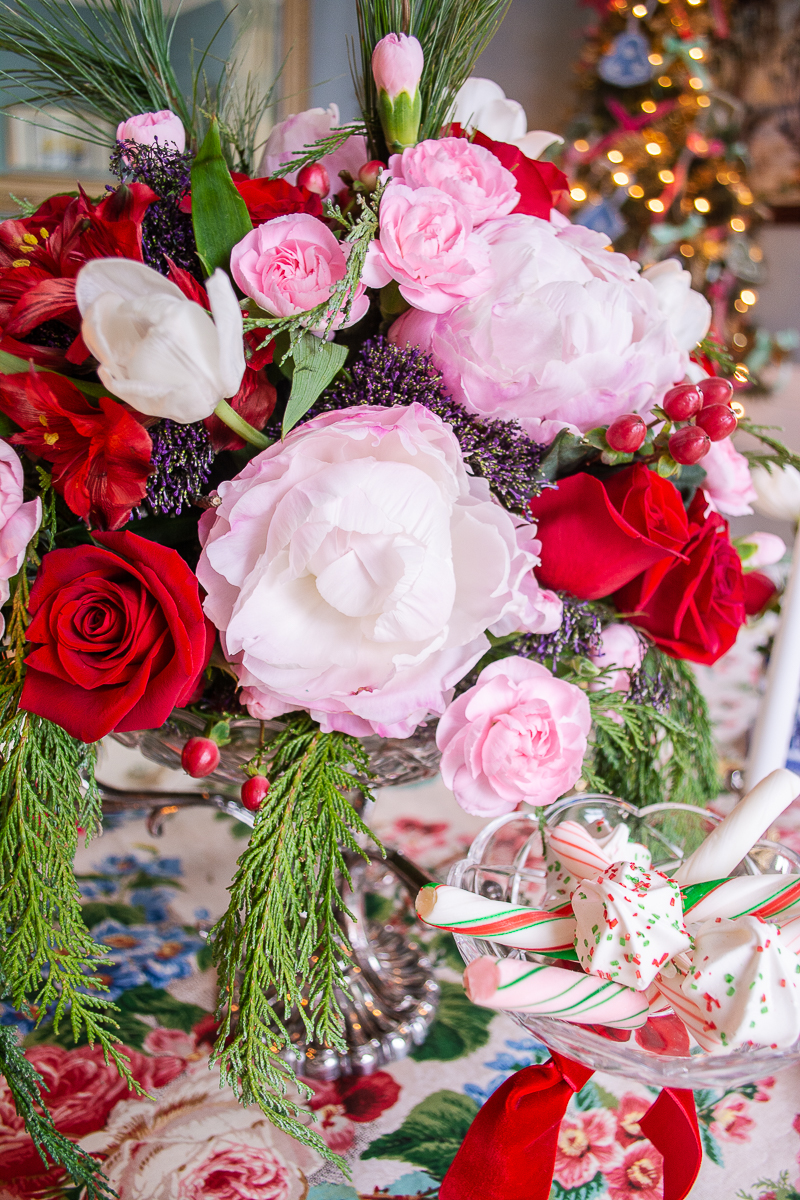 A Sprinkling of Heirloom-ed Metallics
There is no better time than with Christmas celebrations afoot to raid the china cabinet and use grandmother's silver!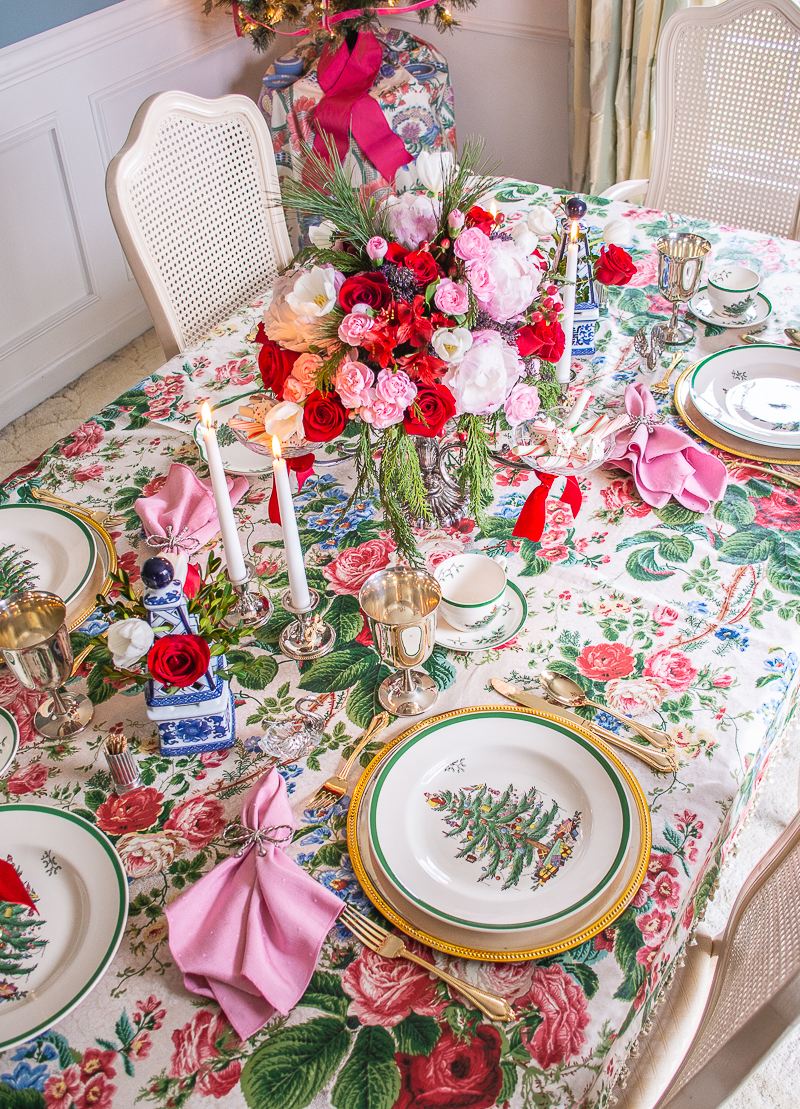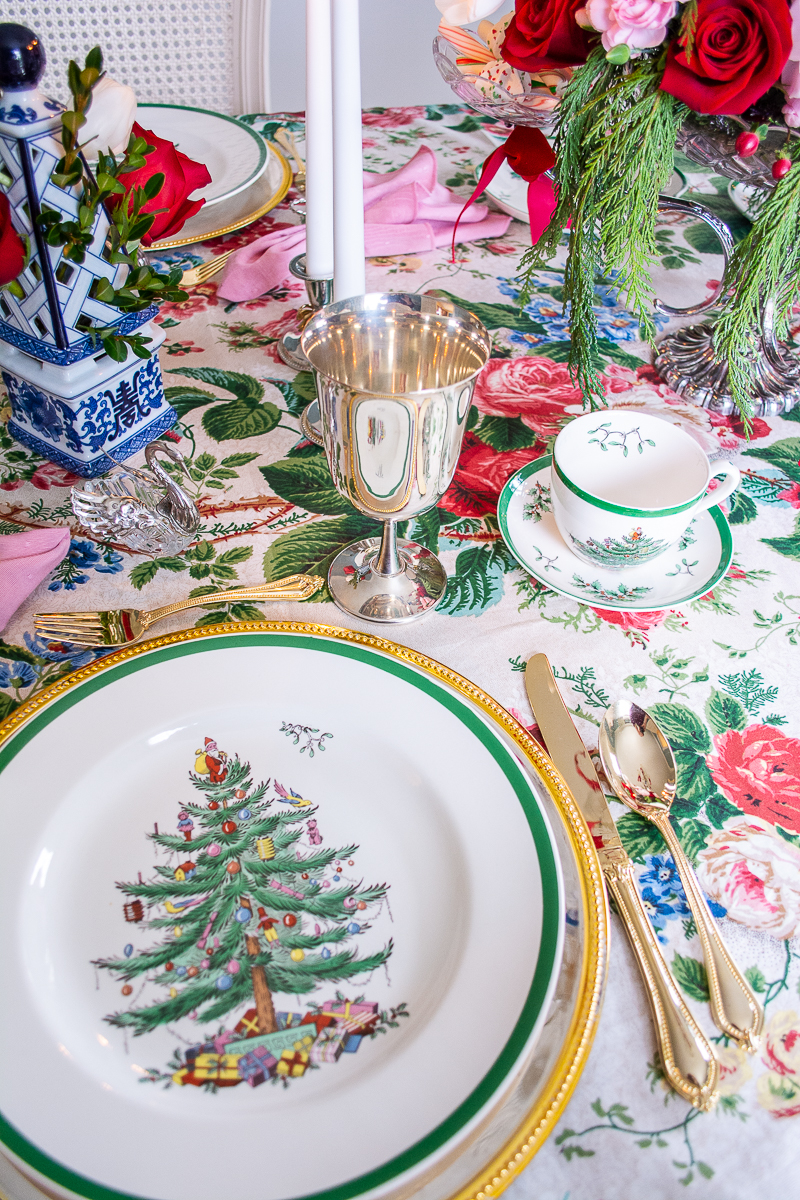 A Pinch of Pink
Layering in pretty and unexpected hues like pink with the classic red and green will make your grandmillennial tablescape for the holidays feel even more festive and fresh.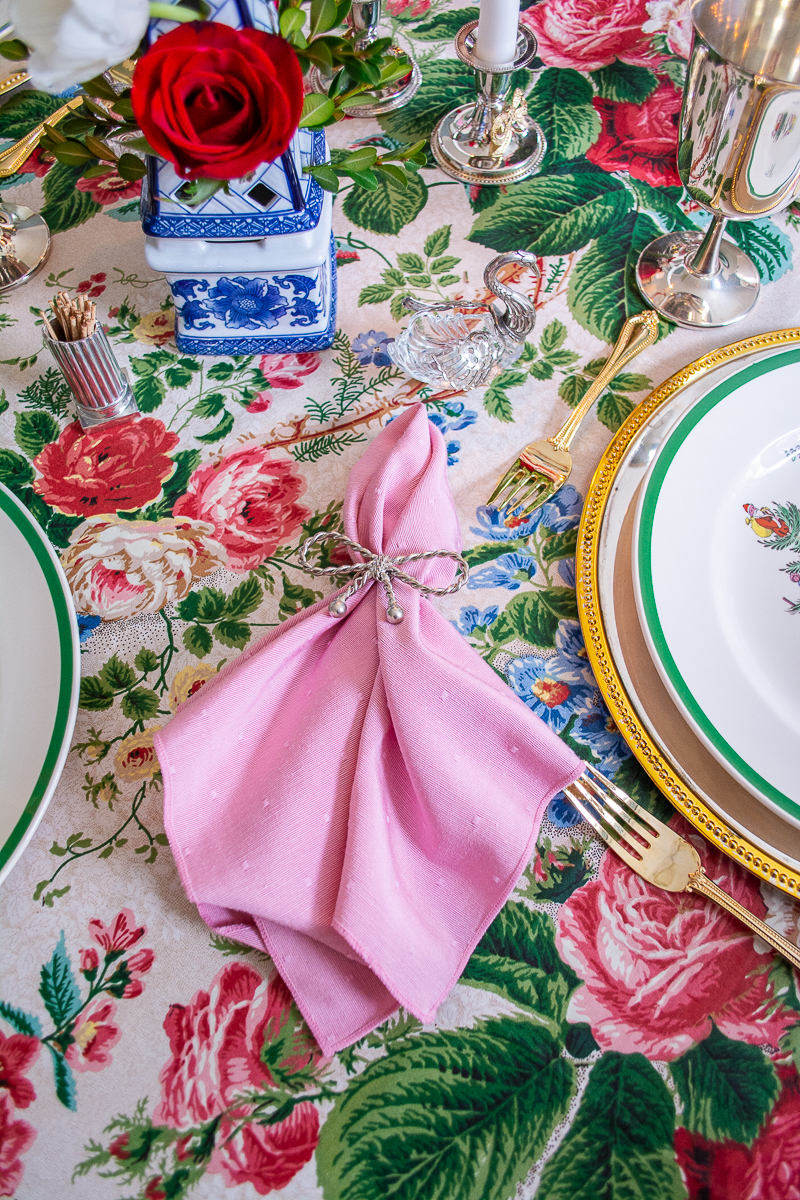 A Dollop of Traditional Christmas China
Our love of traditions cannot be denied, so invest in a classic Christmas patterned china that will stand the test of time like Spode's Christmas Tree!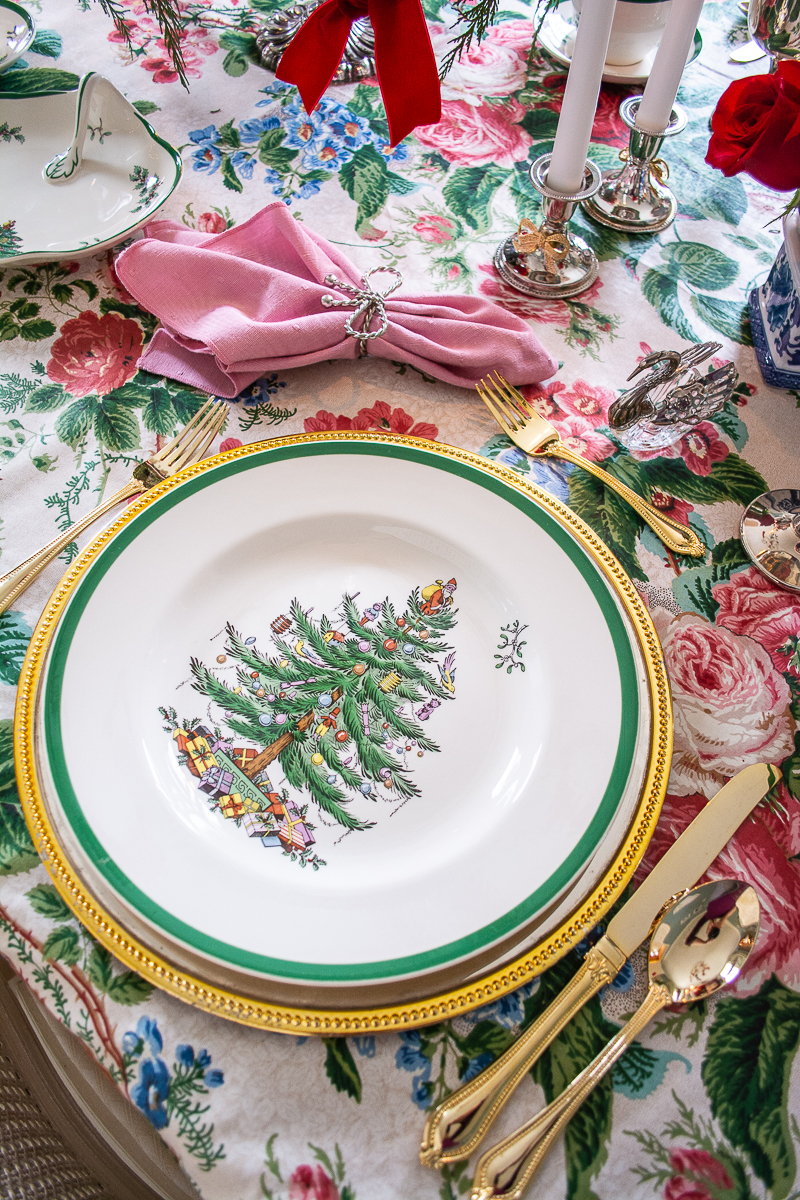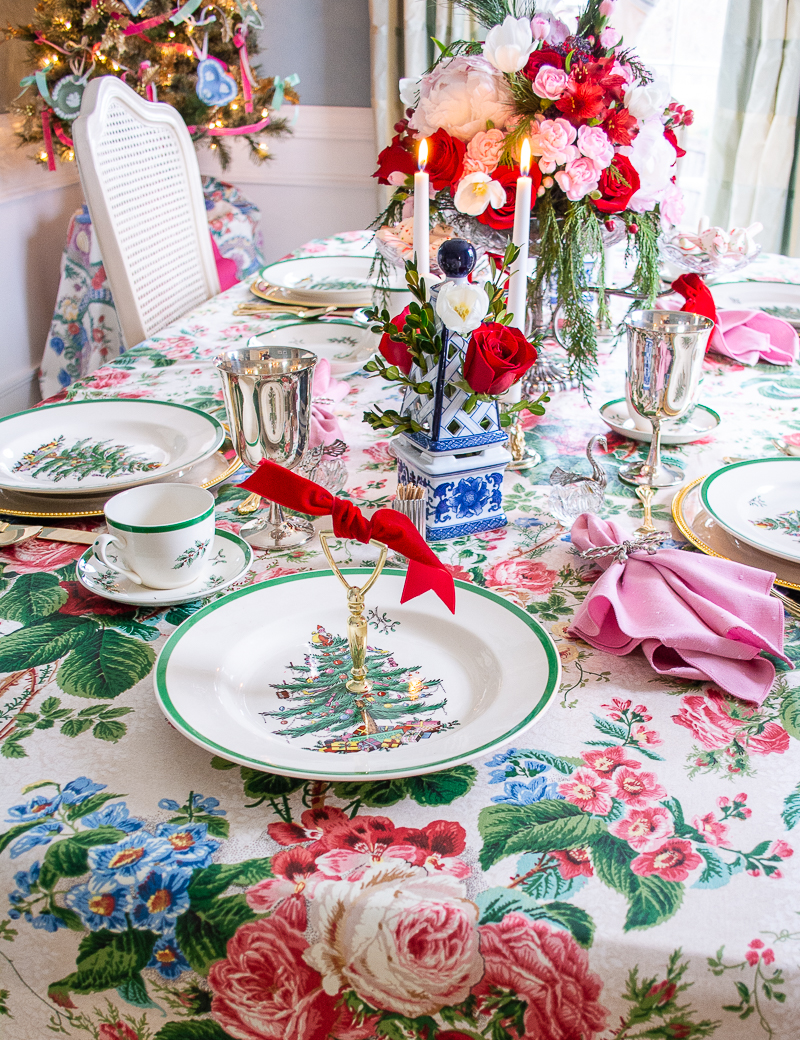 A Smidgen of Whimsy
Playful details will make guests smile and bring delightful conversations to bear like peppermint sticks in the epergne and swan salts at each place setting.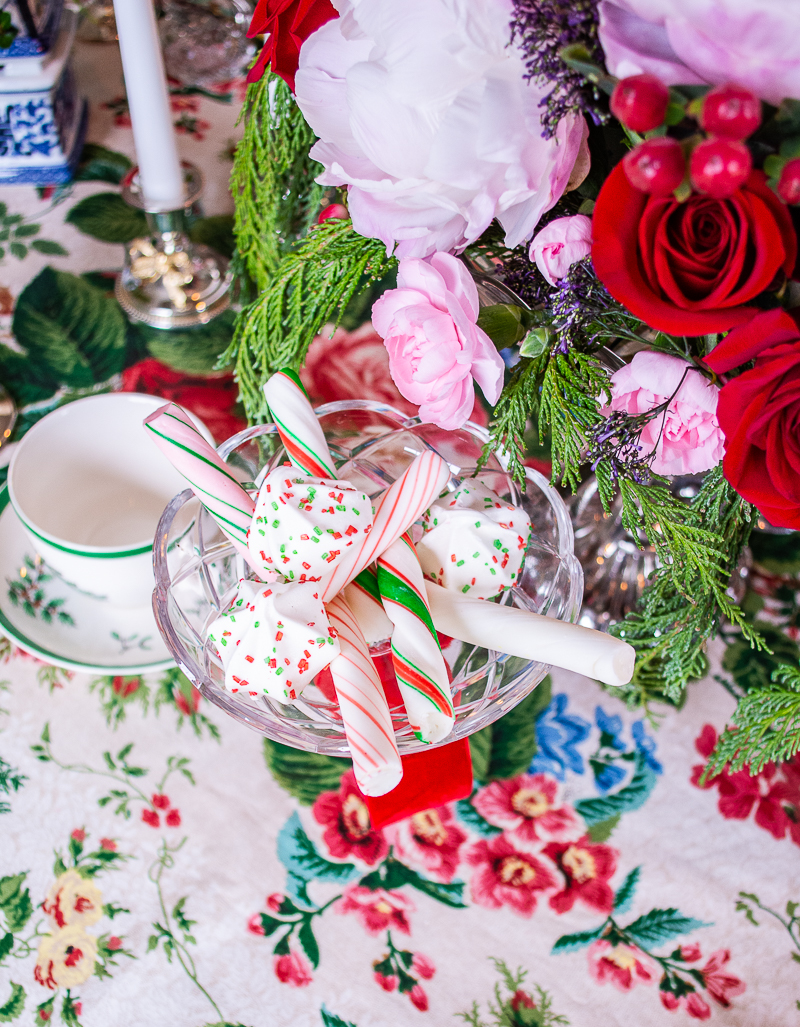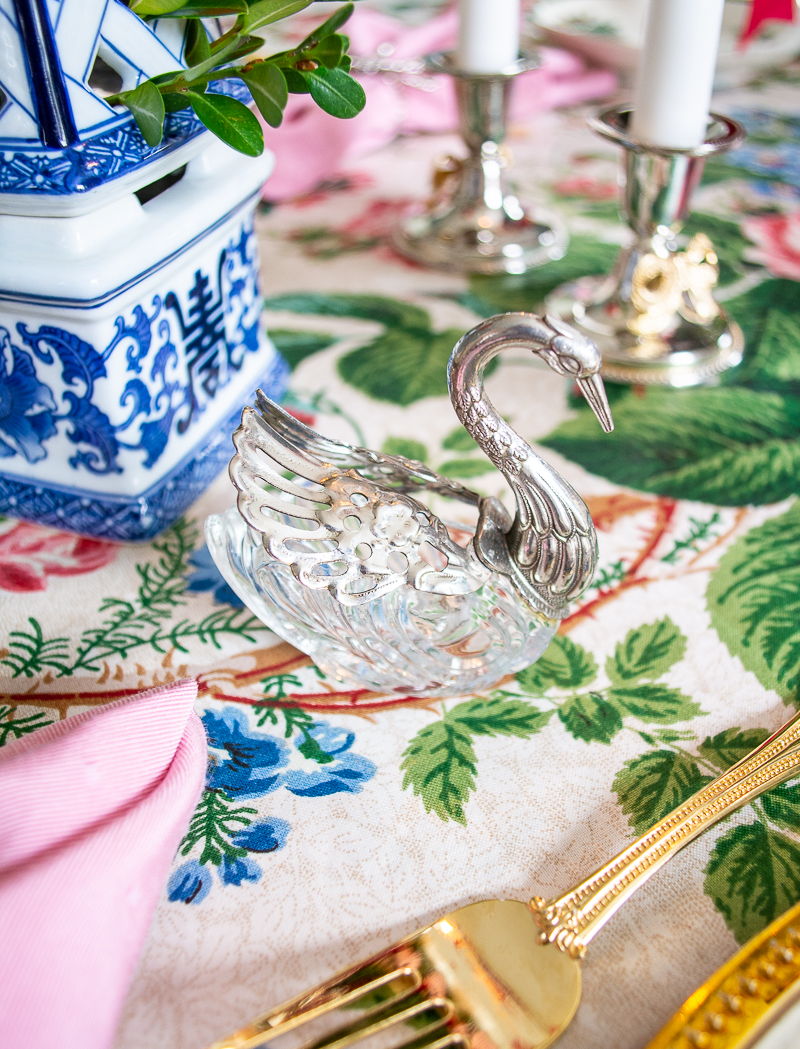 & Layer on the Blue and White
One simply cannot have a grandmillennial Christmas table without a layer of Chinoiserie blue and white. Its classic contrast will enliven your place settings without doubt. To see the other ways I used blue and white Chinoiserie in my Christmas decor, head here.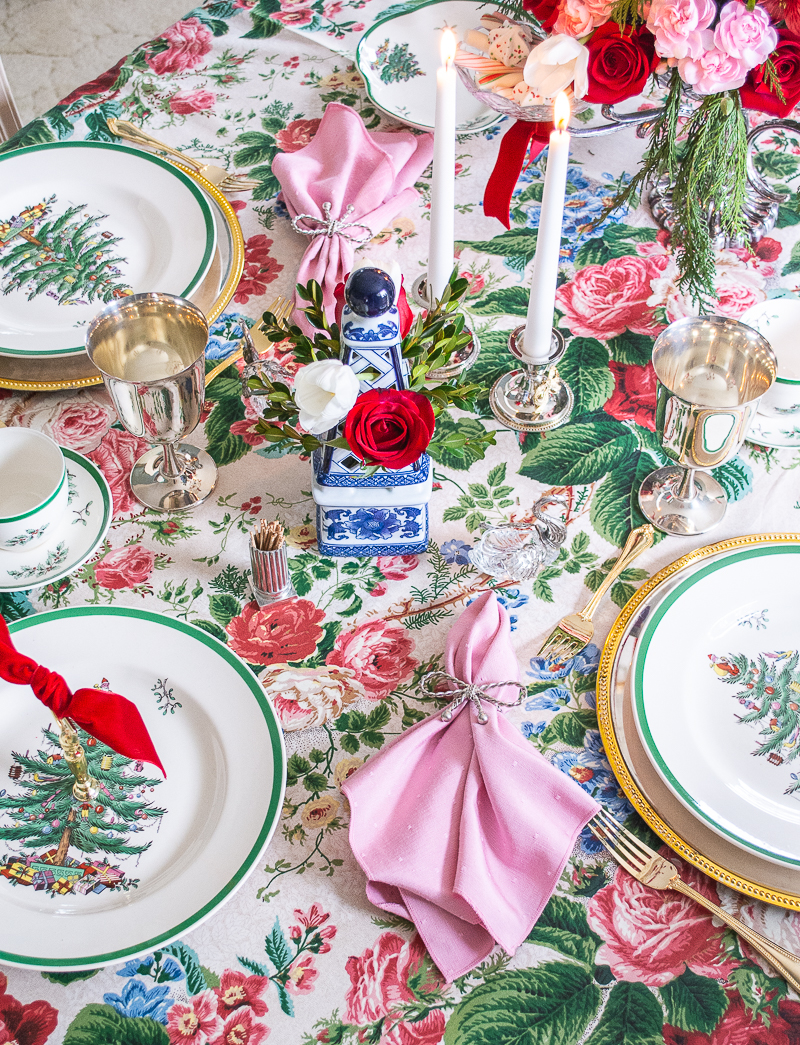 I hope you've enjoyed this peek at my classic Christmas tablescape filled with grandmillennial charm! This tableware collection was available to shop December 15th 2020. Never miss another P&P vintage sale by signing up for my emails:
If you missed the IG sale, check out these similar dishes and tableware: