Leopard Print Flats & Pink For Fall
Leopard print flats like the Natalie from Sarah Flint are a closet staple and pair perfectly with feminine pink for a chic fall look!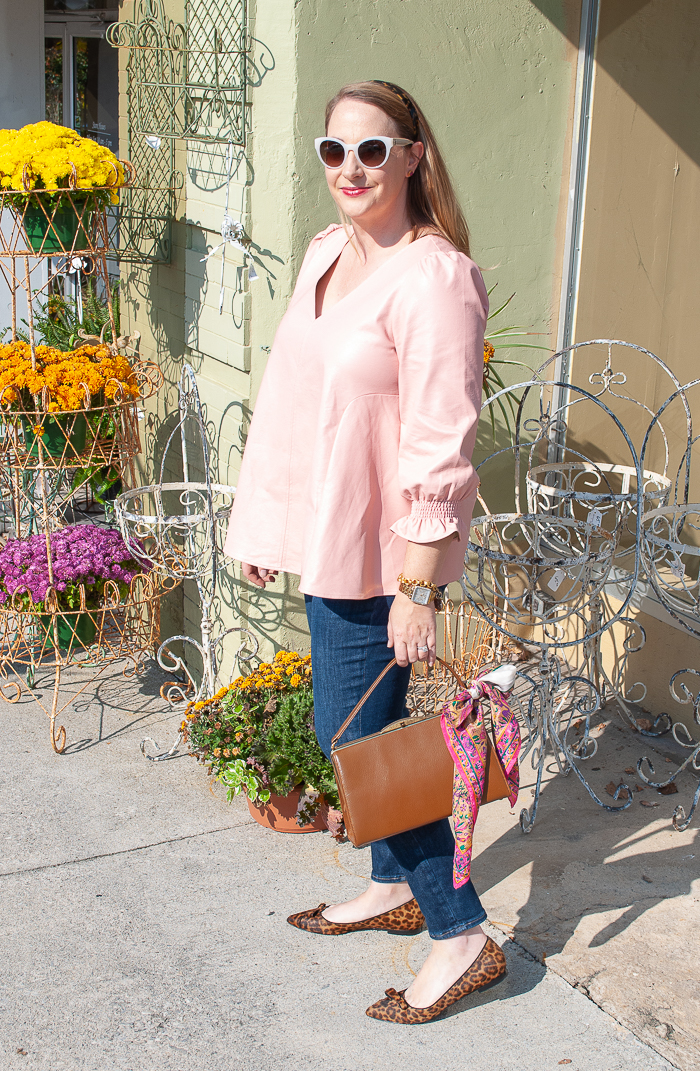 The other day the hubby and I headed downtown Clinton for a little antiquing and lunch. Don't mistake me…I do the shopping, and S. is persuaded to tag along by the promise of food! Hehe…?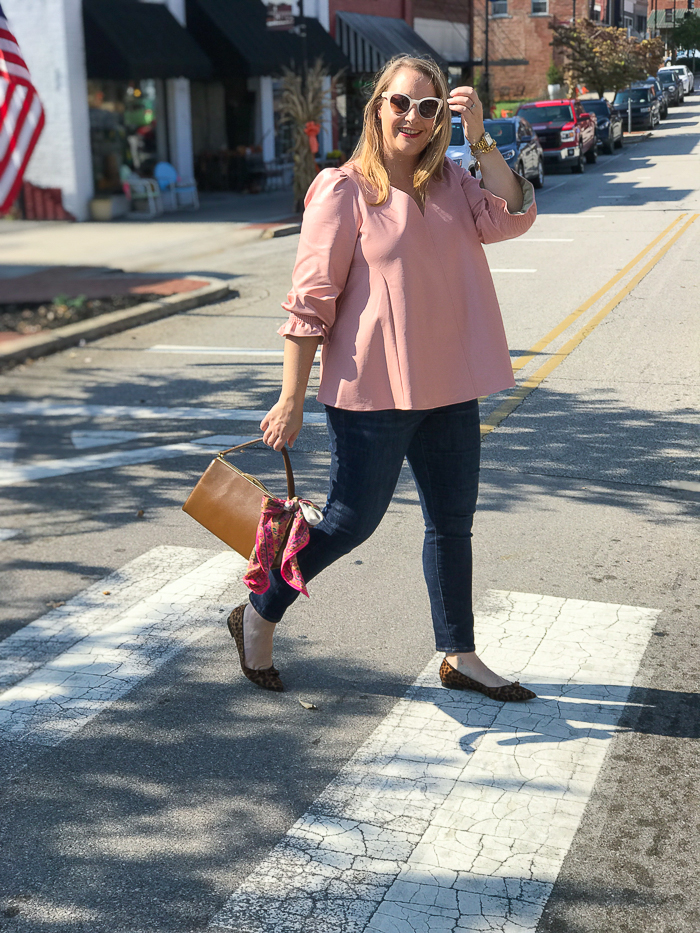 It was the perfect fall day– sunny and temperate with just the slightest breeze. Fall has been warm here so far, and I took the opportunity to take my new leopard print flats from Sarah Flint out for a spin. You may remember I shared these beauties in my fall-spiration post — all about the styles and decor catching my eye this autumn. Well, I finally broke the flats in and will hence forth be wearing them everywhere!
Leopard print really does go with everything! The black, brown, and tan hues act as a neutral palette, and the dot pattern is a nice complement to stripes and florals. You can dress the print up or down, but in my opinion a little goes a long way. My favorite way to wear leopard print is on an accessory.
Let's pop into my favorite floral and decor shop in town — Hoskins in the Flat!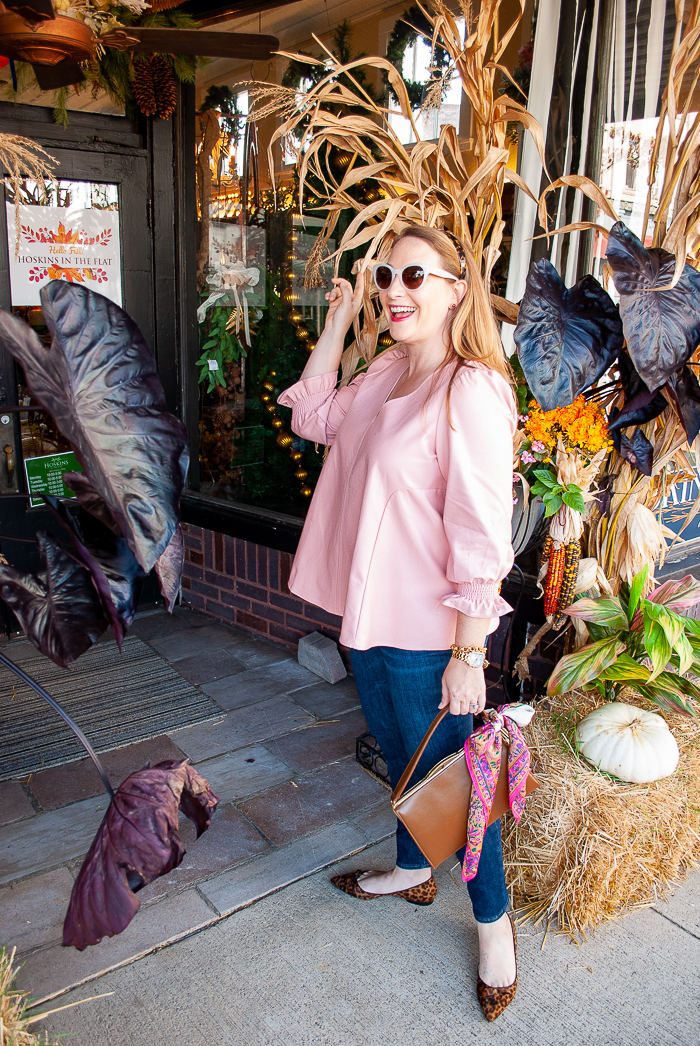 My Favorite Shops Downtown Clinton:
Hoskins for florals and holiday decor
The Staffordshire Spaniel for English antiques
Fine Things for traditional home furnishings and decor
The Clinton Antique Mall for furniture and antique dishes – By the way it's where I found the new sideboard in my living room!
Outfit Details: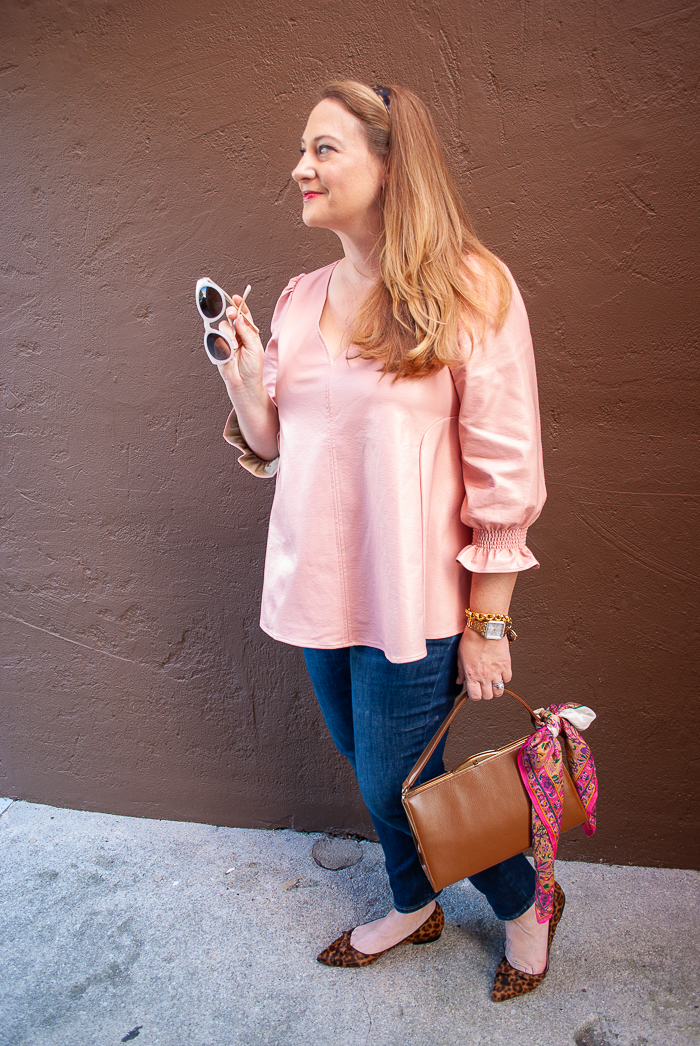 Leopard print on a pointed toe flat is extra chic. Sarah Flint's version, the Natalie, is exquisite with the little bow, and the calf hair is luxurious. It did take a little breaking in to stretch out the leather, and I went up a half size to a 39.5 to have enough room in the toe box. The extra cushioning in these leopard print flats makes a huge difference to walking around all afternoon.
Receive $50 off of your first pair of any full priced SF shoe with my code SARAHFLINT-BAKATHERINEM. Make sure to put the code in at checkout or you can also shop with this link!
I love how a pointed toe flat elongates your leg and really creates an elegant silhouette. Just think of Audrey Hepburn's classic look.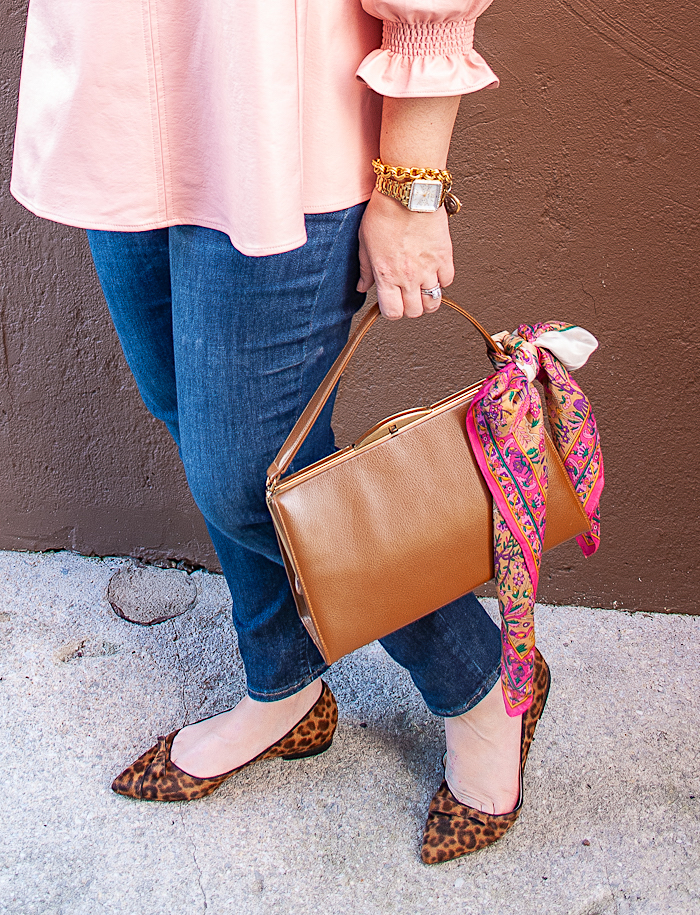 Speaking of classic vintage…I styled my fall look with two chic vintage pieces: a Crouch & Fitzgerald NYC a-frame handbag and a pink scarf from Oscar de la Renta. I love the structured lady-like look of this leather bag tied up with a scarf bow. The scarf is a fun and easy way to add a pop of color and pattern to an outfit. Here are two gorgeous Crouch & Fitzgerald bags available on eBay: a nude colored embossed top handle bag or a saddle brown bag similar to mine.
On top, I'm wearing the faux leather Easton blouse from Tuckernuck. I adore the blush color, and the cut of the top is so very flattering with princess seams and puffed sleeves. I was really afraid the top would be stiff and uncomfortable to wear, but it is not at all, and according to the tag I can machine wash it. I'll have to report back on how that goes!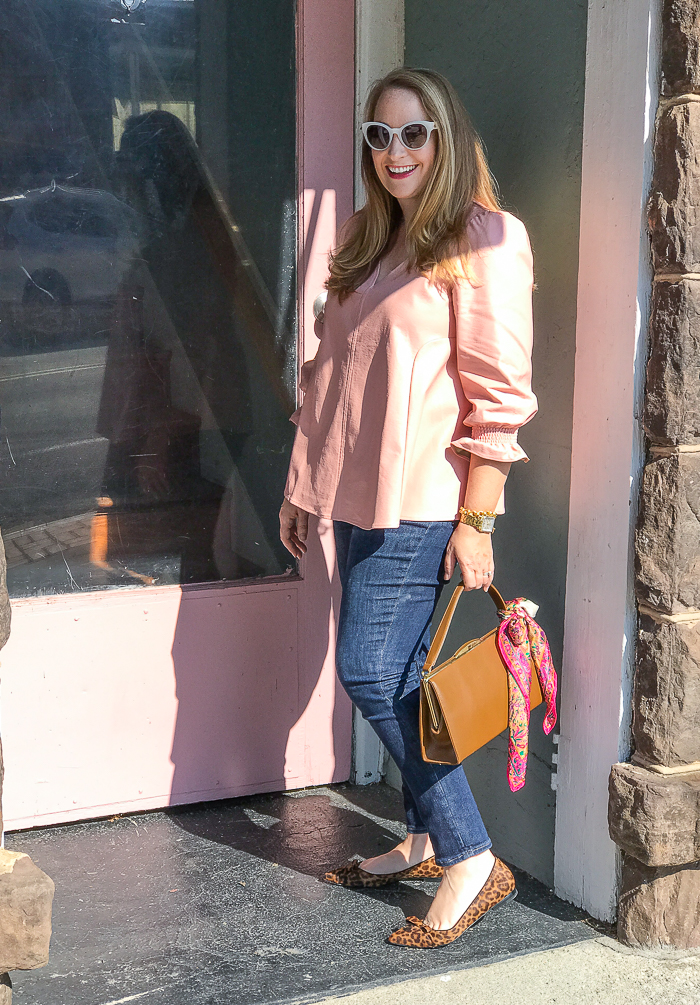 By this point in the excursion, S. was begging for lunch, but as we went up the street I just had to stop for a photo with the prettiest pink door. When you find a door that matches your top in the perfect shade of blush…hello?? What else are you going to do? The door even looks good with my leopard print flats!
I totally wanted to pop inside and tell the owners what a fabulous choice they made in paint colors! But alas the door led upstairs to apartments and S. convinced me wandering strangers were probably unwelcome even if they came bearing compliments.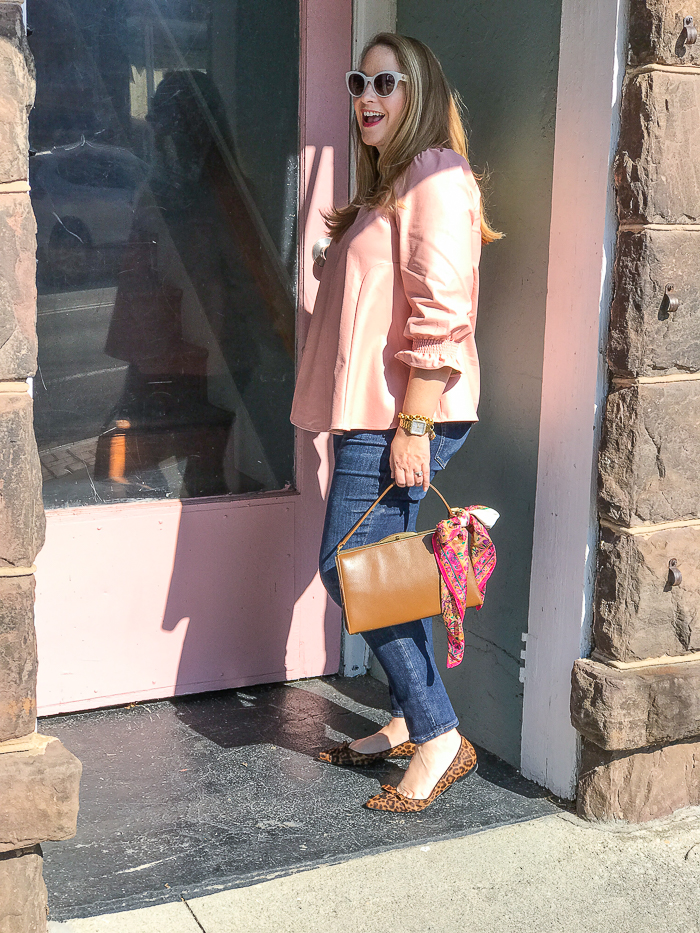 We stopped in at E. Claire's for coffee and sandwiches. I like the quirky atmosphere, eclectic art, and vintage furniture. They also make a delicious iced English toffee latte, and S. loves their dark roast. If you like pickles, get The Fave sandwich!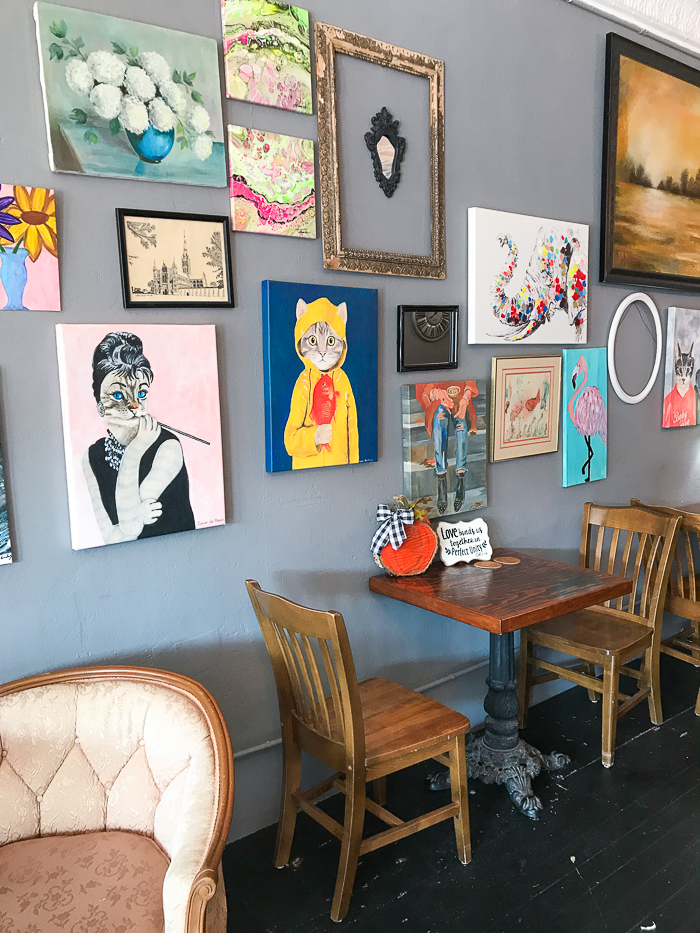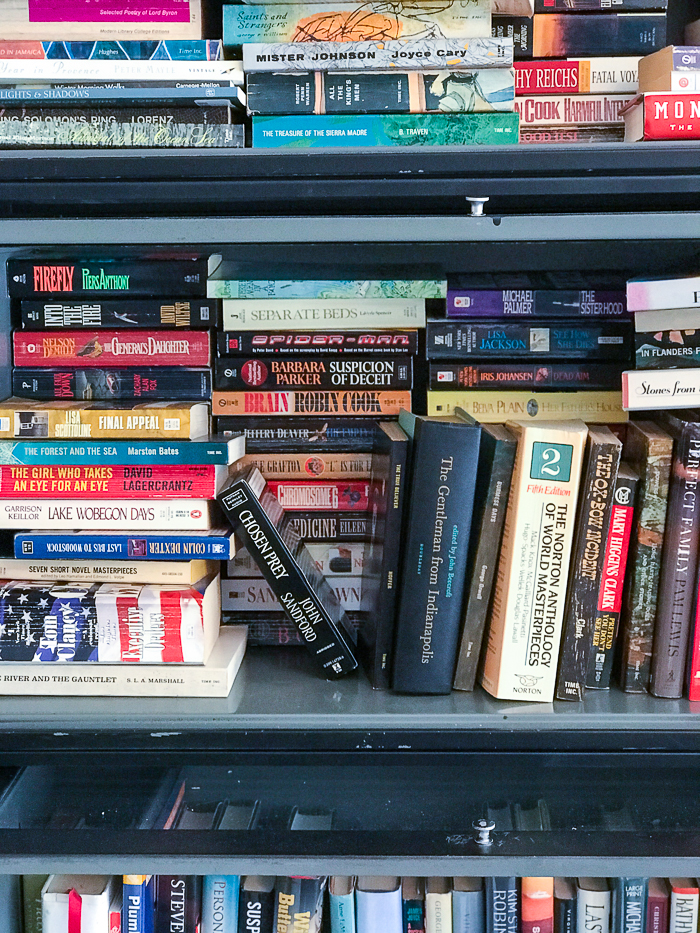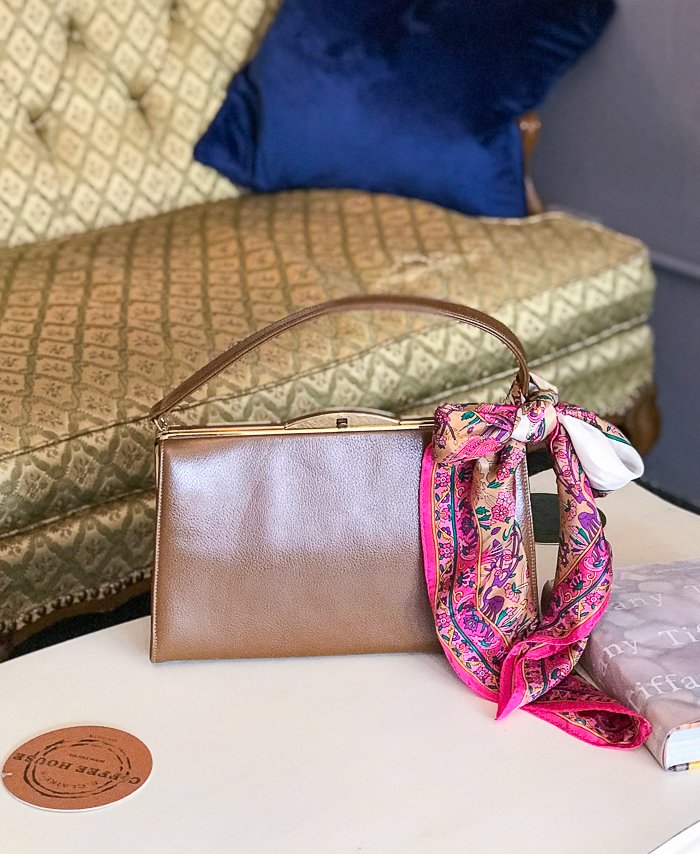 We had the whole coffee house to ourselves that afternoon, so we slipped off our masks and decided to eat there. We propped up our feet and sat a spell enjoying our coffees and lunch.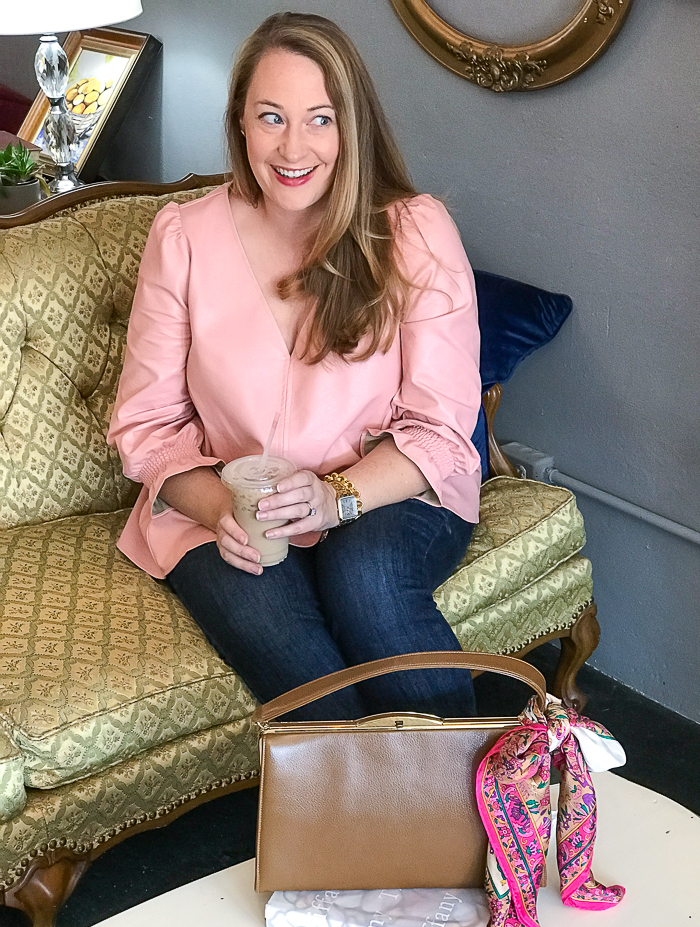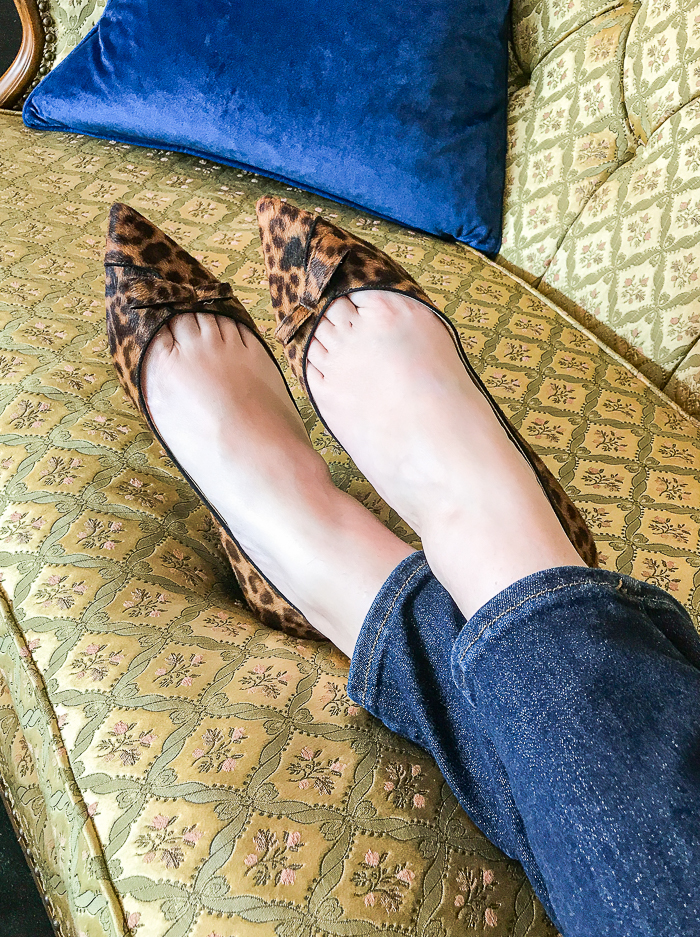 More leopard print and pink styles I'm ogling: