Tips for Styling a China Cabinet
Arrange the dishes, tableware, silver, and curios in your china cabinet to charming affect with these 7 styling tips!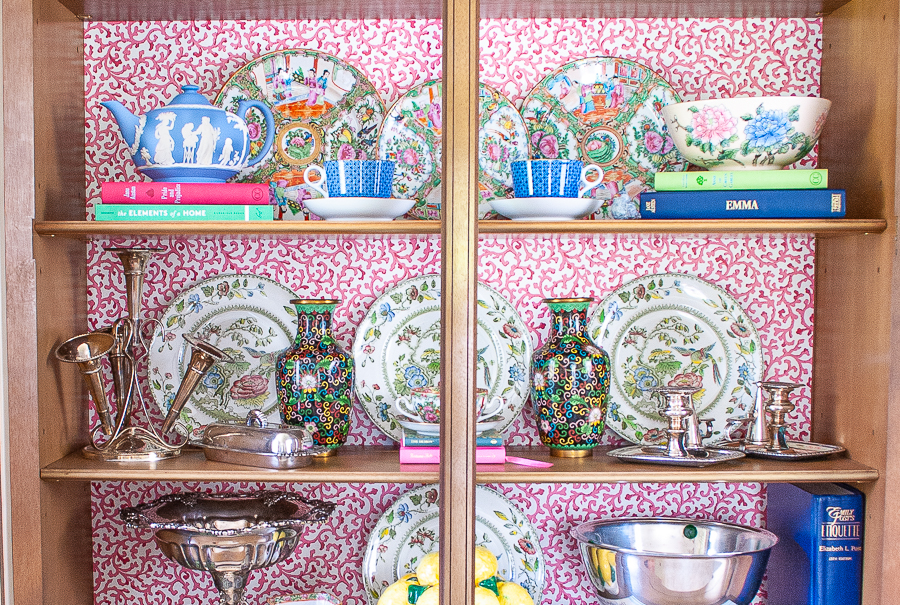 Recently, I updated my china cabinet with a wallpaper backing in this beautiful coral pink paper from Waverly. It really livened up my cabinet and gave it a fun pop of color. It also complements my china and silver collection that I display in these shelves.
You can read the DIY tutorial here to learn how to install the wallpaper backing.
The new colorful lining also instigated a re-arranging of my china cabinet display section, so I thought I would share some of the design tips and tricks I use when styling a china cabinet.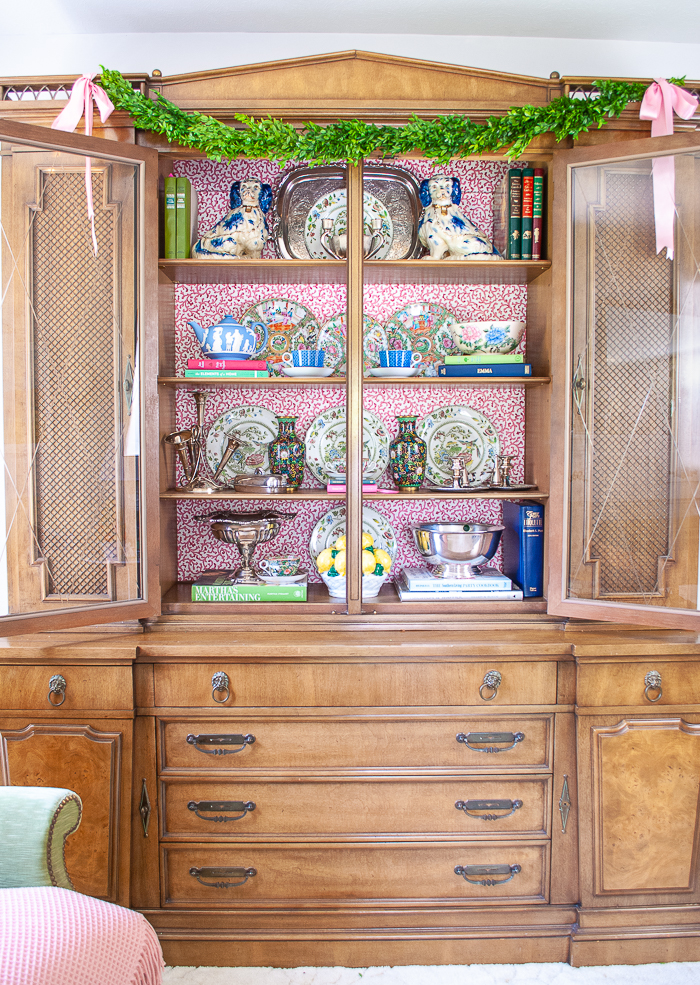 7 Tips for Styling a China Cabinet
Click through slides to read all 7 tips.
Tip No. 1 Store the Valuable, Fragile, and Treasured
Your china cabinet is the perfect place to store these types of collections and tableware because they will be safer in an enclosed space. Your silver will stay bright and shiny when shut away from the sulfurs in the air.
Your cabinet shelves are ideal for displaying your china plates and delicate teacups.
Tip No. 2 Place Larger Items at bottom
Think about balance and proportion as you style your china cabinet. Placing larger items in the bottom shelves will help keep the shelves feeling balanced and not look top heavy.
You can also evenly weight the top and bottom shelves with large curios like I did here with the two silver serving pieces at the bottom and the pair of reproduction Staffordshire spaniels at the top.
Tip No. 3 Show Off Your China Pattern
Stand up your china plates to best show the lovely pattern. Most cabinet shelves will have a groove in the surface toward the back to fit your plate into so that it stands up. Use this to prop your plates against the back of the cabinet. To make them more secure add a ball of sticky putty or museum wax to the edge of your plate then place it in the groove.
Try tucking the edge of outer plates underneath the central plate for a charming affect.
Tip No. 4 Create a Pyramid or Diamond Shape with Plate Arrangement
When displaying multiple rows of plates upright on your china cabinet shelves consider the shape they make overall. Here I used a diamond shape with one plate at the top then three plates close together and below that three farther apart and finally one at the bottom.
This shape helps draw they eye up and out while still feeling balanced.
Tip No. 5 Use the Center of Your Cabinet
Even if your china cabinet has doors that close in the middle with a support bar like mine use that central space. For one, you want to make the most of the storage space your cabinet offers. Secondly, your shelves will most likely be viewed at an angle instead of straight on. So you want this central area to be visually interesting and not dead space.
Choose flat items that have simple geometric shapes that look similar on both sides.
Tip No. 6 Use Books
I love using books when styling a china cabinet. They add color and interest, but they are also great for layering and using as stands to add height.
Here I filled in blank space at the top sides with some treasured books from my childhood. Then I used books as stands to bring up the Wedgwood teapot, peony bowl, and silver pieces at the bottom.
Tip No. 7 Play with Symmetrical or Zig Zag Arrangements
Think about positioning overall and how your eye moves from one piece to the next in your china cabinet shelves.
A symmetrical arrangement is a classic design choice that feels balanced and pleasing. It works best if you have several pairs of items, but these don't have to be an exact match instead try for similar heights, shapes, and/or weight.
A zig zag pattern is another pleasing design that uses the same element or color on each shelf but alternating sides, so that you achieve a back and forth visual up and down the display.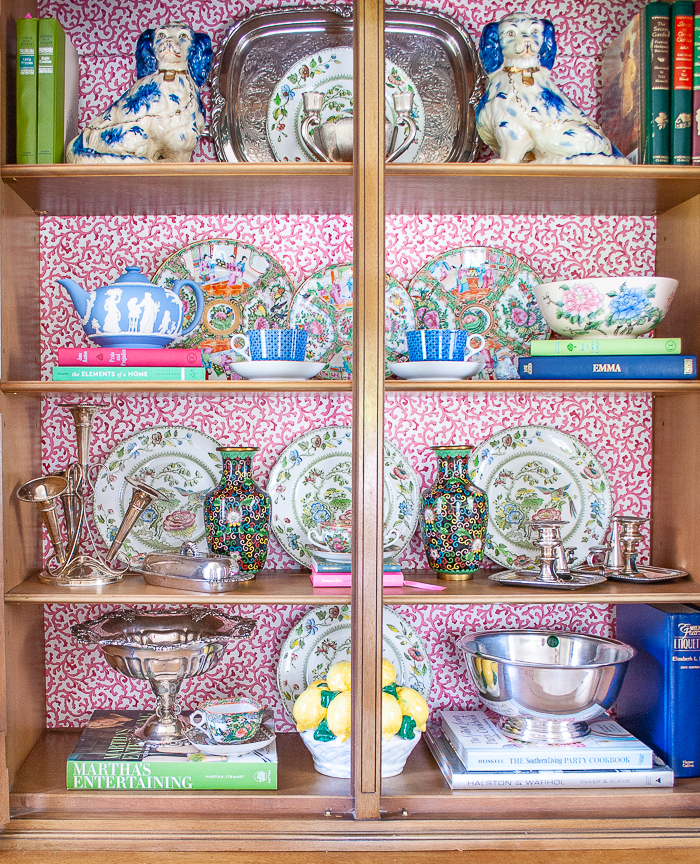 The real trick to styling a china cabinet is to gather everything you want to display and simply set aside some time to play. Try a few different arrangements out and see what looks best to your eye. Try grouping different curios together until you achieve a look that is charming and facilitates storage.
Don't be afraid to mix in odd treasures either like books, art work, seashells, or even florals to make your china cabinet display more charming and even meaningful!
If you are looking for tips on how to organize your china cabinet to facilitate storage read this post I wrote for Kitchen Bath Collection.
Display Tools to Help You Style & A Few Books:
I love these big acrylic stands for large, heavy platters. These wire teacup holders work great for showcasing your collection, and I always have a number of these on hand to hold plates.
You can read the tutorial on how to install wallpaper in your china cabinet here.
If you are looking to add to your china collection, check out these pieces from the curio shop:
[ttfmp_woocomerce_product_grid section_id="builder-section-productgrid_535″ columns="3″ type="all" taxonomy="cat_ceramics" sortby="date" count="6″ thumb="1″ rating="0″ price="1″ addcart="0″ paginate="0″ arrows="1″ dots="1″ autoplay="1″ delay="6000″ transition="scrollHorz" background-color=""]
Related