Repurpose a bureau à gradin desk as a bedroom dressing table for an elegant vintage vanity style where you can primp at your leisure and organize your jewelry!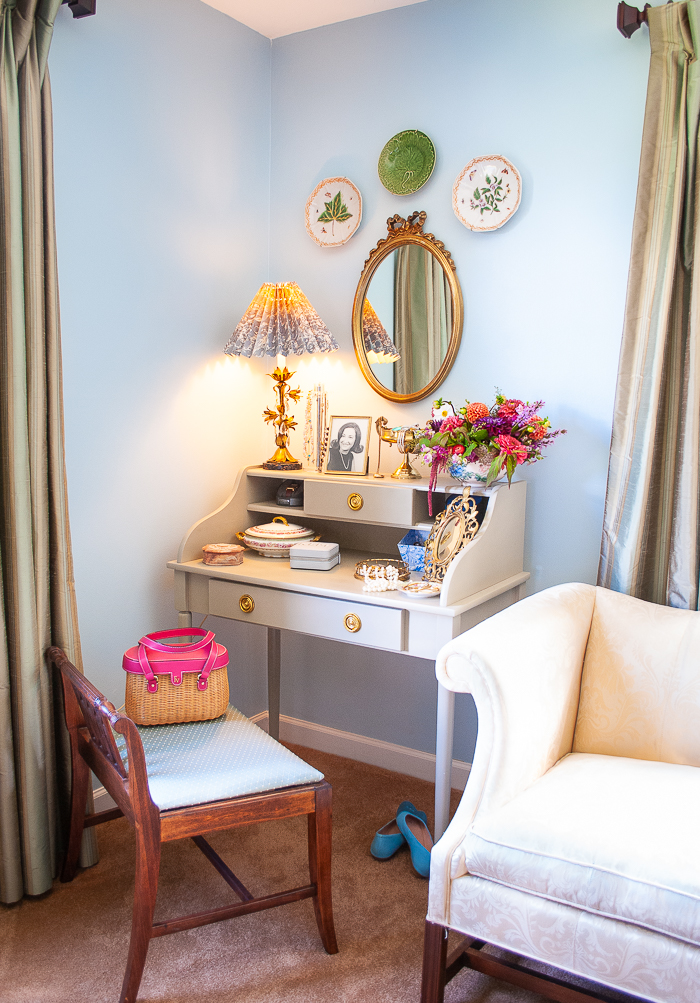 The crinkle of a crinoline skirt…
The snick of a perfectly pulled taffeta bow…
The spritz of feminine perfume…
The tinkle of bracelets twisted two and fro on an elegant wrist…
Ah! The sounds of la femme at her toilette! Isn't there just something oh so glamorous about the vintage vanity?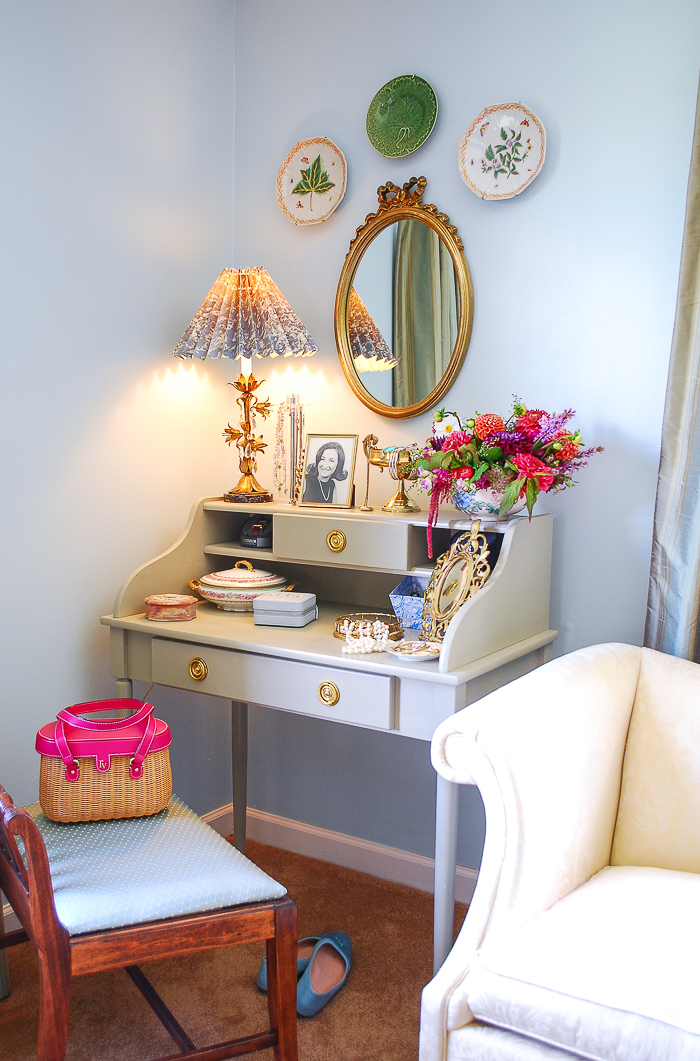 I always think about those classic 1950's and 60's films with Grace Kelly and Audrey Hepburn in their gorgeous loft apartments or French hotel rooms powdering their nose and fastening an earring.
Of course their vanities usually included diaphanous skirts and silver vanity sets. Mine is rather more simple but elegant nonetheless!
To create my vintage vanity style, I repurposed a vintage style desk in the bureau à gradin style. This is basically a lady's writing desk with set back shelves, drawers, and cubby holes for storage. These nooks make it the perfect furnishing for storing jewelry and accessories.
There are lots of these desks around both vintage and new, and they are usually made in a diminutive form perfect for tucking in a little corner of your bedroom. I picked mine up at an antique mall in Concord, NC, and for a long time we used it as an entry table. In our TN house it didn't make sense there, so I had the grand idea to repurpose it for a vanity and jewelry cabinet!
I adore having all my jewelry neatly tucked and in place. And, of course, I love sitting down at my vanity to primp and adorn myself before heading out somewhere fun just like Kelly and Hepburn! ?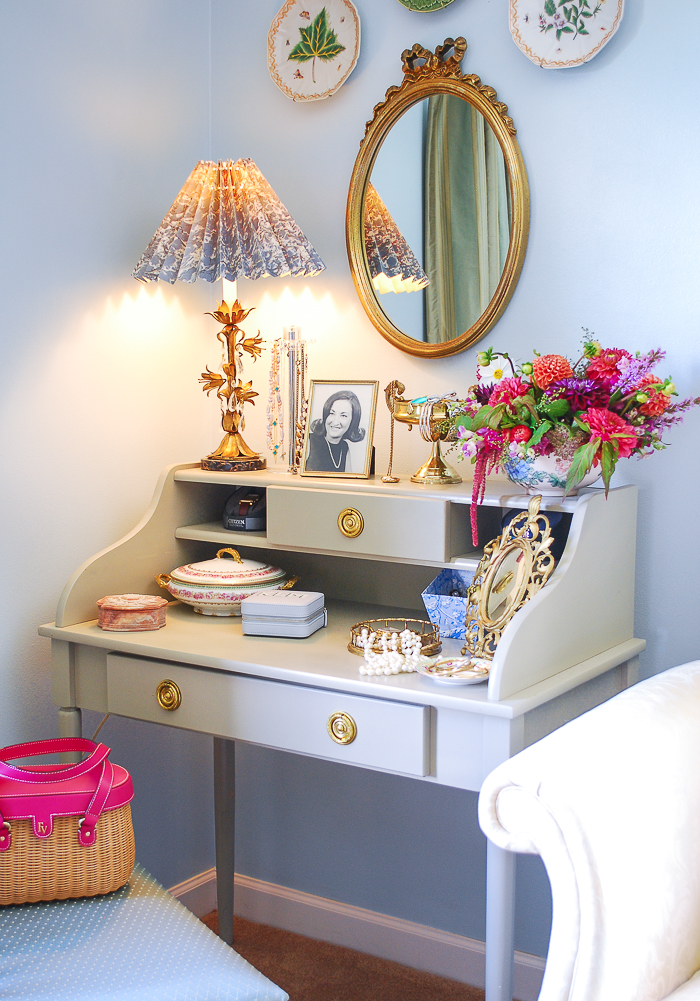 So how can you create this vintage vanity style?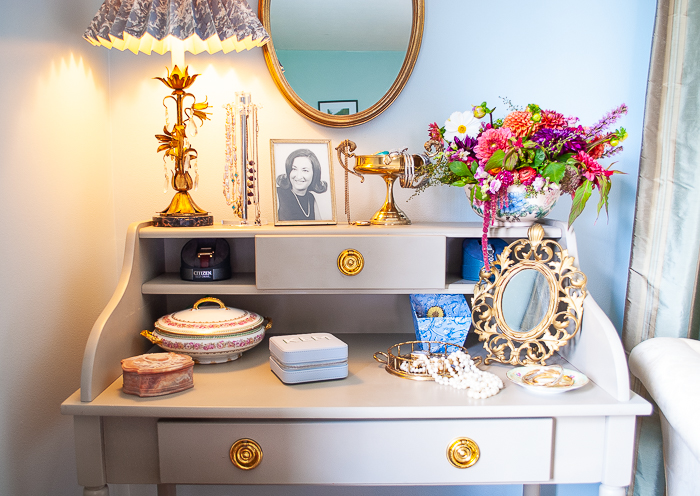 No. 1 Start with an elegant table or desk.
Pick one with clean elegant lines and lots of cubbies and drawers for storing your makeup and/or jewelry. This one is very similar to mine.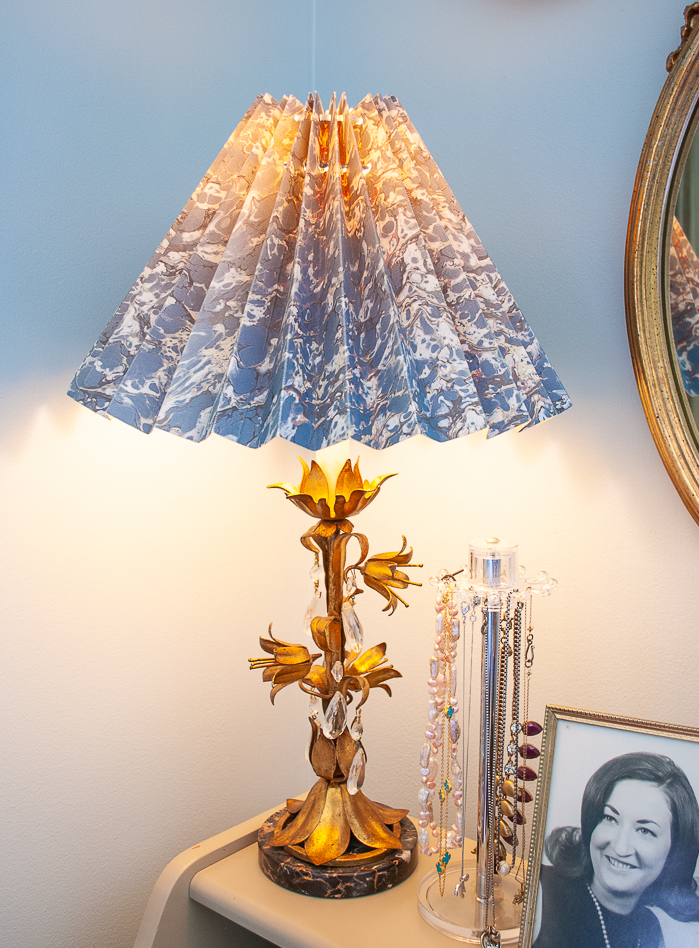 No. 2 Add a feminine, glam lamp.
Every vanity needs extra lighting, so add a pretty, feminine lamp like this floral Italian tole lamp. I topped mine with with a handmade marbled paper lampshade for that little extra pizzazz. P.S. I have another one of these lampshades up for sale Thursday night 8/27/2020 on Instagram.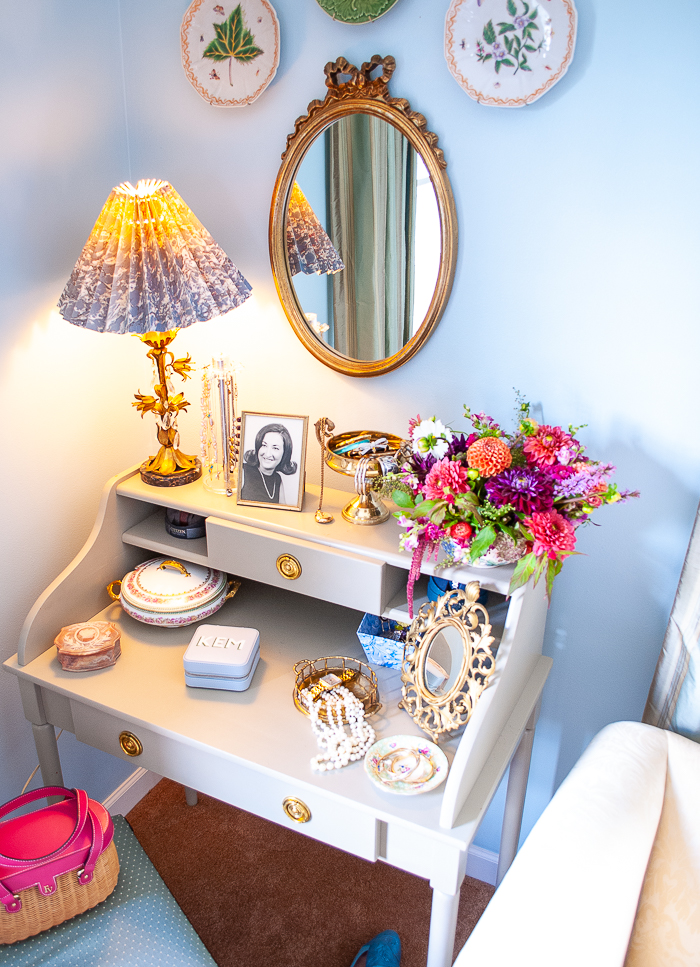 No. 3 Choose an elegant gilt mirror.
What would a vanity be without a mirror? Pick one that adds to the glamorous vibes of your vintage vanity!
No. 4 Collect beautiful vintage and antique boxes, dishes, and bowls for organizing and sorting your jewelry.
Most of my jewelry is stored in the drawers, but items I use regularly I keep out in boxes and dishes for easy access. Plus it just looks oh so pretty! The August 27th flash sale will have lots of pretty boxes and dishes perfect for jewelry!
The monogrammed case is available here, and it is perfect for traveling!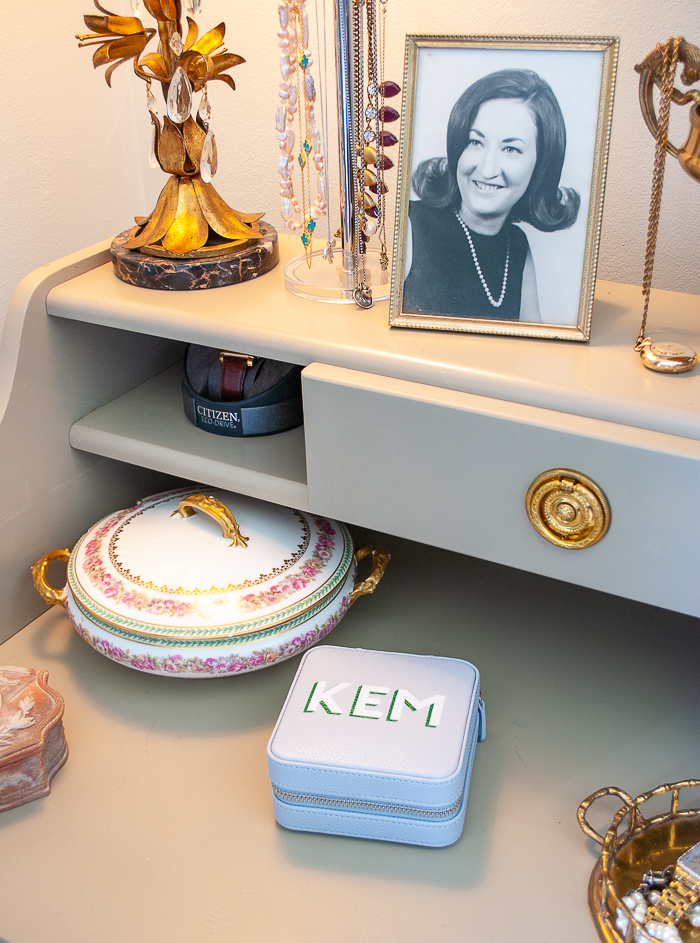 No. 5 Add personal mementos like photos of loved ones — that's my charming mother right there!
This gorgeous photo of my mother during her college years use to sit on my grandmother's vanity, and it just pleases me immensely to give it a pride of place on mine!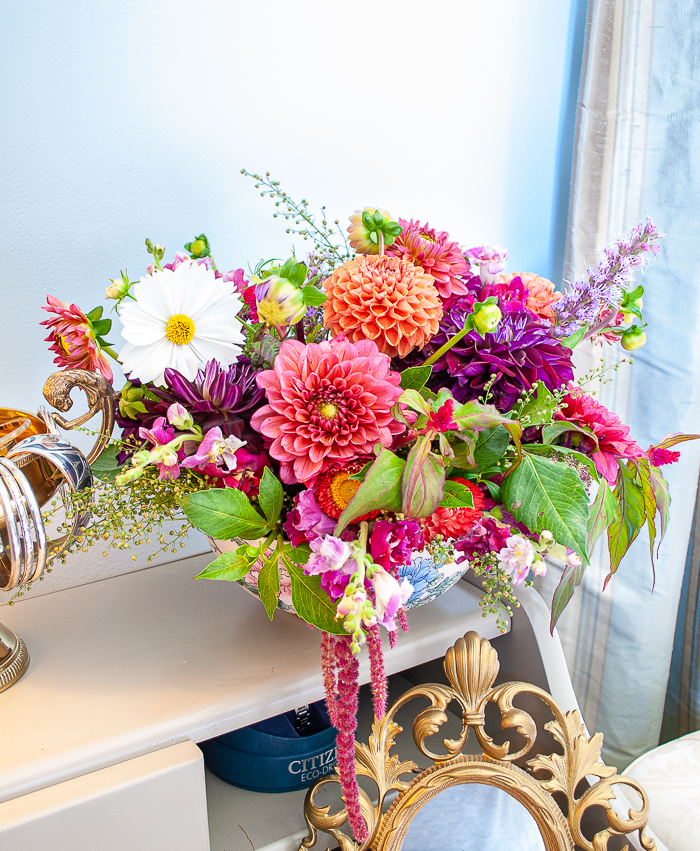 No. 6 Arrange colorful flowers in a pretty vase.
There is something so luxurious about fresh blooms in the bedroom, and the vanity is the perfect locale to place them. A pretty faux arrangement is also a lovely idea if you don't want the hassle of changing out flowers weekly.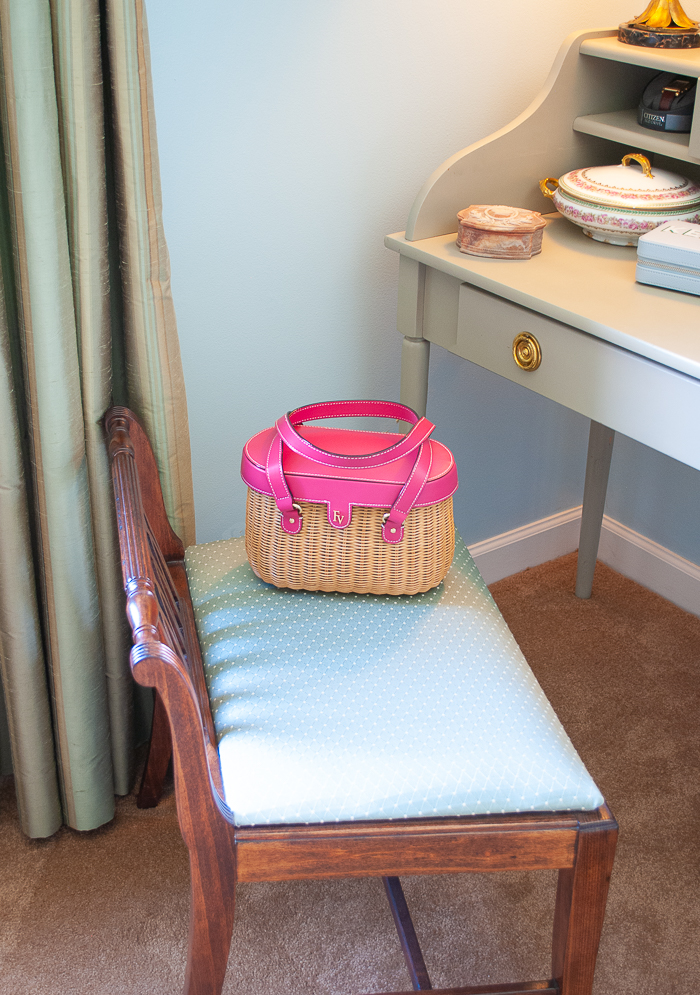 No. 7 Find a vintage style stool for perching.
Of course, you need somewhere to sit while you are primping at your dressing table. Find a stool that coordinates with the style of your table. Cover it in a charming fabric or paint it to match.
Alright ladies! Let your inner Kelly or Hepburn out to play by creating a vintage vanity in your bedroom. Not only will it please your inner femme fatale, but it is also a practical and useful storage solution!
Join me at the August 27th sale on Instagram to purchase curios perfect for your vanity!