Sassy Pink Sandals for Casual or Dressy Looks with Sarah Flint
Put a little sass in your step with hot pink sandals perfect for casual or dressy looks from female shoe designer Sarah Flint.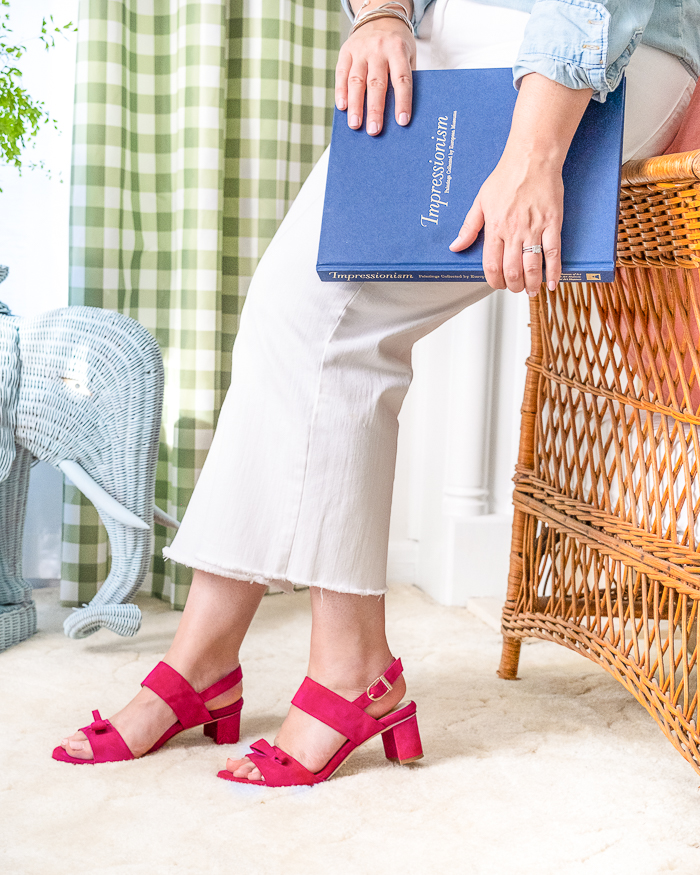 The hunt for the perfect heeled sandals for summer is over!
I think I speak for every woman when I say finding the perfect pair of heeled sandals is tricky. They are either too strappy and hard to walk in or clunky and sporty.
Instead we want heeled sandals that are comfortable, classic and versatile enough to be worn with casual outfits or for dressy occasions. Not to mention sandals that are not boring!
Give me a little dose of sass, please!
I've finally found that shoe unicorn in these chic pink sandals from designer Sarah Flint! From the feminine little bow to the elegant block heel and the gold buckle to the right width straps, I could not be more thrilled with this shoe.
Then there is the fact that Flint actually designed a shoe for a woman's foot with memory foam cushioning, a wider toe box, and anatomical arch support. "Style without sacrifice" indeed!
When the SF team reached out to me to join them as a brand ambassador, I was so excited to try these shoes. I had been admiring this designer's handmade footwear on fellow bloggers, but I hadn't really decided they were worth the investment just yet.
Let me tell you from the moment you slip them on your feet they are! Then when you stand in them for 8 hours without discomfort, you can't help thinking about how many blisters you achieved for naught! ???‍♀️
Here's the thing, running my styling and antiques business with this blog means my days are varied. Some are spent at home researching, bidding online, and writing, while others I dash back and forth from home to estate sales to client meetings with arms literally full of valuable porcelain and one of a kind art. I need to be comfortable but look pulled together and stylish.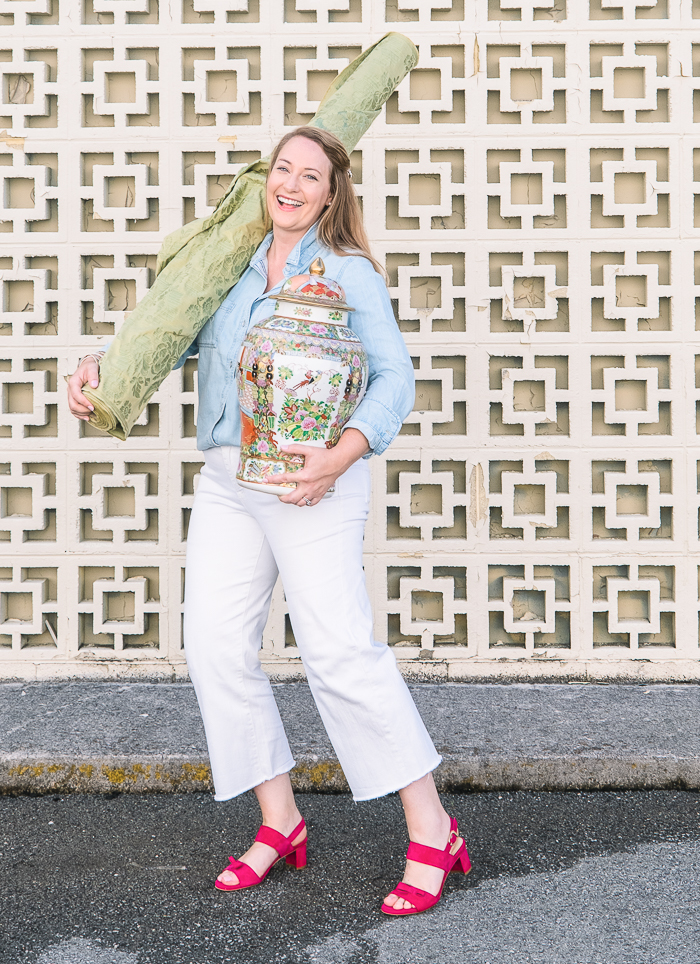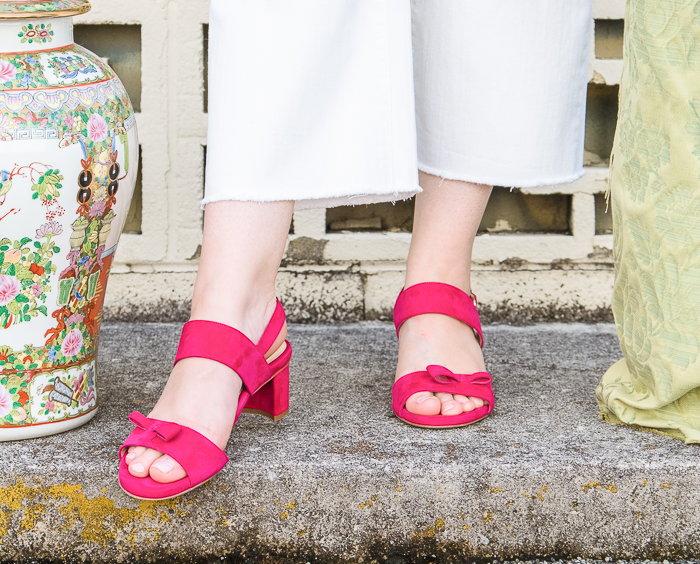 Photography by Karla Tucker, Encaustic Exposures
*Affiliate links included.*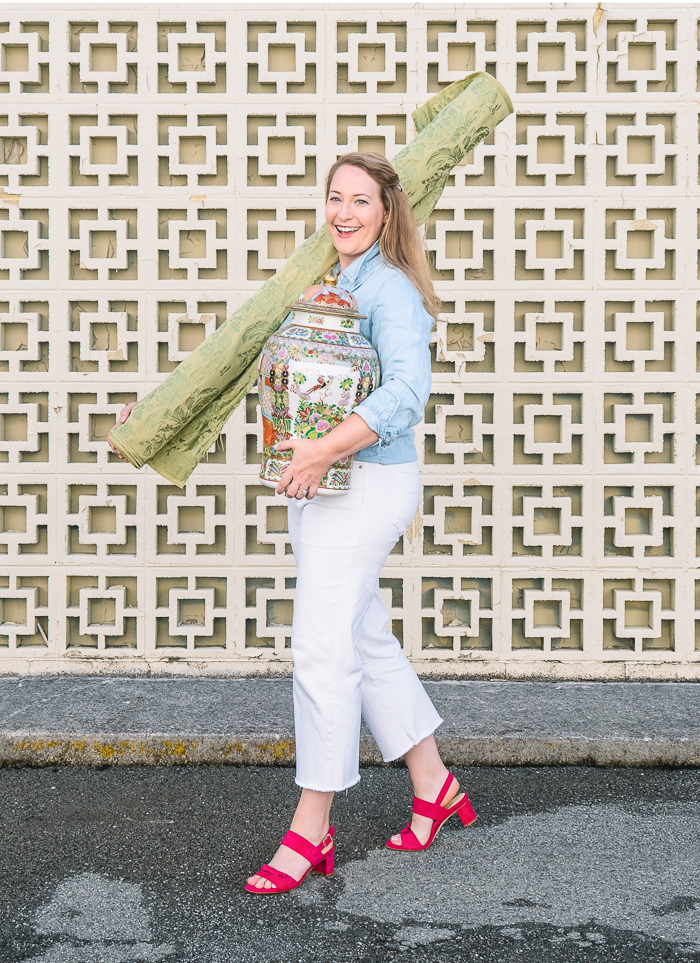 I need a shoe that I can wear all day no matter what is on the schedule. That's why quality classic shoes like Sarah Flint's are worth the investment!
It is a great time to try a pair of Sarah Flint shoes because the semi-annual sale is happening. 30% Off select styles, including my pink sandals — perfect if you love that pop of pink like me and are looking for a day to night heeled sandal for summer!
SF is also generously offering $50 off a pair of full priced shoes for my readers with code SARAHFLINT-BAKATHERINEM the first time you buy. If you really want to treat yourself this week, and you find a pair of sale and full priced shoes for your wardrobe, email me and we can make that discount happen for both with my code.
You've seen my casual day look with white wide-leg jeans and chambray button down, now here's how I would dress these sassy pink sandals for a date night, party, or baby shower.?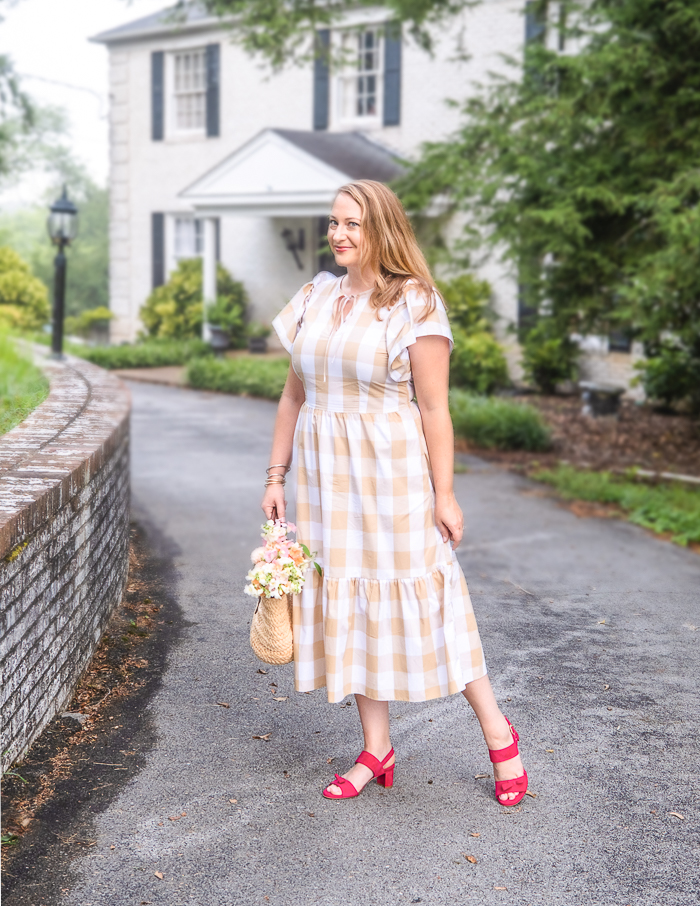 A fun gingham sundress and basket bag are all you need with these heeled sandals to be party ready!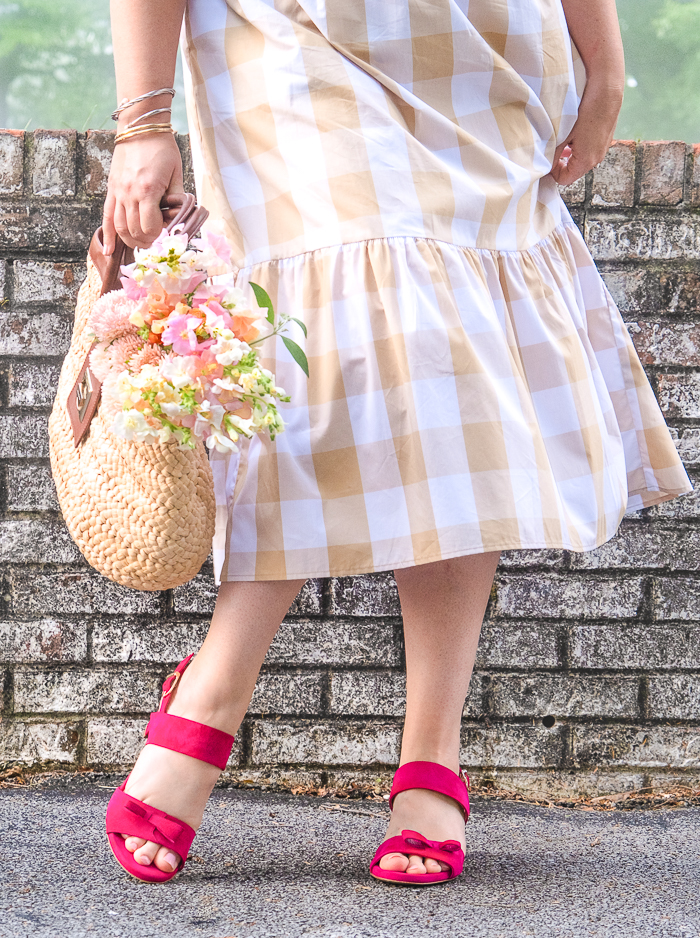 Off to kick up my heels!