Elevated Essentials: Preppy Traditional Mantel
2 ways to style a preppy traditional mantel with advice and tips to curate and arrange a charming display!
A couple of months ago over on Instagram, I asked you lovely peonies what areas you needed help decorating. MANTELS were the answer! This is absolutely one of my favorite spaces in a room to decorate.
Fireplaces and mantels work as a visual focal point for a room and a nucleus for gathering. With such significance weighing the mantel down (or holding it up ?) it can be difficult to style this area, especially for the everyday when there are no holiday garlands to swag or snow villages to arrange.
In this post, I'm sharing two approaches to a preppy traditional mantel that highlight the decorative essentials of mantel decor and how to arrange them to optimal effect.
The fireplace and mantel pictured are in our family room, which is a casual space where we gather for movies and down time. The room is decorated in light blue, navy, and browns in a style leaning towards preppy.
Historically Speaking…
Fireplaces with elaborate mantel pieces have long dominated as the main decorative element of any room — a locus for symbols of status and taste like family portraiture, clocks, and valuable ceramics. The Victorians particularly elaborated on the decoration of mantels, creating fabric swags, custom display shelves, and special glass cases to highlight, display, and protect important ornaments and art.
Decorating the mantel has a long history and deep visual language. In fact, there are 4 decorative elements necessary to mantel decor that create a charming and eye catching display.
These 4 decorations are so ubiquitous to mantels that you've probably just glossed over them — even decorating your own mantel with them not realizing their long association with fireplaces. I dare you to find a beautifully decorated mantel in any style or decade that doesn't have 2 or more of these elements!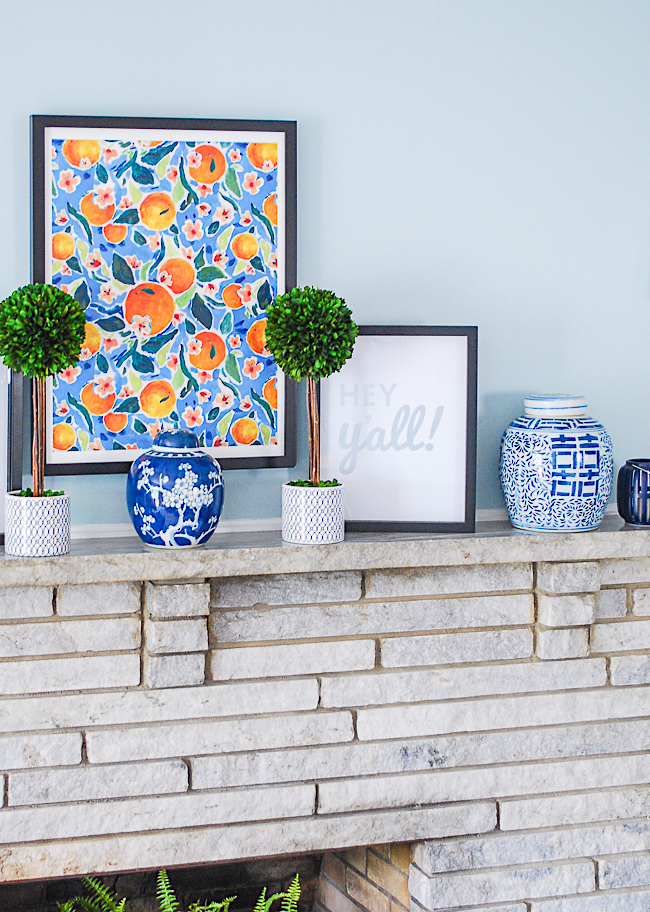 Orange print courtesy of FY!
Preppy Traditional Mantel Essentials
Think of these 4 elements as the basic building blocks to decorating this area — the essentials. But to create a unique and attractive mantel display, it is about the quality, appeal, and aesthetic value of the essentials you choose. They have to be elevated!
The other key is in the arrangement. That's the really tricky part, right?
So just what are the elevated essentials of mantel decor?
Elevated Essential No. 1 Two Dimensional Features:
Art, mirrors, photographs, and other flat visual elements that can be hung in the space above your mantel or propped up on it.
The goal – add visual interest to the fireplace and impact the style, feel, or harmony of the room as a whole.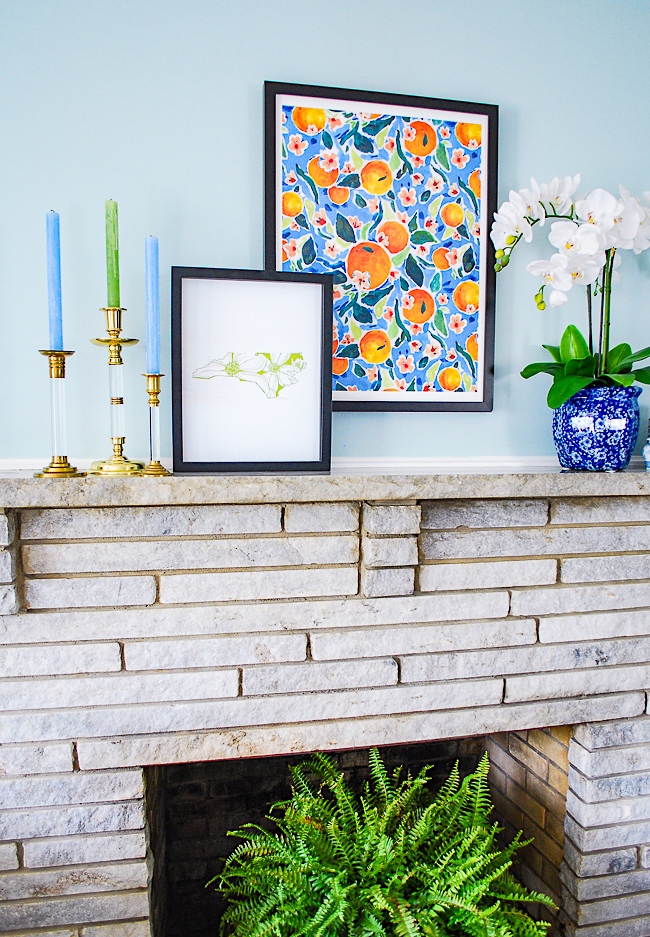 How to elevate this essential:
Much consideration should go into choosing your mantel's 2-D feature. It provides a more or less permanent backdrop to everything else you put on the mantel. This art work should:
Have significance to you and your family;
Coordinate with the decor of the room overall;
And most importantly be something you find inspiring.
For the past 2 years I've had a collection of black and white photographs propped on this mantel, but lately this grouping was feeling a bit boring. The space really needed an injection of color, so I was excited when FY!, a home decor and art online shop, reached out to me about their print selections. Prints have long been a great way to achieve that luxe art look without the cost of an original, one of a kind work.
I had a difficult time narrowing down my print selection out of FY!'s hundreds of prints from artists around the globe, but I truly fell in love with this orange floral print by Charlotte Nicholson. The colors and motif feel happy and fresh with just the right hint of preppy flair.
The other 2-D works on my preppy traditional mantel speak to our love of the South with a quirky "Hey Y'all" sign and a map of North Carolina, our home state.
To help you decorate your mantel with a gorgeous print, FY! is graciously offering an 18% discount to my lovely readers (use this link), and we will be doing a giveaway later this week. Look for the post announcement over on my Instagram. By the way, you can order their prints already framed!
My picks for 2-D mantel art:
I'm literally drooling over this round rattan mirror, and how fabulous would it look paired with these fern prints! For a more Chinoiserie inspired look, I would choose this pair of Gabby Malpas prints.
Elevated Essential No. 2 Lighting:
Sconces, candles, mirrors, lanterns, and/or lamps are a key decorative element to any mantel.
The goal – help highlight the fireplace/mantel area, increasing it's ability to draw the eye and act as a focal point.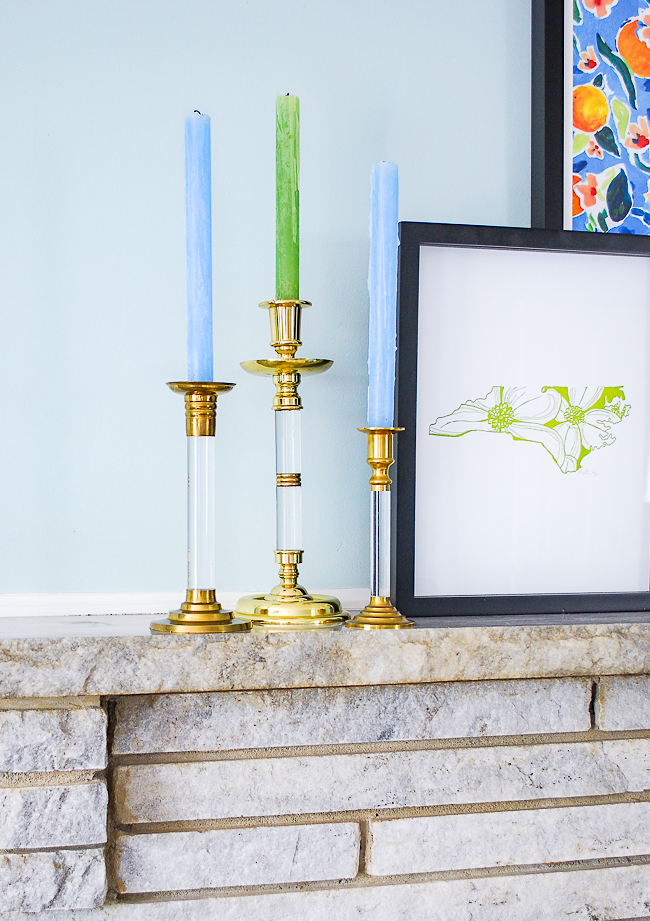 How to elevate this essential:
Since we aren't Victorians, chances are you won't have a blazing fire going all that often in your fireplace, so adding extra lighting to this zone will help brighten the space and create additional lighting in your room. Electric sconces are often already installed on either side of the mantel piece. Upgrade these to a style that suits your overall room design. We updated ours to a traditional lamp style but in clean linear lines and silver finish for a contemporary feel (similar pair here). Candles sconces are a chic alternative if you don't want to mess with wiring.
Candlelight is the next best thing to a glowing fire. I almost always have a pair or four on my mantel with colorful tapers. Choose classic forms in a metallic finish like brass or silver for that extra sparkle. This threesome of acrylic and brass candlesticks add a snazzy vintage touch but still feel refined (available in IG flash sale July 16, 2020).
For that preppy traditional look in lighting, stick to traditional forms; materials in brass, silver, wicker, or bamboo; and classic motifs like bows, pineapples, Federal style shells and leaves, or elegant florals.
My picks for lighting:
These brass bow and tassel candle sconces would look amazing gracing the side of a mantel, and for candlesticks I'm charmed by this pair of monkeys.
Elevated Essential No. 3 Natural Elements:
The third mantel decor essential is fresh or faux flowers or greenery in the form of arrangements, topiaries, wreaths, garlands, etc.
The goal – bring texture and something fresh and natural to the area.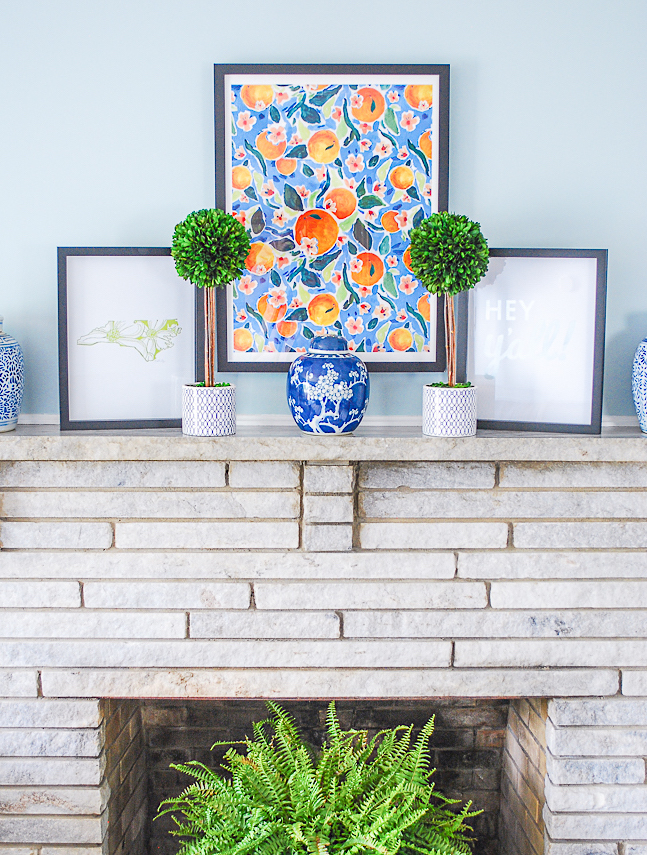 How to elevate this essential:
Bringing something fresh and green to the mantel area is a must and choosing faux florals or greenery is the easiest, long term option. My favorite for faux florals are orchids. The height of these blooms help add visual interest and keeps the eye flowing from element to element, while the blooms themselves are elegant and simple.
For greenery, my favorite choices are preserved boxwood or magnolia, particularly in a wreath or topiary form. Boxwood and magnolia are season-less and they add a wonderful textural element.
During the summer months, I love to place a giant fern in the firebox. It blocks the empty void and brings more texture and color to the fireplace.
My picks for a natural element:
This magnolia arrangement in the blue and white planter would look amazing centered on the mantel. For topiaries, I always gravitate towards preserved boxwood.
Elevated Essential No. 4 Curios:
The final mantel decor element is ornaments and curios like china, figurines, books, vases, ginger jars, etc.
The goal – add personality to the mantel that reflects the style of a room, showcases a collection, tells a story, and/or connects to a memory, hobby, or trip.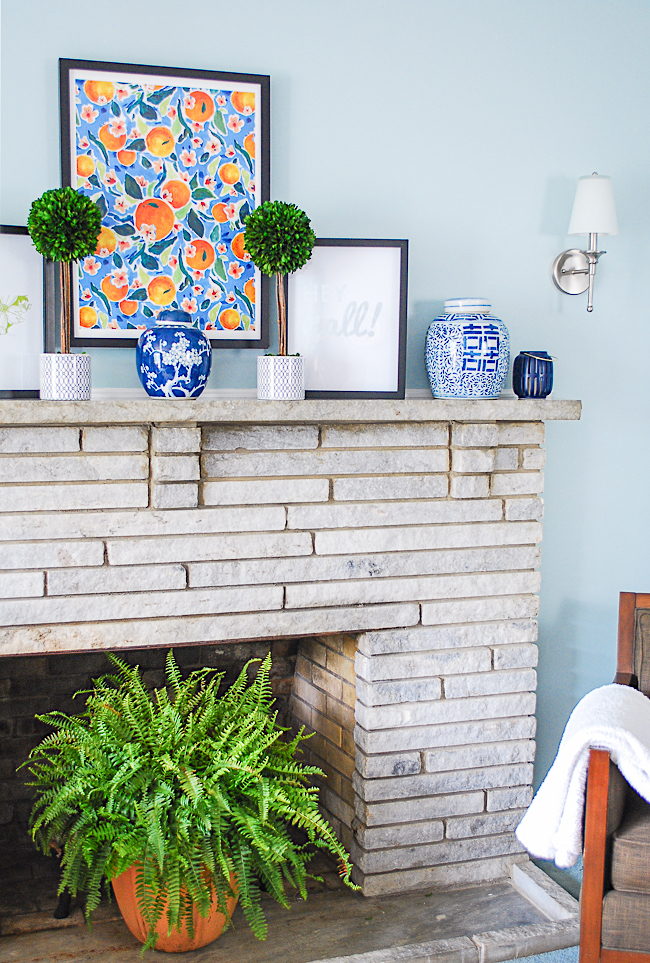 How to elevate this essential:
This is another chance to really inject your personality and showcase family mementos. Some designers call this element the filler, but really it should be so much more than an after thought!
The curios on both versions of this preppy traditional mantel are blue and white Chinese ceramics. I adore Chinoiserie and blue and white, so the mantel is the perfect zone to display some of my collection. It puts it in a prominent place that immediately draws the eye. Furthermore, this style of ceramics are commonly used in preppy traditional interiors, so it helps pull the style and color scheme of my room together.
In terms of design, curios are also a key way to add color, different shapes, interesting patterns, and texture to your mantel decor. For example, the roundness of my ginger jars helps break up the very linear boxy feel of the prints and candlesticks on this mantel. Be sure to select curios that will fit within the width of your mantel!
My picks for curios:
How sweet are these parrots? I love the idea of adding a pop of yellow to a preppy mantel with these vases.
Preppy Traditional Mantel Styling Techniques:
Now that we've gathered the elevated essentials for our mantel decor, it's time to arrange them to optimal effect!
With both of these preppy mantel styles I've used several classic design techniques that you can apply to any flat surface abutting a wall. First, let's take a look at overall shape and balance.
Both mantels use a triangle shape in terms of arrangement with the highest point in the center and gradually sloping sides towards the end of the mantel. This shape is pleasing to the eye and helps draw the eye down the wall to the fireplace while feeling proportionate.
How to make the triangle shape work:
The top of your center element should be above the halfway point between the ceiling and the top of the mantel.
The elements arranged on either side of the central point should step down in height.
Each side of triangle should feel balanced if not the same.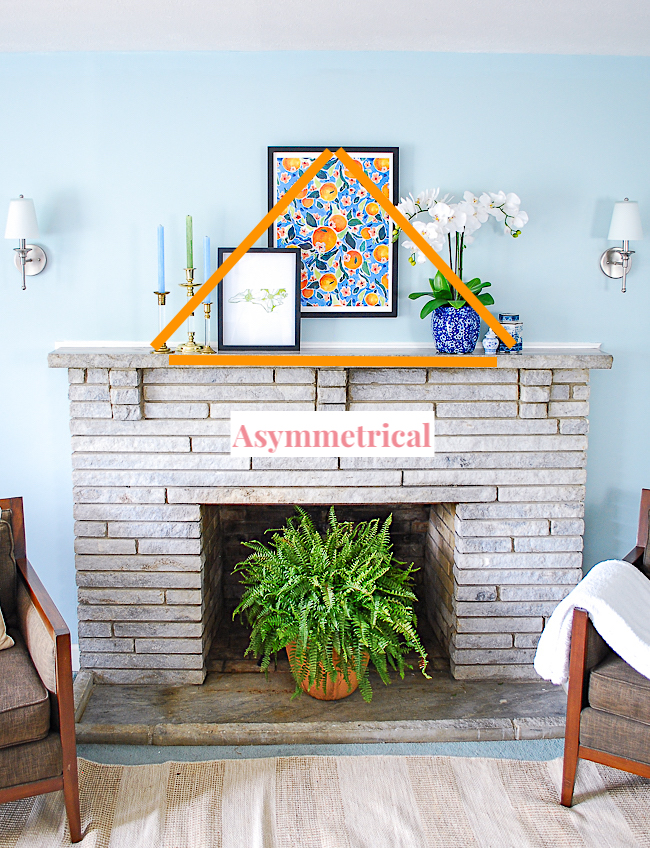 While these two styles both use the triangle shape to arrange the elements, the first one is arranged asymmetrically and the second symmetrically.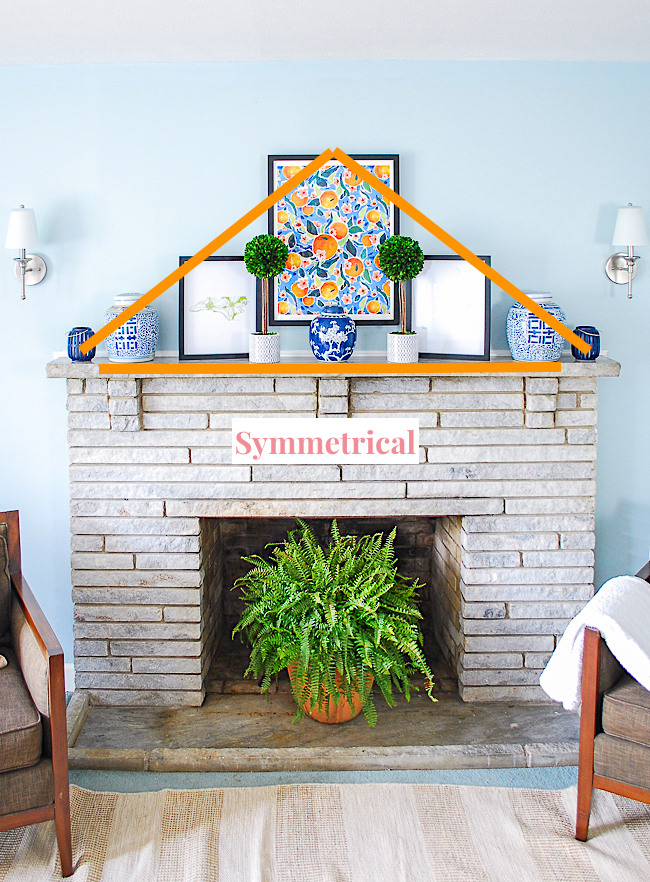 How to play with symmetry:
A symmetrical arrangement will feel more traditional, balanced, and calming. With this alignment you will need pairs of your outer elements and to consider their decreasing height more carefully. As you can see in my symmetrical mantel above the arrangement almost feels like a pyramid stepping down as you move to the ends of the mantel.
An asymmetrical arrangement feels more playful and contemporary. Take care to make each side feel balanced. You can do this by playing with shape, size, and dark colors. For instance, the black frame of the N.C. map is balanced on the other side by the dark blue of the orchid planter.
Other mantel styling techniques:
Layering – overlap your decor elements to add visual interest and make the look feel more carefree and whimsical. Be sure to overlap objects with differing heights and recognize that three or more layers will probably start to feel cluttered.
Groups of Three – arrange objects in groups of three. You've heard me talk about this before, but it is a classic design strategy that argues arranging decor in three or other odds numbers is more pleasing to the eye. You can see how I used this technique in my asymmetrical version.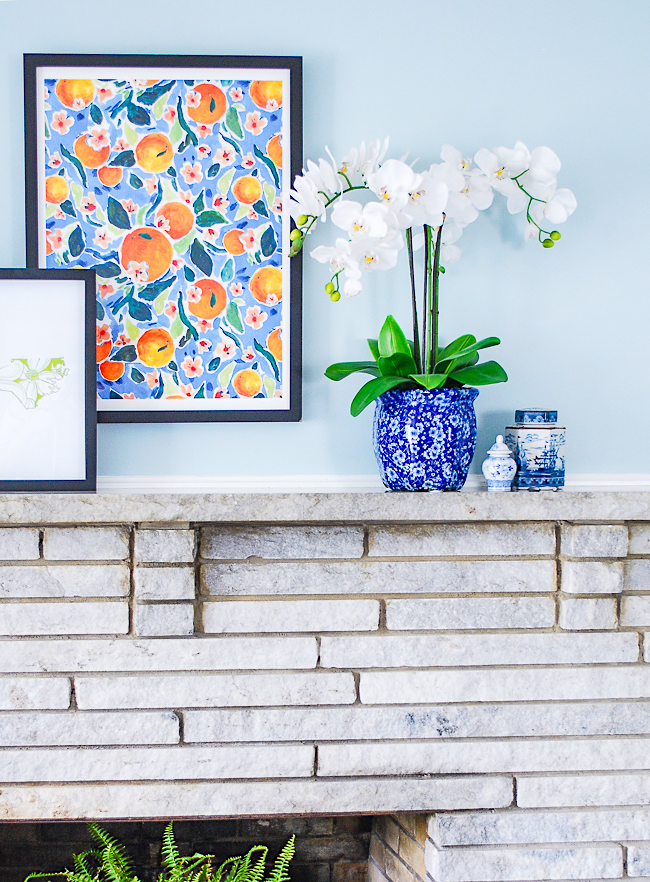 Well lovely peonies, I hope you feel better prepared and inspired to decorate your mantel after reading this post! Remember to have fun playing with your decor and try lots of different arrangement to find what looks most appealing to you. Please take advantage of FY!'s special discount. I know you find a piece of art that speaks to you and will help you decorate your mantel. FY! graciously gifted the orange print pictured here, but all opinions are my own, and I am truly impressed by the art works available in their shop.
Several of the decor elements I used to style this post will be available at my next flash sale over on Instagram on July 16, 2020, including the candlesticks, various ginger jars, and a fun selection of paintings. To find out more about how my sales work, read this!
I have continued the Elevated Essentials as a series, tackling grandmillennial mantels next!