Sweet Dreams: Bedroom Styling Refresh
5 Ideas with practical examples for a bedroom styling refresh that is sure to lead to sweeter dreams!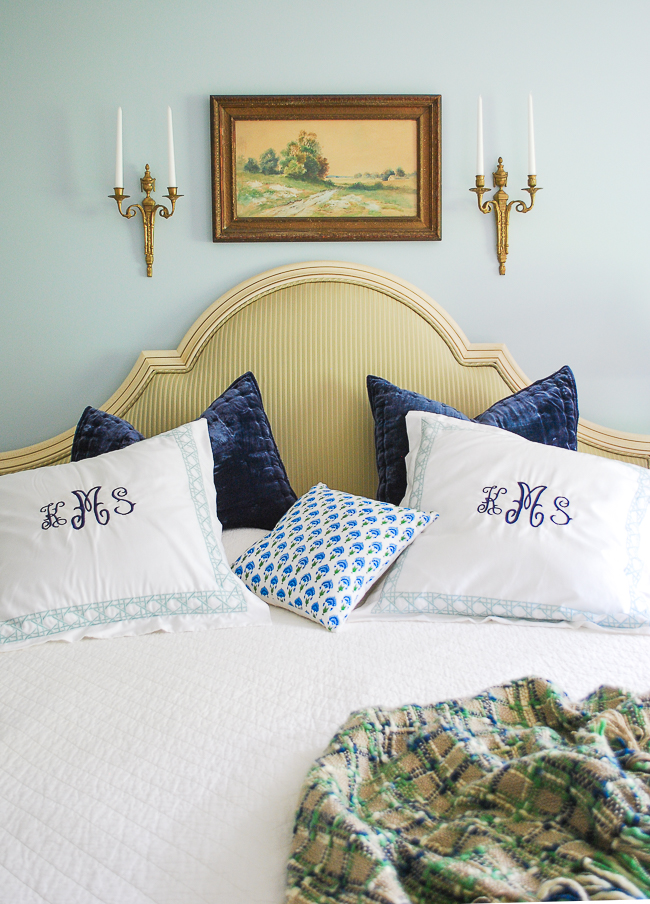 Are you spending more time in your bedroom these days?
Me too! And with the added time at home, I'm refreshing my spaces and swapping up decor for a more chic look that brings joy to my heart. I'd be thrilled to help you too! Just send me an e-mail at penderandpeony@gmail.com to set up your free consultation. Learn more about my styling services here.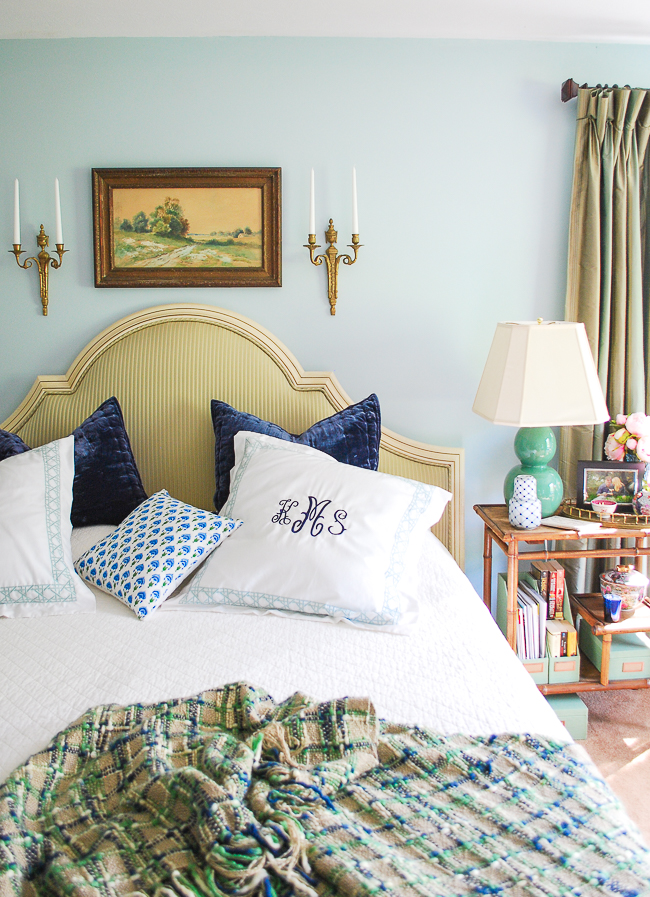 Bedrooms should be relaxing…the land of sweet dreams. But this doesn't mean they can't be charming and stylish too! Mine is decorated with a color scheme of pale blue, greens, and navy. The carpet is beige for now, and we have striped silk curtains. The room is grandmillennial for sure, but not ultra feminine.
A few months ago we installed a "new to us" upholstered headboard (estate sale find). Unlike our old sleigh bed this one doesn't have a footboard, and it is amazing how much more open the room feels now. With that change, I've been slowing refreshing the space with little touches.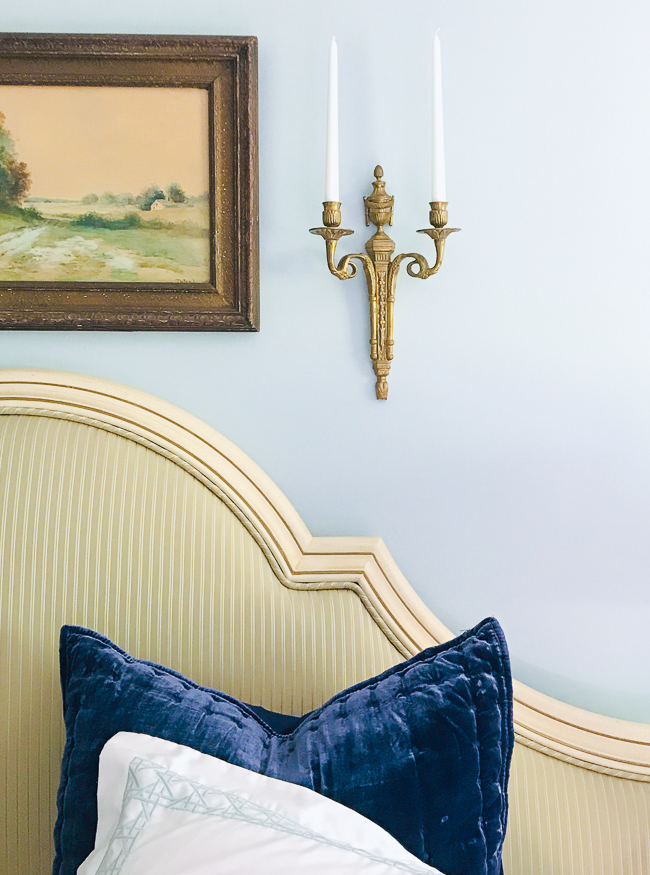 Refreshing a room is about improving a space with little styling tweaks like rearranging decor, adding more organization, and/or updating fabrics. It doesn't need to cost a lot of money or overwhelm you.
Here are some ideas to refresh your bedroom styling:
No. 1 Re-Arrange Furniture
Grab your hubby or roomie and get your workout in by moving the furniture around. Ideally, you want an arrangement that works with the flow and shape of a room. If your room has focal points like a fireplace or windows, use those to your advantage, and remember the bed is always a focal point.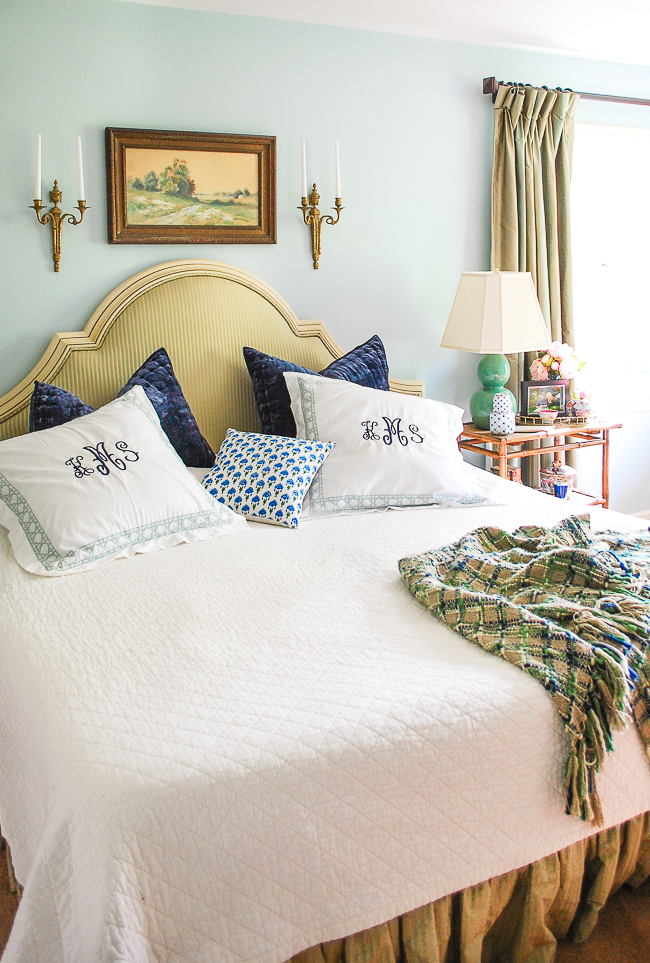 Our master bedroom is long and narrow with only two functional spots for the bed to go. We positioned it on the wall opposite the door, so your eye is immediately drawn there. This choice forced us to put the bed off center, so it is actually on the left side of the room, but this works well because we have a sitting area on the far right.
No. 2 Deep Clean & Organize
I'm talking vacuum under beds, wipe down base boards, and dust all decor. Then throw away or donate un-necessary or tired things. Sometimes the fresh smell of a clean room and the joy of everything in its proper place is enough to make a room feel fresh.
Shop the Look
No. 3 Add New Pillows
Amping up your accent colors or introducing a new print with some new throw pillows can be transformational and a seriously easy bedroom styling trick. New bedding can also make a major transformation. For tips on choosing sheets head here.
I want to add a third Euro sham, but I can't decide on the fabric, so for now I opted for this inexpensive block print throw pillow. It adds some much needed pattern and another fun pop of blue and green.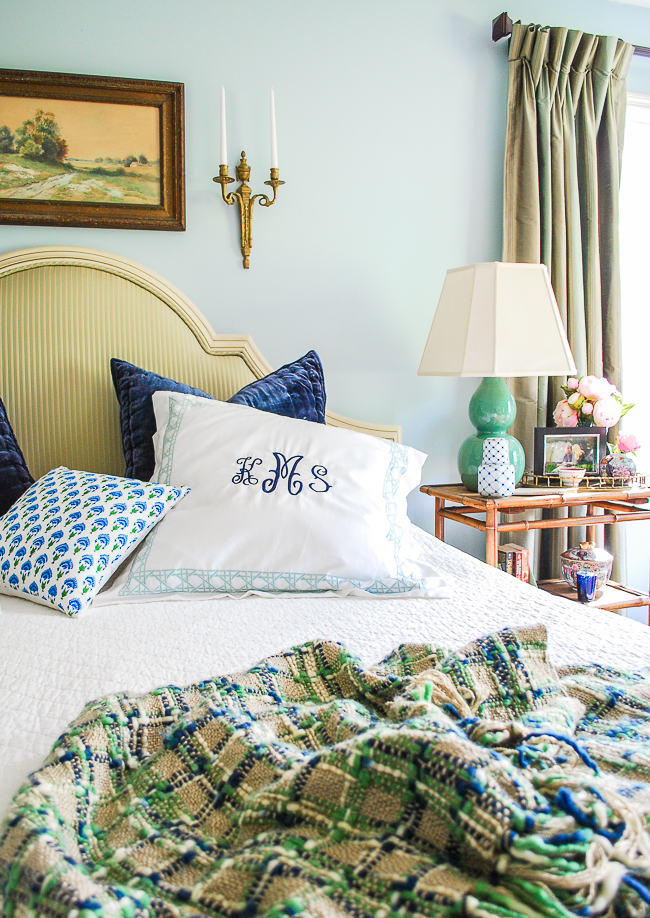 No. 4 Swap Furniture
Sometimes a bedroom styling refresh is as simple as moving one piece of furniture to another room where it suits a better purpose and look.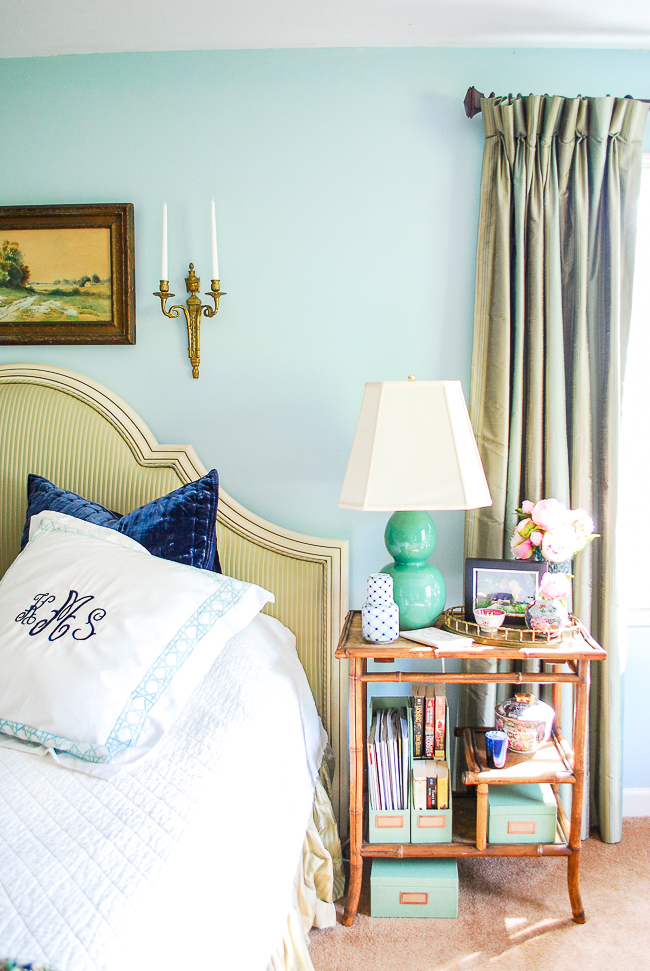 I had this bamboo plant stand in our family room by the balcony door, and while it was functional and looked good I really needed a full shelf there, and my bedside really needed something with more organizational potential. I went ahead and moved this stand up to our bedroom, and it is the perfect size with just enough shelves to hold my magazines, books, and other bedside items.
No. 5 Play with Decor & Make it Functional
Use vases, trays, cachepots, and bowls to add beauty but also function to a bedroom. Don't forget to add visual interest to the bedroom walls with art, sconces, and curtains.
On my nightstand, this vintage brass tray groups a frame, vase, and a ring dish, while down below a rose medallion lidded bowl hides my nighttime lotions. I used fabric covered boxes and caddies to hold nightly reading materials and other accessories.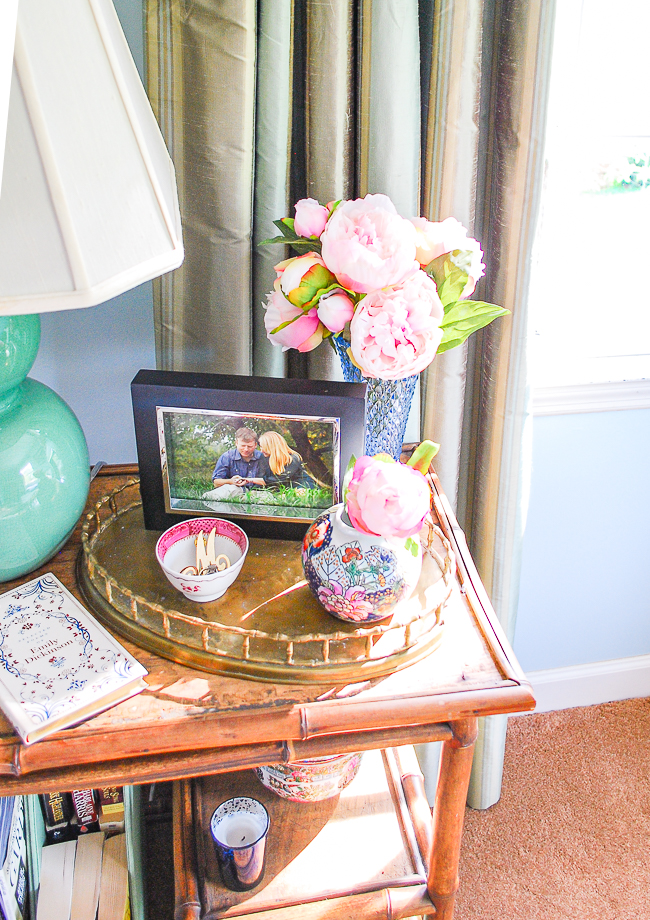 Can't quite get the look you want in your bedroom? Let me help you! My styling services are affordable. The first 30 minute consultation via phone is free. After which we can do a video call or site visit to get me acquainted with your space and style, starting at $50 an hour. I will recommend changes you can make to refresh your space and help you re-style your existing decor. Then I will pull together a mood board with complete shopping list to help guide your decorating!
Email me at penderandpeony@gmail.com to set up your consultation!
Happy decorating y'all!