Pretty Spring Sugar Cookies with Pastel Icing
Bake some pretty spring sugar cookies and decorate them with pastel icing and sprinkles for a sweet treat perfect for kiddos and adults alike!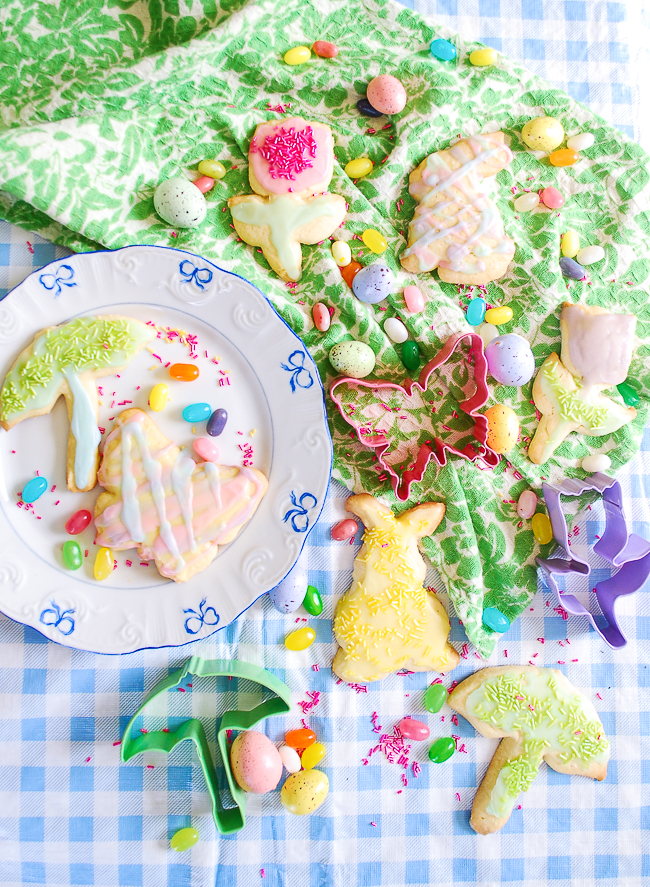 Admittedly, I am no baker! Don't get me wrong, I love to cook, but baking has just never been my thing…too many measurements and too many possible snags. In all honesty, I'm a bit intimated by baking.
But when my neighbor brought me some delicious sugar cookies with almond flavored icing at Valentine's Day, I was inspired to bake them for myself!
With Easter right around the corner and spring in the air, I just had to use adorable spring themed cookie cutters, and I found this sweet set with a butterfly, umbrella, tulip, and bunnies. After procuring the recipe from my sweet neighbor, I set about making these delicious sugary treats!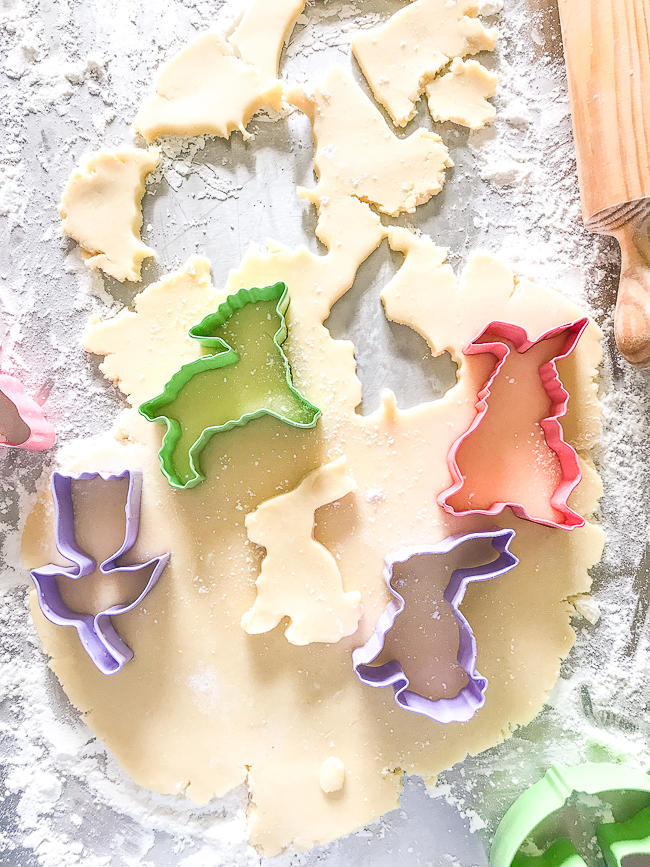 Recipe for Sugar Cookies
Ingredients:
Makes about 20-25 small to medium cookies
2/3 Cup of Butter
3/4 Cup of Sugar
1 Tsp. Vanilla
1 Egg
4 Tsp. Milk
2 Cups Flour
1 1/2 Tsp. Baking Powder
1/4 Tsp. Salt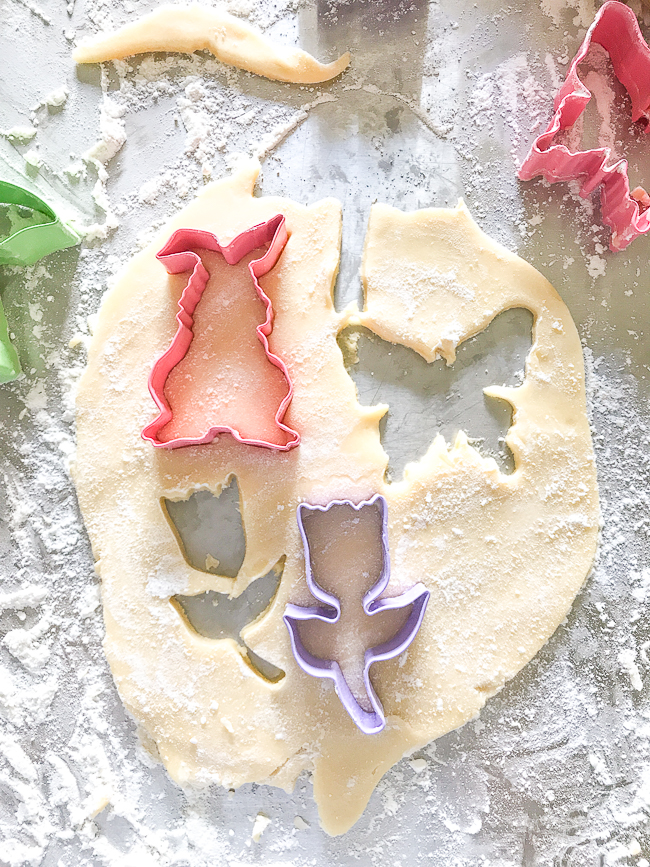 To Make:
Note – dough needs to be refrigerated overnight before baking and butter must be softened.
In mixer, cream together the butter, sugar, and vanilla. Then add egg and beat until fluffy. Next stir in milk. Sift together dry ingredients (flour, baking powder, and salt). Slowly blend into wet mixture until it forms a ball. Divide dough in half and wrap in plastic wrap, rolling into logs. Refrigerate overnight.
Next day – Pre-heat oven to 375 degrees. Clean and sanitize work surface then dust counter and rolling pin with flour. Roll out dough to an 1/8 inch thickness. Sprinkle flour on top of flattened dough and firmly push cookie cutters into surface. I found it necessary with some of the cutters to gently pull the narrow sections outward (stem of flower and bunny ears), so the dough released more easily.
Wiggle and pull up to release cutter from dough then firmly tap cutter on counter twice and begin to gently push cut cookie out of cutter. Place on baking sheet (I love the Calaphon cookie sheet – no greasing necessary!) and bake for 8 – 12 minutes until edges of cookie turn slightly brown.
Move cookies to cooling rack. Let cookies completely cool before decorating.
Shop the Post:
The pretty floral green tea towel is from April Cornell.
Recipe for Pastel Almond Icing
Ingredients:
Makes 3/4 Cup of Icing
1 Cup Confectioner's Sugar
2 Tbs. Water
1 1/2 Tsps. Almond Extract – If you don't like almond, you could use vanilla.
1 Drop of Food Coloring – red, green, blue, yellow
To Make:
Measure out confectioner's sugar in bowl. Pour in almond extract and water. Briskly stir together until sugar is "melted" and paste consistency is formed. You can add more sugar if you want the icing thicker or more water for a more liquid icing. Transfer icing to small dish and add one drop of food coloring. Blend well.
Repeat above process for each icing color, using the same bowl just clean spatula after blending color. For purple mix one drop of blue food coloring and half a drop of red.
Brush or drizzle icing over sugar cookies as desired and add sprinkles!
Decorating really is the best part. I didn't try to do anything fancy. There are lots of tutorials for that over on Pinterest. Instead I just loosely brushed on the icing and used sprinkles for most cookies. On some I had fun drizzling several colors of icing across the cookie for a swirl look. This is a great activity for kids too and these sugar cookies make a great addition to Easter baskets!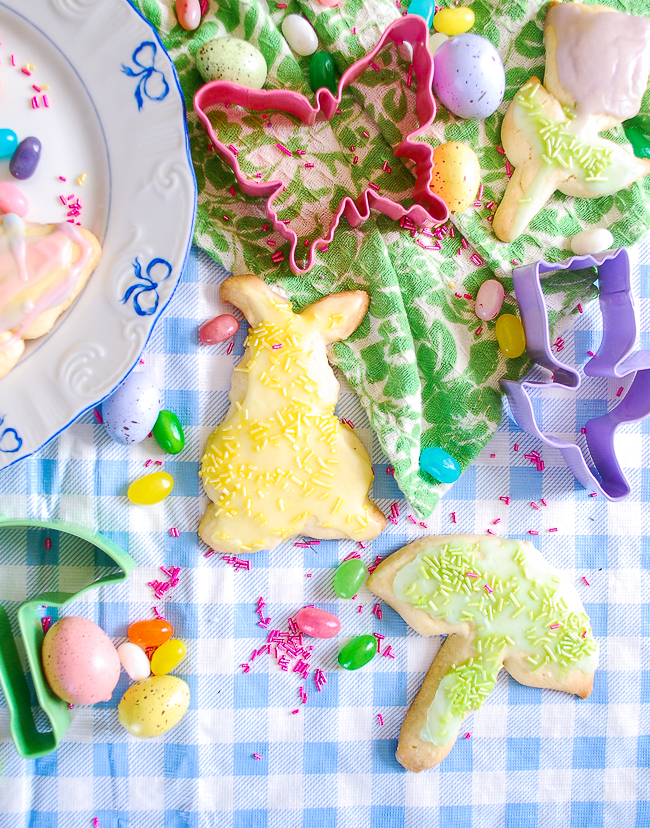 Happy Spring!