Blooming for Spring: A Colorful Southern Home Tour
A colorful Southern home tour with blooming florals, splashes of pink and green, and a bright, airy look perfect for spring. Come on over y'all!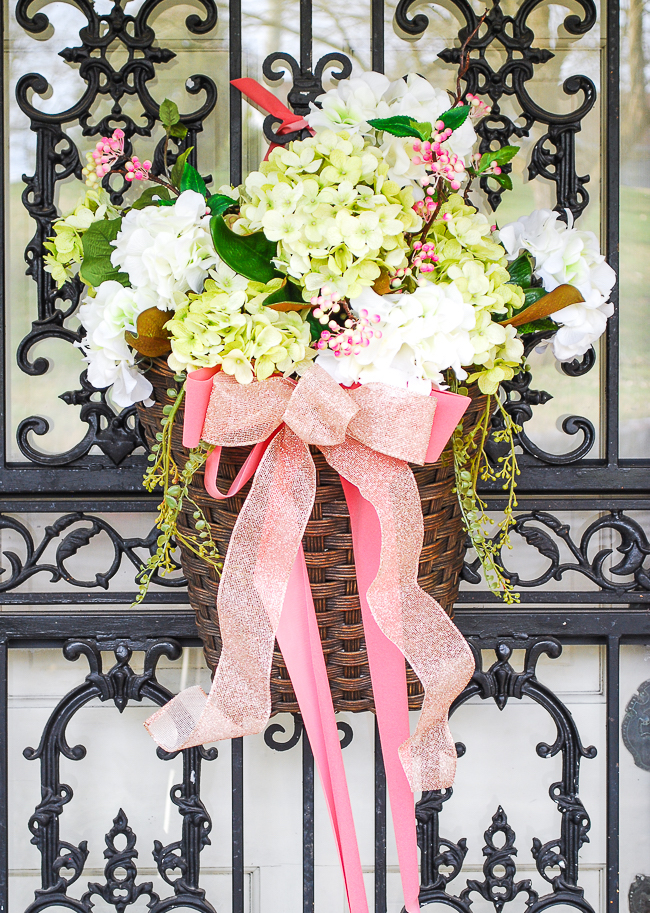 Happy Spring Lovelies!
I'm so pleased to welcome y'all into my colorful southern home tour as part of the spring blog hop for It's a Colorful Life! I've joined together with 15 other stylish blogging ladies to share our homes all decked for spring and offer you inspiration to decorate yours. If you are stopping in from The Heathered Nest, I just know you enjoyed her eclectic, happy home with those delightful kids' rooms. The rest of the ladies' tours are linked at the bottom.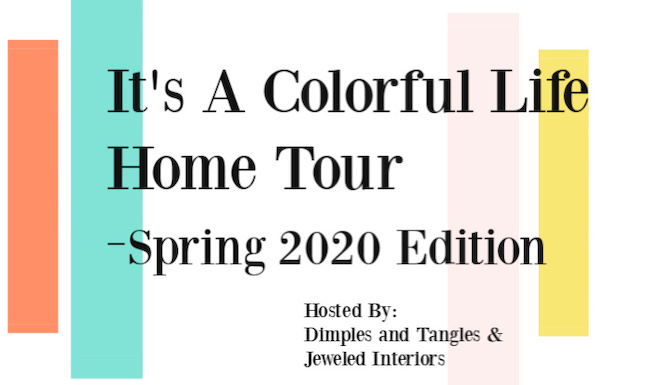 It is a scary and uncertain time right now with COVID-19, which is even more reason to make your house bright, welcoming, and special. To do just that I encourage you to decorate your spaces and welcome in spring with all the hope and renewal this season brings! After all, we need a good dose of hope right now.
A happily decorated home will bring joy and a sense of comfort like nothing else, especially with loads of blooming spring florals, splashes of pastels, and a bright, airy atmosphere.
That basically sums up my approach to spring decor:
Loads of Florals ~ Fresh & Faux
Pink & Green
Bright & Airy
Actually, not a bad combination any time of year.?
A Colorful Southern Home Tour for Spring
Signs of spring start at my front door with a flowering door basket filled to the brim with white and green hydrangeas and magnolia. Soft pink bows add just a subtle dash of color and a new door mat refreshes the entry after a dreary winter.
Although we aren't welcoming guests over due to social distancing and I'm not hugging on the spot currently, I have every faith we will be and the mat just makes me smile every time I see it, recalling all the friends and family we've welcomed inside!
A Spring Mantel with Staffordshire Flatbacks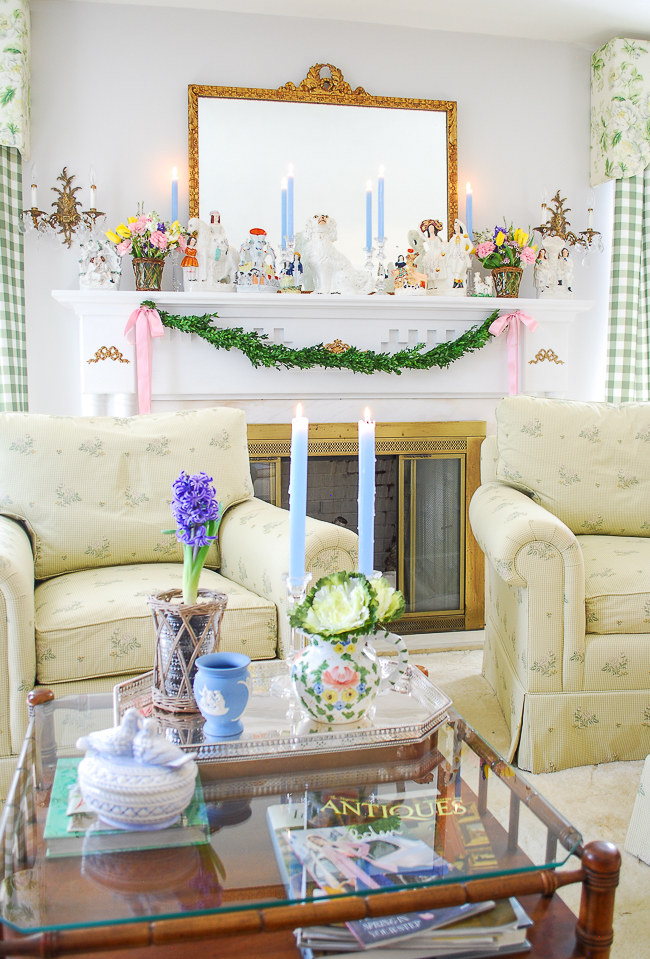 Just to the left off our entry is the formal living room. This space has loads of natural light and we use it as our sitting room and when entertaining guests. This space is very traditional with grandmillennial vibes. It is predominately decorated in greens and blues with pops of pink and yellow.
I love to decorate the mantel and fireplace in this room for the seasons and holidays. It has classic architecture and beautiful detailing like the bow moldings. I have been building my collection of Staffordshire flatbacks over the past several months and decided to showcase them here for spring.
Centered on the mantel is my large Staffordshire spaniel and flanking this fellow are spill vases, bocage groups, and pastoral scenes. I love the way Staffordshire figures resonate with the social history and popular culture of the 19th century. I love the whimsy, the color, and the stories. You can learn more about the spaniels in this post and Staffordshire figures in general here.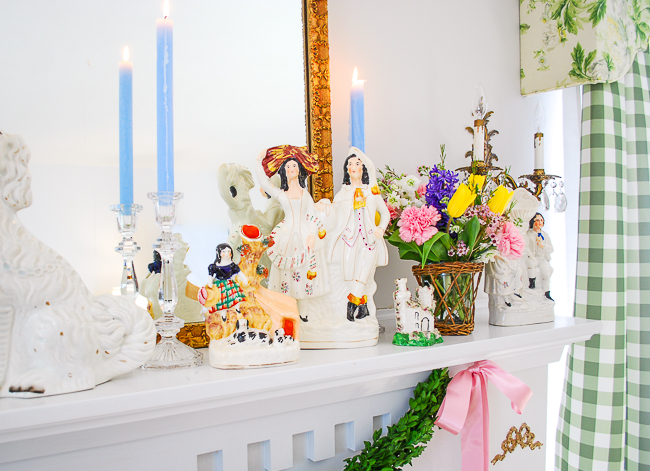 Staffordshire Figures For Sale:
Above are a few Staffordshire figures I'm looking at online via eBay and Etsy or figures similar to mine. I am not verifying authenticity, but these do look good based on photos and pricing.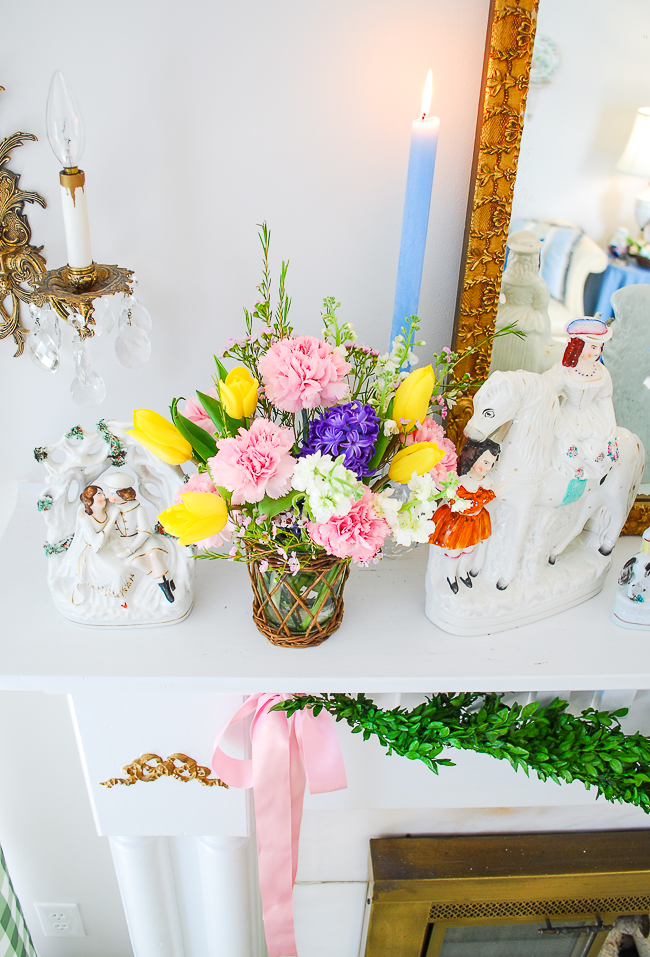 At the ends of the mantel, I placed a wicker wrapped vase with a bouquet of pretty spring flowers, including yellow tulips, pink carnations, and purple hyacinths. The florals add just the right touch for spring and can be refreshed every week or so with fresh florals or greenery. Across the mantel I stretched a boxwood garland I made with preserved boxwood and finished off the ends with a soft pink satin bow.
Overall my spring mantel is light, elegant, and cheerful!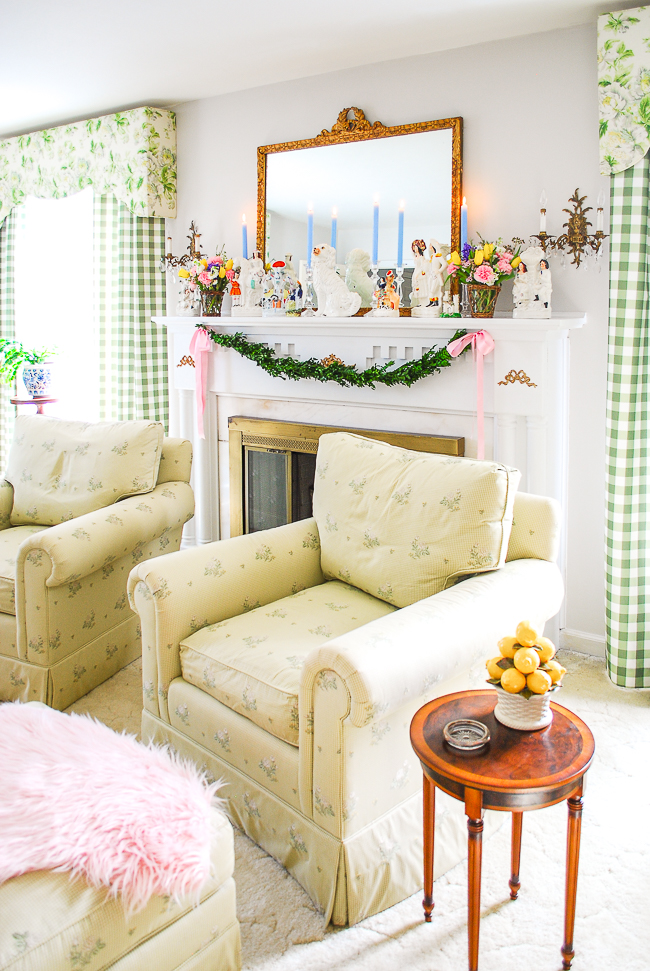 More Spring Touches in Our Living Room
Elsewhere in our formal living room, our vintage brass bar cart stands ready to mix my favorite spring cocktail — an easy spin on the French 75. I filled this Rose Medallion ginger jar with coral quince branches to echo the blooming trees outside, and my recently created Chinoiserie panel hangs above. See the tutorial for the DIY here.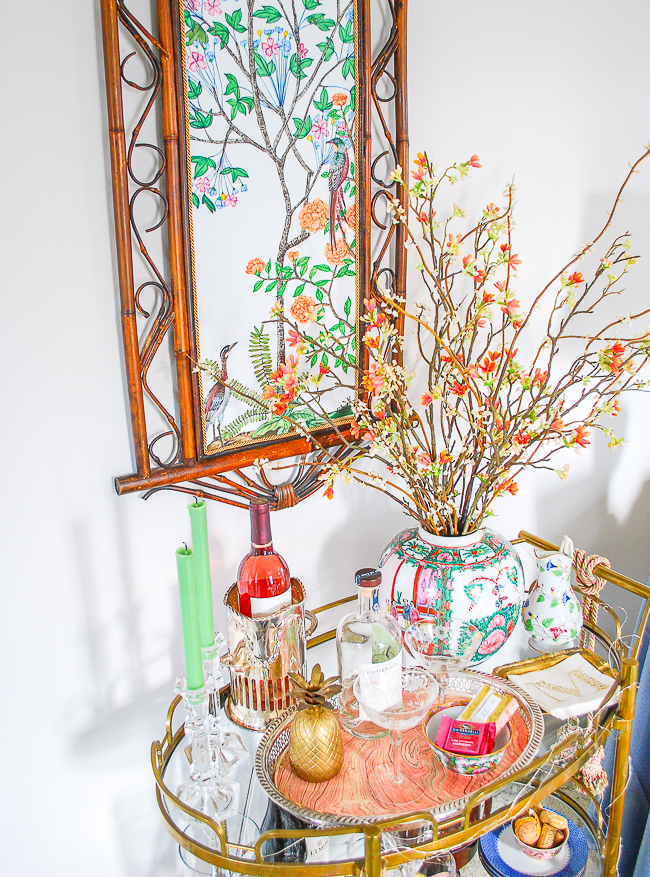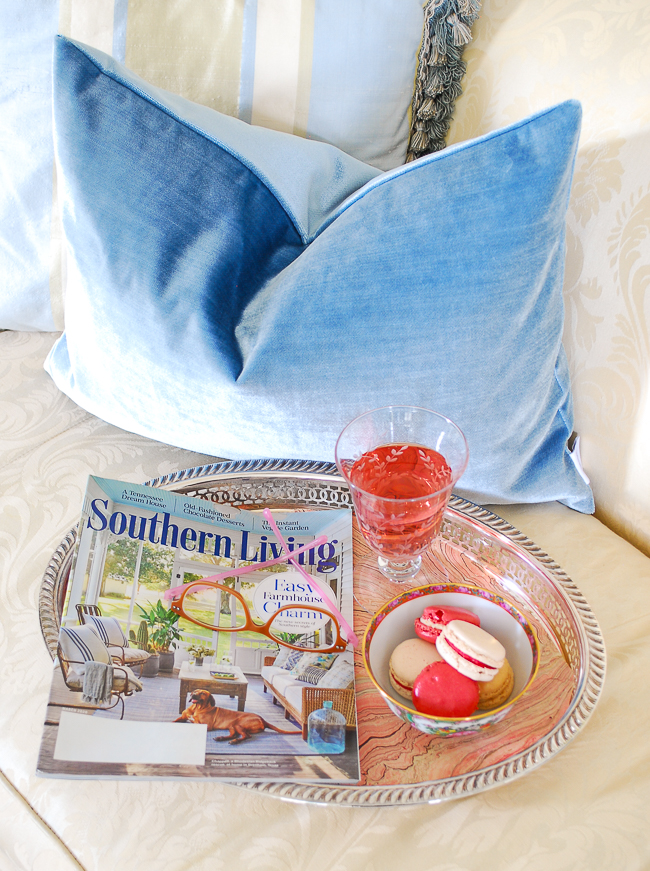 New blue velvet pillows add a fresh pop of color to our camel back federal sofa and…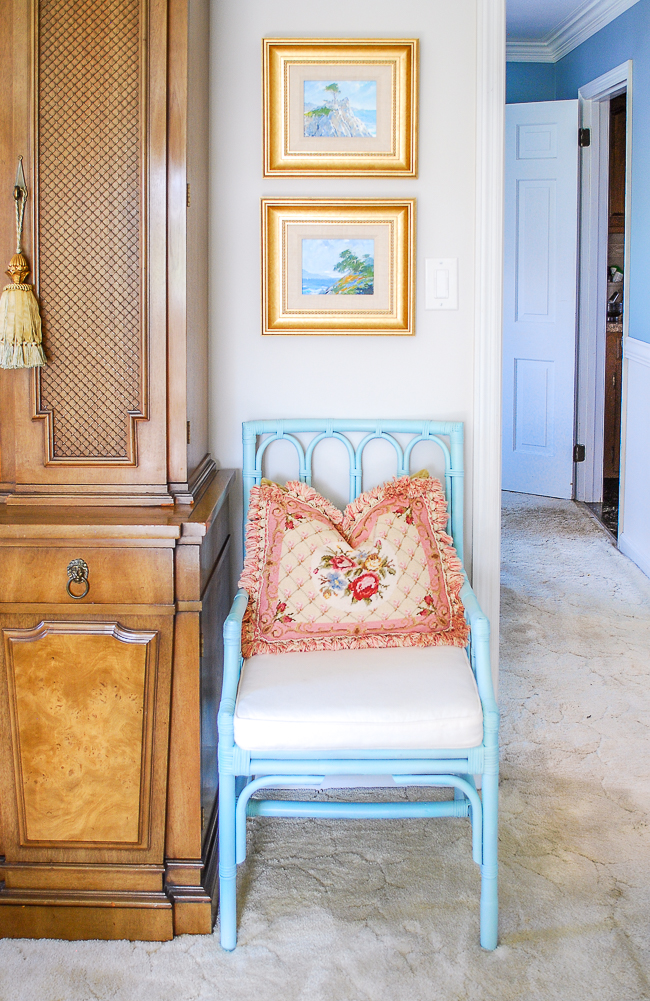 colorful landscapes brighten up this nook leading into our dining room.
Get the Look:
An Easter Tablescape
In the dining room we are ready for the Easter bunny!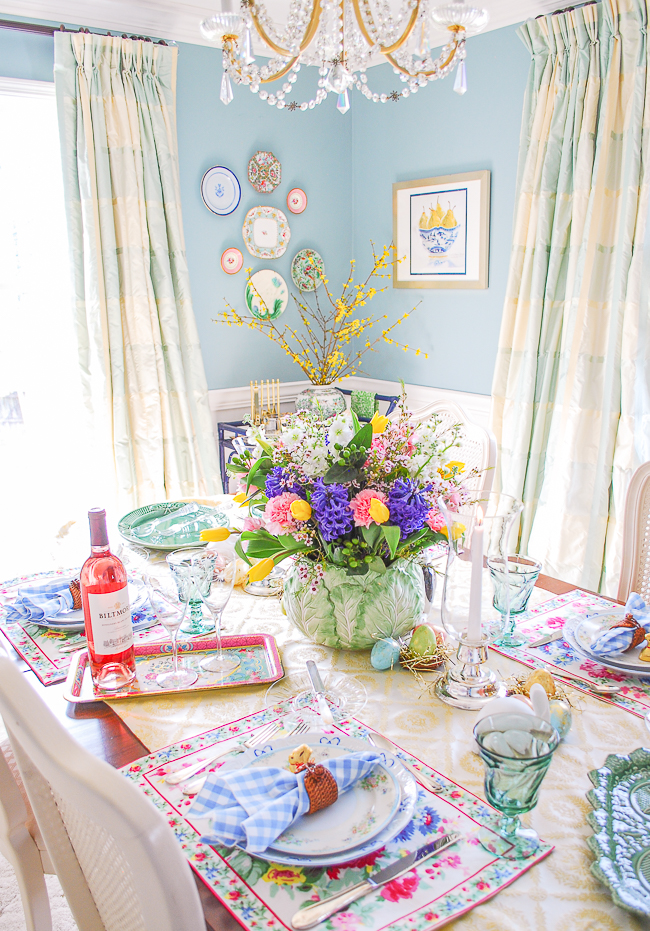 I set the table for Easter a few weeks ago to share inspiration with you all and to welcome S.'s parents for the weekend. It is a bright pastel table with loads of pattern mixing and whimsical spring motifs.
Visit this post for more pictures and details about the tablescape.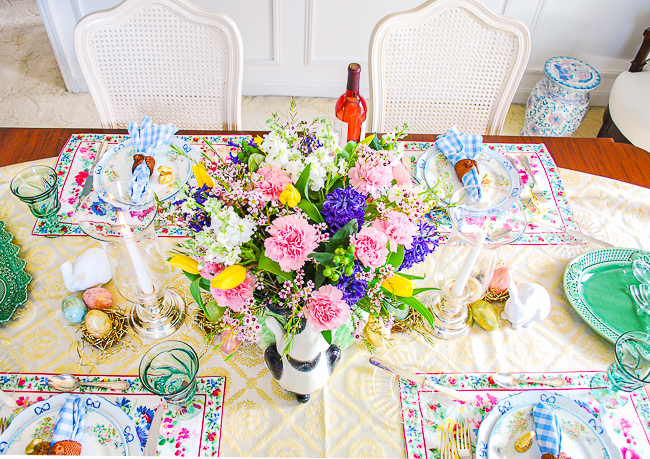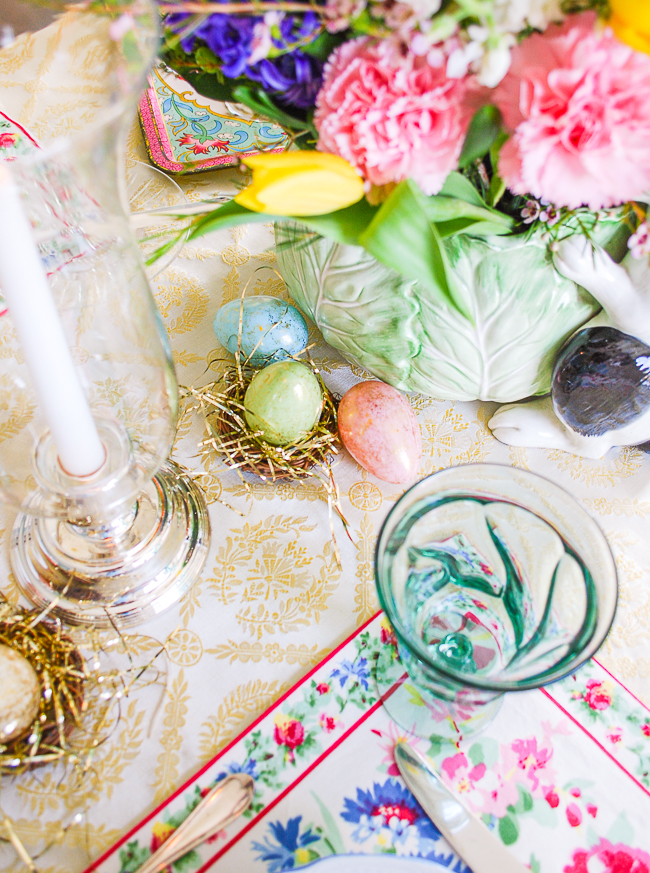 As you can see my decorations for spring are bright and airy, full of spring flowers, and liberal splashes of pink and green. I hope my colorful Southern home tour inspires you to refresh your own home for the season and offered a bit of happiness during these uncertain times. I know you'll find loads more inspiration on the blog hop.
Head on over to Jenna's maximalist home for colorful creativity and continue the tour. You can also visit the other bloggers' tours using the links below:
It's A Colorful Life Tour- Spring 2020
Monday:
Tuesday:
Wednesday: