A Fresh Traditional Easter Tablescape with Spring Flowers
Dress your Easter tablescape with spring flowers, bold pattern, and a riot of color to create a fresh traditional style that echos the hopeful promise of spring.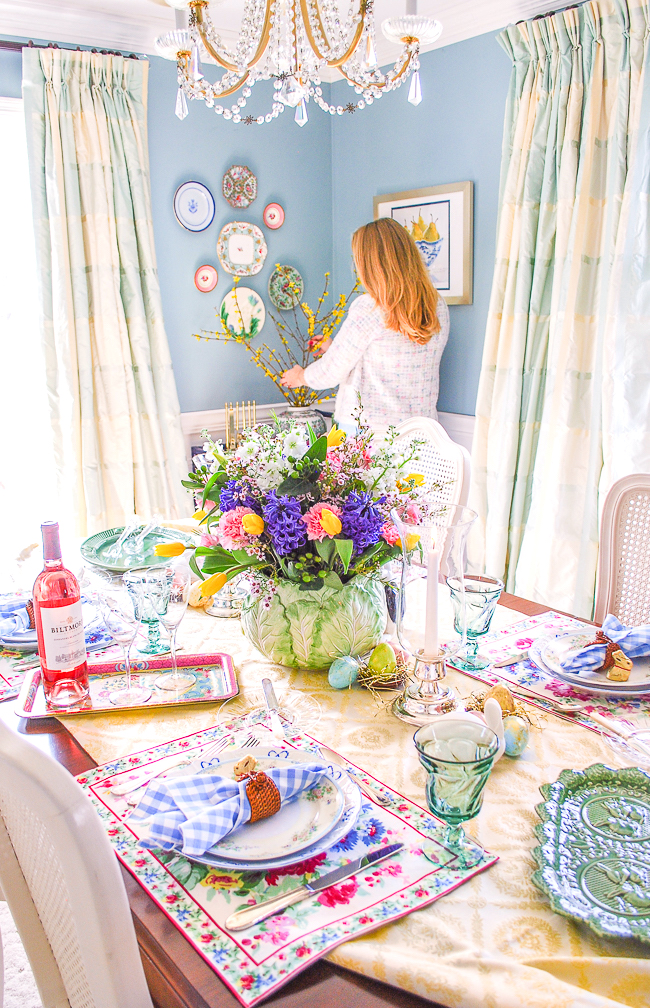 The great gift of Easter is hope. ~ Basil C. Hume
The sun pours in on a brand new spring – full of promise, new life, and His blessings. It is the season of renewal with the drabness of winter falling away to every sprouting bud, unfurling green leaf, and singing bird.
I watch for each sign of spring like a sailor seeking land and celebrate each little hint from the first pop of grape hyacinths to the singing of the spring peeper frogs with joy. It is glorious to be alive in this big old world and feel the light and warmth of His promise.
I always want my Easter tablescape to reflect this celebration, echoing the hopeful promise of spring. This year I embraced bold pattern mixing and a riot of spring blooms to achieve this resonance. The April Cornell cottage rose placemats and the flourishing florals in the Fitz & Floyd cabbage and bunny centerpiece are the stars of this Easter table.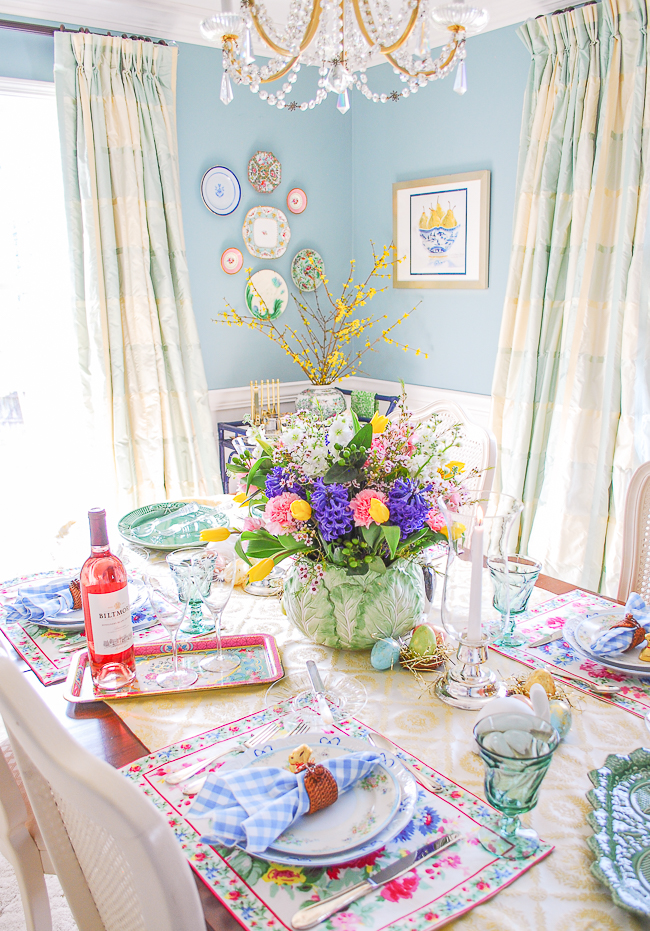 This post contains affiliate links to products I use and recommend.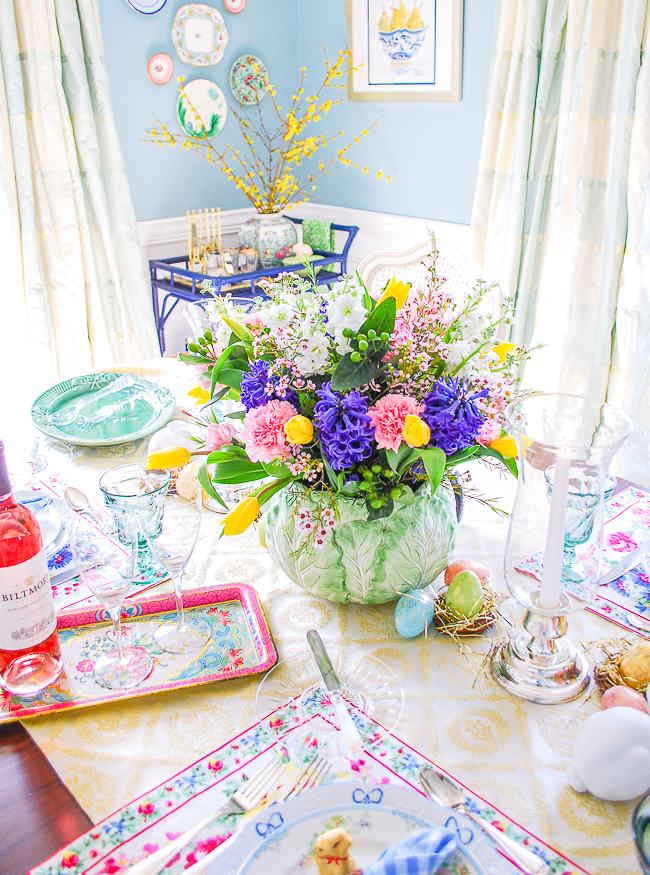 The Easter Tablescape Centerpiece
When I found this Fitz & Floyd cabbage ware bowl with peeping bunny hidden in the dusty shelves of a basement at an estate sale, I knew immediately I wanted to clean it up and fill it with a riot of spring blooms for my Easter table.
The black and white bunny is simply darling peeping up over the cabbage. This centerpiece will be available at my March 19th flash sale over on IG.
For the flowers, I chose bright pink carnations, happy yellow tulips, and deep purple hyacinths then complimented those with wax flower and white delphinium. I wanted a literal explosion of blooms that looked bright and cheery.
The hyacinths are bulbs instead of cut flowers, so I left those in a low plastic pot and used wet floral foam placed around the stalks to position the other cut flowers. This is a great solution to create a longer lasting centerpiece because the hyacinths will last a couple of weeks, and the other flowers can be replaced as needed.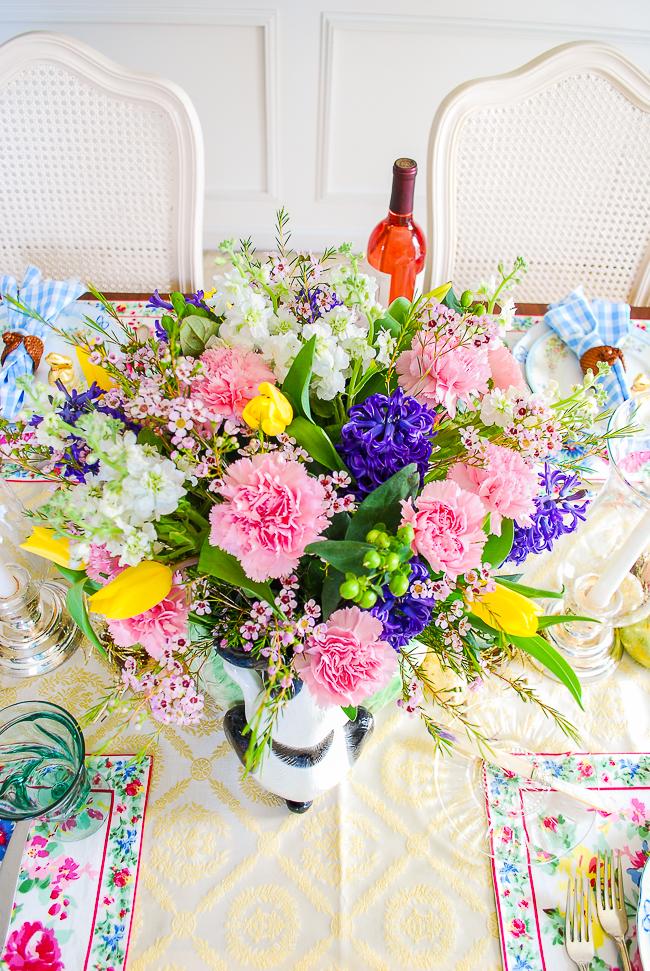 Easter Tablescape Linens
My other favorite part of this tablescape are the patterned linens. Overall the table decor is very traditional, but the bold pattern mixing adds that modern twist to make the Easter decor fresh.
I started by layering this beautiful woven yellow and white fabric. It has a very neoclassical feel with the medallions and trellis leaf pattern, but it is subtle and soft in coloring. It was a thrift find.
Then I choose these cottage rose placemats courtesy of April Cornell for the next linen layer. They have a classic chintz feel, which I adore as a grandmillennial, while the bright color mix with white background make the placemats more contemporary. They are absolutely perfect for spring!
You must check out all of April Cornell's Easter and spring linens. They are so well made and in such charming patterns I know you'll find something you love. If you've been following me a while, you know I also adore her feminine dresses too.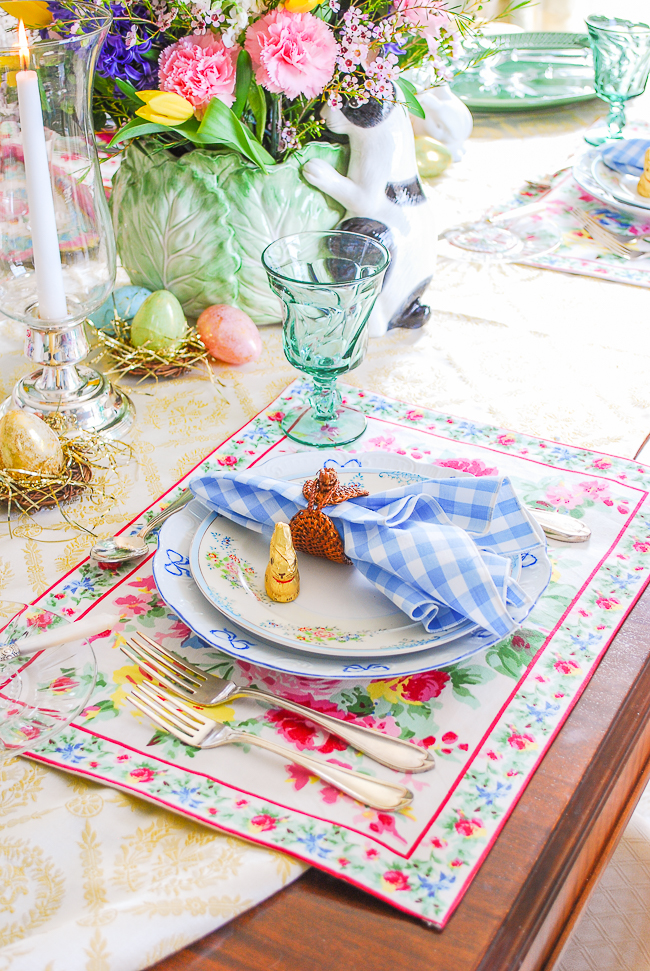 Finally, the table linens are completed with a third pattern – the blue and white gingham napkins. I have to thank my Instagram community for encouraging me to use this third pattern, since at first I felt it might be too much. Now looking over the photos, it was the right choice!
The Easter Tableware
Setting the table with vintage and antique china, serving pieces, flatware, and glasses always makes a holiday tablescape more interesting and special in my opinion. This table is layered with a feminine china stack, featuring Vista Alegre blue Ruban plates and an Asian floral salad plate. Then starburst glass bread and butter plates and green Jamestown Fostoria glassware finish off the place setting.
Bordallo Pinheiro bunny platters for serving add that extra whimsical element to the Easter table.
Available at the March 19th sale: Asian floral salad plates, Bordallo Pinheiro platers, glass b&b plates, Fostoria glassware.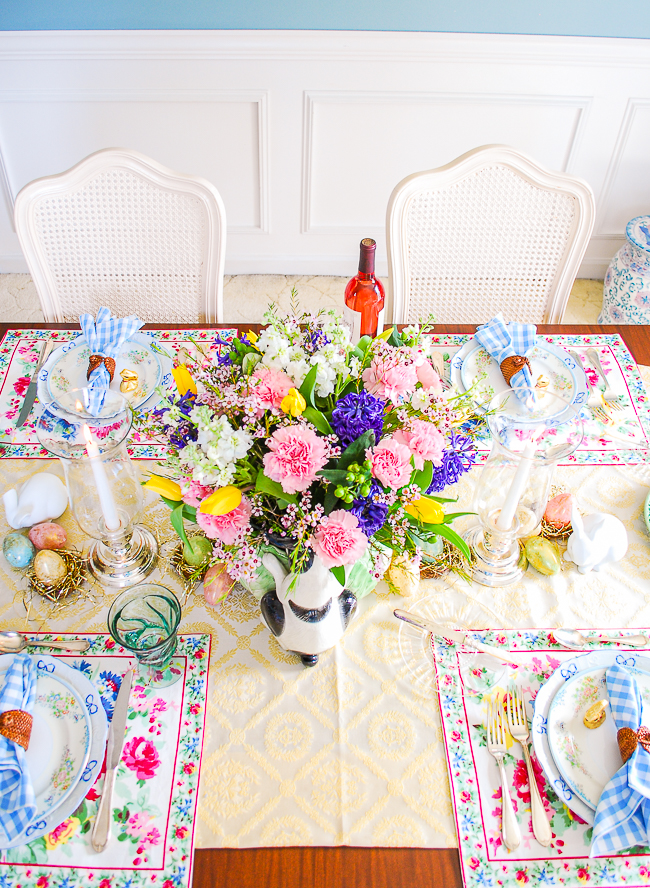 Other fun whimsical elements include the Lindt chocolate bunnies at each place setting and a scattering of pastel Easter eggs in mini willow wreaths with gold grass down the center.
This Easter table is cheerful, bright, and above all hopeful with the promise of spring and the joy that is Easter. I hope it inspires you to decorate your own beautiful table this spring and embrace the celebration!
Happy Easter Friends!