DIY Chinoiserie Panel with Thrifted Bamboo Frame
Create a chic DIY Chinoiserie panel for under $29 with a thrifted bamboo frame.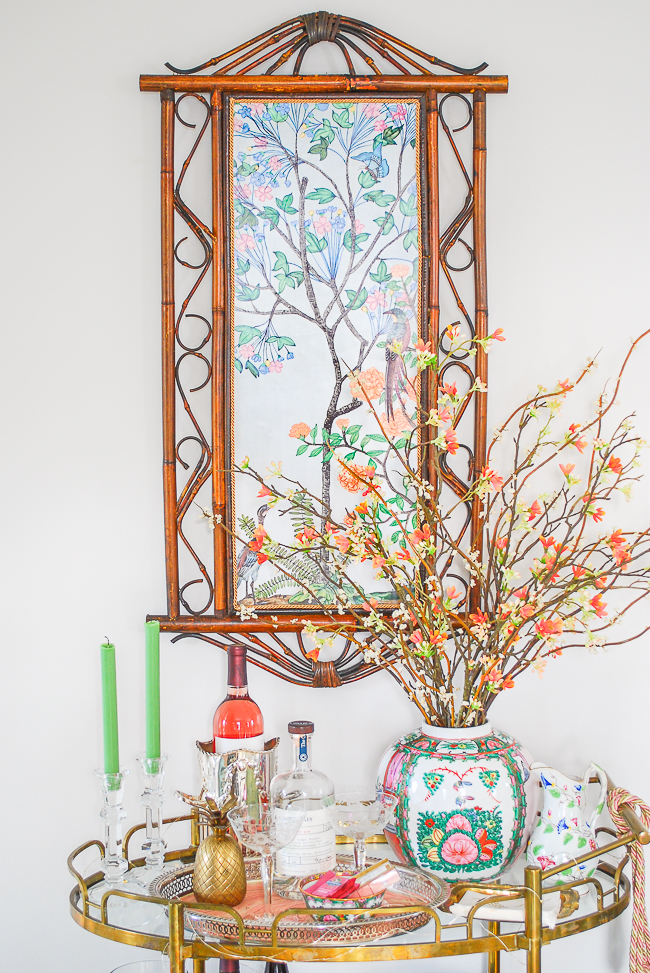 Welcome peonies and thanks for stopping in to see this charming DIY project I tackled over the weekend.
I adore the whimsy, color, and ode to nature Chinoiserie scenic papers give to a room. The fanciful birds and vibrant colored blooms speak to me!
All my fans of Chinoiserie and grandmillennial style will know just how desirable Chinoiserie wallpaper panels are and just how pricey. The crème de la crème of hand painted papers are of course de Gournay and Gracie Studios. Those exquisite panels are truly works of art and cost upwards of several thousand dollars, depending on how large a mural you pick.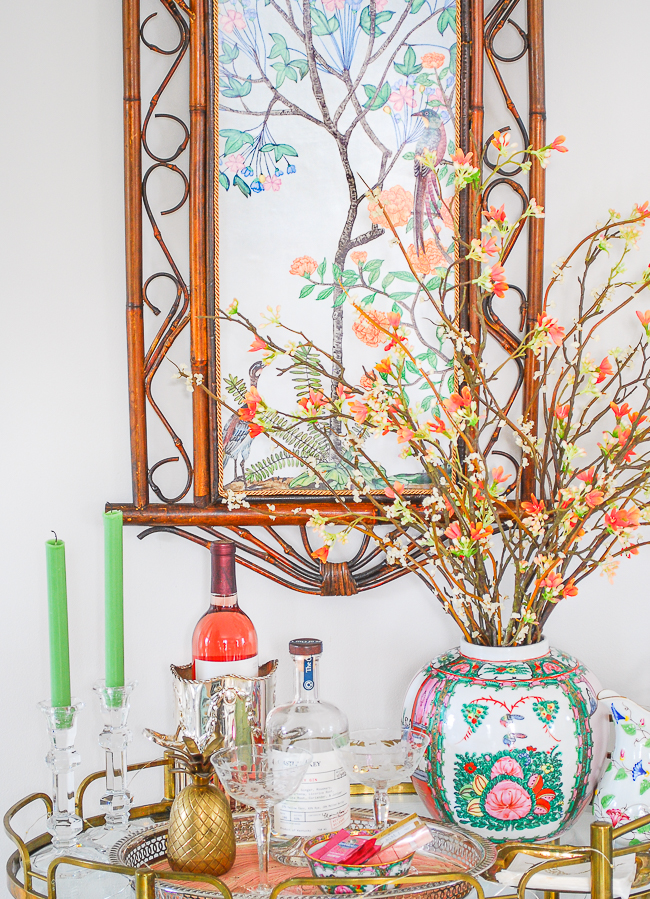 I have been itching to add more Chinoiserie accents to our formal living room, and decided a Chinoiserie panel over our Hollywood Regency style brass bar cart would be just the ticket. With my tiny wee budget, the above artisan works were just out of the question, so I landed on creating my own DIY Chinoiserie panel instead.
I'm quite pleased with how it turned out and excited to share the tutorial with you!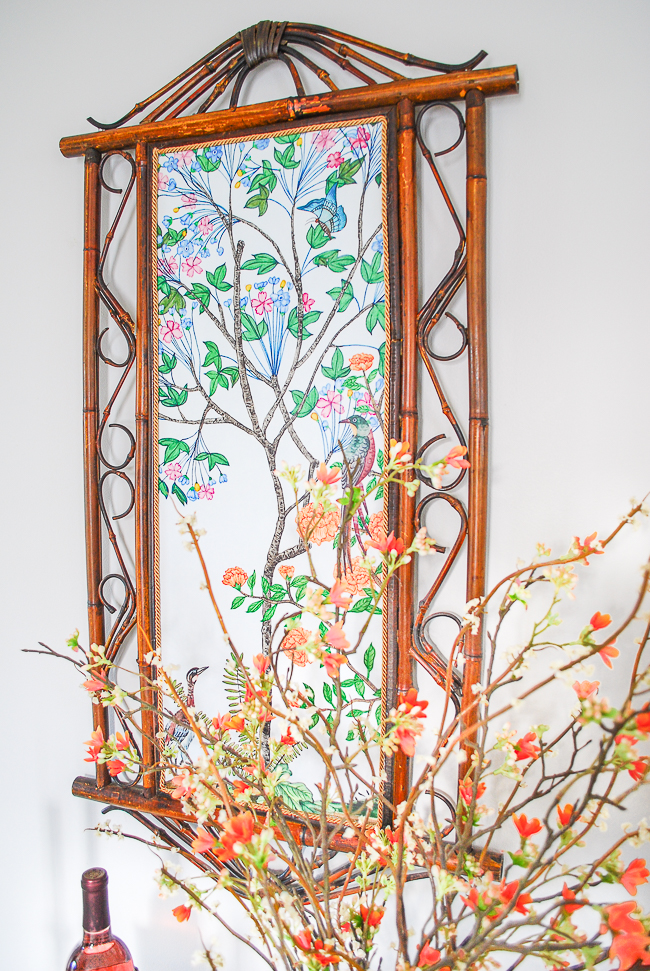 Panel Materials:
I bought this Chinoiserie printed panel on Amazon for only $19.99 several months ago. At the time I was not entirely sure how I was going to mount it, so I simply stored it for a while pondering what to do. Then low and behold I manifested this chic bamboo pagoda frame at a thrift store in town. At $10, I snapped it right up and new immediately I had found my frame for the Chinoiserie paper.
I'm sure you are thinking: "Well that's great Katherine, but just how am I going to find one of those too?" Keep on the lookout and think about form over function. I now realize I've seen tons of these bamboo, rattan, or wicker style frames but with mirrors in them at thrifts. I passed them by because I didn't need another mirror, and I was ignoring how great of a form it is.
How simple it would be to change the glass for a backing board and voila you've got a similar frame for your Chinoiserie wallpaper?
You could also buy bamboo frames like this simple gold one, if you are just not up for the thrifting adventure.
Other affordable Chinoiserie wallpapers that would work great for this type of DIY are this colorful detailed depiction from Lo Home, this vibrant bird paper, and this flowering peony trellis.
Other materials needed: Mod Podge, a brush, hot glue gun and glue, painter's tape, twisted cording, a straight razor or box cutter, and a smoothing tool.
DIY Chinoiserie Panel Tutorial
Step No. 1 – Layout your Chinoiserie paper to flatten it (this could take a few days depending on how tightly rolled it was). Clean up your frame, wiping away cobwebs and dust if you thrifted it like I did.
Step No. 2 – Use painter's tape to tape one edge of the paper down to frame. Just barely catch the edge of the paper, and if yours is matte you may not want to do this since it may pull or tear the paper. Then flip the paper over away from the flat surface.
Step No. 3 – With a brush begin applying a thin layer of Mod Podge in about a two or three inch strip along the paper's fold over. Smooth the paper down over the applied glue and continue working vertically across bamboo frame to lay down Chinoiserie paper.
Step No. 4 – Using the side of your palm, smooth the paper applied over the glue working towards one side. Come back with a smoothing tool to make sure all air bubbles are worked out. Use gentles sweeping motions. Don't press hard or dig in with edge. I made do with a cooking spatula because I couldn't locate our tool. Haha…
My Chinoiserie paper was too wide for the bamboo frame, so I used the spatula to crease the side I decided to trim. Run the spatula or straight edge down this side several times to really work the edge in and make sure it is glued down. Let it set up for a few minutes.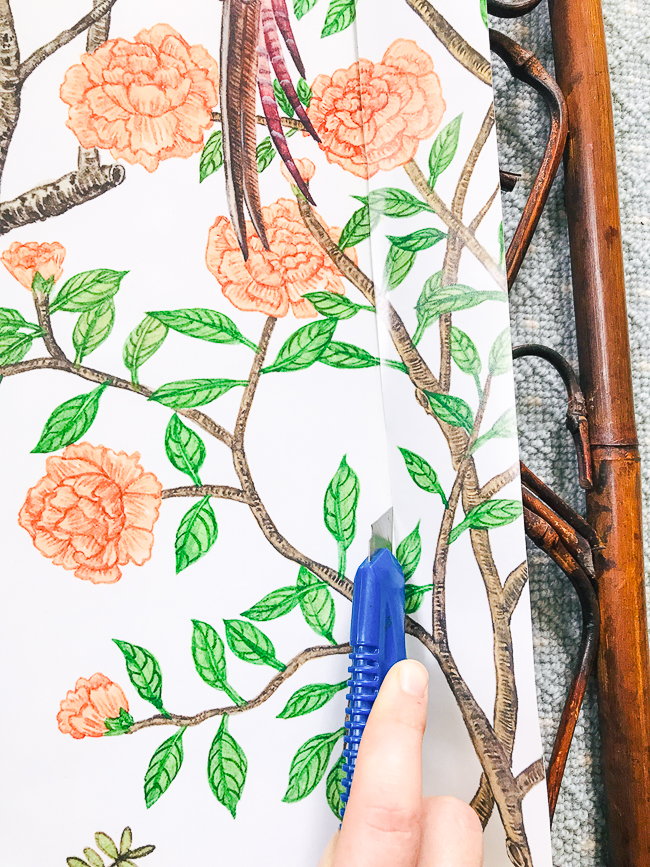 Step No. 5 – Use a straight razor or sharp box cutter to trim off excess paper.
Step No. 6 – After my paper was laid down on the bamboo frame and completely dry, I choose to finish the edges with a twisted cording. This helped hide the top and bottom because the paper just wasn't long enough, and it hides any nicks I made trimming the side.
Step No. 7 – Hot glue the cording down along edges of paper working in about 3 inch sections. Start in one corner and work across, down, over, and up, turning the corners with the cording. Finish in the corner you started with, and wipe off any stray glue strings.
Hang on desired wall and enjoy!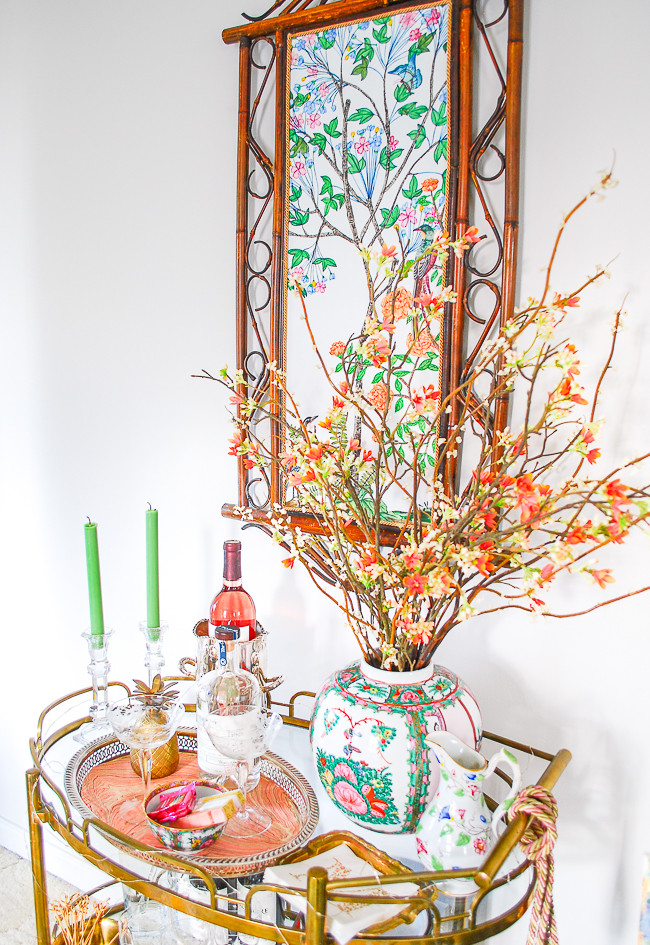 I hope my DIY Chinoiserie panel inspired you to create your own or tackle a decor project you've been putting off that will save you some money! Let me know if you have questions about this DIY. You can find more on decorating in the Chinoiserie style here.