8 Essentials for Grandmillennial Decor – Splurge vs. Save
Happy colors, chintz, and needlepoint are just a few of the 8 essentials for grandmillennial decor; learn the rest in this blog post and find budget friendly options!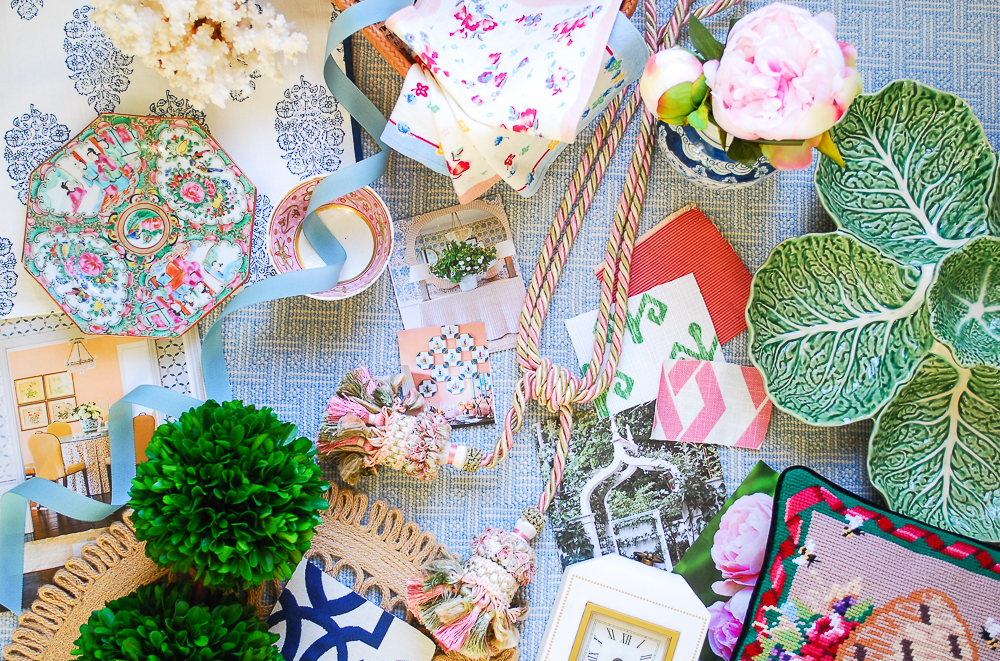 There is a growing club of decoristas who are rejecting the homogenized gray neutrality of minimalism and instead relishing in granny chic, neo traditional, and what some phrase as "modern meets traditional." In other words, this club loves color, pattern, antiques, and that little extra embellishment.
I am so here for all of that!
Thanks to Emma Bazilian and House Beautiful as of September of 2019 we now have an official denomination – Grandmillennial!
I must say, it feels pretty good having an officially titled style! And despite the name older generations are fully in support too!
The interiors of grandmillennial style are discriminating but lived in; romantic but bold; and classic but fun. Basically, this style takes the traditional motifs and lines but uses them in fresh ways with updated colors, streamlined furniture, preppy classics, and whimsical playfulness! Moreover it looks to the designs of Sibyl Colefax, Albert Hadley, Sister Parish, and Nancy Lancaster.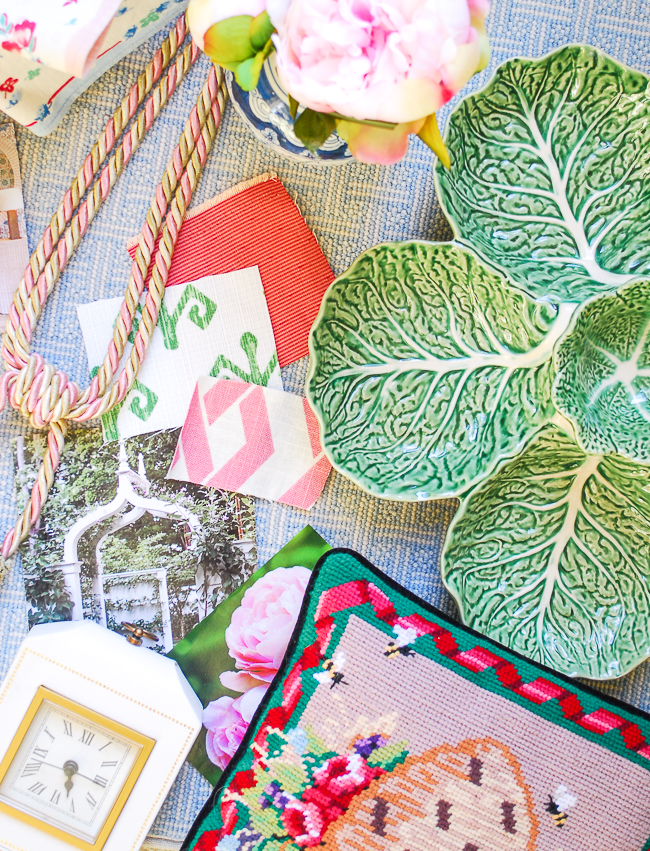 Quite frankly, you know whether you are grandmillennial or not.
Personally, I'm ready to sign on the dotted line!
It is a decor style and aesthetic with very definitive tastes. But decorating in this style takes time. It takes building a collection and acquiring special trinkets and mementos from travels, family, and the good old fashioned thrift hunt.
Not to mention many of the brands favored by the grandmillennial are costly! If you've ever priced D. Porthault linens you understand!
But there are 8 essentials for grandmillennial decor you can incorporate in your space right now to get the look! There is budget friendly grandmillennial decor you can save money on, while other pieces you should look at as a quality investment.
8 Essentials for Grandmillennial Decor
Save vs. Splurge Options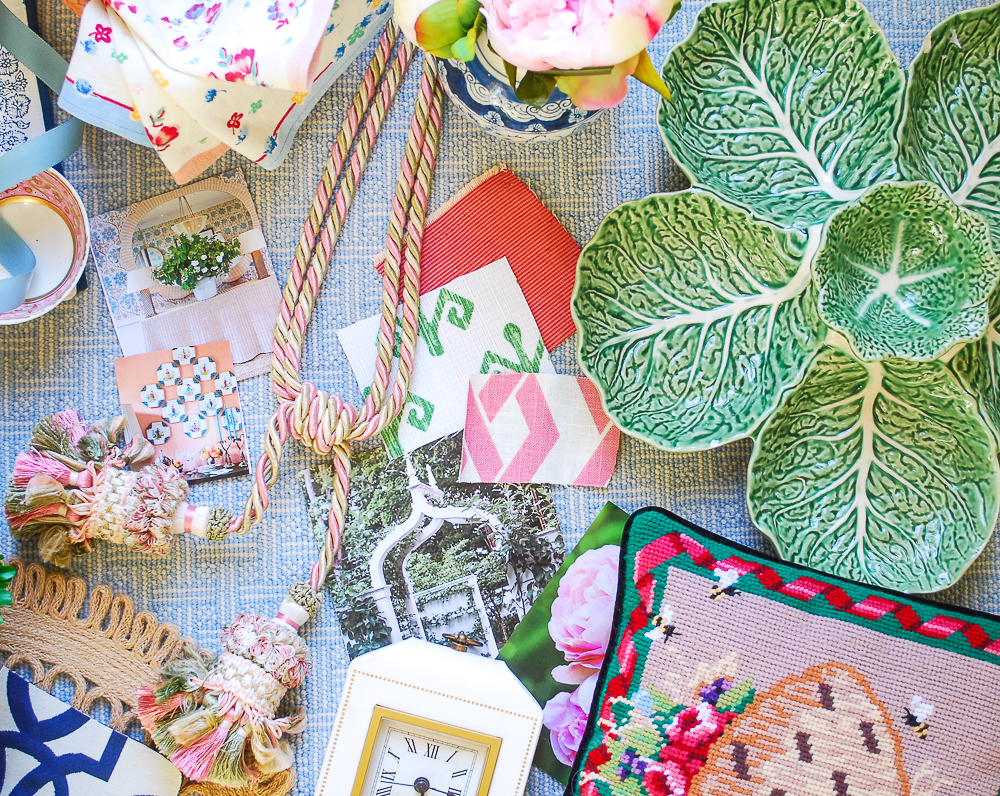 No. 1 Chinoiserie Ceramics
Grandmillennials are in full support of Chinoiserie, especially ceramics. From blue and white ginger jars to plate walls made with Rose Medallion and foo dog figurines to tobacco leaf bowls overflowing with peonies, you'll find Chinoiserie ceramics on prominent display in the grandmillennial interior.
These pieces of porcelain and earthenware interject bold pattern and color into these spaces not to mention a dash of whimsy with the fanciful figural scenes and lively creatures.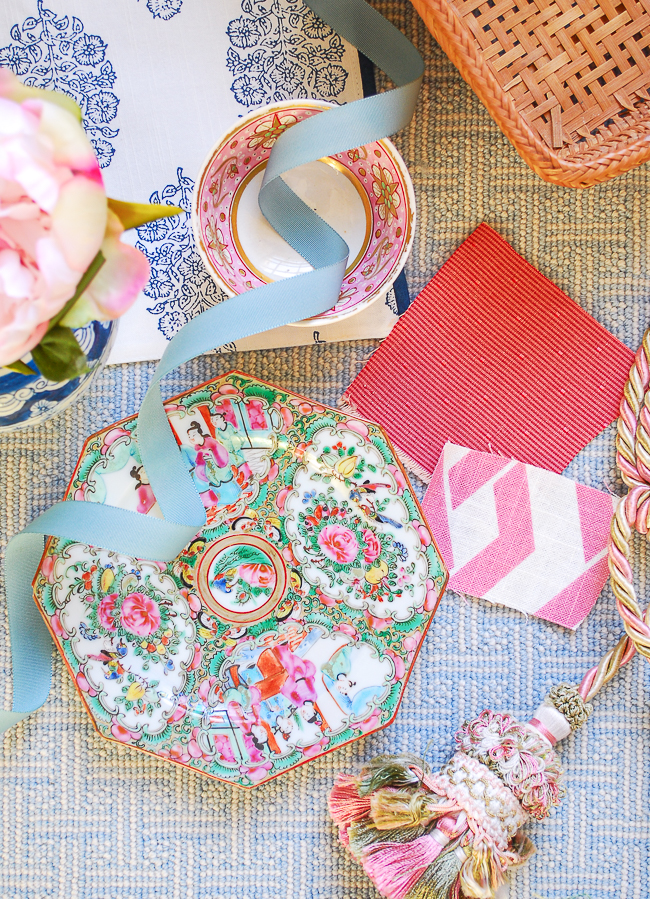 When you are shopping for Chinoiserie ceramics expect to pay more ($200 and up) for true antiques. 20th century versions or reproductions and contemporary Chinese ceramics should command prices any where from $25 – $150. Rose Medallion is one that has many iterations with prices varying due to age, form, and where it is made (Japanese Rose Medallion is not as highly valued). More to come on collecting Rose Medallion in a separate post, and for general info on Chinoiserie ceramics read this!
Save on Chinoiserie Ceramics
Forgo the high price of an antique ginger jar lamp for this contemporary version, and ditto for large planters for house plants! This is a very pretty rose medallion reproduction.
Versus
Splurge on Chinoiserie Ceramics
Tobacco leaf, no matter the manufacturer, is in high demand. Expect to pay more for it, and I think this vase is worth it!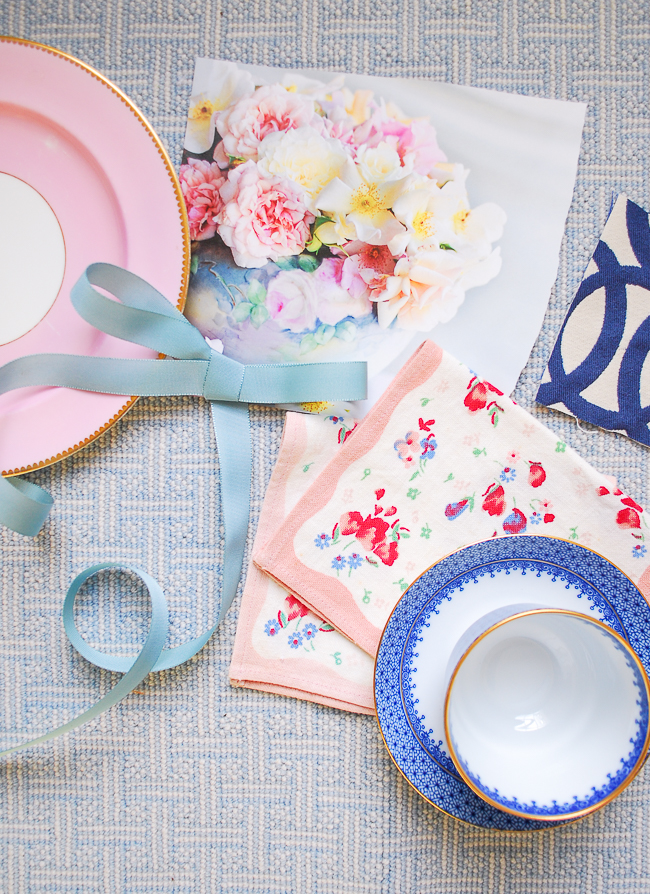 No. 2 Chintz
Give me all the florals! Chintz originally referred to a glazed calico often printed with big florals, but in the 1960s – 1980s with the designs of Jackie Kennedy, Dorothy Draper, and Mario Buatta chintz because synonymous with bouquets and trailing sprays of roses, tulips, hydrangea, and peonies, etc.
Chintz adds a romantic, feminine note to an interior. In a bright multi-colored pattern it can make a major statement. For that updated grandmillennial approach to chintz look for bright colors in a motif that isn't too kitschy like these pretty curtains from Anthropologie or a detailed monochromatic print like this bedding from Laura Ashley.
Read more about the history of chintz here.
You'll most often find chintz on fabrics, but look for other decorative accessories to use this floral powerhouse on like lamps and china for that unexpected pop. For this essential grandmillennial decor, only splurge on patterns you really love in high quality fabrics that you see yourself using for 5 to 10 years.
I'm seriously considering these blue and white pillows in the pyne pattern because I've been ogling them for two years now!
Save on Chintz
Versus
Splurge on Chintz
No. 2 Needlepoint
Needlepoint is one of the hallmarks of grandmillennial decor and one of the catalysts according to House Beautiful. And indeed this craft is enjoying new found life as a hobby and collector's item among the preppy and granny chic lovers. Currently the most popular brand is Lycette Designs whose cheeky sayings and revival of classic motifs is très chic.
Needlepoint is a form of counted thread embroidery in which yarn is stitched through a stiff open weave canvas to produce a design or saying. I love needlepoint pillows with cheeky quotes. There is just something so witty about the juxtaposition of a traditional, feminine craft with "ducking autocorrect" stitched on it! LOL!?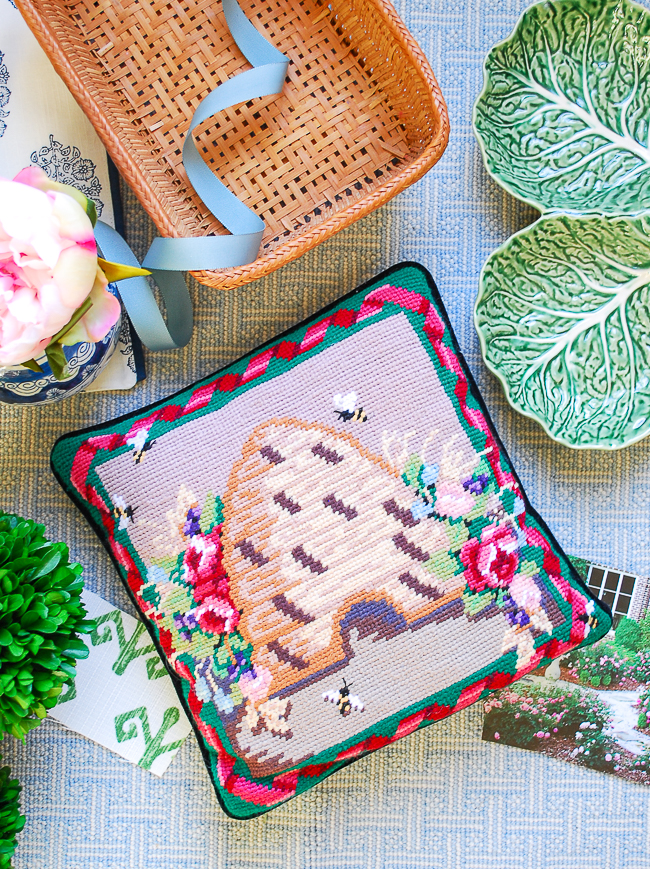 Vintage needlepoint pillows are readily available on the second hand market. At thrifts and estate sales expect to pay $5-$20 depending on the size and popularity of the motif. Be sure to examine the canvas for worn places, moth holes, and stains. Also check the pillow insert, which may need replacing.
Save on Needlepoint
Versus
Splurge on Needlepoint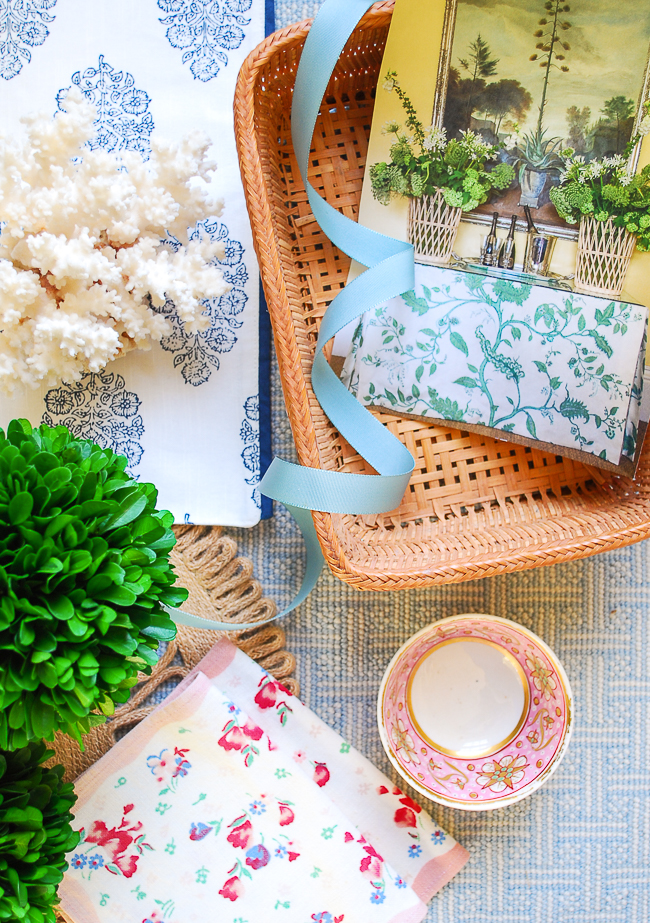 No. 4 Wicker
Another classic enjoying a bit of a revival that is definitely an essential of grandmillennial decor is wicker. As a material it has such versatility that you can find it in a variety of furnishings and accessories from chairs and shelves to trays and baskets.
Wicker brings great texture to a space as well as that natural element which provides some grounding to the room, especially when left in a light wood stain. I love the more whimsical forms like this kangaroo basket or the scalloped front wicker console.
Wicker is also widely available at thrifts and estate sales. Watch for broken or damaged weft branches and warp branches, especially where integral to structure of the piece. Splurge on wicker furniture that will be used frequently and take more wear and tear or elaborately woven pieces with scroll work.
Save on Wicker
Versus
Splurge on Wicker
No. 5 Boxwood
Green is a neutral and what better way to interject this vibrant color into a room than by bringing in nature with boxwood! It adds that living element to a space even if you don't have a green thumb or want to deal with house plants. You will find this natural element all over grandmillennial interiors.
These days very realistic faux boxwood is available, but preserved boxwood is even better. Find it in wreaths and topiaries that you can use on mantels, consoles, and coffee tables. I have two preserved boxwood double ball topiaries that I have literally styled on everything from my mantel to Easter tablescapes!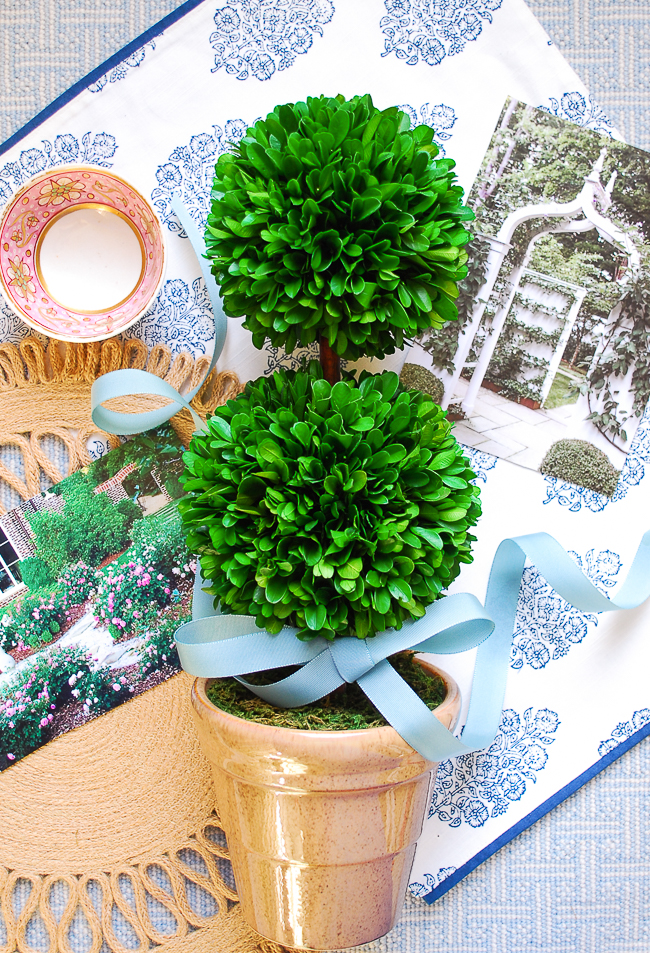 I recommend splurging on preserved boxwood versus faux, but you can find good prices on both. Also consider the container the topiary comes in. You might consider paying more if it is an antique cachepot or very stylish one that fits with your decor.
Save on Boxwood
Versus
Splurge on Boxwood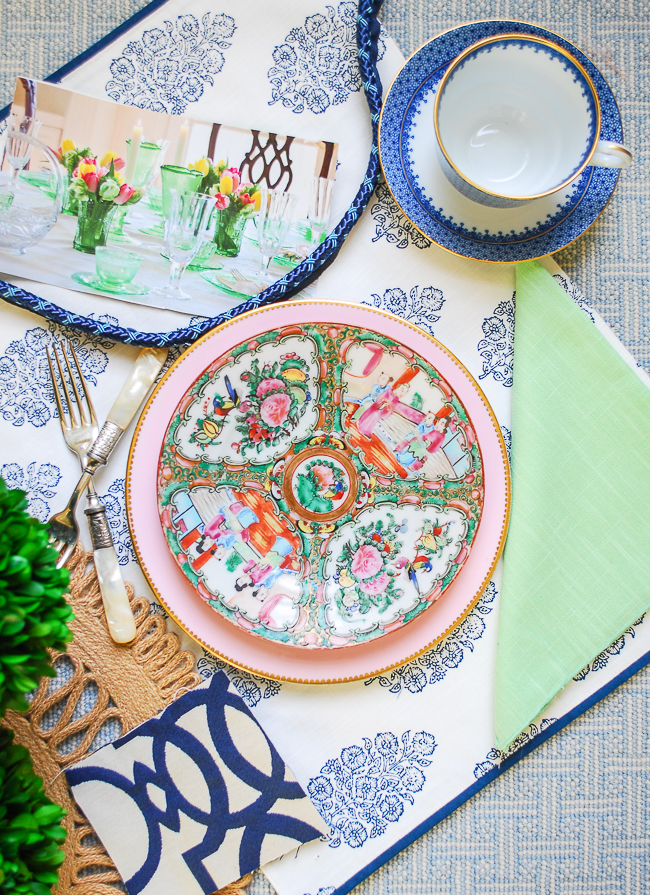 No. 6 Block Print Fabrics
Grandmillennial decor features block print fabrics. They give that chic boho vibe to a room, but when paired with clean classic lines and traditional materials the interior looks updated and fresh not jungalow. Block printing fabric is an age old, simple yet time consuming technique – read about it here. Many fabrics you see today are screen prints imitating block printing.
The simplistic color palettes and floral motifs look good with a variety of patterns and fabrics. There is something magical about the mix when the right chintz and block print come together!
I would splurge on authentic Indian block print fabric in accessories and tableware you will use a long time or repeatedly.
Save on Block Prints
Versus
Splurge on Block Prints
No. 7 Happy Colors
We grandmillennials favor crisp, bright colors with plenty of white thrown in. For me it is bright pastels like deep blush, spring green, and french blue. I love the happy vibe these colors give a space.
It is important to balance out these colors with dark contrasts and neutrals hence why the natural wicker works so well. But also mahogany. faded blacks, tan leathers, and leopard print are good balances that you'll see regularly in the grandmillennial space.
Art is a great way to interject these colors into a space, and I'm adoring this lemon still life.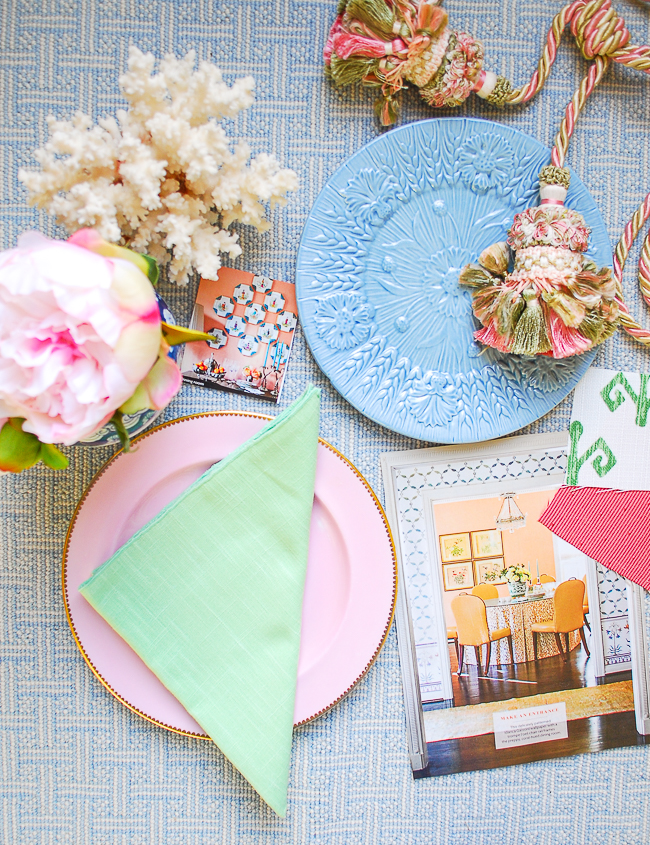 Use these bright happy colors on decorative accessories that can be changed more easily and less on major furnishings or expensive rugs. One of my favorite brightly colored accessories for styling (and of course reading) are the Canterbury Classics word cloud novels. I'm also thrilled with my green gingham curtains that I recently hung in my living room.
Save on Happy Colors
Versus
Splurge on Happy Colors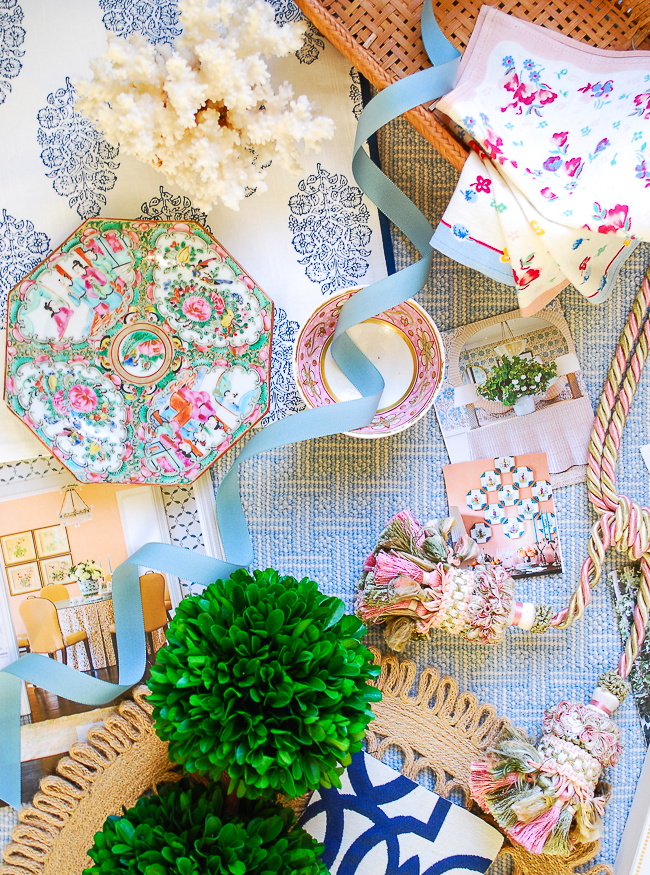 No. 8 Frills
Grandmillennial decor involves lots of frills. But, no, I don't just mean ruffles and flounce. By frills I'm talking about that extra little embellishment that makes a pillow, a napkin, or a piece of furniture special and memorable. You know like the bullion fringe on an English three seater or the appliqué monogram on a napkin.
It's these little details that set a decorative accessory apart and we Grandmillennials love those frills!
For added little embellishments right now I am loving greek key trim like on these pillows and these raffia scalloped edge placemats.
To save on frilled grandmillennial decor I often add the embellishments myself. It is easy to baste on trim or I'll take a basic set of napkins to an embroidery shop to have monogrammed.
Save on Frills
Versus
Splurge on Frills
Alright y'all! I hope you have enjoyed this delve into the grandmillennial style with 8 essentials for grandmillennial decor: Chinoiserie ceramics, block print fabric, wicker, happy colors, chintz, boxwood, frills, and needlepoint. As you can see there are a variety of options out there for budget friendly decor, and I hope my advice helps you make decisions on what to splurge on versus what to save on!
See how I transformed my dining room with these 7 decorating tips for grandmillennial style.
Drop me a hello below if you are a fellow grandmillennial!