Set a Bold Christmas Tablescape in Pink & Green
5 Tricks to create a bold Christmas tablescape in a colorful palette that is whimsical and swoon-worthy!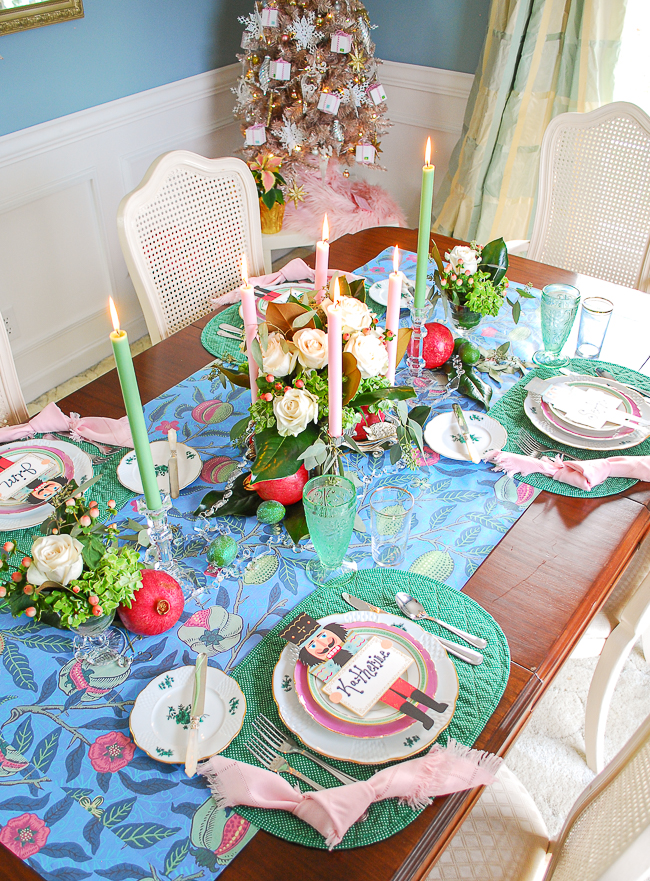 Forget boring ole palettes of red and green! Forget your stereotypical Santa and reindeer figurines! Forget pine boughs and plaid! Oops, not the plaid. Never the plaid…whew…almost went too far there! ?
This year, join me in mixing it up with a bold Christmas tablescape sure to intrigue your guests and dazzle the eyes. Go for unique patterns, unexpected colors, striking prints, and quirky character.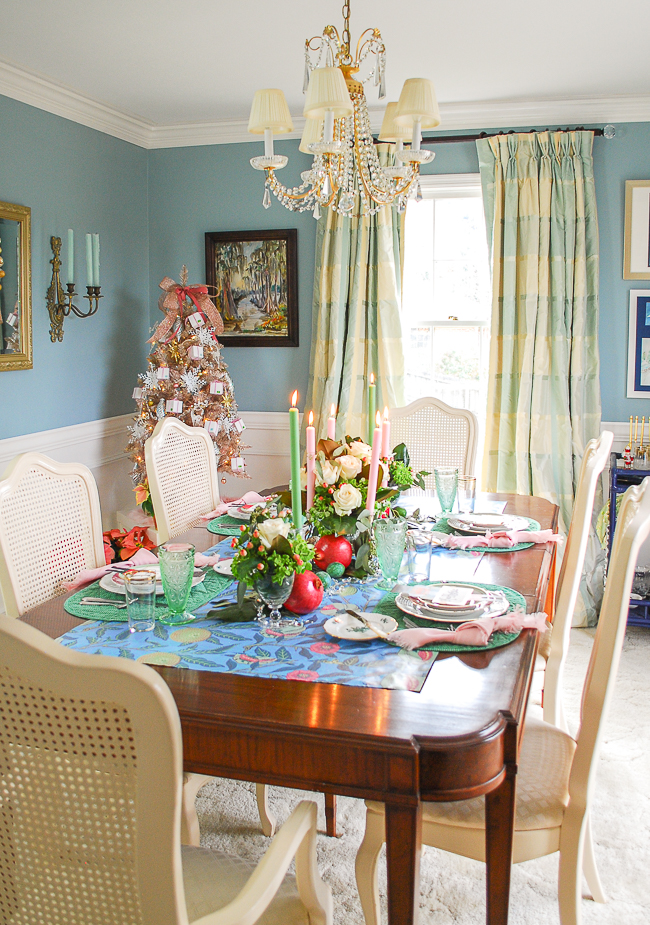 If you saw my chic and pink Christmas tree, you already know I abandoned my traditional Christmas decor for a bright pastel palette that is full of vintage charm and sophisticated pattern. I had to carry the look into my dining room and use this inspirational William Morris print (blue pomegranate from 1866) as the foundation for my Christmas table.
The print deserved center stage on my dining table. It is just too swoon-worthy with the trailing branches dripping limes, pomegranates, and pink posies.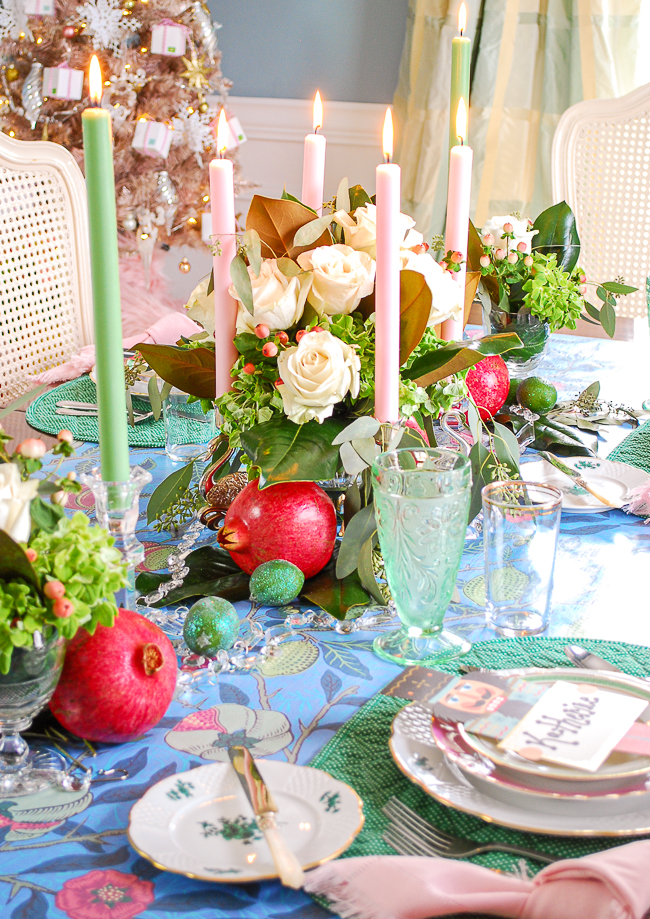 What I love most about it is the unexpected pairing of fruit and the color combination. The print doesn't scream Christmas, and yet it feels very festive and bright!
For those of you basking in this happy, bold look for the holidays, I've got 5 tricks to replicate a bold Christmas table at your home! I am also offering up much of this tableware for sale in my Thursday night flash sale at 8PM EST on 12/5 over on IG.
5 Tricks to Set a Bold Christmas Tablescape
No. 1 Start with Bold Inspiration
Choose a pattern, photograph, artwork, or fabric swatch that speaks to you, and says I'm festive, fun, and interesting! Use that inspiration to select colors, patterns, and whimsical elements for your bold tablescape.
This William Morris pattern is a great starting block because of the mix of colors and festive holiday fruits: limes and pomegranates. I couldn't resist using the actual fruit in my centerpiece runner. I used real pomegranates and faux sugared limes for that extra bit of sparkle.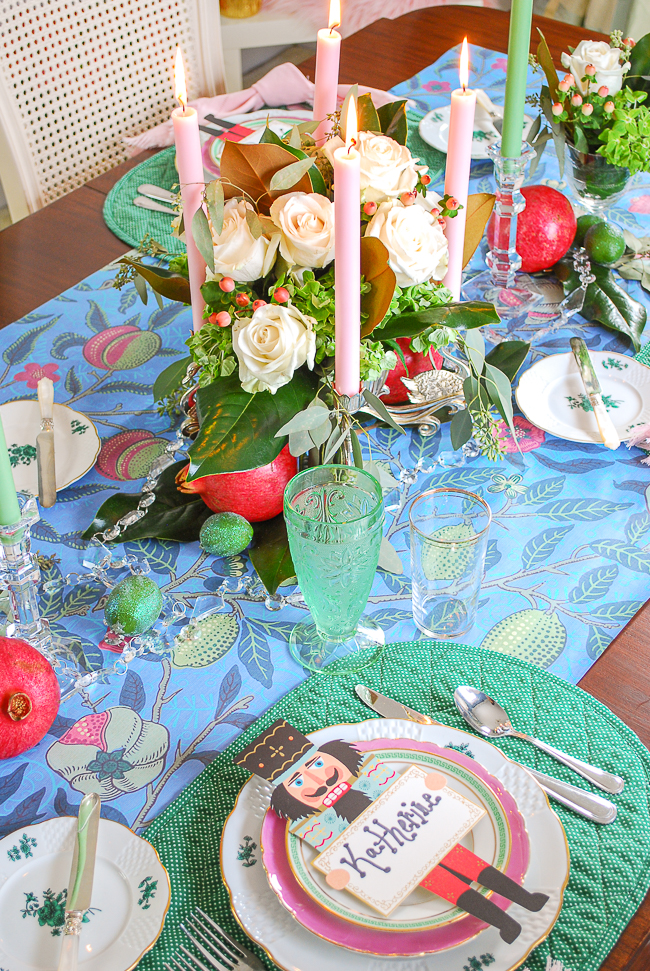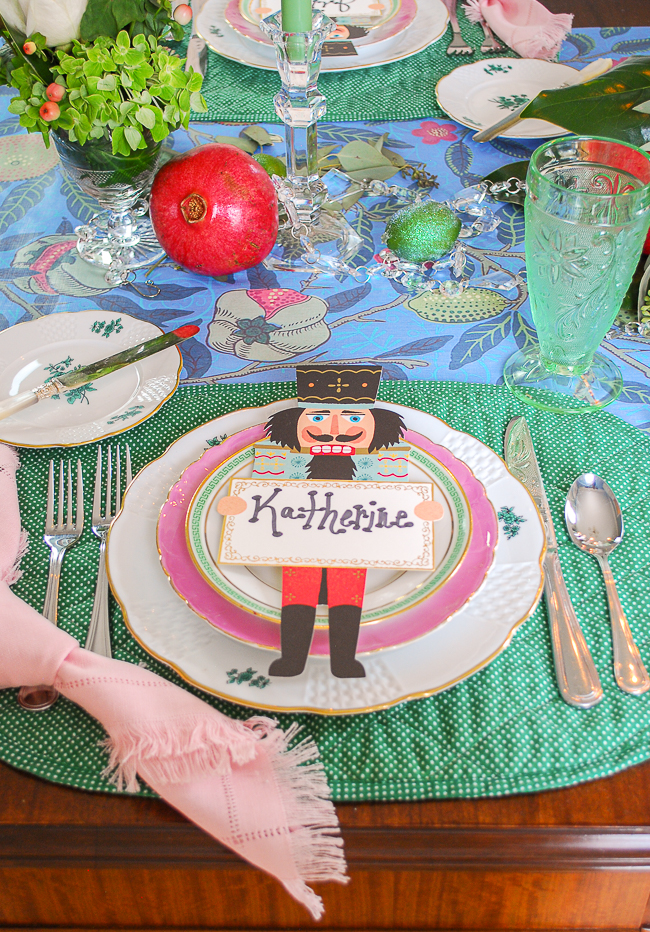 No. 2 Use Two or More Different Patterns
A bold Christmas tablescape really needs multiple patterns mingling together. Linens are a great option to bring in multiple patterns.
Think about the scale of your patterns when mixing and juxtapose a large scale pattern with a smaller pattern like I did here with the pomegranate print and tiny polka dot placemats. Varying the scale of the patterns makes it less busy.
It also helps to repeat shapes from your patterns with your other tableware and decor so the eye flows from one element to the next.
No. 3 Set Your Christmas Table with Unexpected Colors
To make that bold, intriguing statement with your holiday table shy away from the traditional colors or pair red or green with an unusual hue like red and aqua or green and pink.
I pulled colors already present in the table-runner, using pink and green as the main color combo. These colors say bright and happy, which for me is truly the goal of Christmas decorating!
Neutral florals with white roses and magnolia work as a balance to all the bold color happening on the tabletop.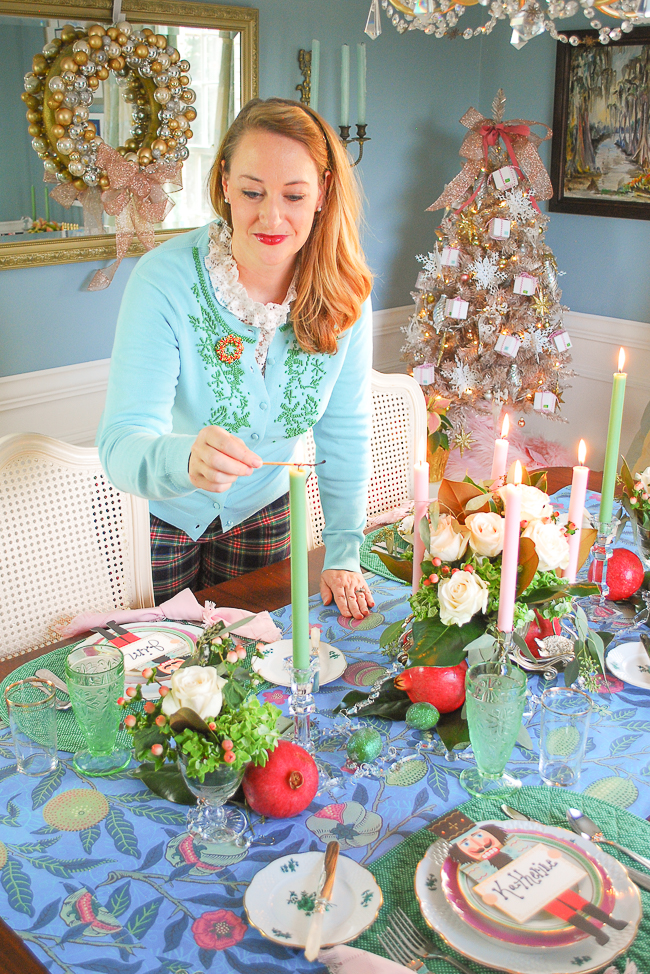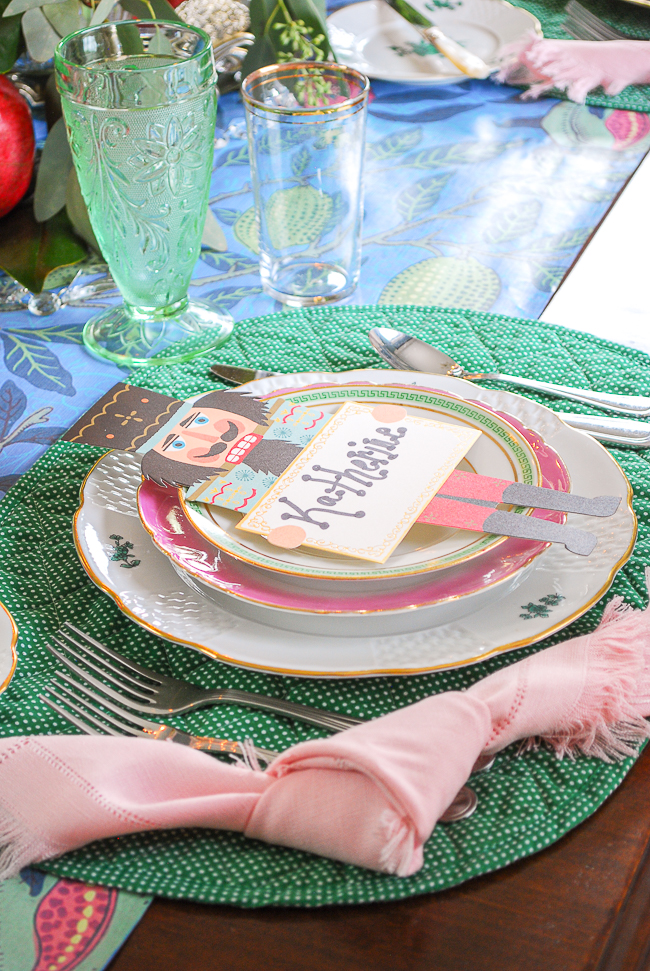 No. 4 Layer Different China Patterns
Your china is another opportunity to layer in more pattern for a striking look. Create that depth and visual interest on your tabletop by using multiple china patterns.
Here I mixed my green rose Vista Alegre dinner plates with a pink scalloped plate and a Bernardaud Limoges greek key bread plate. Geometrics and florals are a lovely pairing, but I created a little transitional flow with the solid pink rim.
This is also a great solution if you are having more guests over than you have settings in one china pattern.
No. 5 Mingle High & Low for a Bold Christmas Tablescape
You probably guessed it already, but my table runner is actually wrapping paper! I ordered extra paper from Zazzle in the pomegranate print, so I could use it for more than presents. Wrapping paper makes a fun runner or you could even cut chargers or placemats out of it.
A bold tablescape doesn't have to be completely lavish. Mix high and low tableware for a modern feel that is quirky and attainable.
Beautiful papers are appearing more and more on stylish tablescapes thanks in part to the chic designs of Hester & Cook. My nutcracker place cards are their work.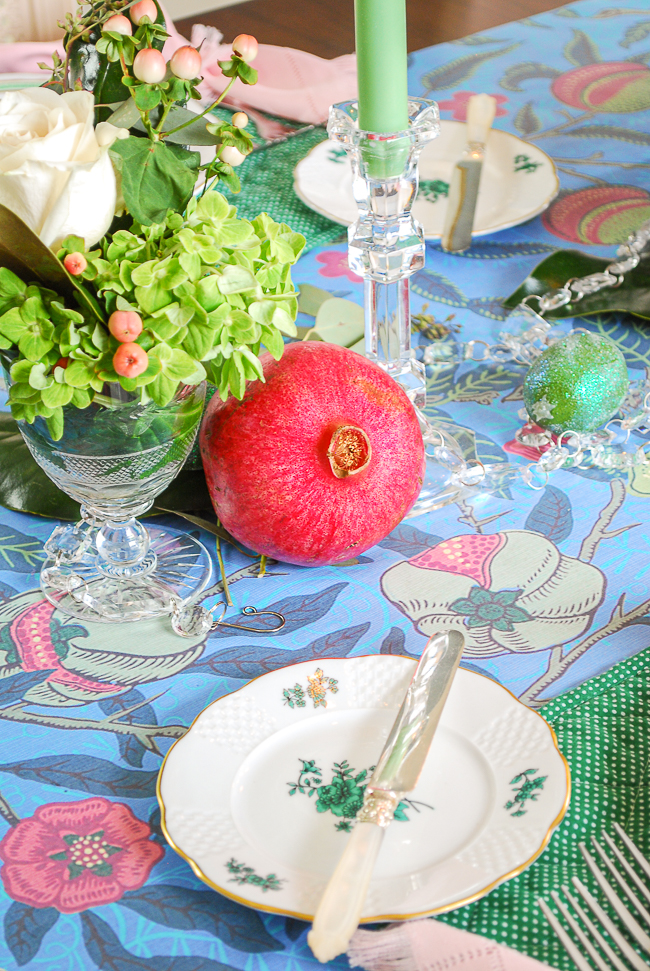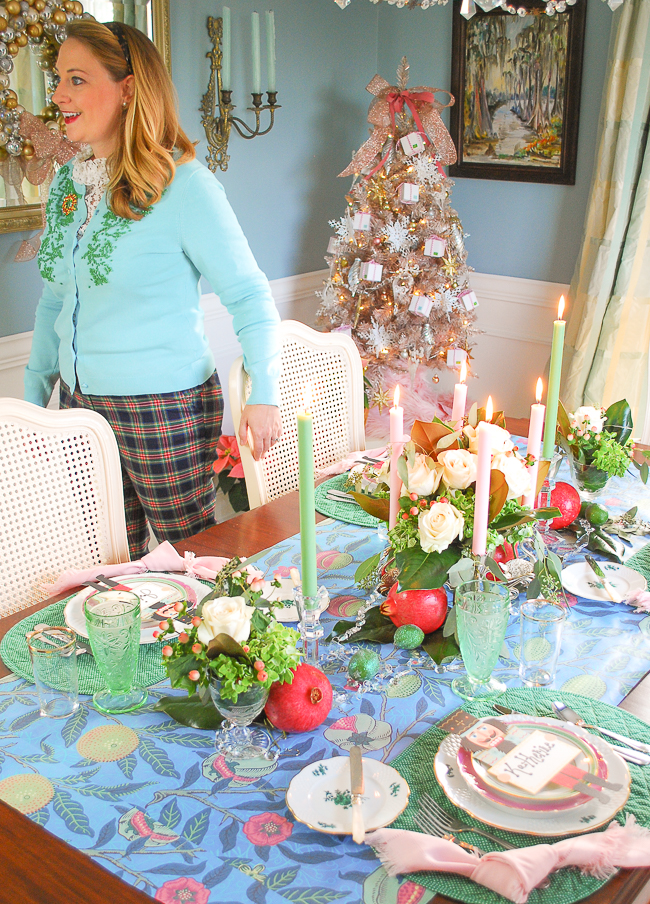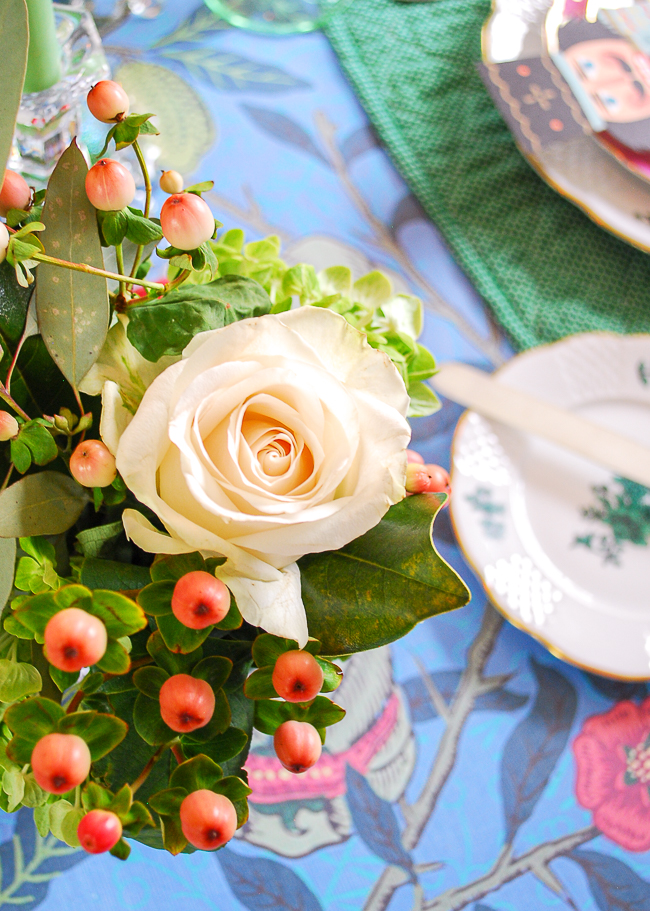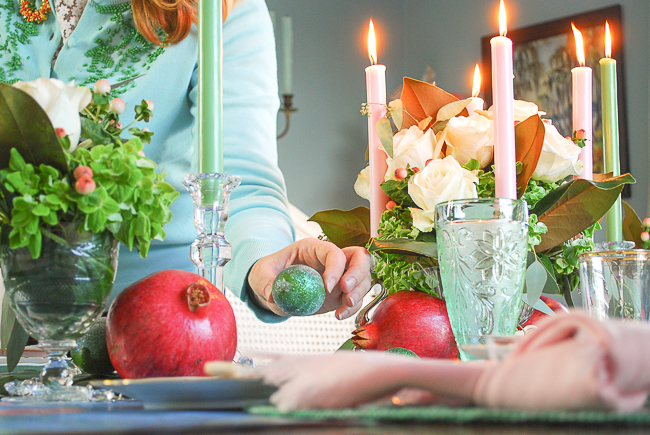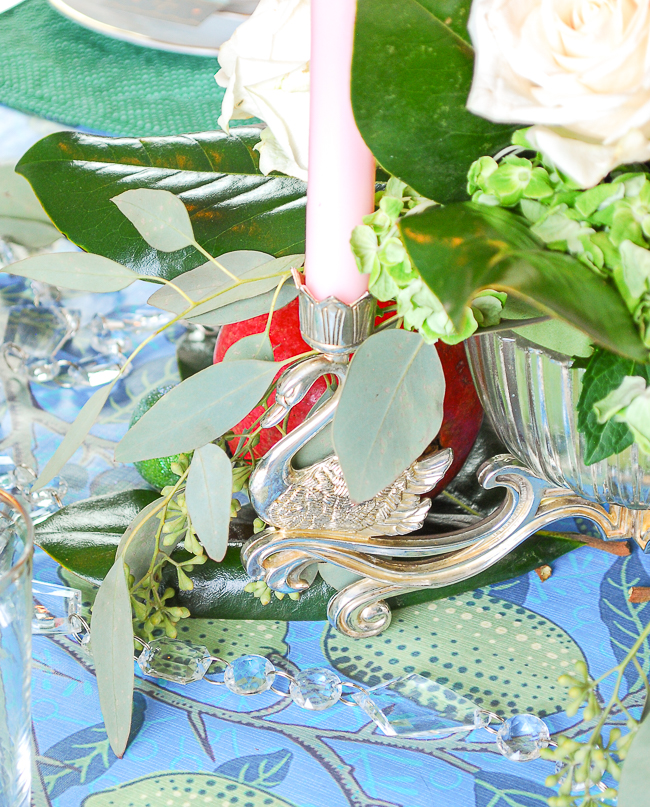 Shop My Outfit: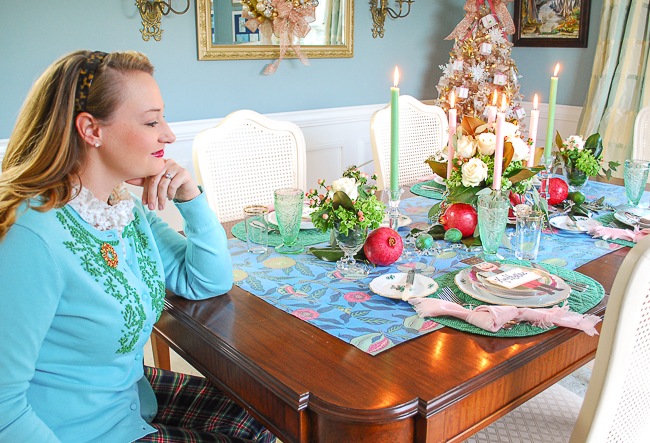 So in love with this bold Christmas table! Enjoy setting yours lovely!