My Whimsical Christmas Mantel + DIY Garland
Decorate a whimsical Christmas mantel with a festive holiday village, amaryllis, milk glass, ribbon garland, and star lanterns plus an easy tutorial to make an ornament garland.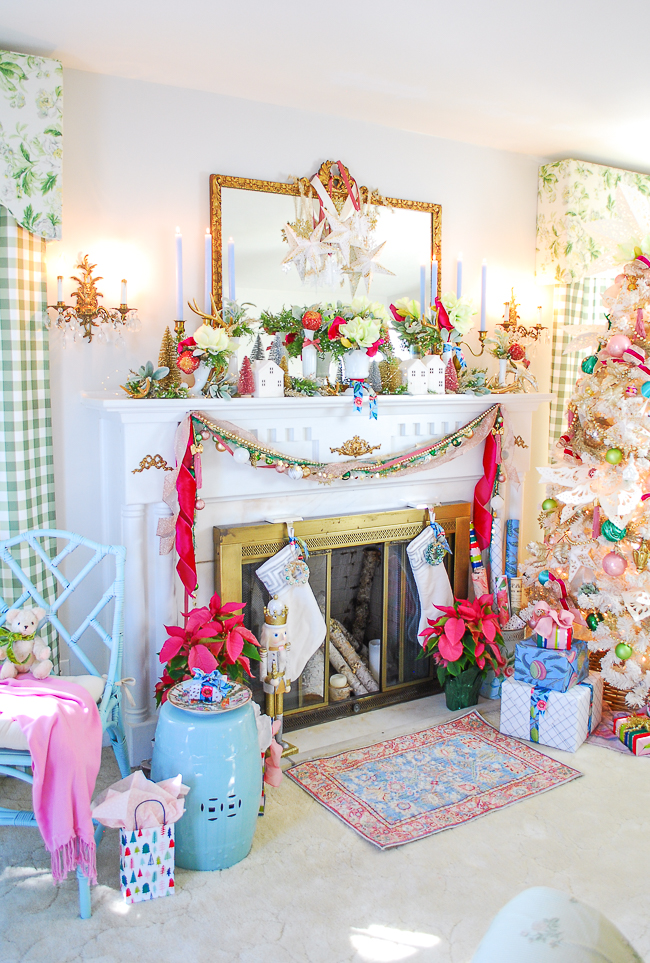 Today, lovely peonies I am sharing my whimsical Christmas mantel with you all. Of course, it had to be just as colorful and bright as my chic and pink Christmas tree!
The holiday mantel started with these simple white houses I snagged from Target last year, and I knew I wanted to play on the Christmas village theme, but spice it up a bit with festive florals, twinkle lights, and greenery.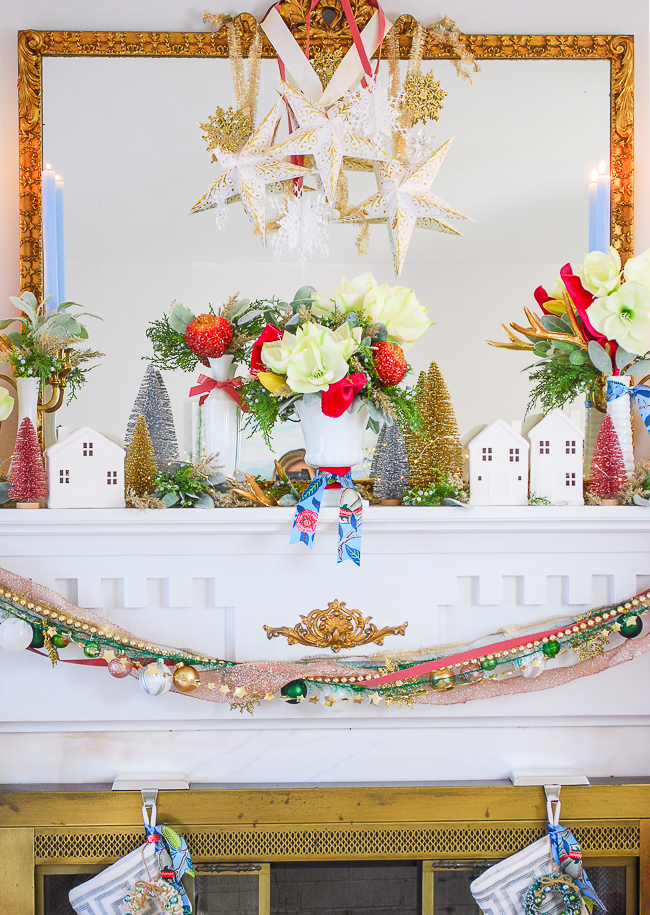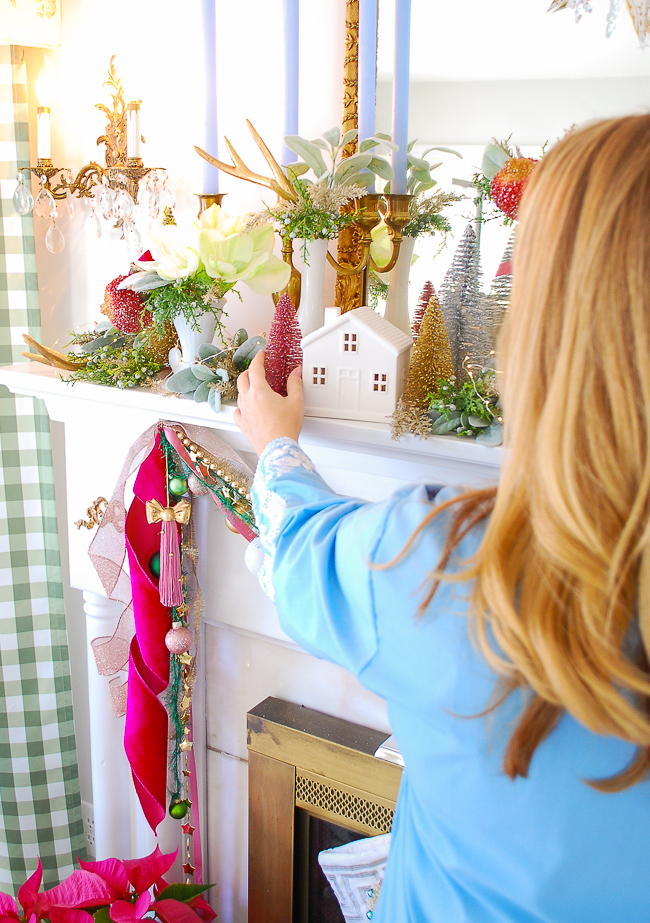 I also layered in glittered gold, silver, and pink bottle brush trees and tucked bits of greenery around.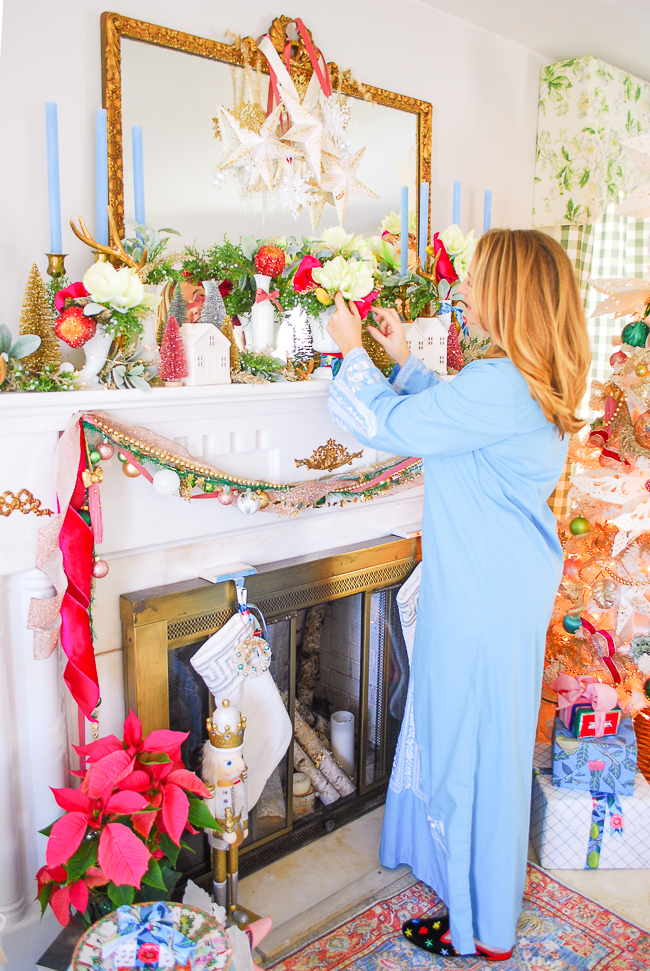 Whimsical Christmas Mantel Details
I pulled in my collection of milk glass vases to arrange the faux amaryllis, lambs ear, juniper, and sugared pomegranates. The white helps balance out all the color. I love how the florals turned out. They are festive feeling, but unique with the white amaryllis, hot pink velvet ribbon poufs, and sugared pomegranates.
The fruit is a whimsical connection to the William Morris print that inspired my Christmas decor this year. You can see it in the wrapping paper and ribbon around the central vase.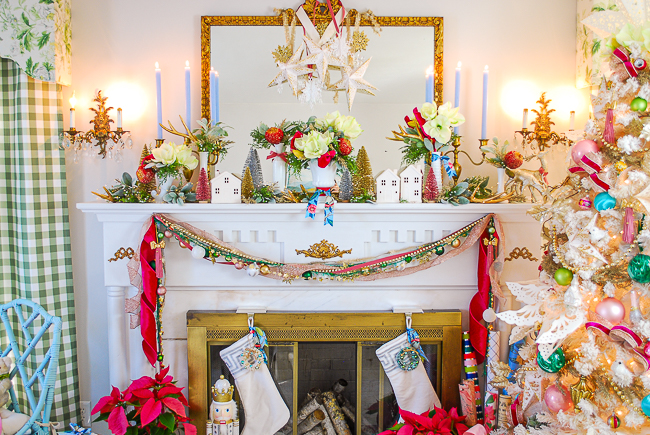 Above the mantel, I hung paper star lanterns and glittered snowflakes from my gilt mirror. The stars and snowflakes add to that whimsical feel as if the Christmas village was nestled under a starry sky with softly swirling snow!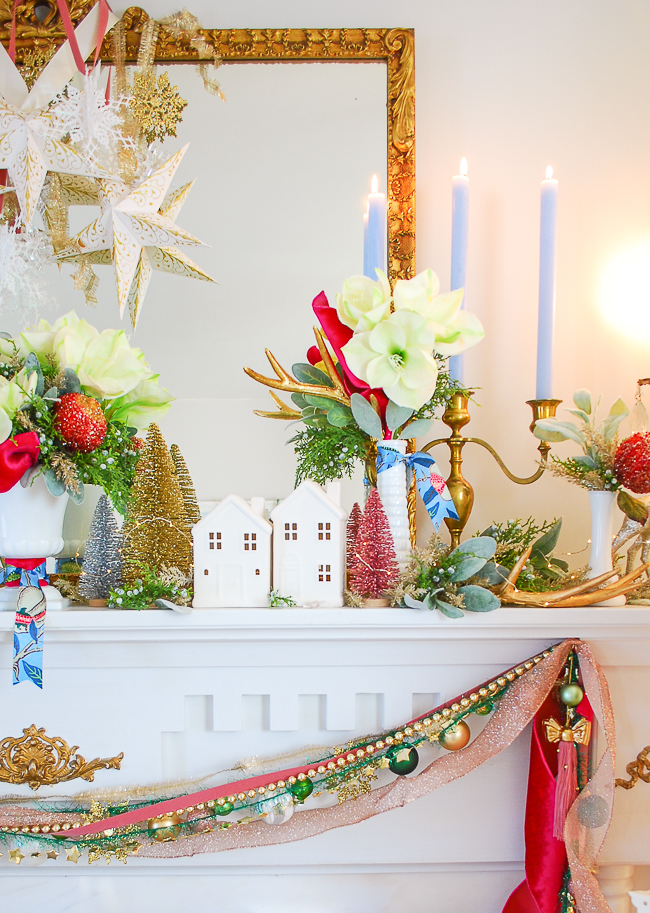 I pulled in several gold accents throughout the mantel board and fireplace from the brass candelabra to the gilt antlers. The gold adds that extra bit of glam and creates harmony with the brass fire screen, sconces, and gilt mirror.
LED twinkle lights and touches of ribbon around the vases complete the whimsical Christmas mantel village.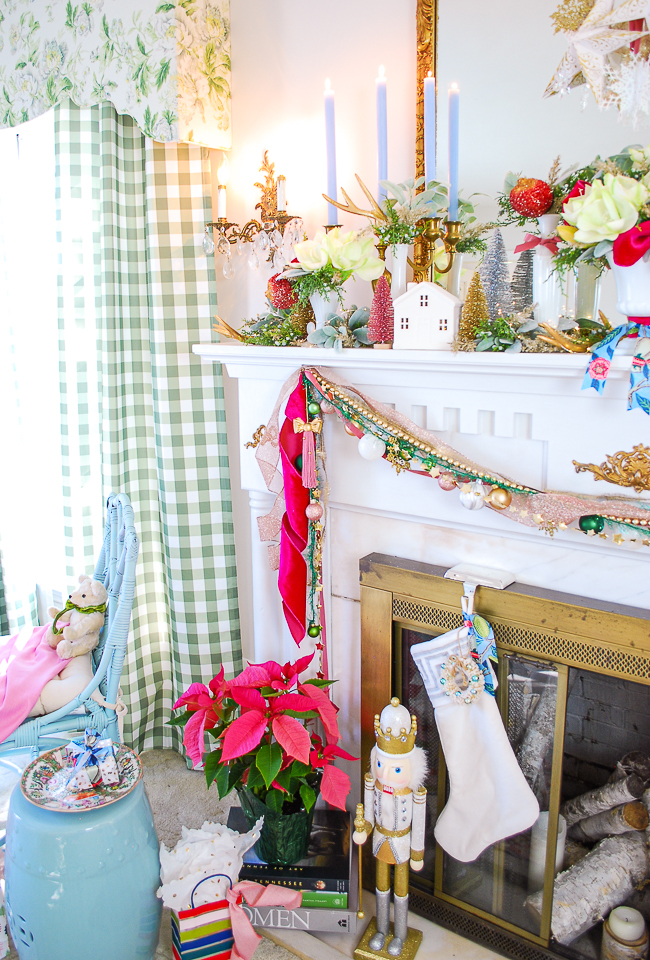 Shop the Look of My Whimsical Mantel:
Around the Fireplace
Below the mantel board I strung various coils of pink and green ribbon, a DIY ornament garland, and gold bead garland. I really wanted to play up the whimsy and color, so I choose to create this unique garland versus hanging a classic greenery version.
I also added streamers on each side of the garland with the hot pink velvet ribbon from D. Stevens (similar here). It is such a bright, happy pop of color that coordinates with the deep pink poinsettia and the pink ribbon poufs I did on my Christmas tree.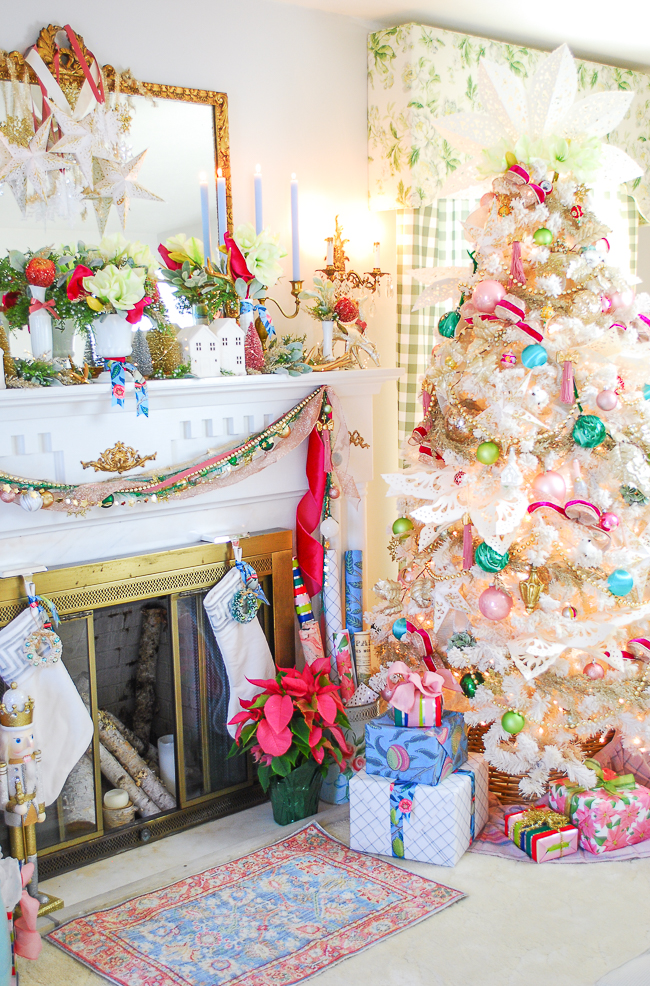 To Create the DIY Ornament Garland:
Y'all this DIY ornament garland is so easy to make, and you can completely customize it to your style and color scheme. Hang it with a mix of ribbon and bead garland for a festive look!
Materials:
Eyelash yarn – 3 – 4 yards, depending on width of mantel
Various size and color Christmas ball ornaments – about 30, recommend shatter-proof
Glittered snowflake ornaments – about 8
Scotch tape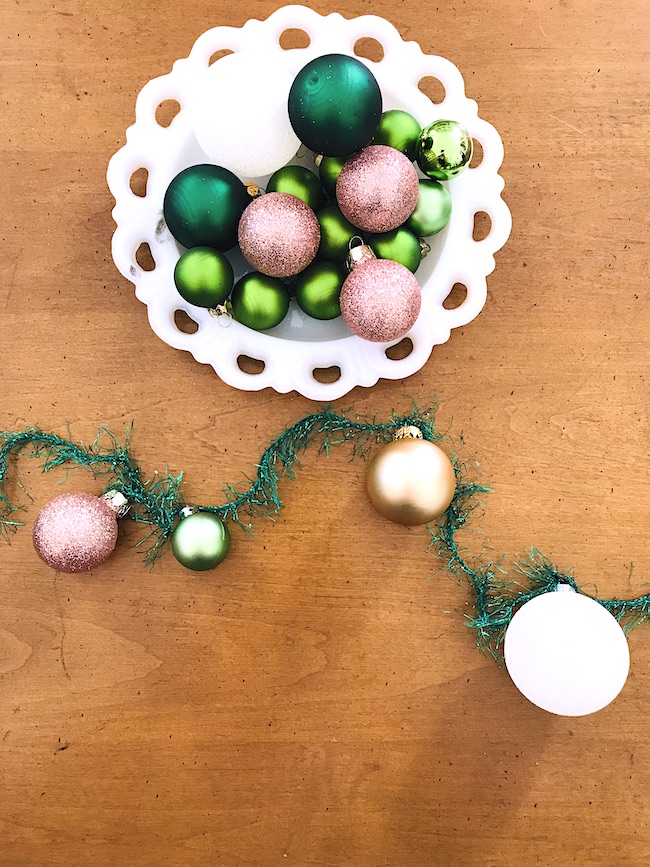 Steps:
No. 1 Gather up materials and place ornaments in bowl or dish for easy access.
No. 2 Tape end of eyelash yarn so that it can be easily threaded through eyelets of ornaments.
No. 3 Thread on first ornament and loop yarn back through eyelet.
No. 4 String on as many ornaments as it takes to go across your mantel, leaving about 2 to 3 inches of space between each one and alternating colors and sizes.
No. 5 Hang from mantel and adjust ornaments as needed. Ornaments will slide across yarn better if yarn is loose and not taut. Be careful not to pull too hard on ornaments so hanger doesn't pop out.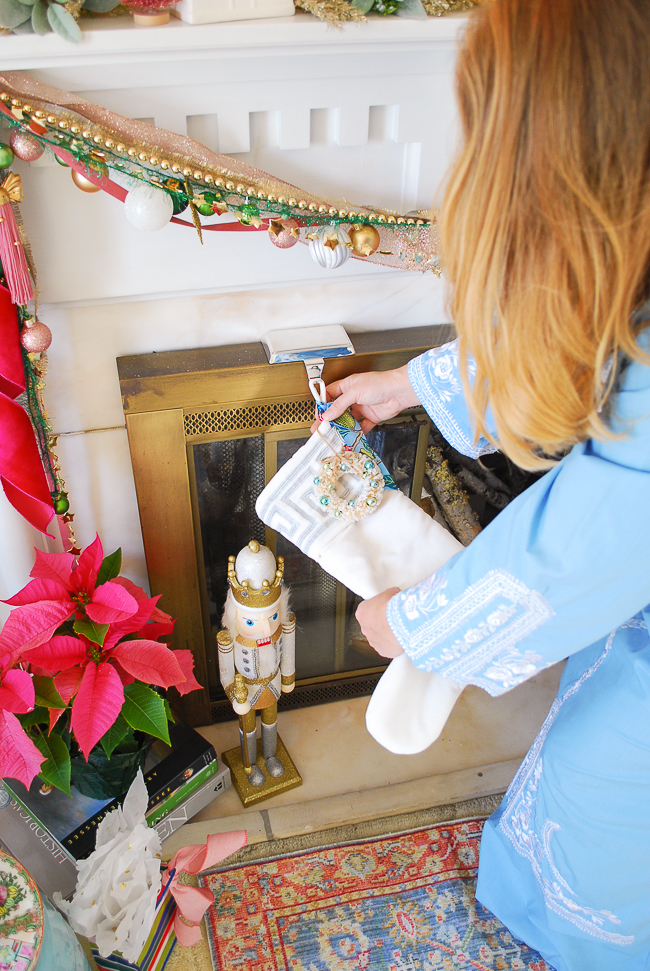 The hot pink poinsettia and piles of presents really complete the look of my whimsical Christmas mantel! And, of course, the stockings were hung from the mantel with care! I know Saint Nicholas will soon be here!
Make it Merry & Bright Y'all!