A Chic & Pink White Christmas Tree
Decorate a white Christmas tree with oodles of color, paper snowflakes, chic ornaments, and vintage charm for a bright, festive look sure to make everyone smile!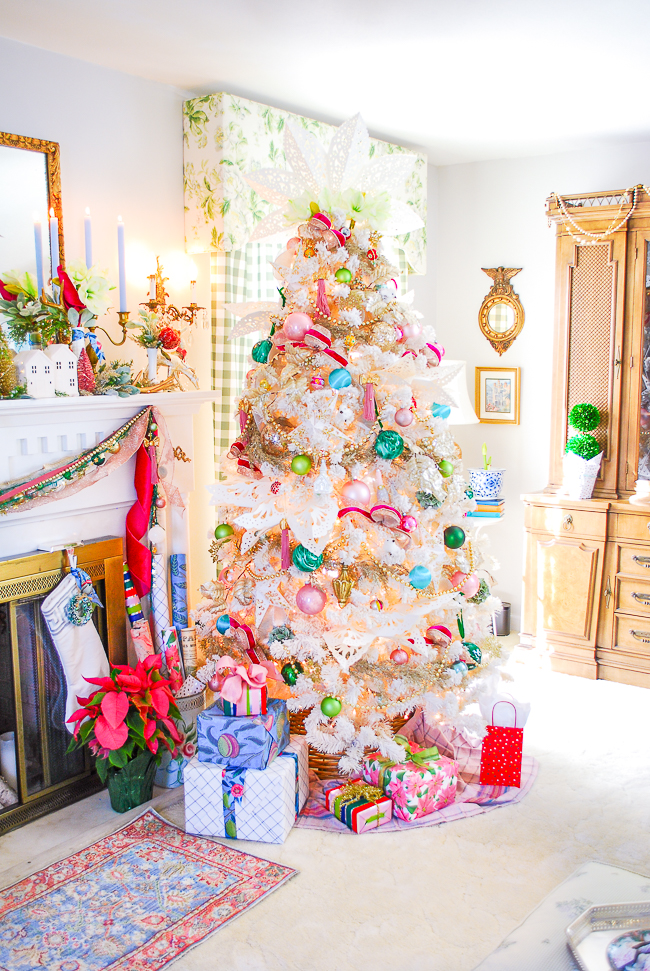 Mama taught me to never go half-way: "If one is pretty, two is prettier," she always said. So when I decided to go with bold, colorful hues for my Christmas decor this year, I embraced it fully…right into the maximalist pastel palette of my dreams!
Colorful Christmas decor just makes my heart sing and feels so merry and bright!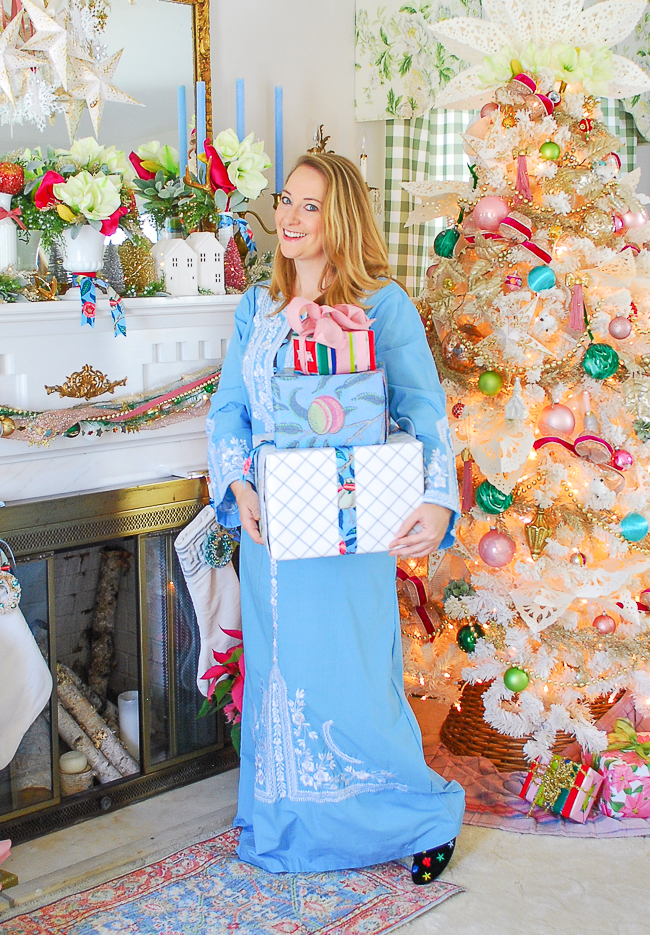 Don't get me wrong; I love traditional red and green with plaid, but my living room decor is so not that, so I just decided to play up the bright hues already in my home decor for Christmas. Blush and hot pink mingle merrily with aqua, lime green, and Carolina blue for a modern twist on a vintage Christmas look.
My chic and pink white Christmas tree is the centerpiece of it all, and I just had to share it with y'all first!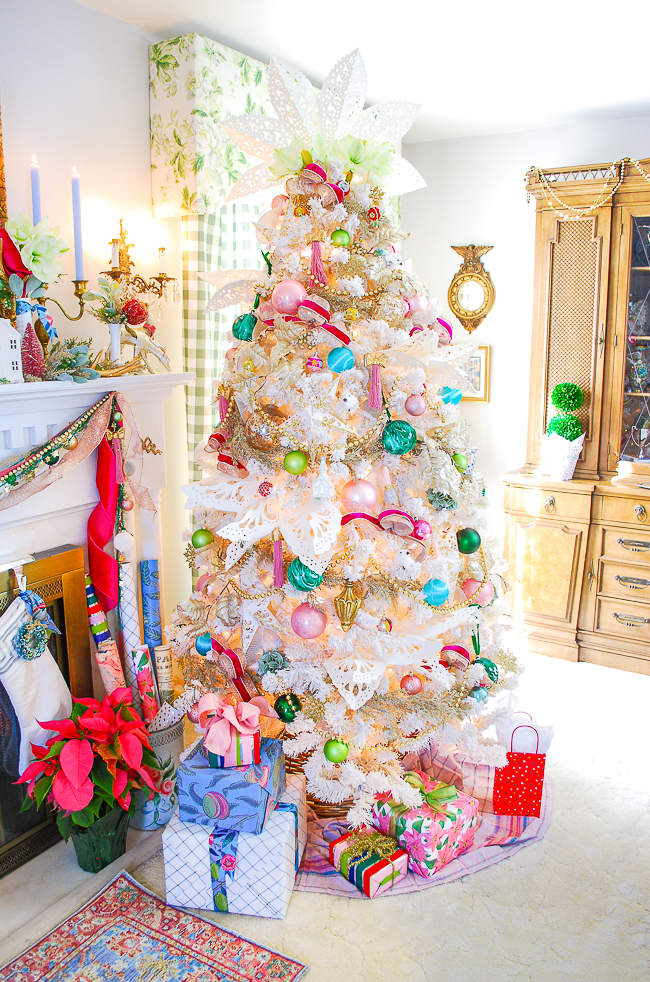 If you've been a reader of P&P for a while, you probably know my family owns a Christmas tree farm, so I have always put up a fresh tree. It has never even crossed my mind to buy a faux tree. Cries of family betrayal and sacrilege would undoubtedly ensue! But with my colorful palette chosen, I kept pondering how magnificent a white tree would look, and low and behold Providence put one in my path at a local sidewalk sale. I snagged this 7 foot flocked solid white beauty for $20! No kidding!
It is a Sterling Tree Co. white on white flocked tree. Currently on sale here till Dec. 8th. I also really like this one!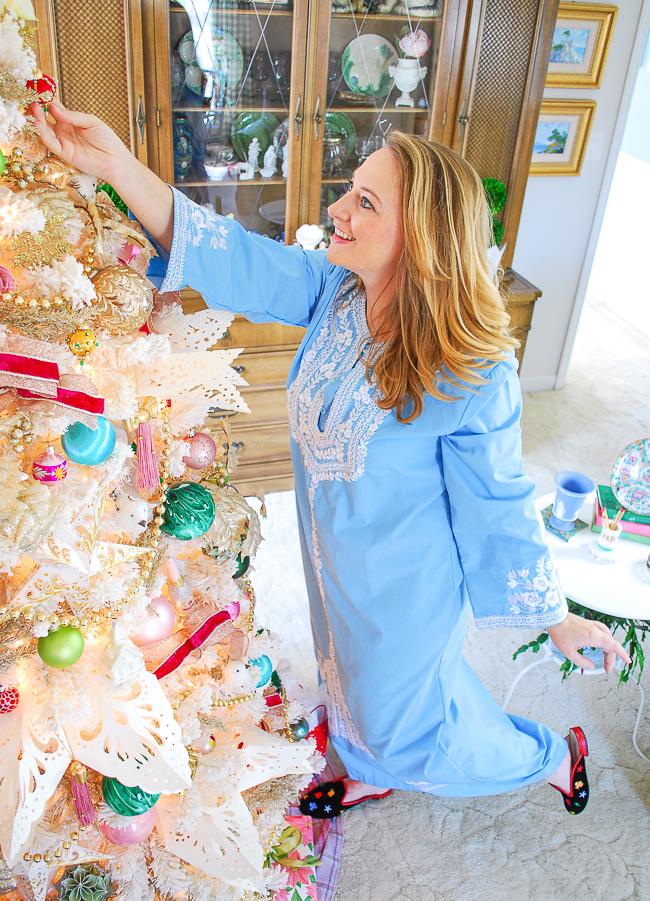 See, totally meant to be!
In many ways, a white Christmas tree is easier to decorate. Everything goes with white after all. But I also discovered that the colors pop more, and, thus, it matters more what I combine with what and how ornaments are placed. The other difference between a faux tree and a live tree that actually made decorating easier was the ability to manipulate the branches and hang ornaments exactly where I wanted them.
I do miss the smell of the Fraiser fir and the connection to home having a tree from our farm gave me, but I'm thrilled with how my chic and pink white Christmas tree came together.
Decorating My White Christmas Tree with Loads of Color & Vintage Charm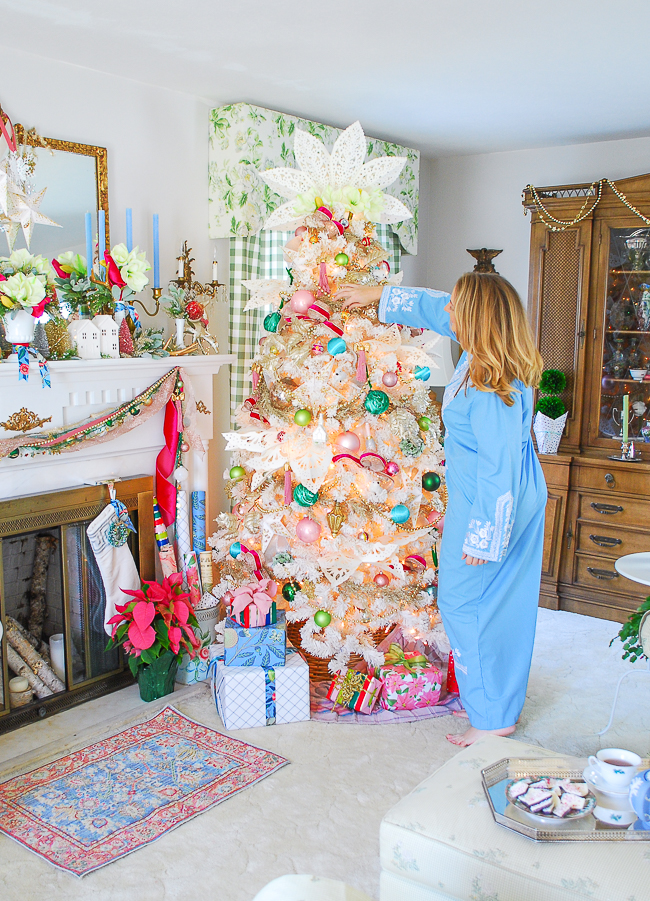 Start with the Right Inspiration
After deciding to go full on color with vintage touches for my Christmas decor theme this season, I set about finding that key pattern to use as my inspiration and starting point. While flipping through my William Morris pattern book I landed on a bold, colorful print that spoke to me in spades – blue pomegranate wallpaper from 1866!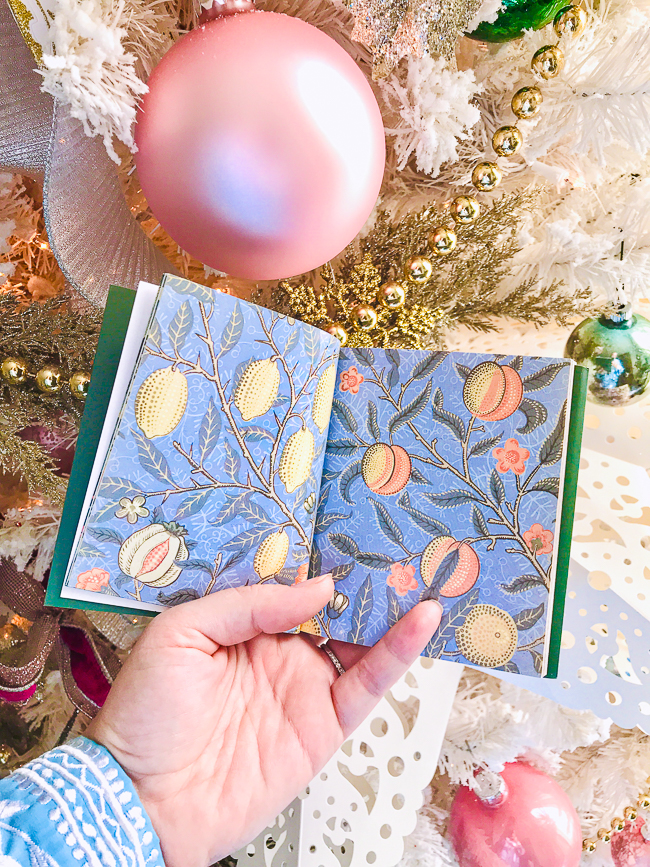 While trying to figure out how to get my hands on this pattern, I discovered Zazzle. If you don't know about Zazzle, go there now and get lost down the rabbit hole of merchandise that you can customize in just about any pattern your design scheming brain can imagine.
I ordered the pomegranate print in wrapping paper, satin ribbon, and gift tags. From this print, came my combination of colors: blush pink, hot pink, lime green, Carolina blue, and aqua. Then I used metallics to accent and compliment those bright hues.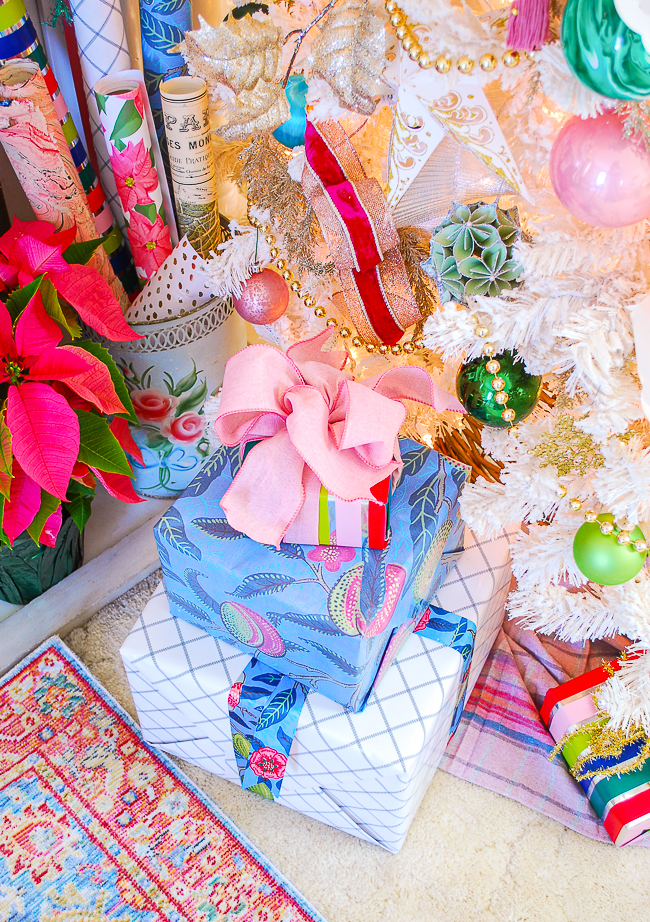 Pile on the Layers
A well decorated Christmas tree involves layers — lots and lots of layers. Of course the first layer is lights, next comes a shimmery silver ribbon I wove in vertically, and then a glittered garland. Those tree decorations really serve as the foundation for everything else.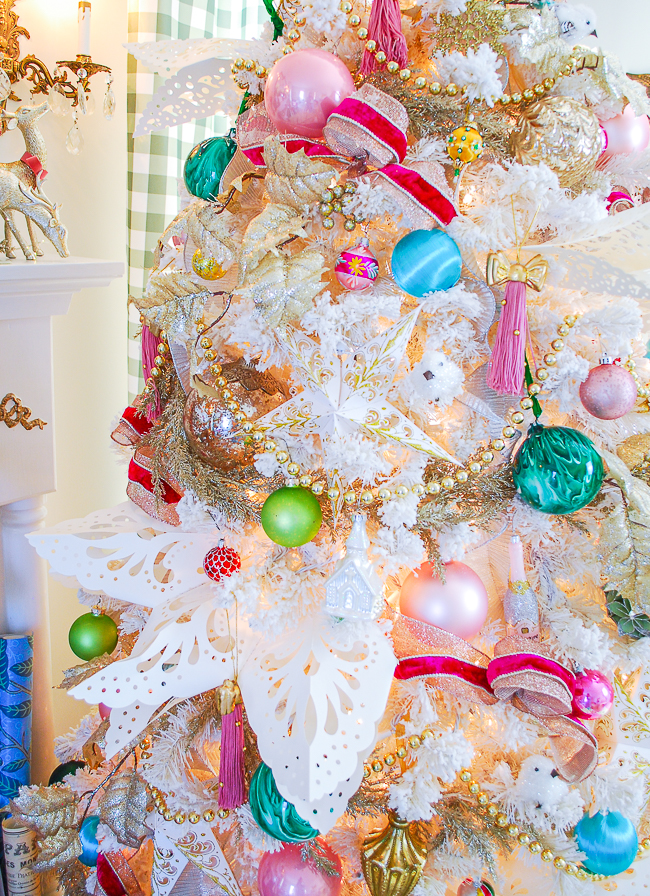 The next level involves the tree picks, these are branches, florals, or other sculptural elements that stick out from the trunk. On my white Christmas tree I added glittered holly branches and white paper snowflakes.
I purchased these giant white lacy snowflakes last year from World Market (sold out online, but these would work too) and couldn't figure out where to use them in my Christmas decor this season because they are just too large for the scale of my house. So I ended up cutting them apart into 3 sections. I stapled the ends together and tucked them between the tree branches for a sculptural element that literally makes the tree look like it is exploding snowflakes. How fun is that?!
See my Decorating story highlights on Instagram for a mini-tutorial!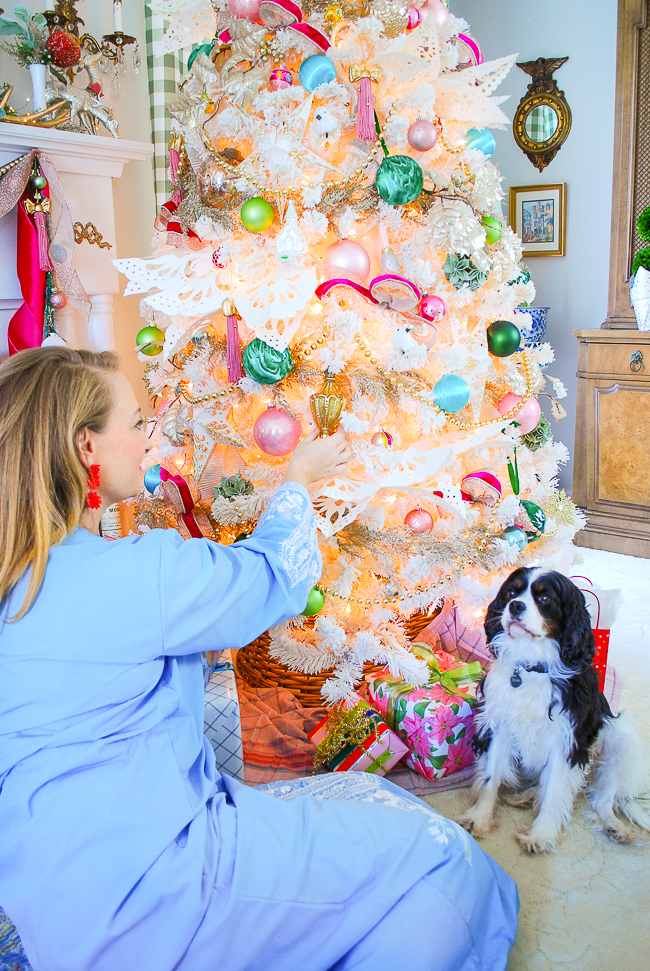 The third layer on my chic and pink Christmas tree is all the ornaments. I used a variety of ornament balls in different sizes and colors, including vintage shiny brites, mercury glass, and satin thread balls. There are also these fun bow tassels (found on ebay, fun alternative here), glittered birds, unique kitschy ornaments like the glittered Champagne bottle (available at my friends' shop – Hoskins in the Flat), and paper stars. The more — the merrier the mix!
Shop the Look of My Chic & Pink Tree
Loving my blue caftan? Me too! I snagged it at a vintage shop this fall, but here is a similar one and a beautiful floral one.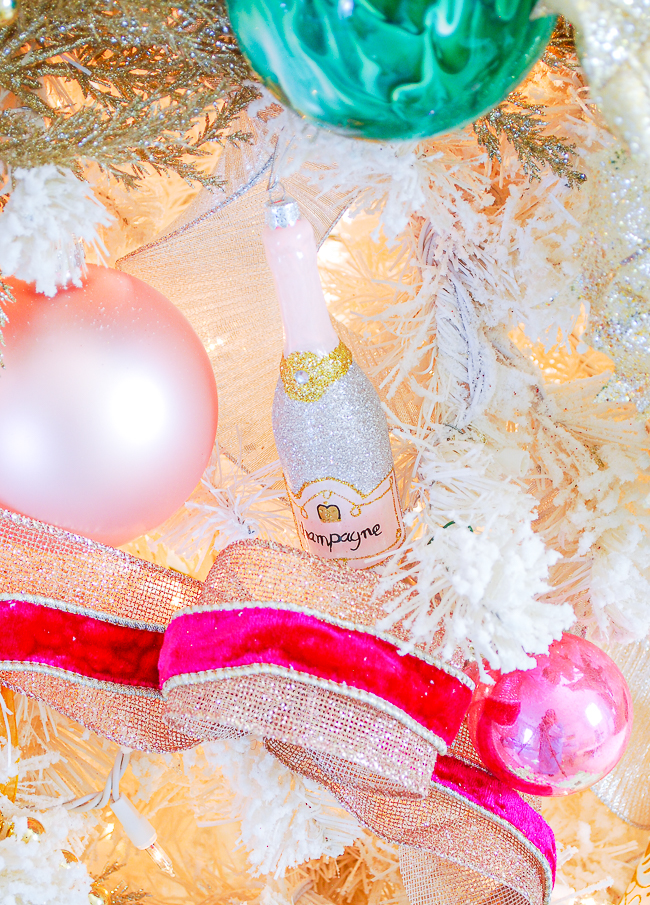 For the final layer my bold and colorful white Christmas tree got ribbon knot or pouf streamers and classic bead garland. Instead of buying rolls and rolls of ribbon and tucking it into the tree, I cut about two foot long sections, pinch the middle into a pouf, and then secure that with wire. Just stick the wire into the branches and shape the ribbon in curls or waves along the limbs. Each knot streamer has 2 types of ribbon a thin hot pink velvet (from D. Stephens available from my lovely friends' shop – Hoskins in the Flat) and a blush sparkly net ribbon. The knot poufs give you that expensive ribbon garland look without the cost.
Again sharing a mini-tutorial over on IG stories.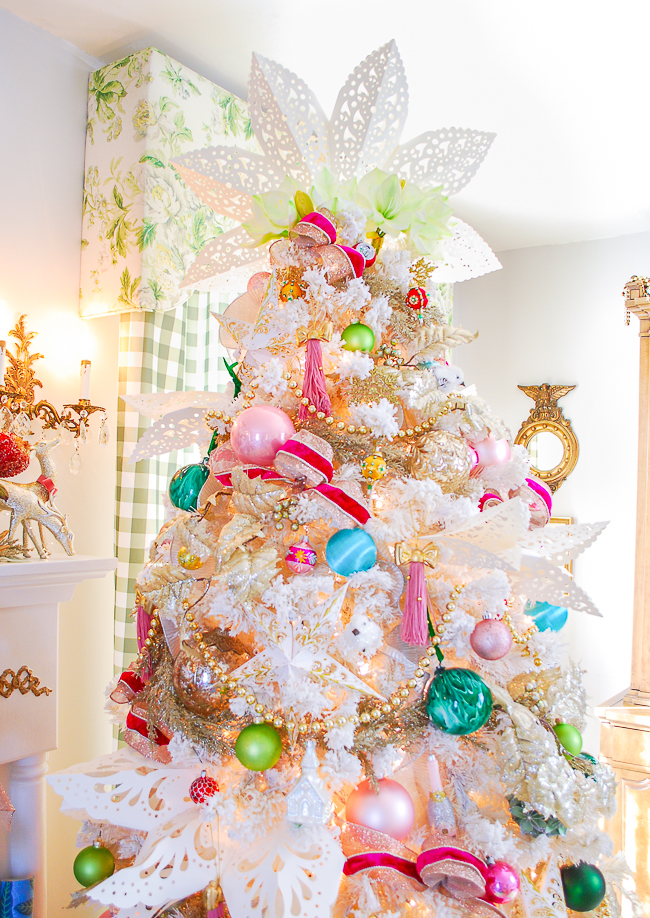 To cap off all this glorious color and vintage charm, my Christmas tree topper is a white paper snowflake halo with a crown of white and green amaryllis carried over from the display on my mantel. See the full Christmas mantel in this post (coming soon).
Don't Ignore the Base of Your Christmas Tree
Give the base of your Christmas tree a little love too with a pretty skirt and package display! My white Christmas tree with pink pops and vintage charm rests in a wicker basket ring with a pink plaid skirt (which is literally a vintage pleated skirt I snagged at the thrift shop). Piles of presents are also starting to accumulate in my William Morris pomegranate paper and other coordinating patterns like this striped paper.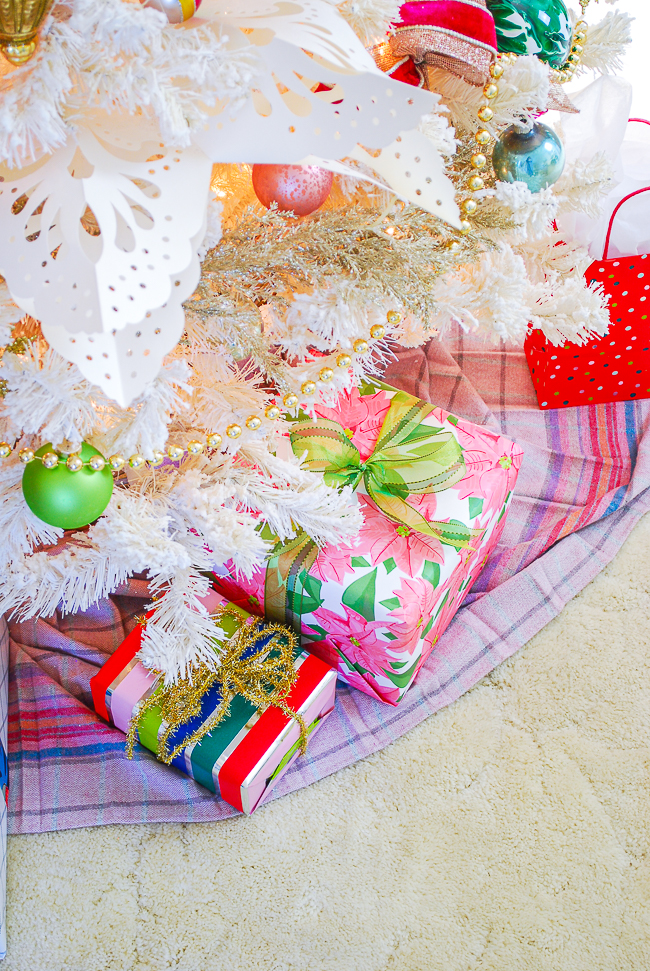 I like to mix-up my wrapping paper patterns, using florals with stripes and plaids with polka dots for a festive mix. Pretty ribbons and bows are also key to creating a lovely display under your tree.
Keep it Sophisticated & Whimsical Not Childish
The drawback of decorating for Christmas in a bold, colorful palette with lots of pink is that it can look too girlish or like a candy shop exploded all over the living room. To keep it sophisticated and whimsical, I steered away from candy themed ornaments and decor as well as frilly things. Instead I played up a variety of textures and liberally paired the bright pastel colors with oodles of metallics. For the florals, instead of going with amaryllis in pink, I went with white and green so that you get the feminine floral but in a neutral color.
Y'all I absolutely had a blast planning and decorating this Christmas tree. I hope it inspires you to go bold and decorate in the colors you love for the holidays! More Christmas decor details coming soon!
Merry Christmas Y'all!