How to Style Majolica Displays
Place of Pride
Undeniably, Majolica deserves a place of pride in your home. Each authentic Majolica piece is a work of art in its own right.
Some of the most classic choices are simply the best. Majolica displays look fabulous on mantels, shelves, and gallery walls. Tried and true is probably best when it comes to location. But don't be afraid to mix it in with a charming coffee table vignette or use large jardinieres or cachepots as vases for flowers on the dining room table or sideboard.
Mantel Inspiration: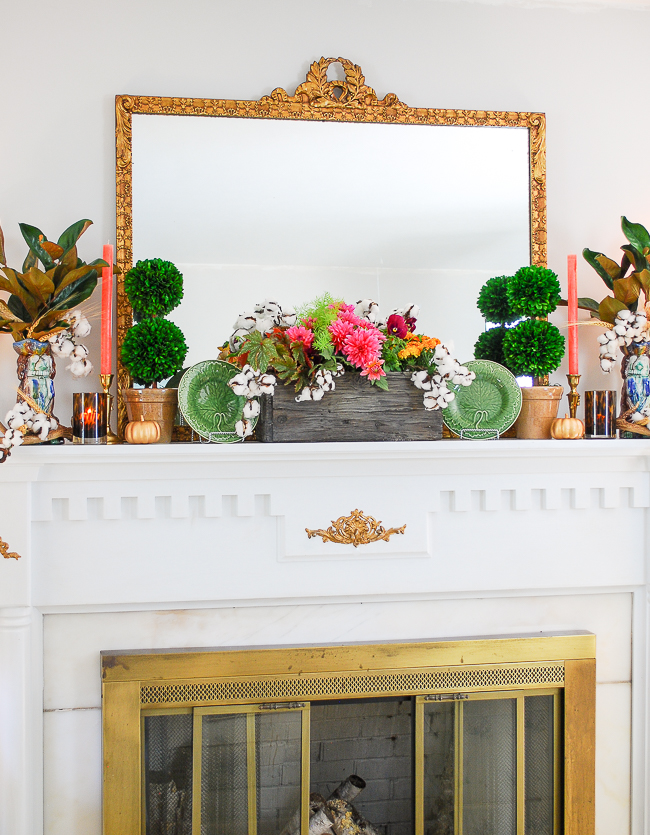 In my home, mantels get changed up seasonally, and I love to use Majolica for autumn themes. The rich tones and predominating greens, golds, and aquas make for charming companion to the autumn foliage outside. This year I paired my reproduction Majolica begging spaniels with Wedgwood style leaf plates and a faux bois planter filled with fall flowers for a unique seasonal look.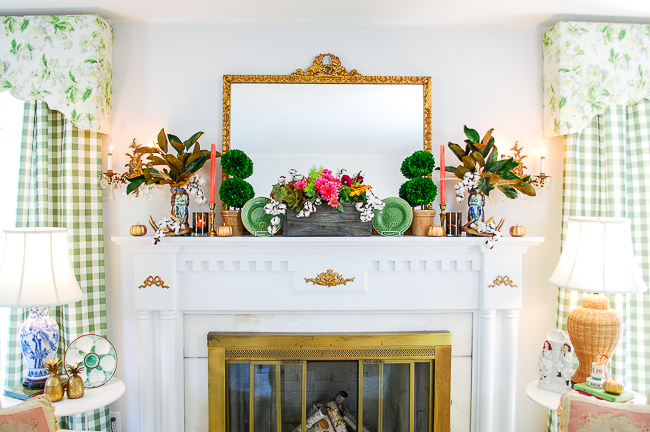 Head here to see all the details and photos of this mantel style!
In the Bookcase: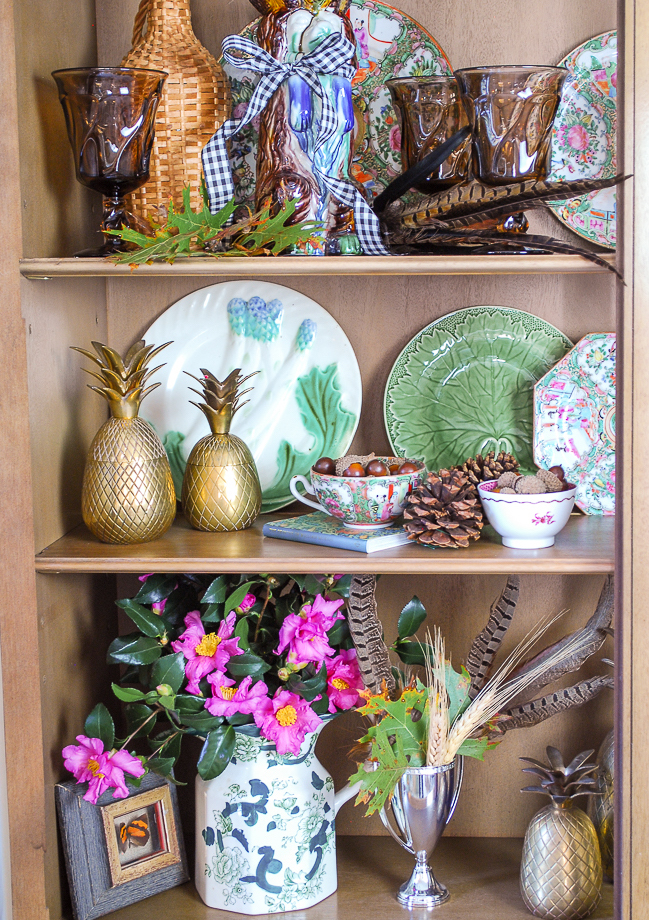 Bookcases, hutches, and china cabinets are classic locals for your Majolica displays. For a traditional look, if you have enough pieces, go whole hog and style the shelves in all Majolica. But for a more contemporary feel, I like to pair Majolica with other ceramics and decorative arts. This is particularly useful for those of us just building a collection!
See "Perfect Pairings" and "Proper Playmates" tabs for tips and inspiration.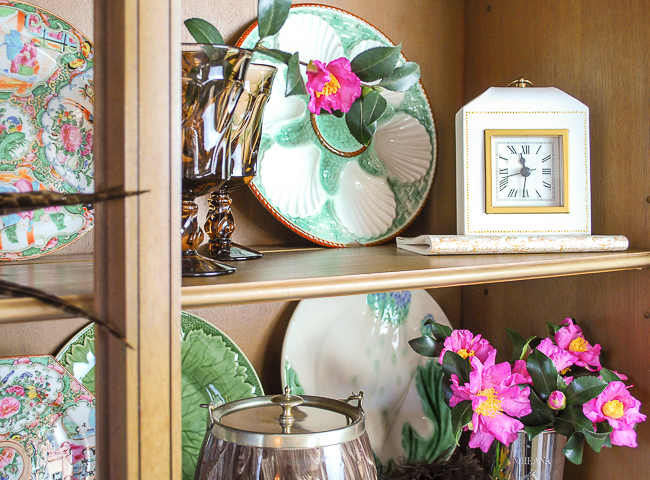 Mirror Surround: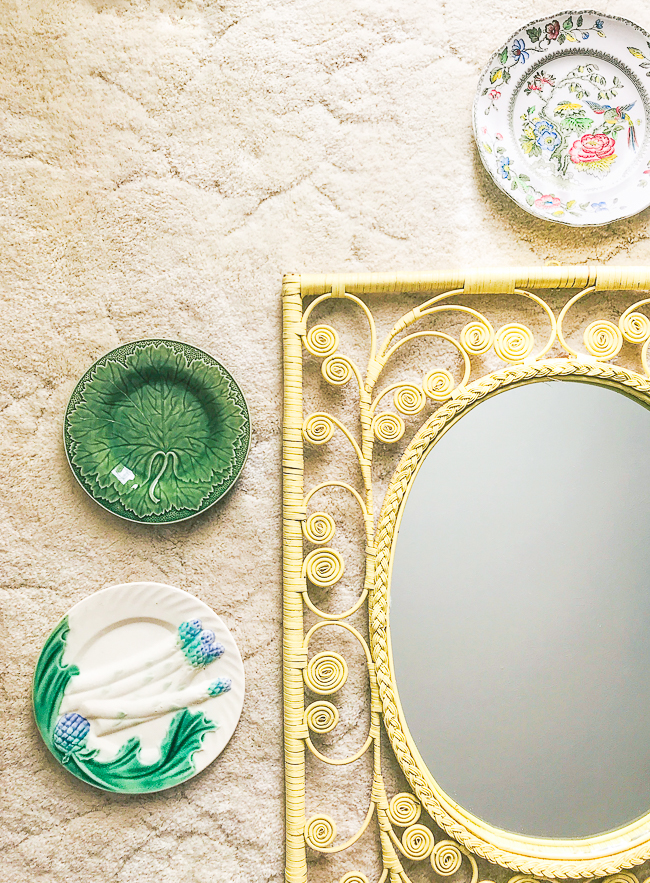 Majolica dishes also look fabulous mixed in a gallery wall or plate display wall. I have been toying with the idea of showcasing my Majolica around this wicker mirror. Before hanging anything, layout your design elements on the floor and play with the arrangement to achieve the desired effect.
Click the next pink tab "Perfect Pairings" to learn about the design elements that pair beautifully with Majolica.
Perfect Pairings
Let the pairing begin!
This truly is my favorite part of styling decor: playing with patterns, textures, and design elements to coordinate and highlight. Yours too? I knew we were two of a kind!
Pattern & Majolica Displays
Majolica works well with a variety of patterns, particularly when your pieces lean toward the nature inspired motifs. Two of my favorite pattern pairings with this antique earthenware are gingham and marbled.
Gingham works because its straight lines are a pleasing contrast to the natural forms and curving lines of Majolica. Try adding a gingham ribbon to a jaunty piece like I did here with my begging spaniel to amp up the whimsy or mix majolica dishes with gingham plates on a gallery wall.
Marbled surfaces like this antique biscuit jar also work with Majolica albeit for the opposite reason. The waving lines of the marbleized surface harmonize with the natural lines of Majolica. This pairing can get busy, so stick with simpler ceramic forms and color palettes.
Other Patterns for a Perfect Pairing:
Tortoise Shell
Embossed Leathers
Ikat
Unfussy Chintz (yes I believe there is such a thing!)
Trellis
Stripes
Natural Elements & Majolica Displays:
Bring nature inside to enhance your display of antique Majolica. The botanical, animal, and country themes of the Majolica will play off natural design elements to create a charming vignette.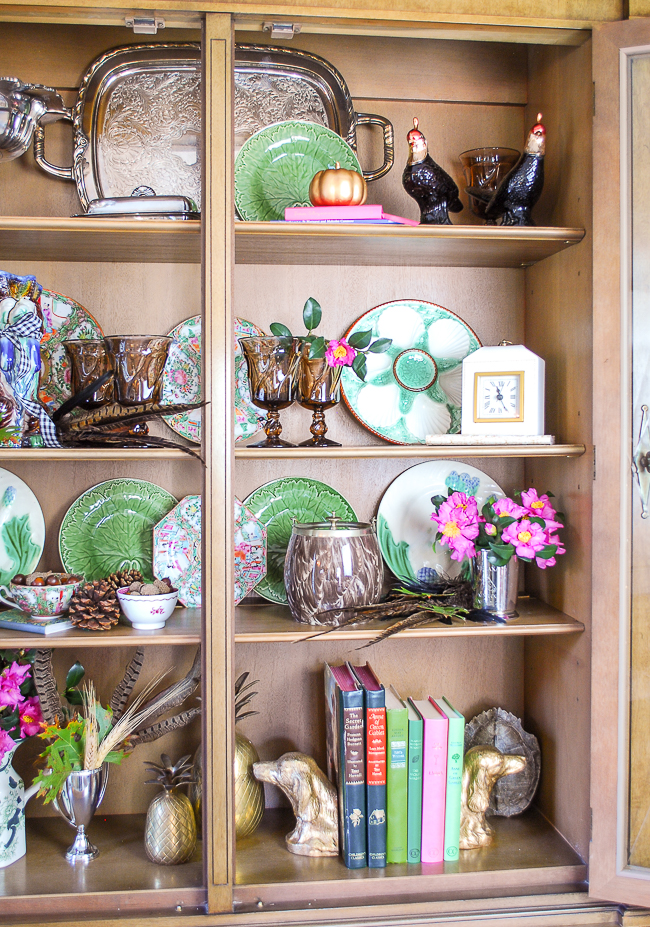 As you can see from my bookcase Majolica display, I brought in a variety of natural elements from feathers to oak leaves and pine cones to camellias. This is bold mix that won't work for everyone, but play with different flowers and foliage to see what works best with your collection. Head out to the yard and gather from there for budget friendly options.
Other Natural Elements for a Perfect Pairing:
Pinecones
Magnolia
Cotton Stems
Acorns
Feathers
Evergreen Branches
Tulips
Seed Pods
Click the next pink tab "Proper Playmates" to learn about the styles, ceramics, and designs that work well with Majolica.
Proper Playmates
Let the mingling among playmates begin!
So you've tried pattern mixing and bringing in natural elements, now it's time to get funky. Don't shy away from mixing Majolica with other ceramic forms, design styles, and decorative mediums.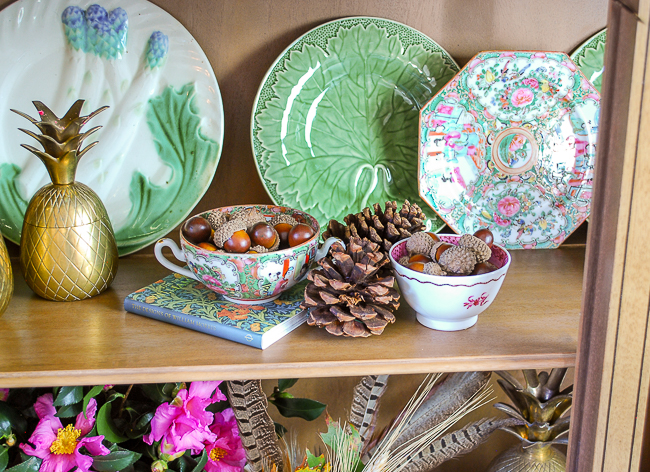 Several New Traditional designers are mixing Chinoiserie and Majolica to beautiful effect. Think of the rooms by James T. Farmer, Mark D. Sikes, Maggie Griffin, Avery Cox. Here I've paired plates in Rose Medallion with my Majolica. The color palettes work so well together!
For other Chinoiserie Majolica mixes try classic blue and white ginger jars and Majolica floral plates or Chinoiserie birds of paradise with leaf motifs.
See more about decorating with Chinoiserie here.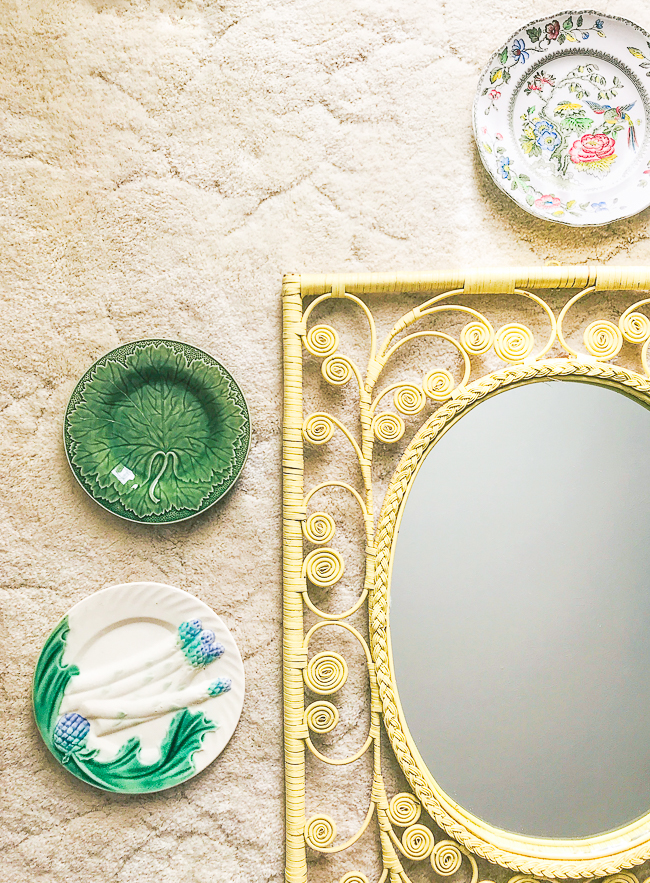 Metallics like vintage brass and antique silver are another great mix!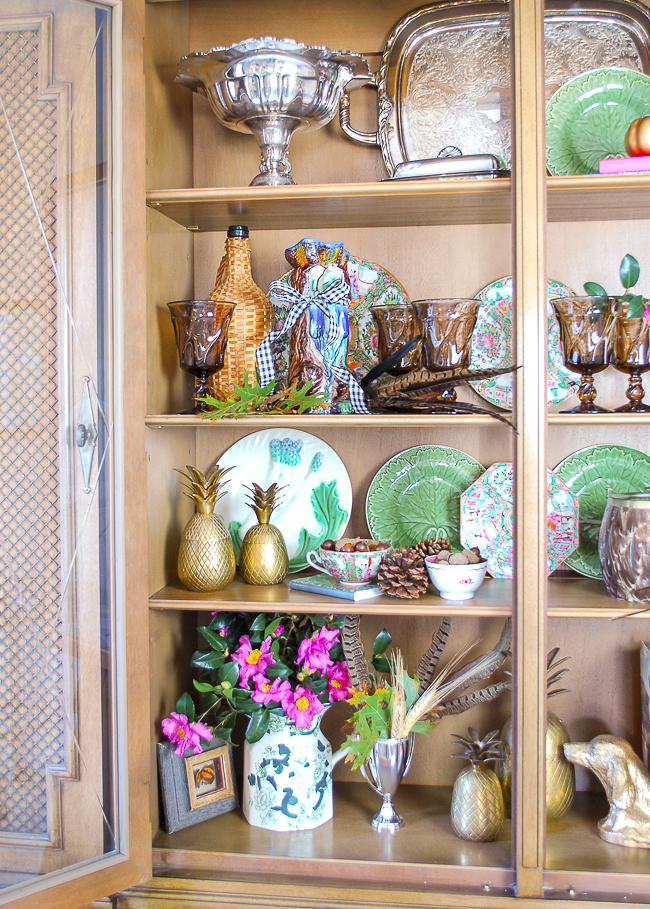 For a more rustic, casual feel pair Majolica with faux bois, bamboo, and/or wicker.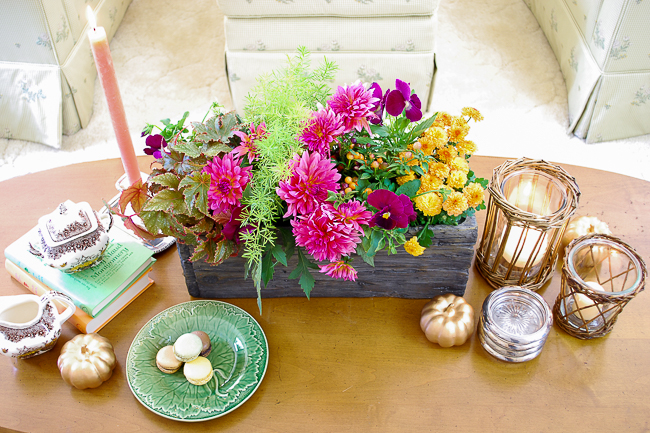 For that true grandmillennial feel to your Majolica displays pair it with bright colors: orange, fuchsia, coral, aqua, lime green, and sunny yellow. Forgo the earth tones!
Most importantly – have fun styling your collection, and choose pairings that delight you!
Learn More About Majolica