DIY Advent Calendar Ornaments
Create this charming DIY advent calendar to celebrate the joy of Christmas and spark quality family time! Plus the mini-boxes double as ornaments!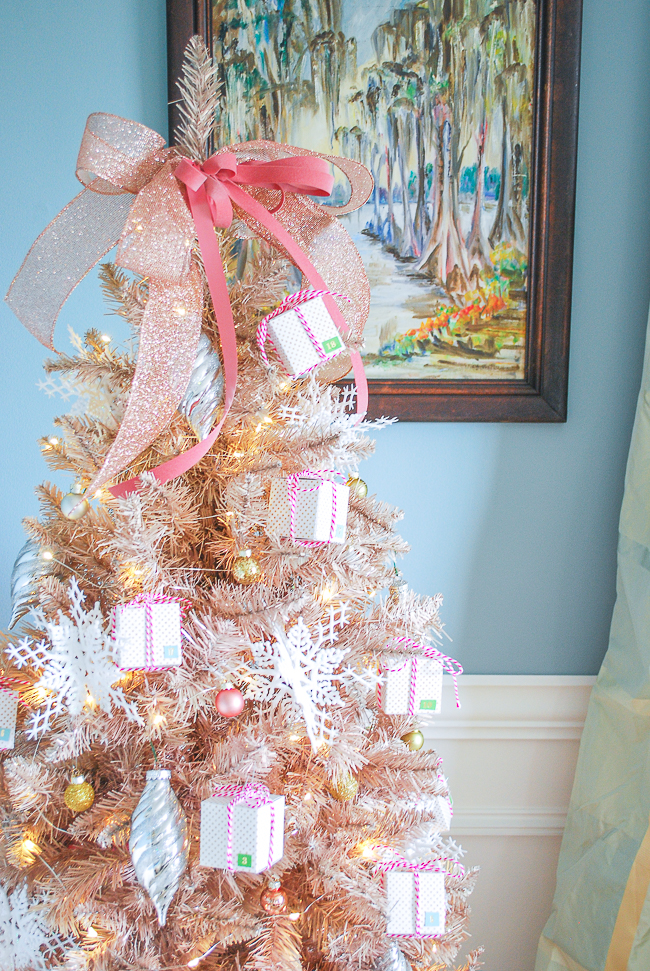 Part of the magic of Christmas is family traditions and one of the most memorable for kids is the advent calendar. This countdown to Christmas day builds anticipation and hope for the coming of Jesus Christ (as well as Santa Claus), and it is a wonderful opportunity to remind children about the meaning of Christmas.
Advent, specifically, is the four week period beginning on the Sunday nearest the feast day of St. Andrew through the following three Sundays. It has been celebrated since the 4th century. Today, advent calendars (a tradition started in the mid-1900s) start on the first day of December and count the 24 days before Christmas.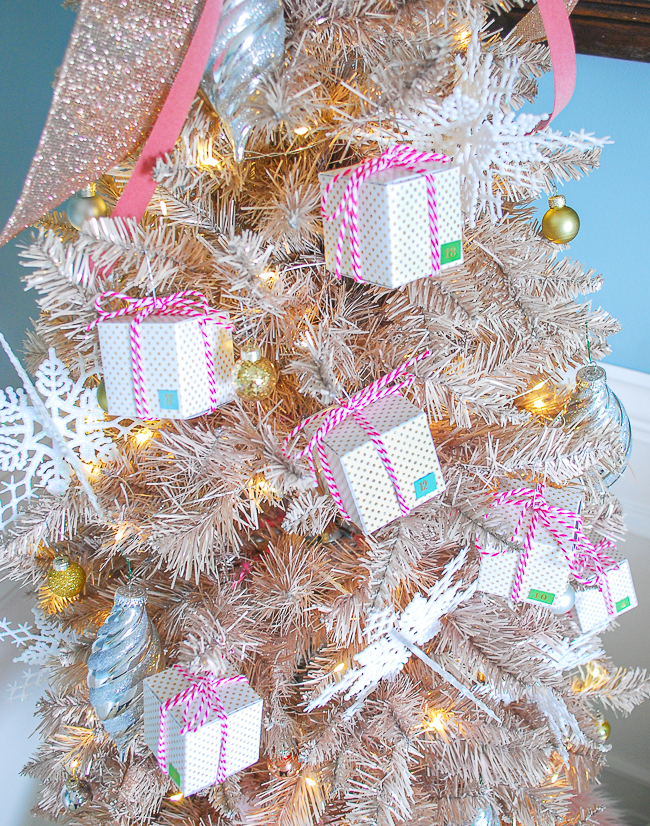 Sure you can go buy a beautiful advent calendar, but why not personalize it to your family and make it about more than just candy?
This simple DIY advent calendar can be created in about an hour, and these sweet little boxes double as ornaments for your Christmas tree! Two birds one stone! Brrrriiillllant, I know!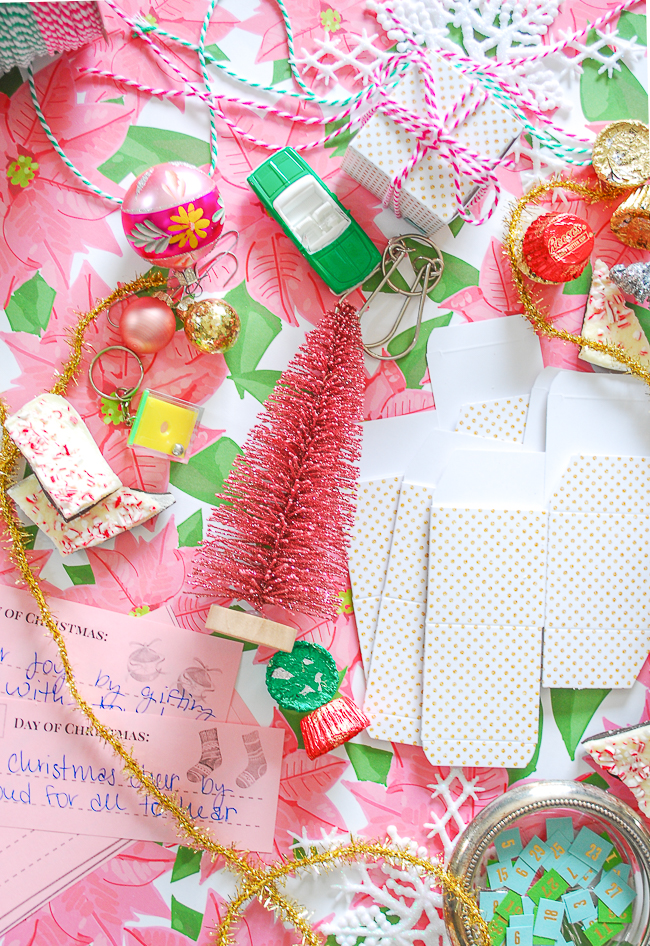 The easy premise behind this DIY advent calendar also means you can customize it with the colors, style, and activities you want. But I am quite partial to my pink, green, gold, and white version!
Each mini-present represents one day in December. Fill the boxes with a mix of small gifts like candy and toys, Christmas activities, and/or Bible verses. Hang the presents from your main Christmas tree or set-up a small kids tree.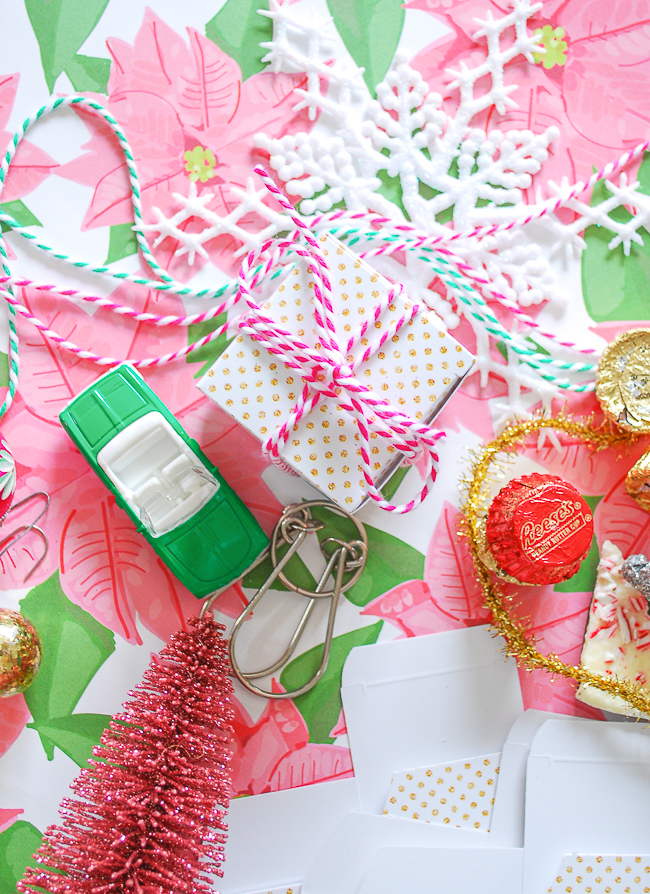 *This post contains affiliate links to recommended products.*
Materials for the Calendar:
Mini paper gift boxes in fun pattern or color. My polk dot ones can be ordered here. But I love these gold ones and these marbleized ones.
Numbers – stickers or printed
Small toys and gifts like Matchbox cars, puzzles, Playdo, Legos, ornaments, nail polish, etc.
Variety of candy
Paper
Pen
Scissors
Glue
Ornament hooks
Shop the Look:
Poinsettia wrapping paper on sale for $4! // Polka dot boxes // Pink bottle brush tree // Gold tinsel ribbon // Peppermint bark // Glitter snowflakes
DIY Advent Calendar Ornament Instructions
Step 1: Gather up all your materials, treats, and print the Christmas activity slips if you want to use mine. Click here to download the slips. I created them in classic red and green, but if you are doing other colors you can print them in black and white on colored paper like I did. Another fun idea, is to write them on the back of scrap wrapping paper.
Step 2: Put your mini-present boxes together:
Step 3: Write out your Christmas activity or Bible verse slips. See my list below for 25 ideas of family friendly activities. Some of these activities involve going places like to see a tree lighting ceremony or ice skating. Other activities are things you can do at home like make Christmas cookies. And some are service oriented to encourage giving-back this holiday season. Tailor the activities to your schedule and when you want to do these things as a family.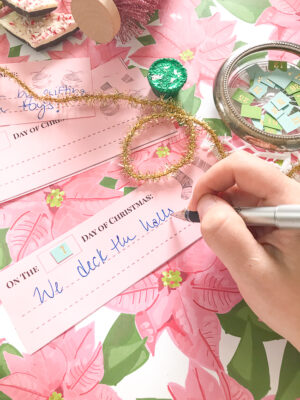 Step 4: Fill each box with treats, toys, candy, and activity slips as appropriate.
Step 4: Close lid and tie up box with striped twine. I double wrapped mine, so the box was extra secure and sturdy then tied a simple bow on top.
To double wrap them: start with top of box facing up and lay the string across, leaving a 4 inch tail. Wrap the other end of the string around the box twice in one direction then rotate, twisting the the two strings together and wrap in the other direction twice. Bring end of string up to top and tie a bow with other tail.
Step 6: Number the outside of the box. I used cut out numbers from old calendars that I had saved in my craft supplies to glue on the activity slips and exterior of boxes. You could also buy number stickers or write on the box. If you write on the box, be mindful of smearing the number.
Step 7: Hook your wire hanger through the bottom of the bow and hang on tree.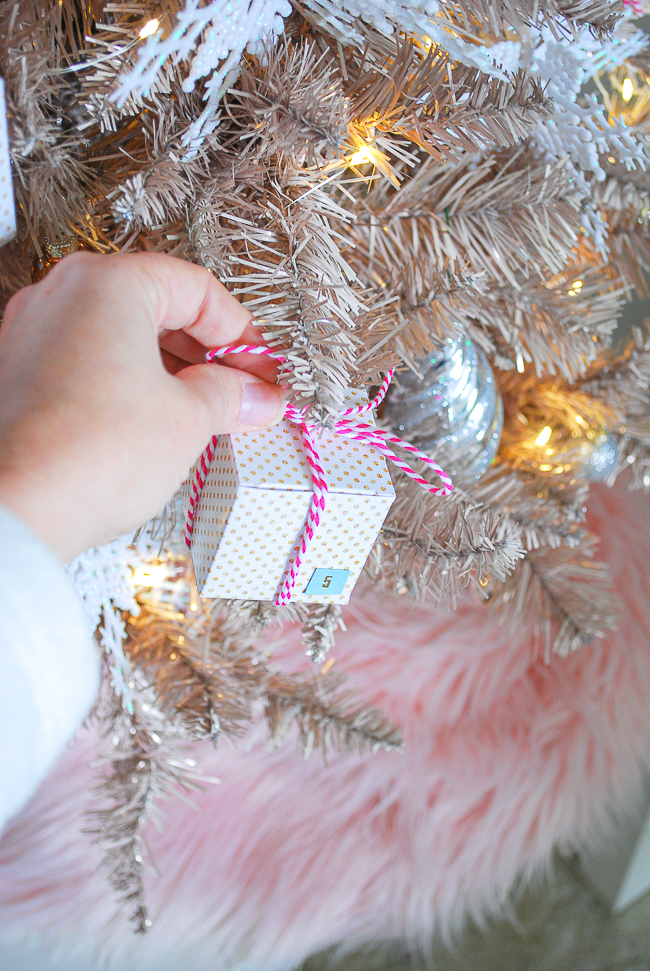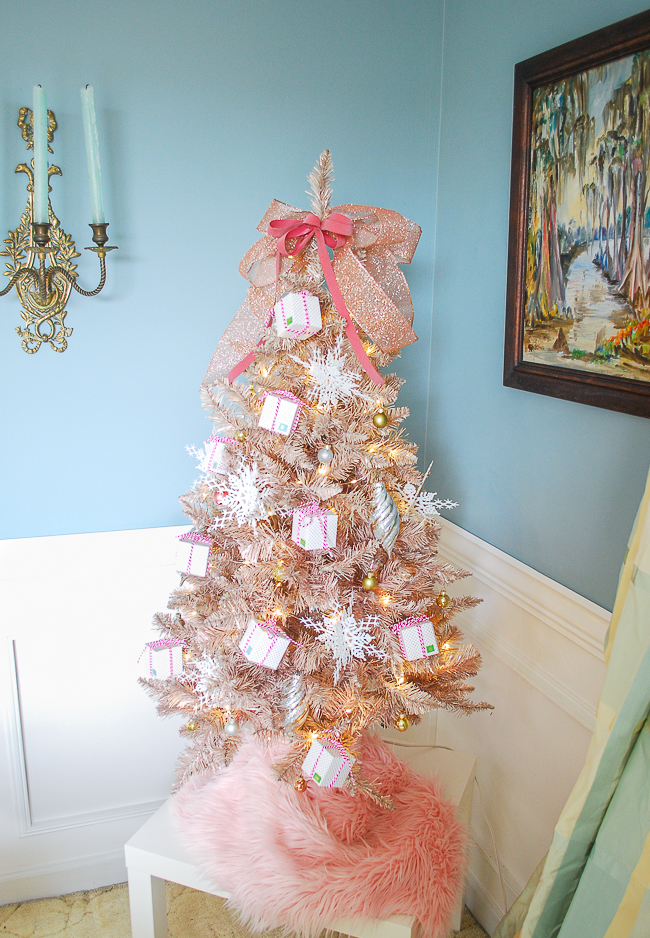 Fill your tree at random with the advent ornaments or sort them chronologically around the tree. I love the idea of the kids having to hunt out the right day though!
25 Ideas for Christmas Activities for Family Advent Calendars
Write these on my printable slip or a sheet of paper and tuck into each advent day present!
No. 1 Hang a front door wreath
No. 2 Make hot cocoa
No. 3 Write a letter to Santa
No. 4 Send out Christmas cards
No. 5 Make ornaments
No. 6 Drop off presents for Toys for Tots
No. 7 Bake Christmas cookies
No. 8 Watch Elf together
No. 9 Attend a tree lighting
No. 10 Donate food to a local pantry
No. 11 Sing Christmas carols
No. 12 Cut out paper snowflakes
No. 13 Donate pet food to local shelter
No. 14 Read or watch How the Grinch Stole Christmas and make Grinch slushies: lime sherbet and sprite
No. 15 Family game night
No. 16 Decorate stockings
No. 17 Wrap presents
No. 18 Watch White Christmas
No. 19 Go ice skating
No. 20 Do something helpful for someone else
No. 21 Attend a Christmas concert
No. 22 Drive around and look at Christmas lights
No. 23 Dress up in festive holiday outfits – ugly Christmas sweaters, reindeer antlers, etc.
No. 24 Put on your Christmas PJs
No. 25 Read the Nativity Story
What are you waiting for? Get crafting! I know you and your kids will enjoy this festive DIY advent calendar. Keep it merry and bright y'all!