Chic Fall Mantel with Majolica, Topiaries, & Magnolia
For a tradition look with a twist decorate a chic fall mantel with Majolica, magnolia, tortoise shell, antlers, and topiaries!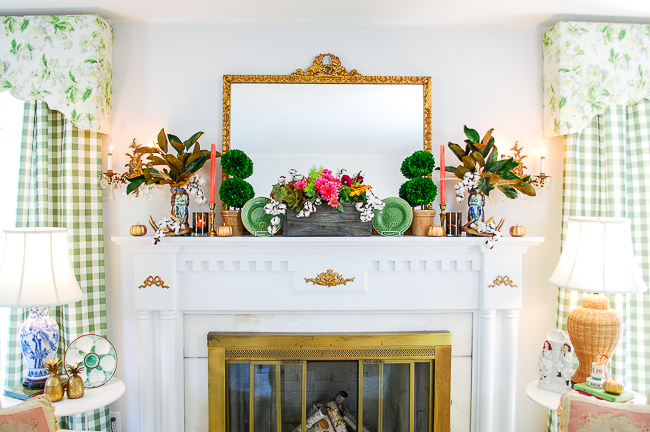 Traditional with a twist you say? Do tell me more!
This chic fall mantel combines my favorite classic Southern elements: magnolia, boxwood topiaries, and cotton stems with antique accents: Majolica and brass — that's the traditional! Then add in playful touches with pops of coral and rustic elements like the tortoise shell votives, antlers, and copper mini-pumpkins — that's the twist!
This mantel started with two elements: these darling repro. majolica spaniel pitchers and the fall dish garden I planted in this faux bois container. From there I layered antique accents and floral elements for a traditional look that is still playful and bold.
Traditional, but in no way boring!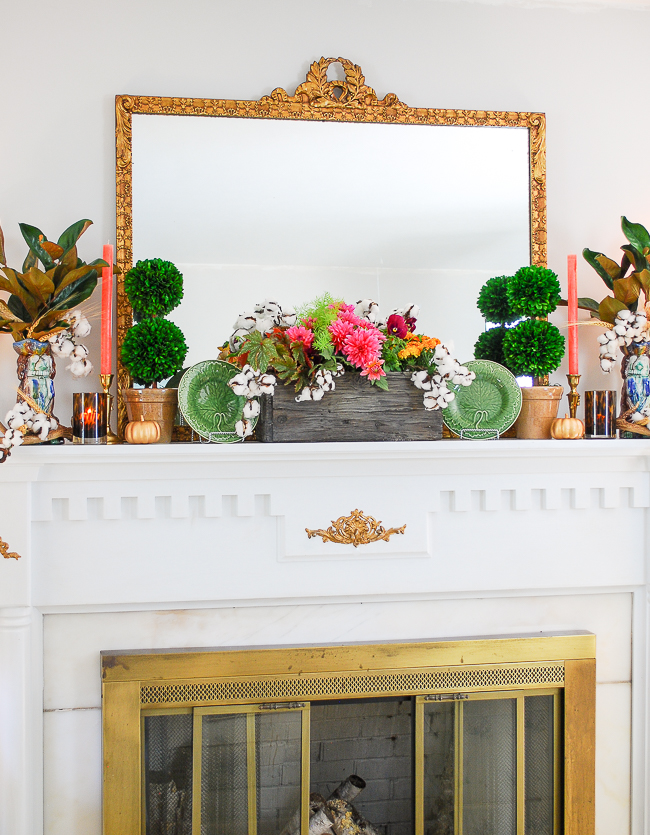 For me fall decorating is all about creating a cozy vibe, pulling in the colors of autumn, and adding rustic touches. For a cozy vibe think rich textures, soft candle light, and warm tones. The faux bois planter combined with the antlers give the mantel that rustic touch, while the Majolica and tortoise shell provide those autumnal earth tones.
It is always important when transitioning your home with seasonal decor to stay true to your style and aesthetic. Use collections you love and colors that speak to you. For my fall mantel decor, I kept my boxwood topiaries because they are a formal element that complement the traditional nature of our formal living room. I use them almost year round on this fire board, and love the versatile nature of a topiary. See how I used them for Christmas decor here.
The central element on my chic fall mantel is this fall dish garden that I created with a faux bois planter, mums, pansies, fern, and dahlias. For the mantel I added some stems of faux cotton to tie into the spaniel pitcher arrangements. The planter punches up the color and adds a touch of nature to this autumn decor. Learn how to create your own fall dish garden here.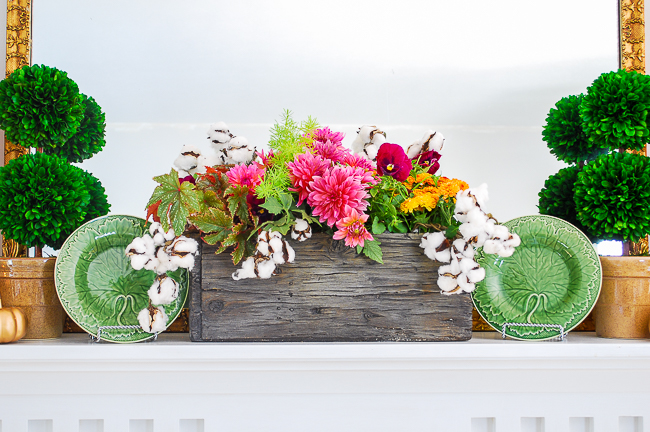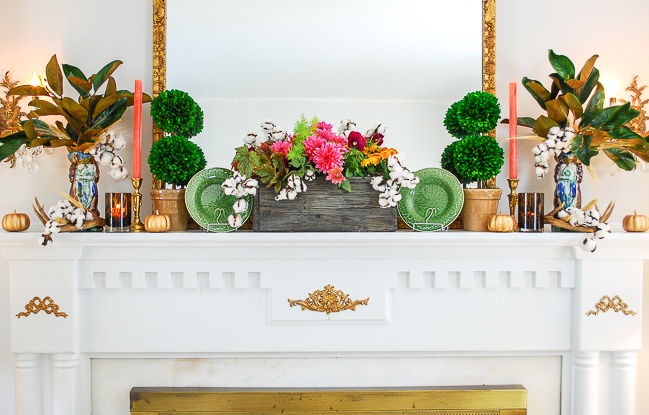 Get the Look: Chic Fall Mantel Decor
If you are loving those little begging spaniel pitchers in the Majolica style then you're in luck because I found two up for sale now on ebay: Majolica style "begging" spaniel pitcher & here is a cat and dog.