3 Ways to Use a Fall Dish Garden
No. 4 Arrange plants inside container.
Play with the plant and flower pairings to vary color and texture and find a grouping that is visually appealing. I scattered the pansies throughout, putting their roots inside an open zip lock bag.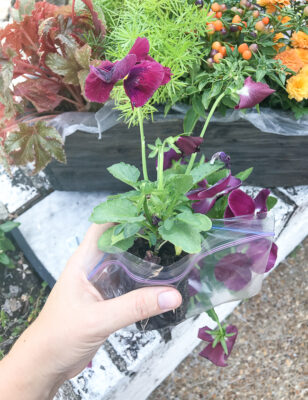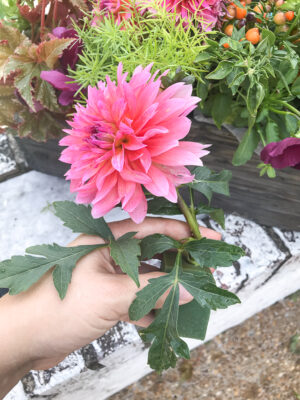 I knew I wanted to incorporate dahlias in my fall dish garden, but their size makes it impractical to "plant" them in the container, so I cut the stems and pushed them into wet floral foam. The dahlias will only last for a few days, but I can easily pull them out and replace with more dahlias or another flower when necessary.
No. 5 Tuck plastic inside container.
Once all your fall plants are nestled inside your dish, tuck the plastic sheeting back inside. Be careful not to cover the tops of the plants because you will need to water them and you don't want to stop air flow to the soil.
If the tops of the grow pots or plastic is visible in your dish garden, consider using moss or bark to cover the top.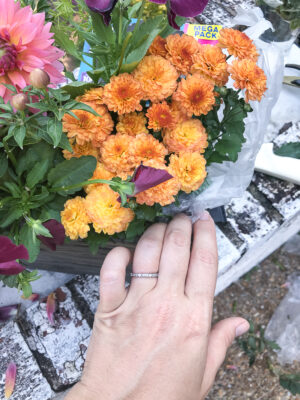 On a Coffee Table
A fall dish garden is perfect for coffee table styling. It adds a touch of nature and autumn foliage without being fussy. Choose a container that matches the shape and size of your coffee table, so if your table is rectangular opt for a rectangular dish, and so on for round or square.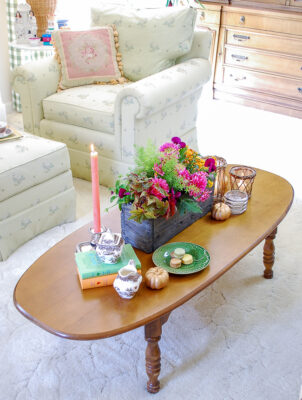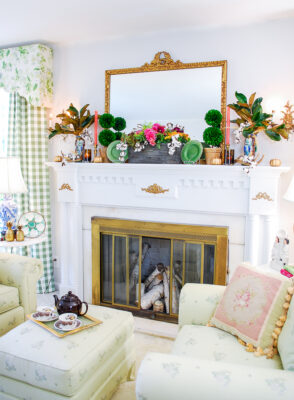 On a Mantel
Save the garlands and wreaths for Christmas and instead opt for a live floral arrangement for your mantel decor this autumn. A skinny, elongated container bursting with mums, pansies, and fern elevates the focal point of your fireplace and gives it all the fall feels. Add in additional fall touches with mini pumpkins, tapered candles, and sprays of magnolia and cotton.
On a Tablescape
Live flowers are a traditional table decoration, but a fall dish garden will allow you to keep your autumn tablescape looking beautiful longer. Choose fall flowers that do not put off a strong aroma and keep the arrangement low so conversation flows across the table.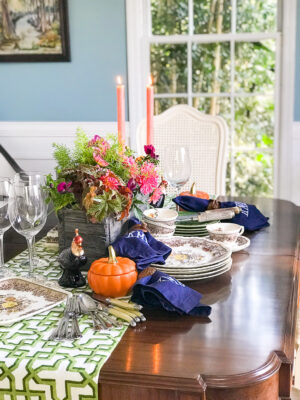 Well lovely peonies, I hope I've changed your notion of dish gardens with this fall version filled with dahlias, pansies, mums, and fern. The faux bois container really gives it that rustic autumn vibe and the color combo just pops.
With three ways to use your fall dish garden and its' low maintenance durability, autumn decorating just got a little easier.
Happy Fall Y'all!