An Easter Brunch Table with The Knoxville Flowerpot
Want to host an elegant Easter brunch? Get inspired by this pastel Easter brunch table with antique china, vibrant florals, and whimsical touches, and learn 5 tips for floral arranging at home from an expert florist.
It'll be the happiest spring gathering you host yet!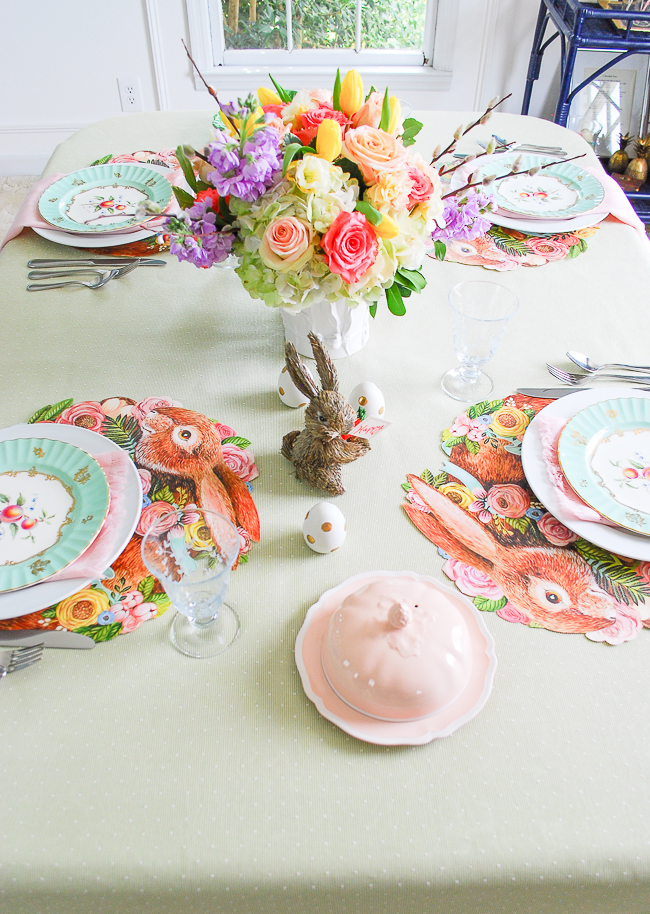 Happy Easter lovely peonies!
I am so pleased to share this pastel Easter brunch table with you because it was such a fun collaboration with the lovely Emily from The Flowerpot of Knoxville. Oh! And the table turned out just beautifully.
I met Emily last Friday evening for some tablescape scheming and floral arranging advice. We had a blast hunting through her buckets of flowers and layering color upon color. It was such a joy to see her create this floral centerpiece -- she taught me so much in such a short time! I'm excited to pass on her top 5 tips for floral arranging at home.
For you locals, you may be quite familiar with The Flowerpot already-- it has been around since 1972. A true Knoxville staple and family owned business, Emily and her team design stunning floral arrangements for every occasion. Follow them on Instagram @knoxvilleflowerpot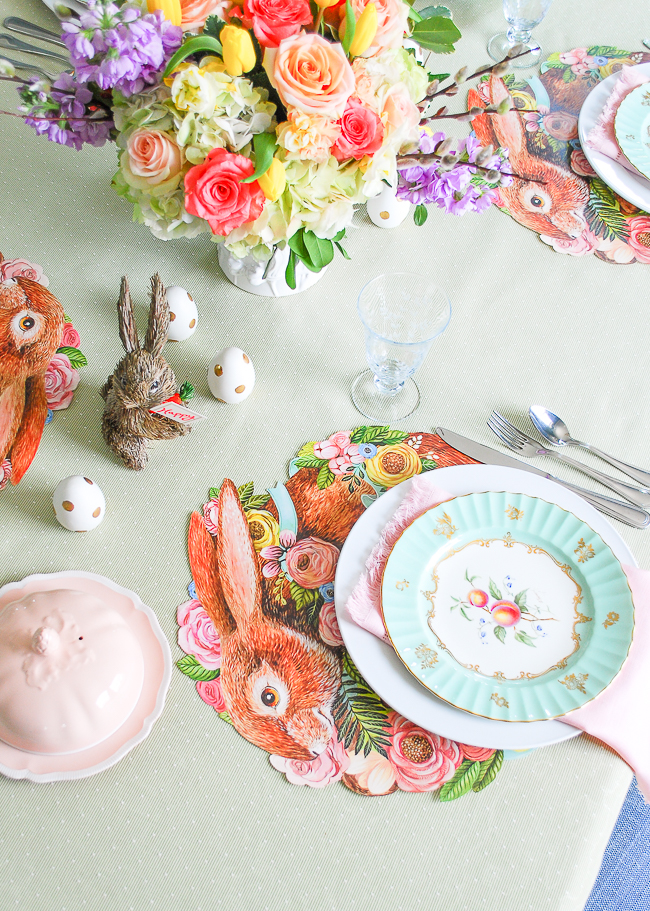 An Easter Brunch Table
Now let's delve into this Easter brunch table, shall we?
Two happy shopping finds influenced the direction of this Easter tablescape: these whimsical and vibrant bunny placemats by Hester & Cook and this set of antique Royal Worcester fruit plates.
The colors and charming themes of these two elements just beamed spring and gave me all the Easter feels.
Once the placemats and plates were decided it was more or less just picking out coordinating tableware and linens and pulling out the colors to use throughout the table. This is one of my favorite design strategies when putting together a tablescape or styling a seasonal vignette:
Use one key piece to design around pulling colors, shapes, patterns, or themes from it to echo throughout the grouping. You don't have to be matchy-matchy, but the repetition of elements will create cohesion and make the table feel pulled together.
For instance these plates and placemats have two totally different patterns, but they complement each other through color and the vintage feel.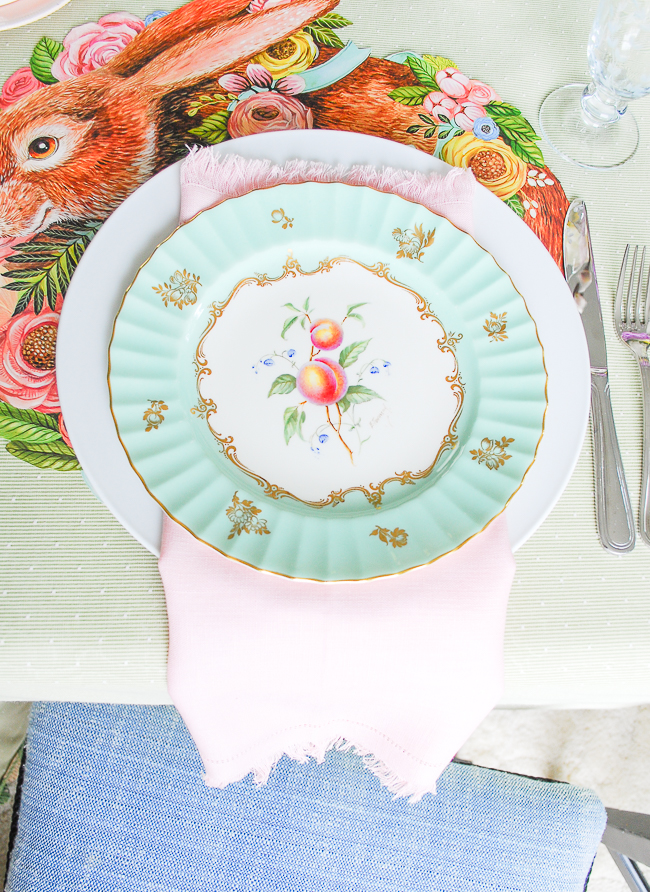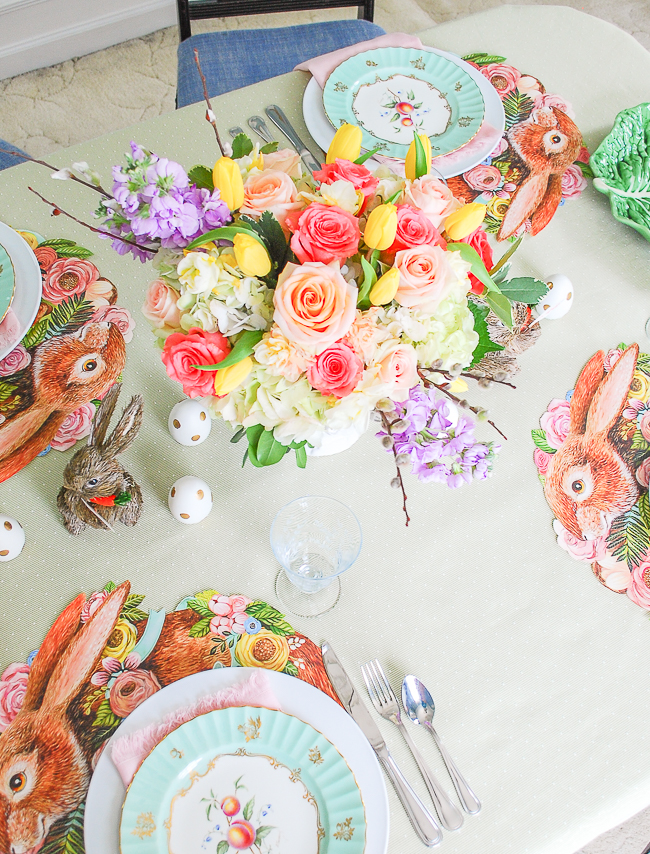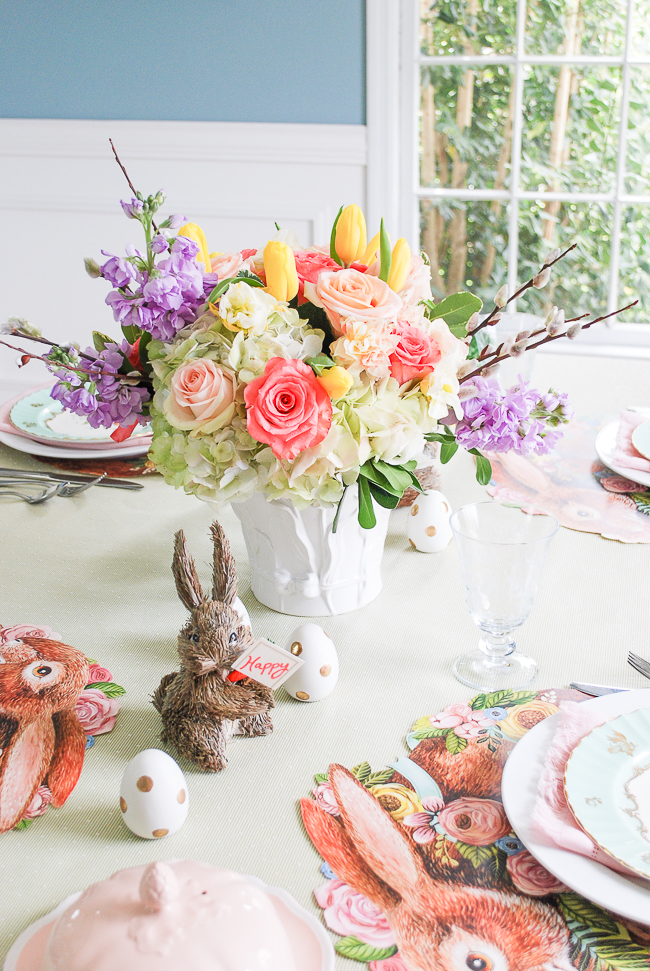 Adding Whimsical Touches to Your Easter Brunch Table
What's Easter decor with out a bit of whimsy after all! Whether you incorporate cute bunnies, darling chicks, or colorful Easter eggs, Easter tables should involve fanciful touches that will make your guests smile.
The bunny placemats certainly have whimsy in spades, but the centerline of the table needed a little extra oomph, so I opted to scattered these painted polkadot eggs on either side of the centerpiece. Polkadots are a great pattern for Easter, and they also echo the subtle dot in the tablecloth.
To either side of the centerpiece, I also added these two little straw bunnies. For some added playfulness I tucked a little sign I made using a place card and toothpicks into their arms, which read Happy Easter!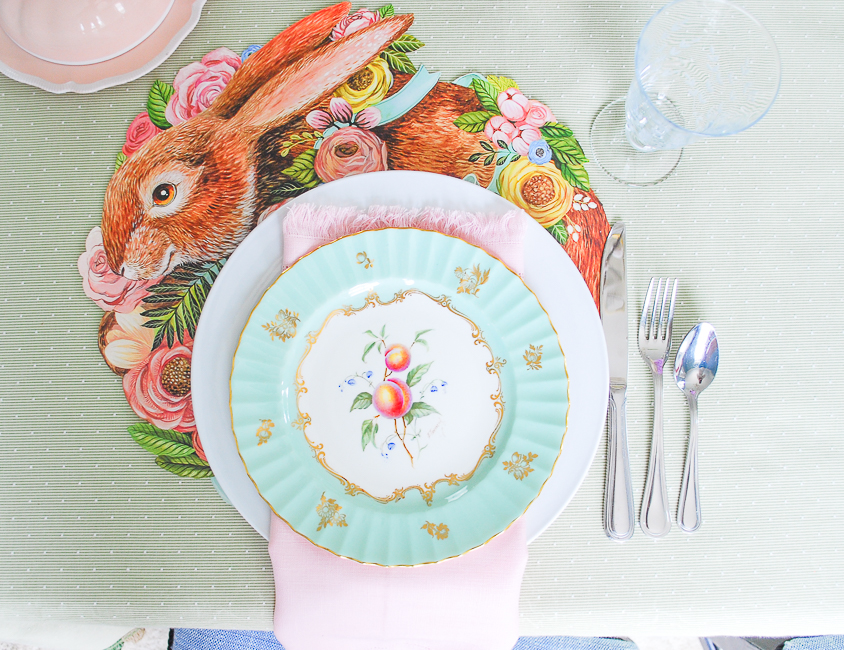 I couldn't resist adding a touch of whimsy to the bar cart! Super easy decorating hack - top off a clear vase with seasonal filler. Here I did pastel Easter eggs!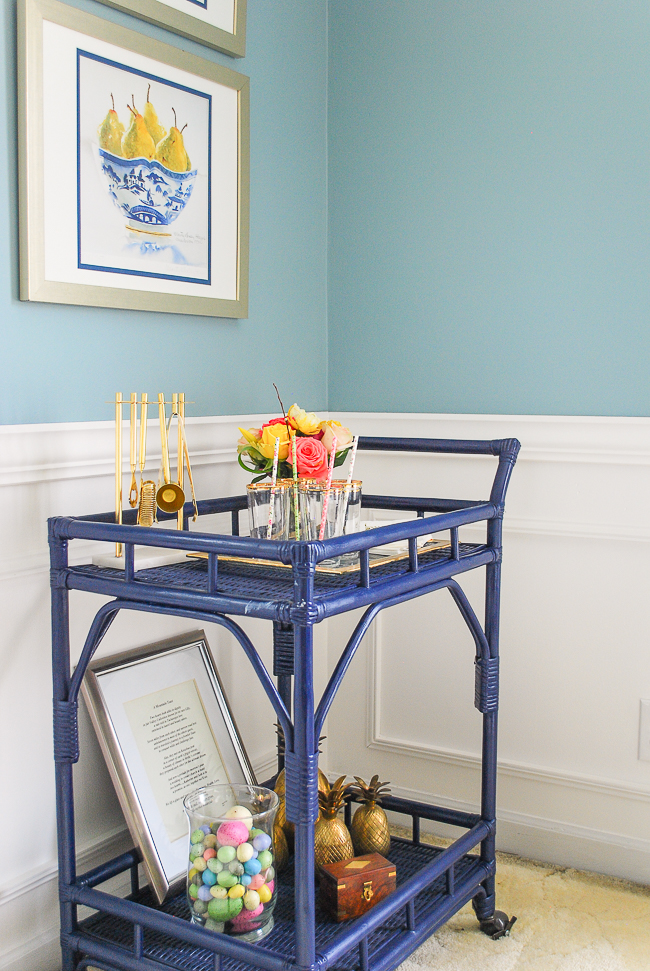 5 Tips for Floral Arranging at Home
From an Expert Florist - Emily's Advice
No. 1 Consider the size and shape of your space
This is a common mistake we all make (myself included) when arranging flowers at home. You have to get your proportions right for flower arrangements. A short square vase with a squat arrangement won't look good on an elongated table for instance.
Height is equally important. Consider how low your chandelier hangs over your table and whether guests will be able to talk to each other across the centerpiece. The classic rule of thumb for your arrangement height is one and a half the size of your vase.
No. 2 Start with the right foundation
Note the opening size of your vase or container. If it has a wide opening, you will need to form a structure to help hold the flowers upright and fill in the space without using tons and tons of flowers. Emily suggests hydrangeas as the perfect foundation for this purpose. This flower's stem network serves as the perfect support to other single stem blooms. Plus hydrangeas add a great color base and texture.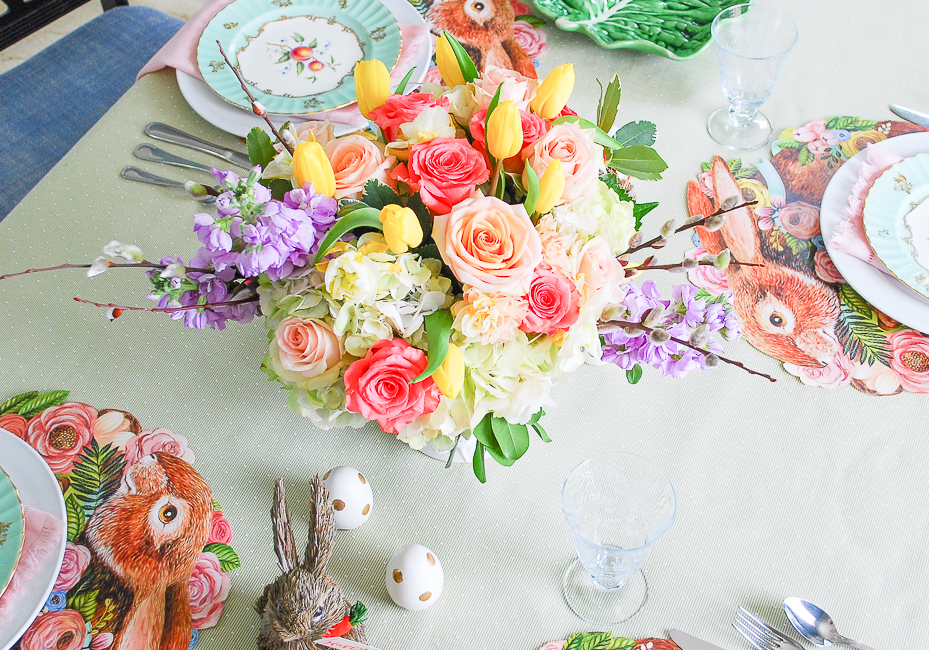 No. 3 Don't be afraid to use color and lots of it
Emily and I are kindred spirits in this regard, and it is clear from her shops that she is a color enthusiast! We let ourselves go mixing the floral colors for this vibrant centerpiece for the Easter brunch table, keeping as our inspiration the bunny placemats.
When you start mixing this many vibrant colors together you really have to embrace it! But as Emily pointed out, it helps to create contrast by throwing in neutral, darker tones to ground the arrangement and create depth, which we did by using this contrasting cool lilac color with the gillyflower and the deep brown of the pussy willow branches.
No. 4 Manipulate the flower stems and leaves to achieve the right shape
It was awesome to watch Emily sculpt the flowers. For the tulips, gillyflower, and pussy willow branches she used her fingers to mold the stems and leaves into the shapes she wanted, curling down leaves and stems.
This helped keep the tulip leaves from spiking up everywhere and created the "S" curve of the gillyflowers. Just remember to be gentle with your fingers and use repetitive stroking motions to manipulate the stems or leaves in the right direction.
No. 5 Make flowers last longer with clean water
To extend the life of your floral arrangement forget about sugary additives and flower food! According to Emily, all you need is fresh water to prevent bacterial growth, which is what will cause your flowers to wilt and wither faster. Change the water daily in your vase for longer lasting arrangements.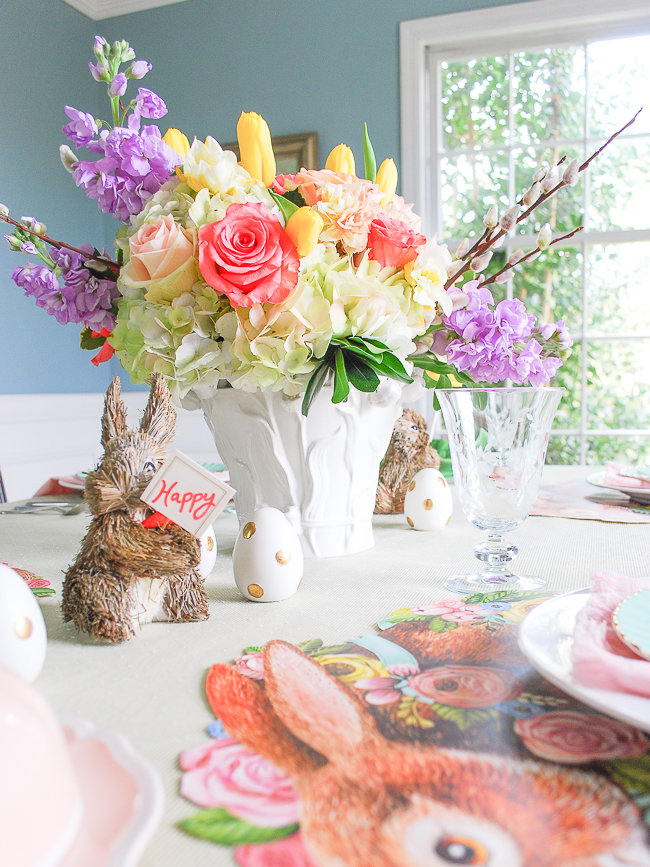 My Easter Tabletop Picks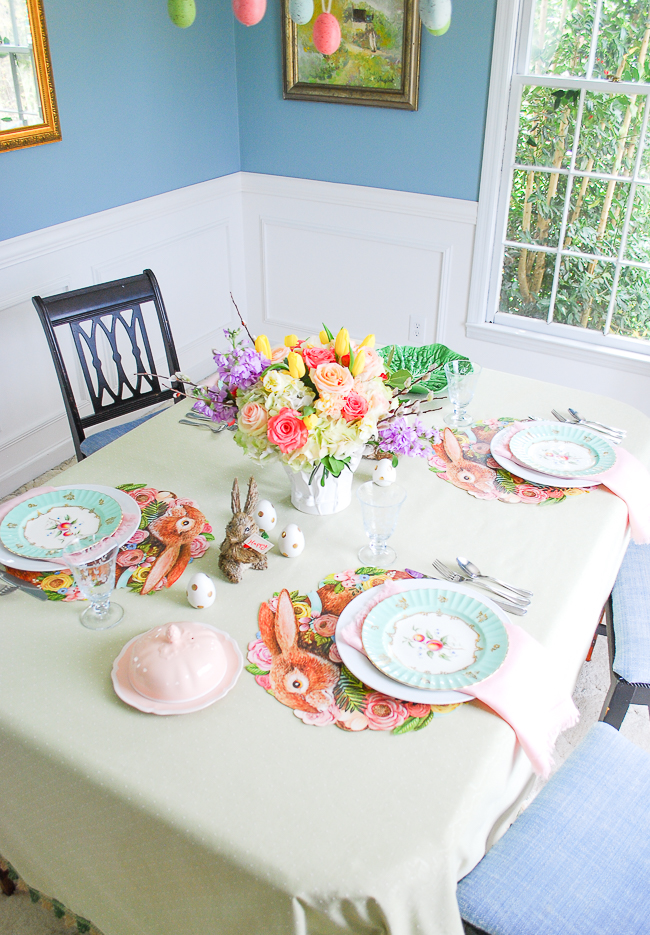 I hope you've found loads of inspiration with this Easter brunch table and learned something new about flower arranging. I know I did! A huge thank you to Emily at The Flowerpot for sharing her expertise and creating such a gorgeous centerpiece.
You can order flowers from Emily via the website or by calling (865) 888-5457.
Wishing you a lovely and whimsical Easter!