Build Your Own Southern Bloody Mary Bar + Recipe
Learn the art of building your own Bloody Mary Bar and how to make it quintessentially Southern!
My mother and I love to drink Bloody Marys! Whether out and about for brunch or breakfasting at home a Bloody Mary is a delicious start to the day with its piquant spice and yummy garnishes.
When we are at home, we go all out with multiple garnishes (ahem..move over celery), beautiful glasses, and even home-made tomato juice. So I thought I would share how to build your own Southern Bloody Mary bar and our favorite recipe with you lovely peonies!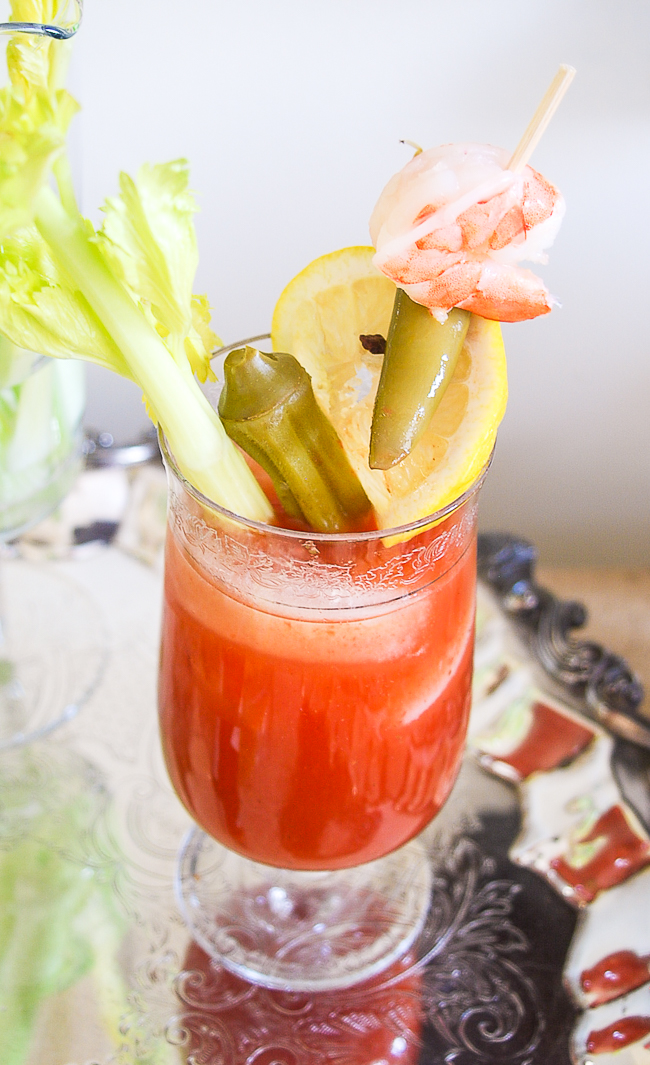 What distinguishes a Southern Bloody Mary you ask? Why…
Pickled veggies!
Pickled veggies!
Pickled veggies!
You may have been under the misconception that all the garnish a Bloody Mary needs is celery, some lime, and an olive. Oh my how you've been missing out!
Spicy tomato juice and pickled veggies go together like Karo syrup and pecans…waffles and whipped cream…biscuits and gravy. The salty tang and savory tomato juice are a delicious pairing and then add in that dash of spice, that hint of citrus, and that splash (or two) of vodka and you've created one winning combo!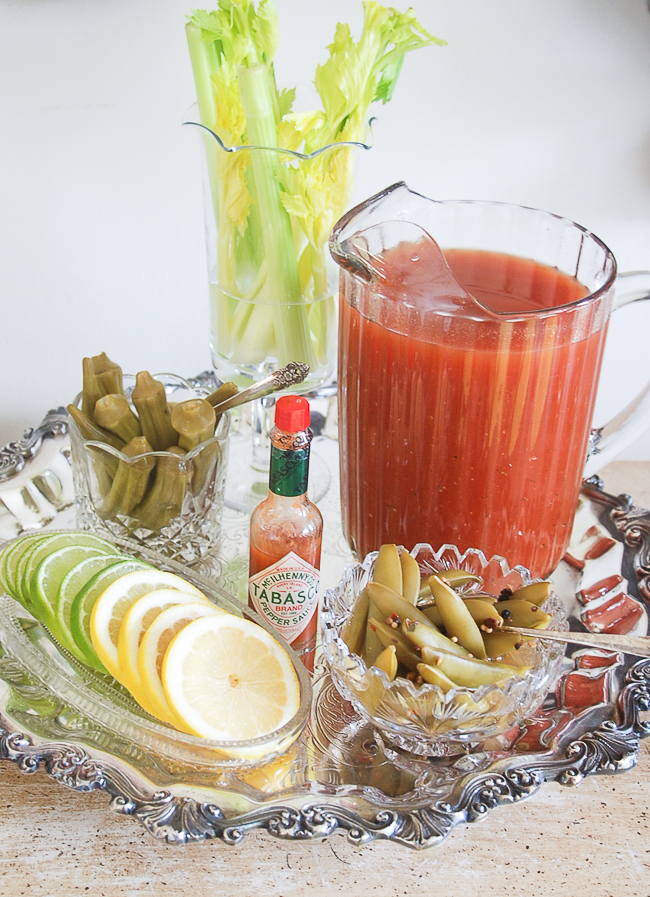 To Build Your Own Southern Bloody Mary Bar:
Set the Stage
First start with the foundation. Pull out a big silver or wicker tray and several small pretty serving dishes. You will need a glass pitcher, some toothpicks or cocktail forks, and goblets of good size.
Garnish Me This
Next decide on your garnishes. My favorite pickled veggies for a Bloody Mary are dilly beans and okra, but you can also use pickled beets, radishes, carrots, and/or asparagus. If you don't can your own pickles or have a lovely female relative who does, you will need to head to your local Amish store or farm stand. When I've run out of my mother's pickled veggies I buy these or these.
Fill your serving dishes with the pickled veggies you've selected. Slice some lemon and lime and prepare a bunch of celery stalks. Yes, celery still makes my Bloody Mary garnish list. It is a classic after all!
If you are feeling extra fancy, boil some shrimp to add as a garnish or fry some bacon. A little extra protein is always a good idea!
Go ahead and prepare several garnish skewers. With just 2 or three pickled veggies and the citrus I like to use these knot bamboo skewers but for a more elaborate Bloody Mary Bar go for actual grilling skewers like these. If your really serious, try these re-usable stainless steel ones or these Chinoiserie picks.
Arrange the Bloody Mary Bar
Fill your tray with the garnish dishes, skewers, and cocktail napkins. You can also place some Tabasco and salt and pepper on the bar so people can spice it up if needed. Gather your glasses together and fill with ice. Don't forget to leave room for the pitcher of Bloody Mary mix!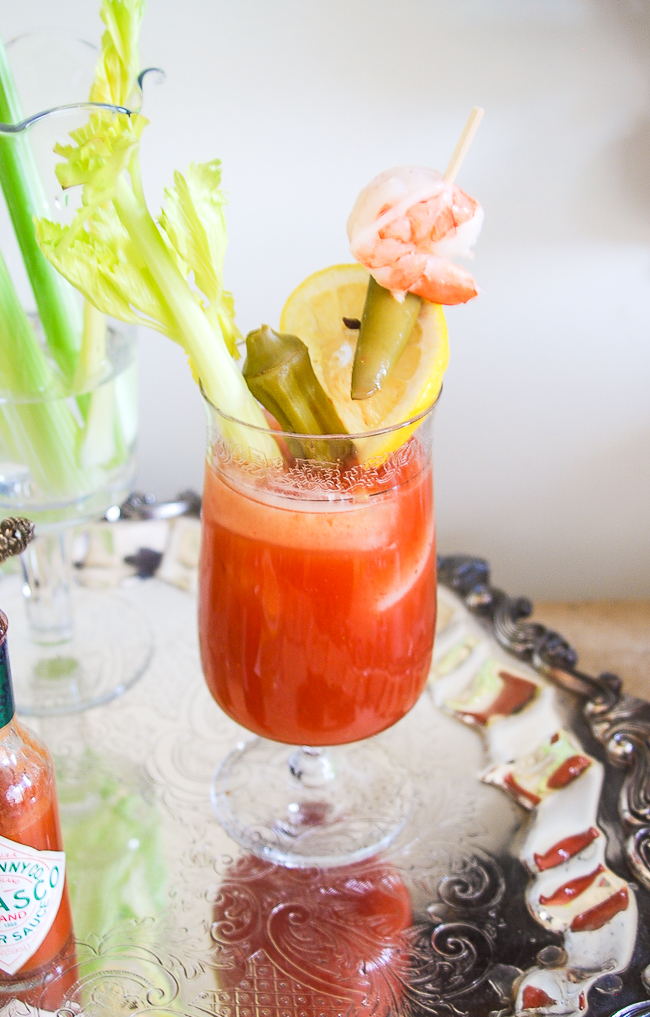 The Bloody Mary Recipe
Serves 8
Ingredients:
32 oz Bloody Mary Mix – yes this is the base, but we will doctor it up! I use Zing Zang.
16 oz Vodka – I like to use Absolute
16 oz of your favorite tomato juice
2 – 3 dashes of Tabasco – more if you like spicy.
Juice of one whole lemon and one whole lime
2-3 dashes of Worcestershire sauce
A pinch of fresh ground black pepper
A pinch of Slap Your Mama seasoning
To Make:
In a large glass pitcher mix in your Bloody Mary mix, vodka, and tomato juice. Squeeze the lemon and lime in to pitcher and stir. Add your dashes of Tabasco and Worcestershire sauce then the pinches of pepper and Slap Your Mama seasoning. Stir altogether and refrigerate for 15 to 30 minutes.
Fix your glasses with ice, stir Bloody Mary mixture and then pour in each glass! Let guests add their own garnishes, making skewers filled with their favorite pickled veggies and garnishes or they can simply select one of the skewers you've pre-made.
Toast to a spirited Saturday morning!
See more of my cocktail recipes here.