5 Simple Steps to Choose the Colors in Your Home Color Scheme
From inspiration to decision time, these 5 steps to choose the colors in your home color scheme will help you select a color palette you love that works with your style and home.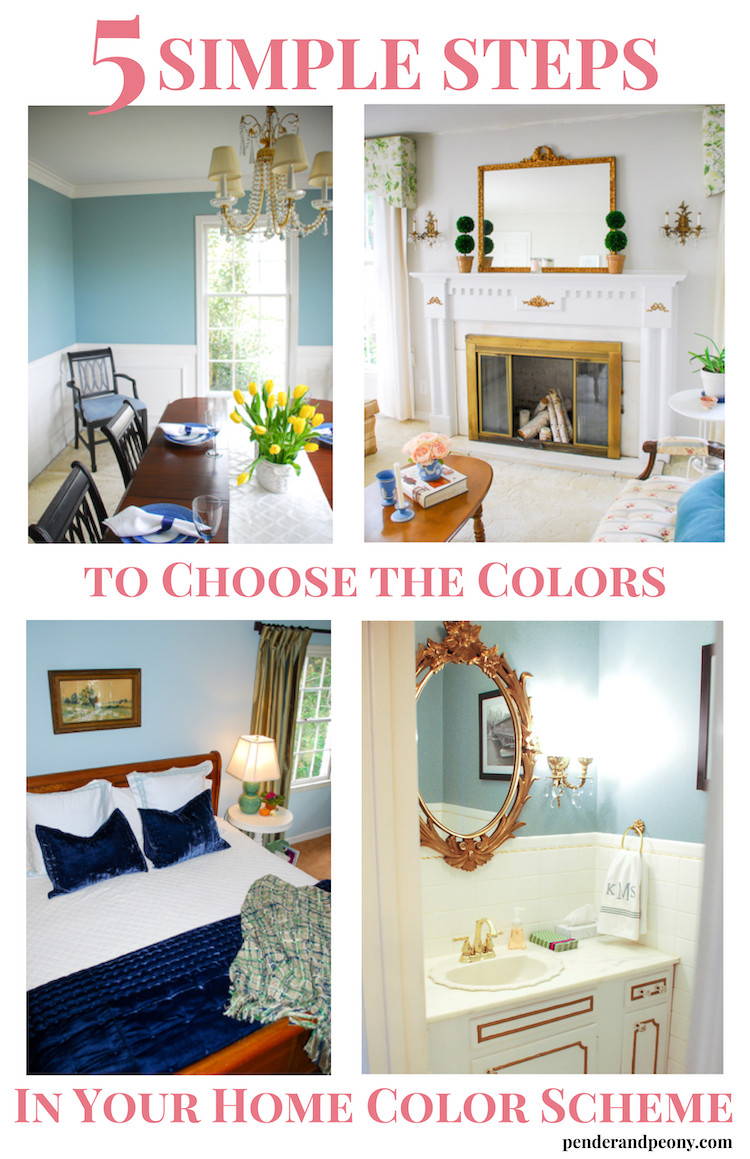 A home color scheme is a palette of colors (usually 5 – 6) you choose to use throughout all the rooms of your house. Think of this palette as a backdrop and guide that helps you create a cohesive look for the decor and furnishings you decorate with so that your entire home flows and has harmony room to room.
No, you don't have to paint everything white!
A home color scheme helps you focus on the colors you really want to use decorating. Otherwise it is easy to get lost in the whirl of color and end up with a house speckled like the rainbow that feels mis-matched and disjointed. Find out more about the benefits of a whole home color scheme here!
But how do you go about selecting the colors for your scheme? Where do you start? How do you narrow it all down?
That's where these 5 simple steps to choose the colors in your home color scheme come in!
Step 1 Gather Inspiration
To choose the colors in your home color scheme first identify your favorite color. Now take a look at the designers you love, the magazine clippings you've kept, your Pinterest inspirations as well as the art and fabrics that draw you.
What colors keep popping up? Make a list of the colors that are speaking to you with examples of that specific shade.
To organize these inspirations start a new Pinterest board titled home color scheme.
Step 2 Analyze Existing Colors
Consider the current colors in your house. What do you like? What do you dislike?
What cannot be changed? This could be flooring, counter-tops, etc. This is vital to consider as you choose the colors in your home color scheme. You will have to work with these colors and tones if remodeling is not an option, so it is important to select colors that harmonize with these "permanent" ones.
Step 3 Choose a Mood…Theme…Style
Finally, reflect on how you want your home to feel and the look you want to achieve. Keep in mind that home should be a respite. Think about the colors that bring you peace.
Then consider whether there is a particular style you want to work within. What colors do you typically see used with that style?
Jot down a list of words that describe what you want. For example: bright, airy, calm, traditional, happy, farmhouse, chic, modern…
Consider how this mood and look work with color theory. Take a look at the color wheels below:

If you want your home to feel energized opt for warm colors in a triad or complementary scheme.
If you want your home to feel tranquil opt for cool colors in a monochromatic or analogous scheme.
If you want a mod look opt for analogous, monochromatic, or split-complementary.
If you want traditional style opt for neutrals, warm colors, and/or a triad.
Take a look back at the designer rooms you chose from step one. Can you identify where they used one of these color theory schemes? How does the room feel?
Does this match any of the descriptors you wrote down?
Step 4 Pick a Saturated Color & a Harmonious Color
Look over your inspirations, list of colors, and chosen mood or style. What colors re-occur? Do you tend to like cool palettes or warm?
Is there a color theory scheme that works with these?
When choosing the colors for your home color scheme it is important that the colors speak to you and reflect your style and tastes! Otherwise you'll be tired of them quickly or find yourself straying from the palette.
Below is the home color scheme for my house in TN: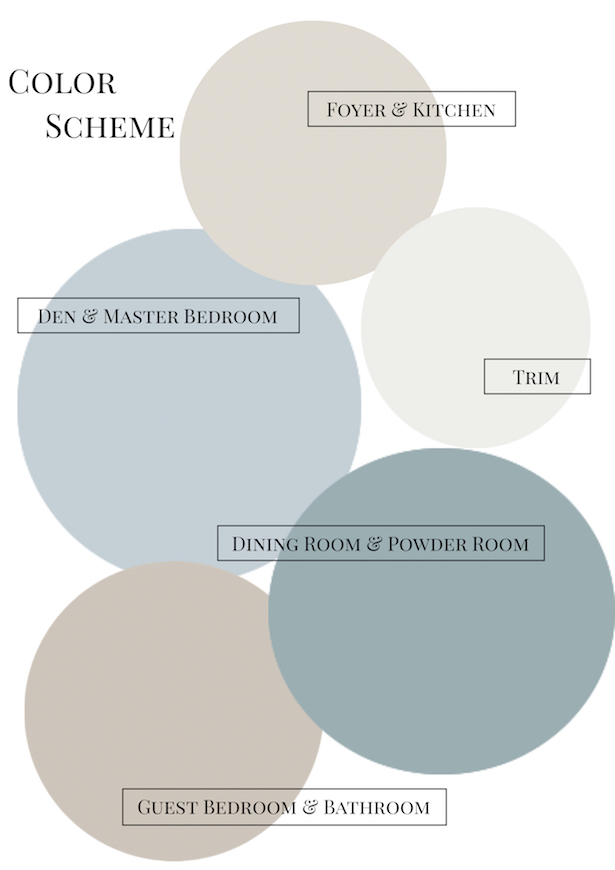 You can see that I chose a cool color scheme with blues pre-dominating that uses the calming affect of a monochromatic scheme. As we've implemented our whole home color scheme I have introduced other colors, primarily green and navy. These 2 colors complement what I've already selected because of the analogous color theory.
Now it's your turn! With your notes from steps 1-3 in hand, it is time to pick your saturated color. Most likely this is the color that speaks to you the loudest. It's the color that keeps occurring in your inspirations and makes you feel happy.
For most this tends to be a bold color that is more intense. Mine is the deep aqua above that I used in the dining room and powder room. This color will work primarily as your accent color. You want to use it in small but powerful doses. Think decorative accessories, accent walls, and fabrics. I did paint walls with my saturated color, but only the top half with tile or wainscoting below.
Now pick a color that harmonizes with this one. This color could be a subdued version of the saturated color like mine is or another color from the scheme. If you chose a complementary scheme than this is the color opposite the saturated color. Your harmonious color should be used on walls, decorative accessories, fabrics, and furniture. I used my harmonious color (the lighter blue) in our family room and master bedroom for a calming effect.
You can also choose a second harmonious color here if you are using a split-complementary, triad, or analogous scheme.
Step 5 Pick Your Neutrals
The final step to choose the colors in your home color scheme is to pick the neutrals that will work well with the saturated color and harmonious colors you've selected. Think tans, grays, whites.
You must consider the temperature of the other colors – cool or warm. Your color palette will work best if you pick one or two neutrals as well as a white.
These colors form the backdrop to your saturated and harmonious colors. They should be used on permanent fixtures like walls, moulding, cabinets, furniture, flooring, and linens.
How easy was that! With your color palette selected you are ready to start implementing your home color scheme. I'm sharing how my home color scheme is progressing and 10 action steps to get you started in this post!
---
Want some expert advice on your color scheme and help in the selection process?
I offer color consultations as part of my home styling services! We can work virtually or if you are local to the East TN or Western NC area I can do an onsite visit. E-mail me at penderandpeony@gmail.com to set up a free consultation!
Learn more about my styling services here
.