New beauty products: find out what's working for me and what's not before investing in new makeup and skincare. Review and tips to use of NARS foundation, primer, and concealer; Tarte primer; Kiehl's anti-aging products; and It Cosmetics powder.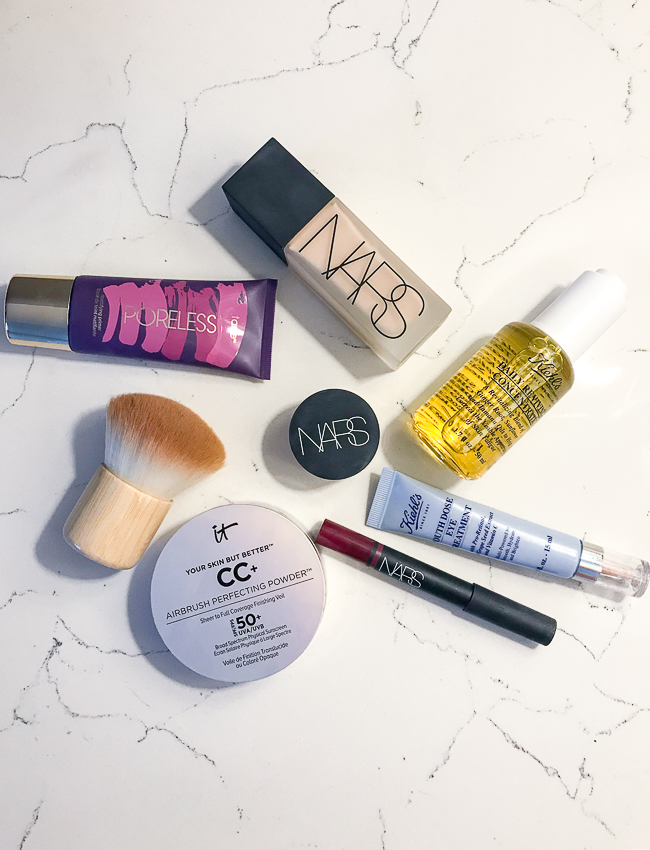 In December, I changed up my beauty and skincare routine with some new beauty products from NARS, It Cosmetics, Kiehl's, and Tarte. I had been using the same foundation and makeup primer for years, but suddenly it felt like it wasn't working. I had noticed a few changes in my skin, including noticeable pores on my cheeks and a bit of an oily sniffer by mid-day. So off I headed to the beauty-mecca…Ulta!
I have very sensitive skin and a mile long list of things that I am actually allergic too, including Neosporin and Cortisone of all things! Lately, my skin is a bit uneven in tone on my cheeks and nose with some redness and freckles and noticeable pores. I tend to always have circles under my eyes because of my pale complexion. And…I'm starting to notice wrinkles on my forehead! Oh my!
I took this little list of complaints to one of the makeup consultants and these are some of the products she recommended and we liked on my skin.
NARS and It Cosmetics are totally new brands for me, and I am a total convert now! I have used Kiehl's skincare products for ages. They are one of my favorite brands with products I will buy till the day I die! Their formulas work and most items are reasonably priced.
Buying new beauty products can be a bit daunting. I'm always wondering will this work and be worth the investment?!?! Here is a review of the skincare and makeup products I've tested lately with some tips on how they work best.
New Beauty Products – What's Working…
What I love – Seriously long lasting | perfect coverage | light weight | creates lovely glow
Tip – Shake well. Use a very small amount on a sponge and work onto one area at a time otherwise it drys too fast and gets hard to blend.
What I love – Goes on easily under my eyes and doesn't clump in my fine lines. Excellent coverage!
Tip – On days I don't want full coverage, I've been dotting this under my eyes and in red/uneven areas then finishing with the perfecting powder for light coverage.
What I love – Magical | light weight | creates lovely glow
Tip – Use a kabuki brush in a circular motion to finish and set your makeup.
What I love – Smooths on like silk, reduces appearance of pores, and is full of anti-aging antioxidants.
Tip – Apply to T-zone or oily areas and let dry a few minutes before applying foundation.
What I love – Reduces fine lines | brightens
Tip – Dot on with ring finger along orbital bone and allow it to soak in before applying makeup.
What I love – Moisturizes | evens skin tone | soaks in quickly
Tip – Apply it first thing in the morning and use a jade roller after.
What I love – Seriously long lasting | beautiful color
Tip – I've actually been using this like a lip stain and putting on my entire lip. It goes on so smooth and stays on literally all day!
New Beauty Products – What's Not Working…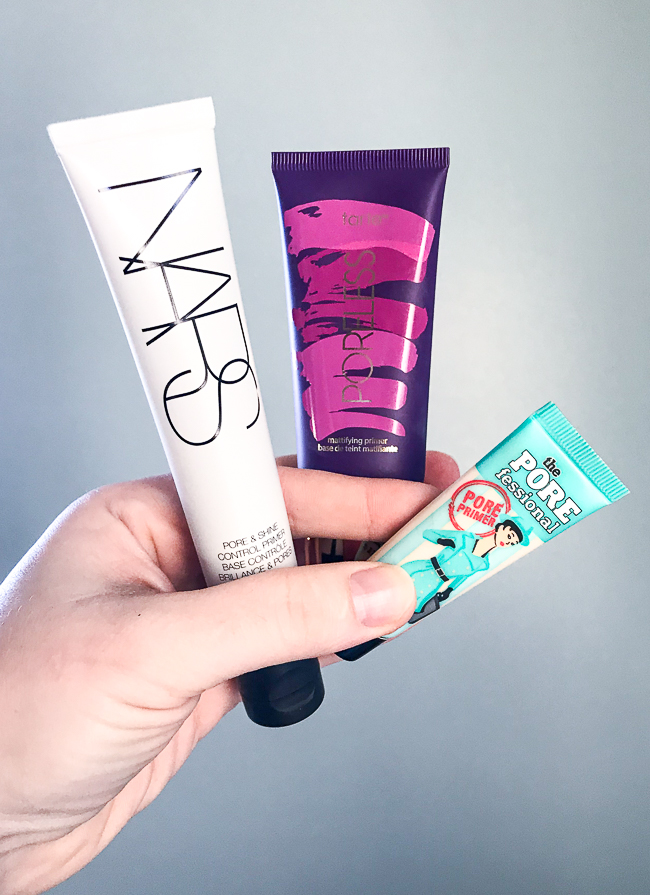 I tried two other primers that are supposed to reduce the appearance of pores and help control shine before deciding that Tarte's Poreless worked the best for me. The Pore-fessional from Benefit pilled up and rolled on my skin even after allowing it to dry and trying different ways of applying my foundation.
NARS Pore & Shine worked ok. I actually went back and forth between it and Poreless for several days. I feel like my foundation goes on easier with Poreless and looks more even (not settling into my pores). I also think it controls shine better throughout the day.
Sunny days at the beach are ahead! Find out what skincare and beauty products I swear by for the sand and sun here.
I hope this little review helps you next time you are standing in the makeup/skincare section wondering where to turn!
What new beauty products have you tried that are working?