10 Action Steps to Implement a Home Color Scheme
So you've decided to re-decorate and implement a home color scheme? But where do you go from there?
Implement a Home Color Scheme with these 10 Action Steps!
When S. and I moved into our house in TN, I decided early on to implement a home color scheme. In previous houses and apartments, I had experimented with various colors in each room and let my imagination run a bit wild. At one point I even had an orange bedroom! Hideous! But you live and learn.
Anyway, our house in TN is very traditional with each room separate, so to help create harmony and flow in between the spaces I opted for a coordinated palette of colors for the whole house. My home color scheme consists of 3 accent colors: blue, green, pink in bright pastel hues and 2 neutrals: gray and white. The wall paint colors are neutral or blue.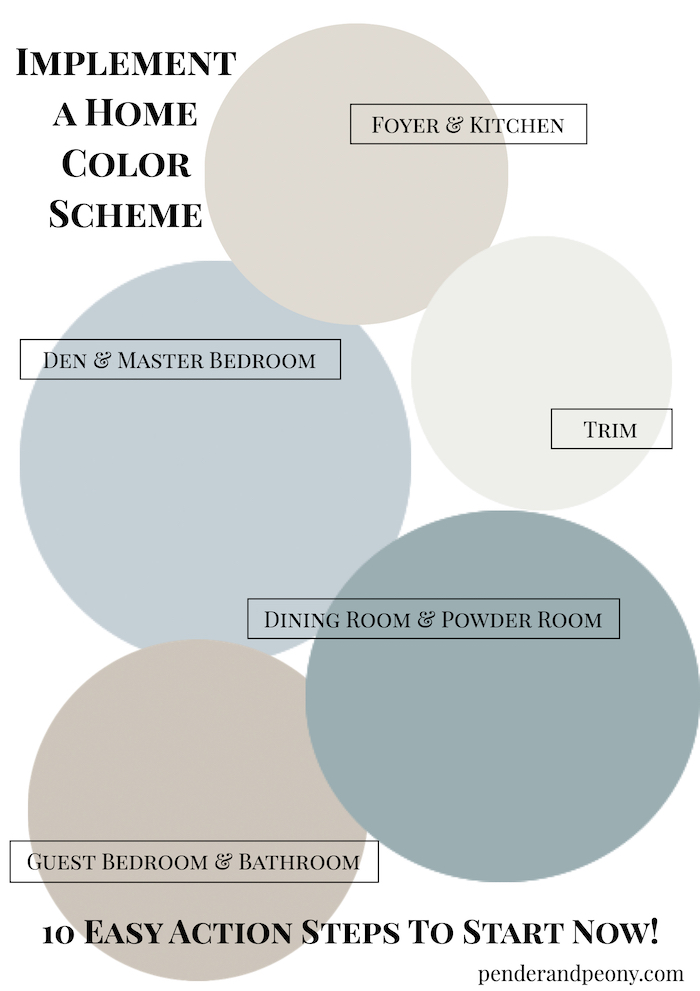 Colors (left to right): Basalt Powder, Fundamental White, Tradewind Blue, Interesting Aqua, Into the Gloaming
For me choosing and implementing a home color scheme means that most every single thing that comes in the house is one of those colors or some shade of it. Small doses of other colors will appear in fabrics, furniture, and decorative accessories, but they all harmonize with the home color palette.
Struggling to select your colors? I would love to personally help you with a color consultation! Email me at penderandpeony@gmail.com to get started.
Almost three years after moving in, S. and I are finally making significant progress on our painting. We have removed much of the wall paper, and painted many a wall.
Our Painting progress:
The living room – basalt powder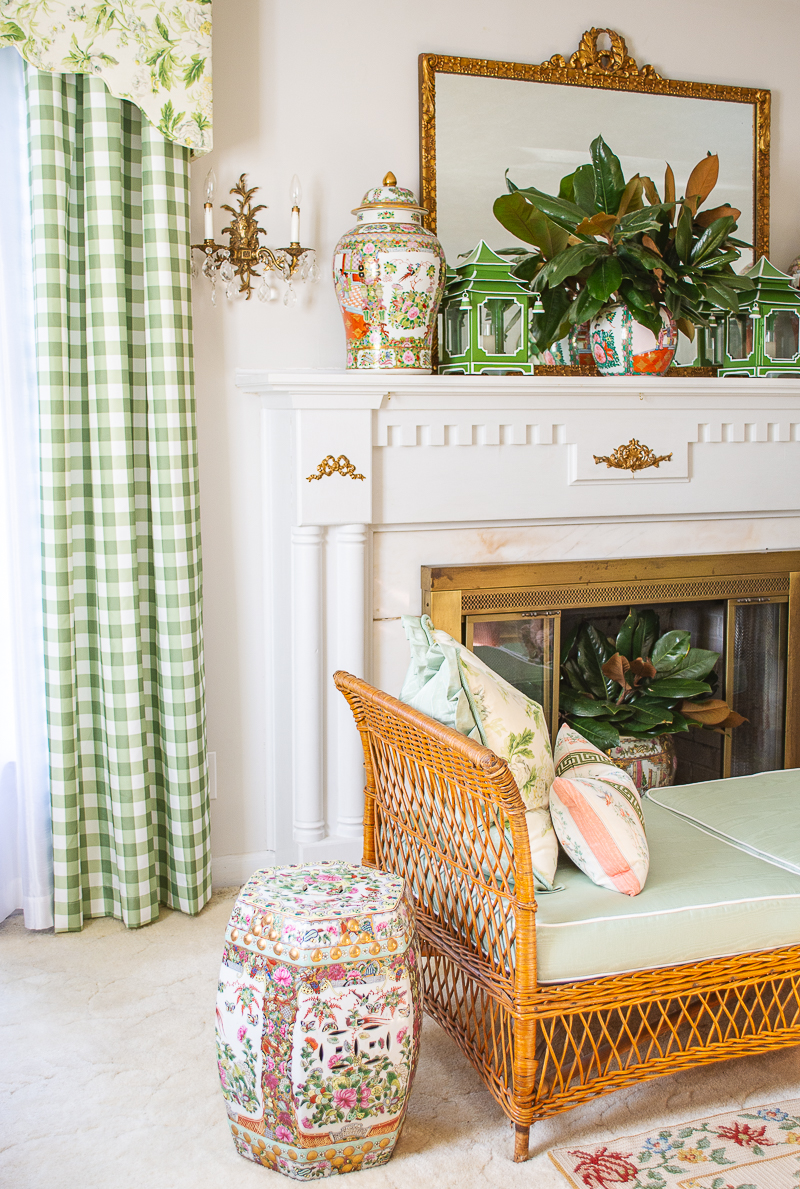 The dining room – interesting aqua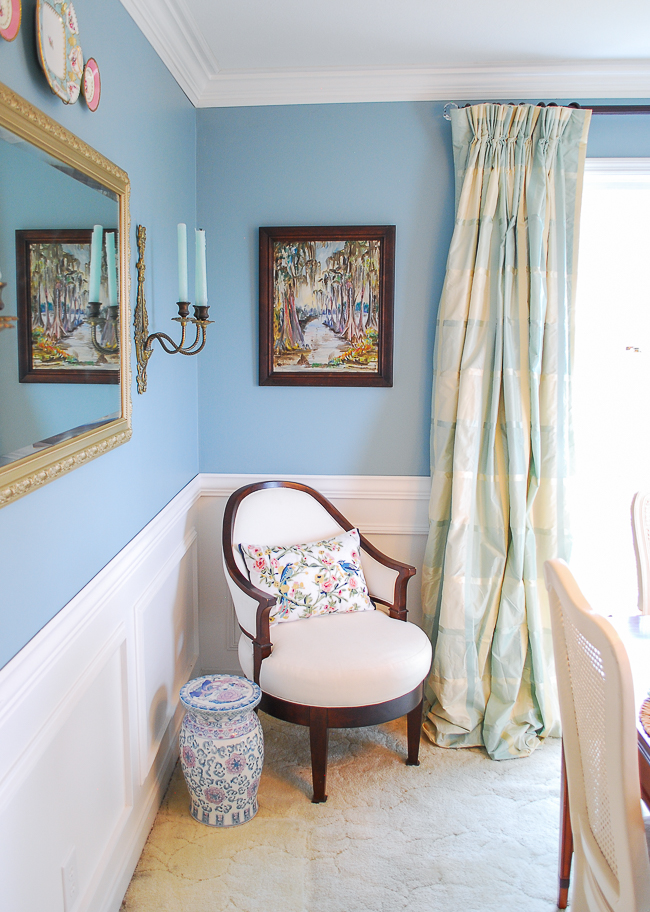 The family room – tradewind blue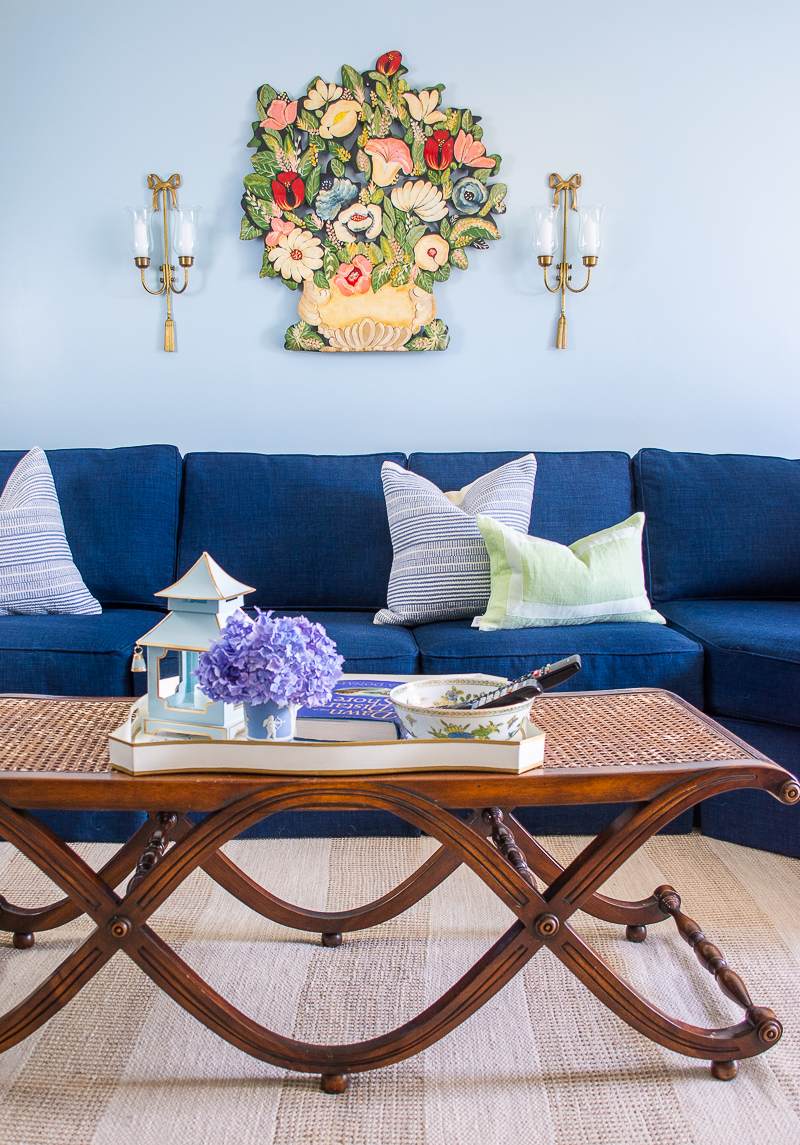 Our master bedroom – tradewind blue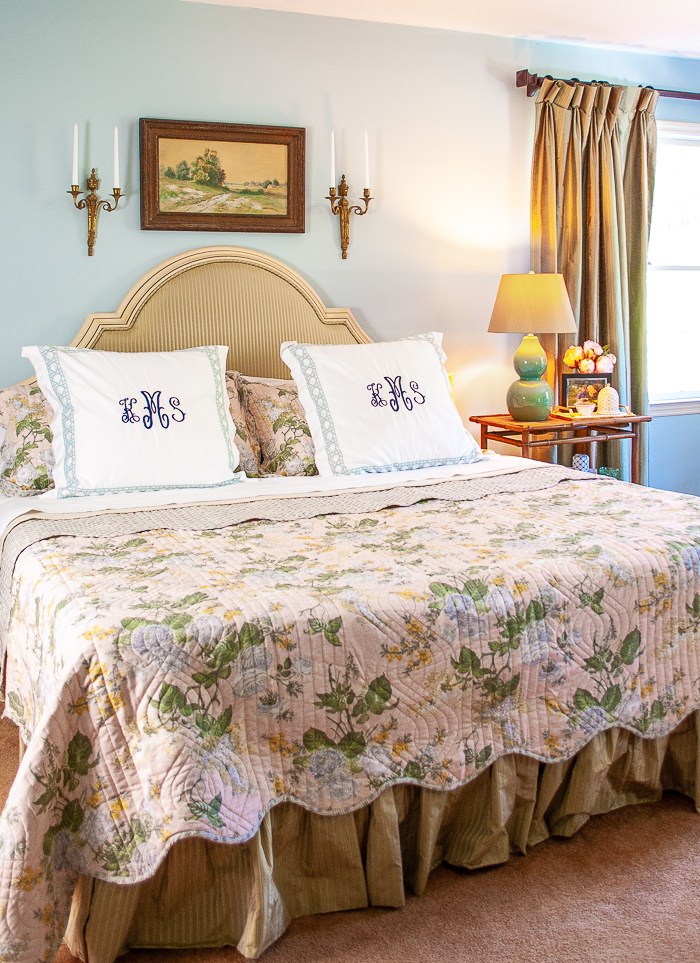 The powder room – interesting aqua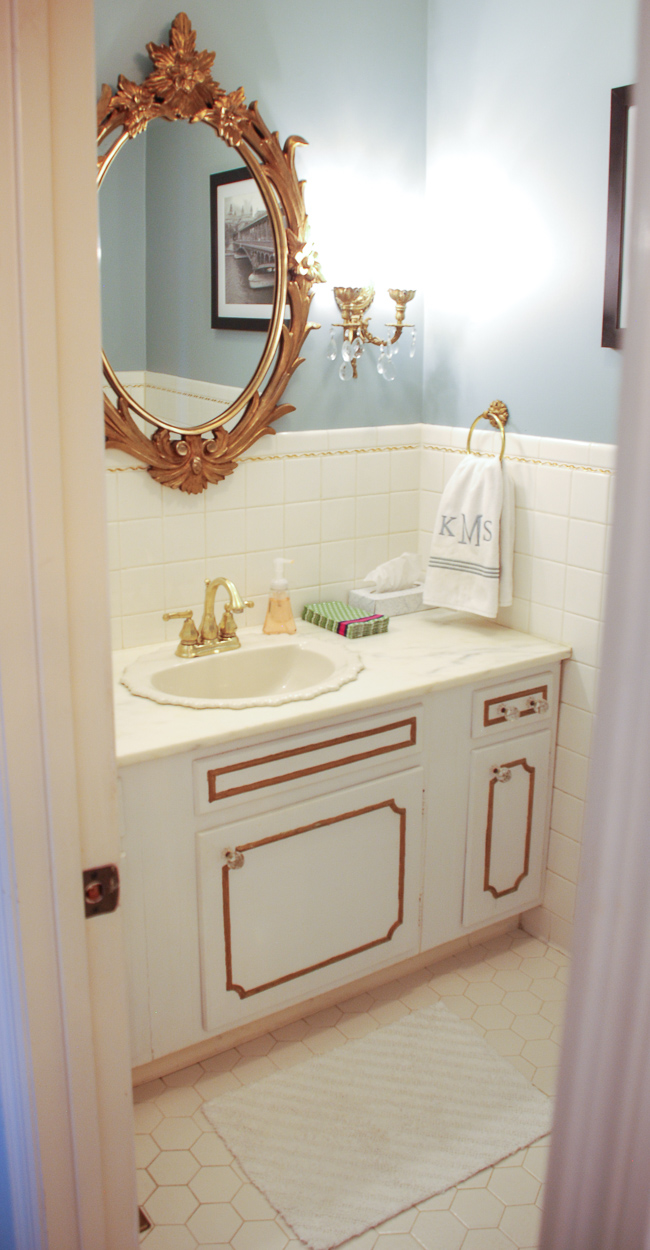 ---
Are you still in the process of choosing your colors? Read this post!
Selecting paint colors for your home interior can be a daunting task. It is so easy to get lost in the whirl of color possibilities. I am available to help you with a color consultation if you are just totally stumped or need a skilled eye and patient ear to bounce ideas around. Learn more about my styling services here!
Here are some easy action steps you can take to implement a home color scheme:
No. 1 Go to your local paint center and pull the colors in your palette and related colors.
Start playing with combinations. Try going up or down a shade. Take several chips in your colors and create a palette reference guide. You can paste them on a sheet of paper like I suggest in the Home Color Scheme Worksheet or make a key chain out of them.
No. 2 Start a project list.
Survey your home and start brainstorming what rooms you need to change to implement a home color scheme. Think through what rooms you want to paint, furniture to re-upholster, and other remodeling that can be done.
No. 3 Start a decor wish list.
As you make your project list also survey the furnishings and decorative accessories that match or harmonize with your home color scheme. What do you already own that could be rearranged to work with the color palette you've chosen? Start a running wish list of decor and furniture you want to add to your home in the new colors.
No. 4 Create a mood board of inspiration in your color scheme.
You can do this on Pinterest, on a bulletin board, or in an illustration app. Try all 3! A mood board will help you solidify your ideas and goals for implementing your home color scheme. It can be filled with anything that inspires you from magazine clippings, flowers, photographs, textile swatches, etc….
No. 5 Paint medium size sample boards in your colors.
Head to your nearest craft store and buy medium size canvas. Paint each canvas one of the colors in your home color scheme. Use these around your house to see how the color plays in each room and to help you decide what areas to paint.
No. 6 Add decorative accessories in your home color palette.
Buying new home decor accessories (pillows, baskets, ceramics, lamps) will probably be one of the easiest and cheapest ways to implement your new home color scheme, especially if you are not ready to paint or remodel. New accessories in the colors you want to start using will act like bright color accents in the room and draw your eye.
No. 7 Paint the walls.
Are you ready to make a big change? Once you've fully committed to where your new colors will go, it's time to get busy painting! Be sure you've experimented with the colors and observed how they act in different lighting situations. Is the color too bright in the morning? Too dark at night? Does it take on an odd hue with your flooring or sofa?
No. 8 Decorate with art.
Painting isn't the only way to implement a home color scheme on your walls. Add inspirational art that matches or works with your palette.
No. 9 Make a dramatic impact by changing textiles.
If you can't paint or just aren't ready yet, try changing the major textiles in a room: curtains, rugs, or bedding. Curtains and rugs frame and anchor the room, which will make for a dramatic impact.
No. 10 Re-vamp furniture in your new home color scheme.
If you are into DIY, this can be a fun way to implement a home color scheme. Paint furniture in your new colors or re-upholster it.