Preppy & Plaid Christmas Tree
Decorate a preppy & plaid Christmas tree this holiday trimmed with plaid ribbon, classic colors of red and green, and sentimental ornaments for a traditional feel that is festive and bright!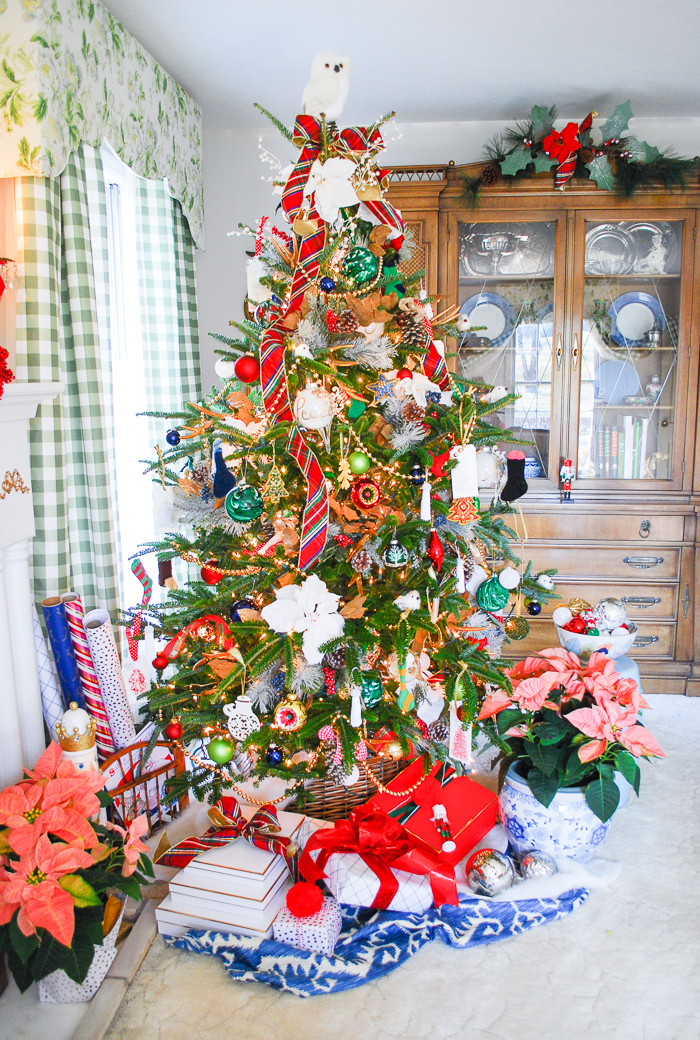 I'm dreaming of a white Christmas
With every Christmas card I write
May your days be preppy & plaid
And may all your Christmases be white…
I simply couldn't resist that darling refrain. I do apologize, but I hope like me you enjoy a sappy play on words any ol'time!
Without question, my favorite Christmas decoration is the Christmas tree. For so many reasons this sparkly evergreen warms my heart and symbolizes the magic of the season…the hope…the tradition of gathering! I love the transformation that the humble tree undergoes from wintery fields to a beacon of light and family memories.
I especially love relaxing back on the sofa wine glass in hand snuggled up with S. in the evening just gazing into the twinkle.
How about you? Are you a twinkle gazer?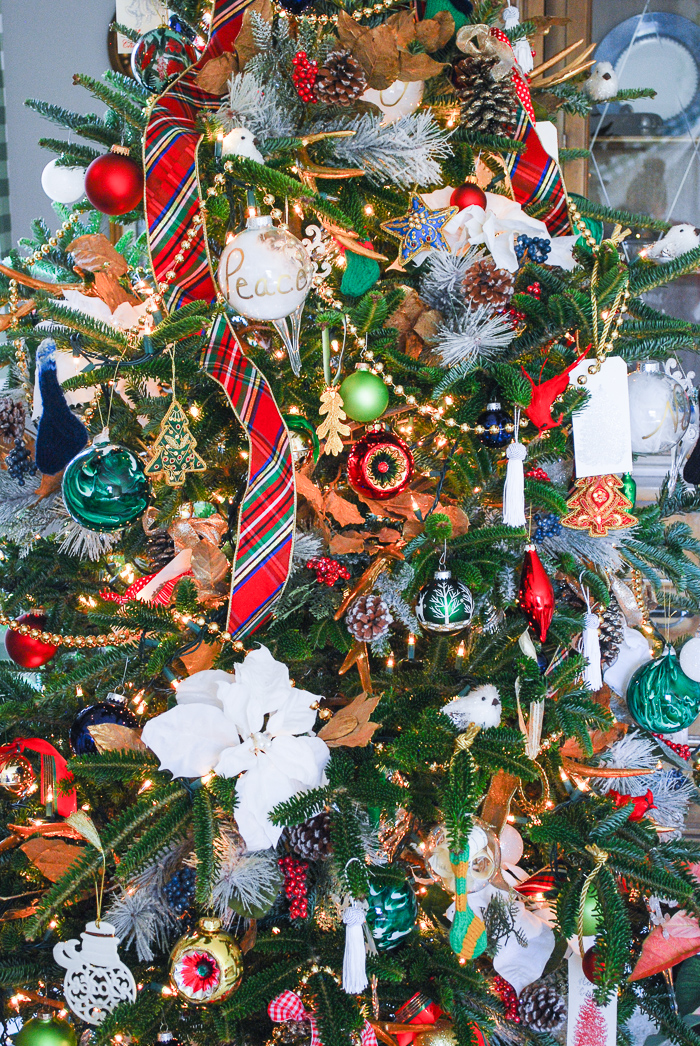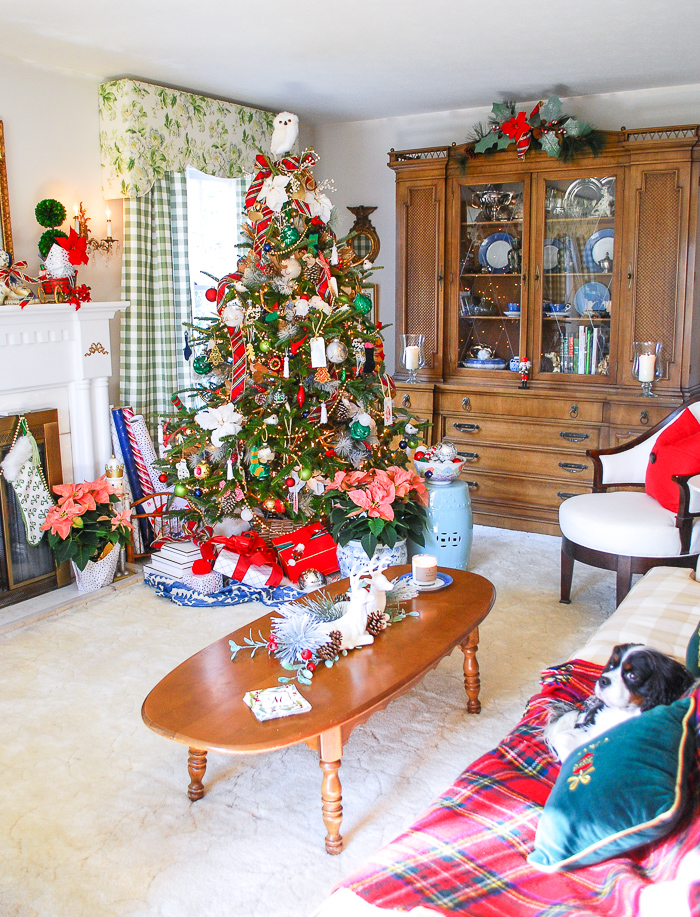 Since having my own home and putting up my own Christmas tree, I've tried to make each tree unique with a different theme or color scheme from year to year. I put a lot of pressure on myself to create the perfect tree. Most years I enjoy the challenge and decor scheming. This year I struggled with inspiration until I found the most darling plaid ribbon at Hoskins in the Flat made by D. Stephens. Y'all know how I feel about plaid…
Even then I wasn't quite sure which direction to take it. Maybe you read my post about Christmas decor ideas for 2018?
In that post, I tried to figure out which festive look to use this year. In the end, I decided to take elements that I loved from each style. As you can see, I landed squarely in the preppy & plaid traditional basket with hints of maximalist eclecticism, slight vintage charm, and a bit of glam shimmer.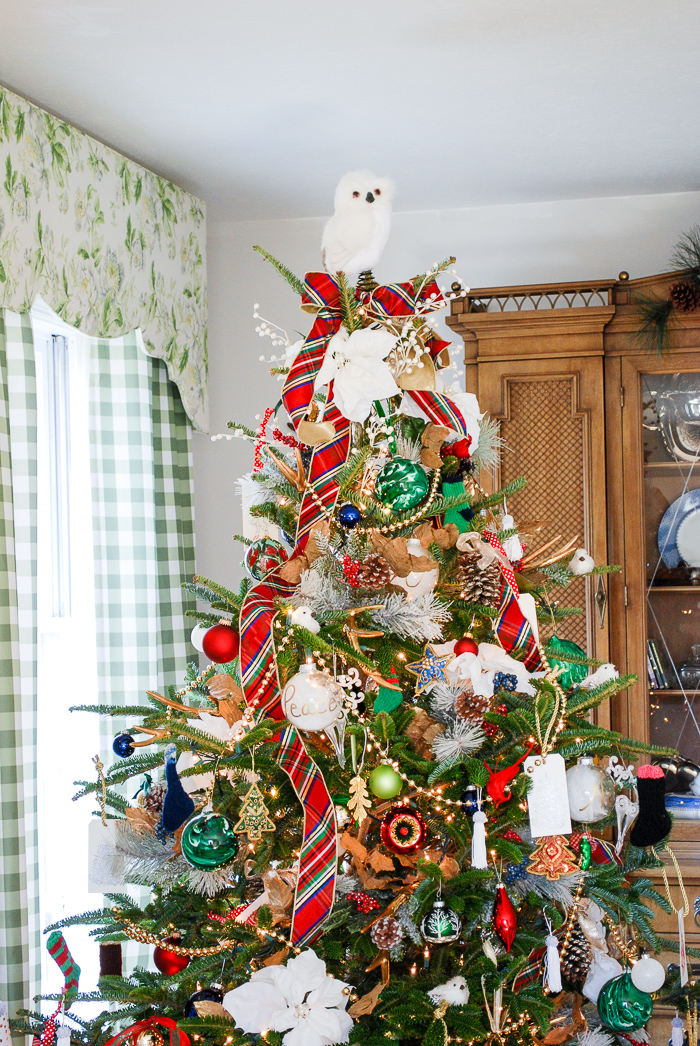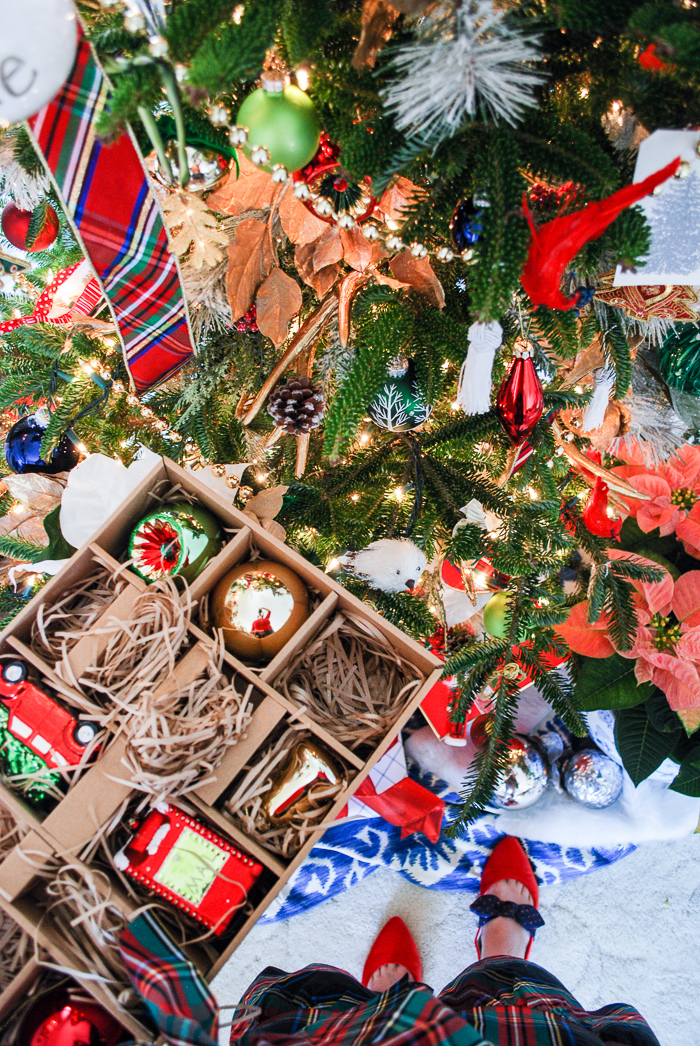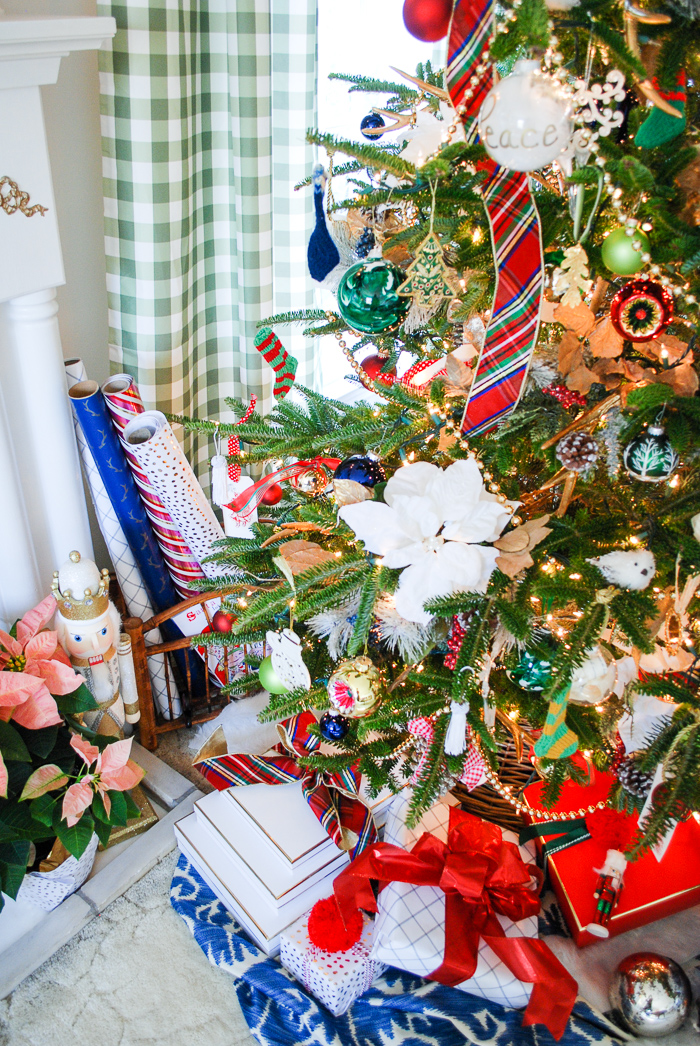 My Preppy & Plaid Christmas Tree
My preppy & plaid Christmas tree is trimmed with classic red and green with pops of white from the faux poinsettia and flocked pine branches. There are a mixture of ornaments from simple colored balls to glittery pinecones. Of course my favorites are the more sentimental trimmings like the mini-stockings hand knit by my great-grandmother and the unique ornaments S. and I collect each year from our travels. Without these special touches connecting me to loved ones and memories past the tree would simply be missing something!
This gorgeous plaid ribbon and the gold garland help add a bit of bold interest. Topping my preppy & plaid Christmas tree is Hedwig the snowy owl and a spray of berries, poinsettia, and bows. Down below I went with a new wicker tree collar I found at Target for $30 and some swaths of scrap fabric in a blue and white Ikat pattern and fuzzy faux fur. Jolly presents tied up with pretty bows and pom poms mingle there as well.
Shopping sources with affiliate links:
Wicker tree collar (Similar in black, wicker but pricey)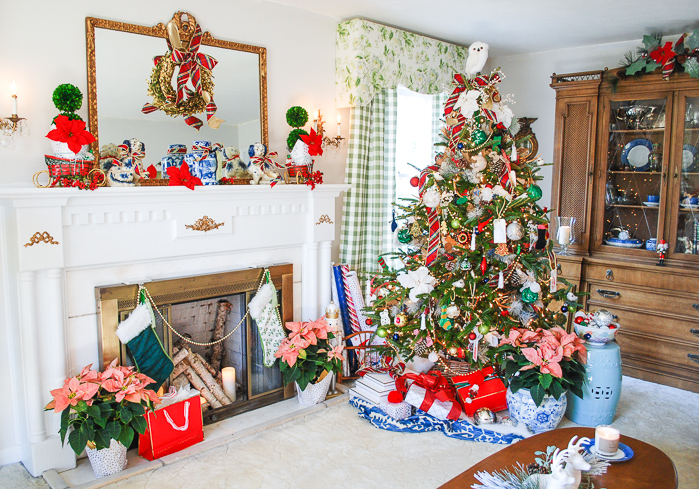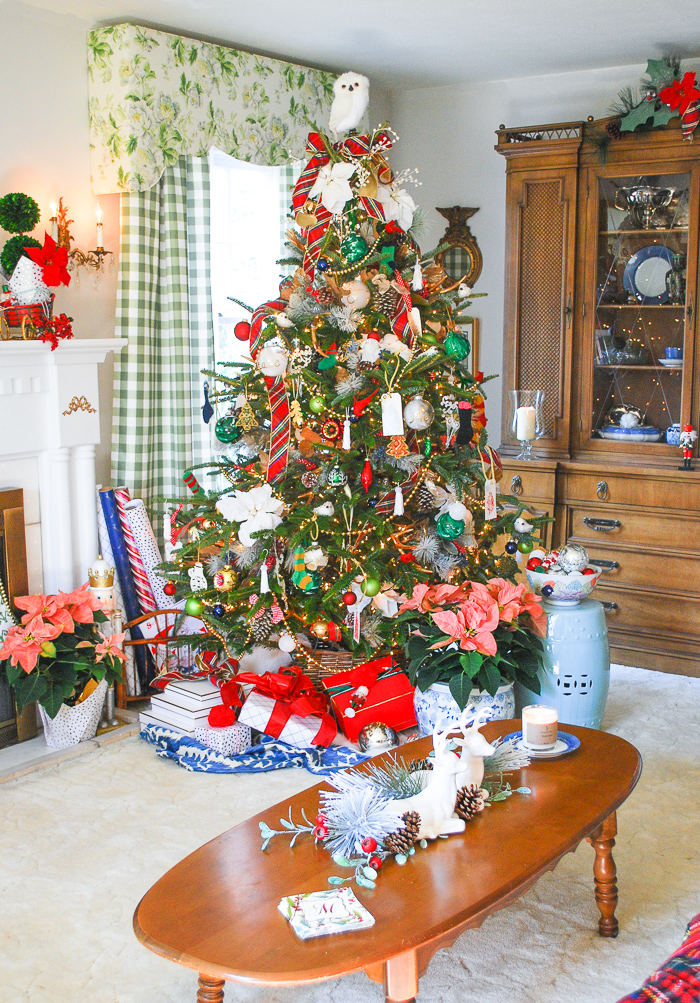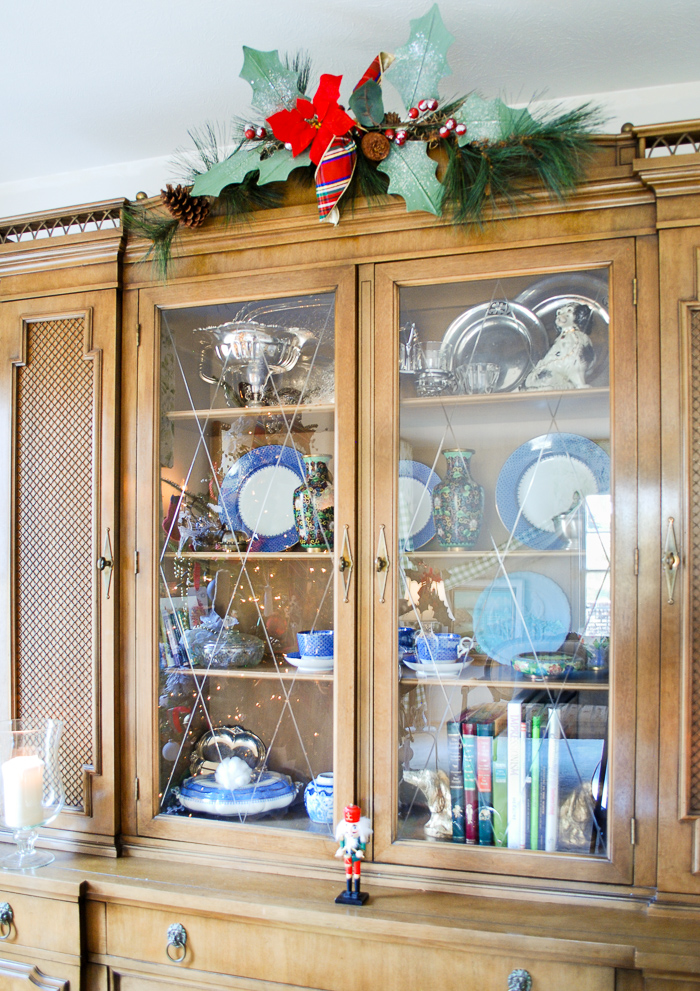 Other areas of our living room got festive touches too. I gave the bookcase a merry arrangement with sprigs of paper holly and pine tied with some plaid ribbon and finished with a red poinsettia.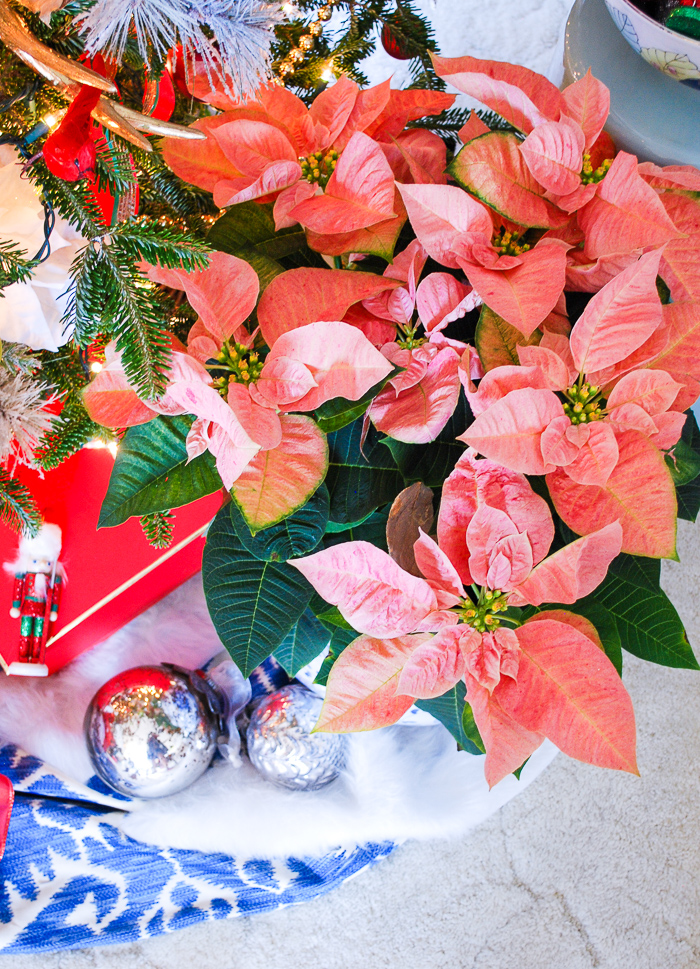 And by golly don't forget the cinnamon poinsettias! Their merry pink petals spread blooming cheer!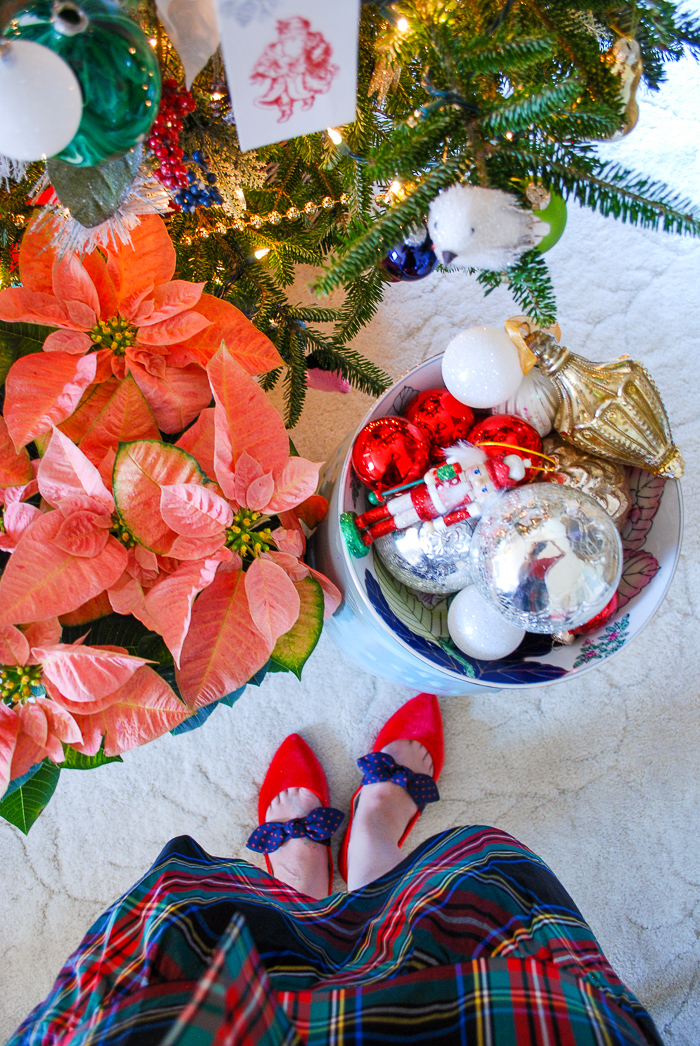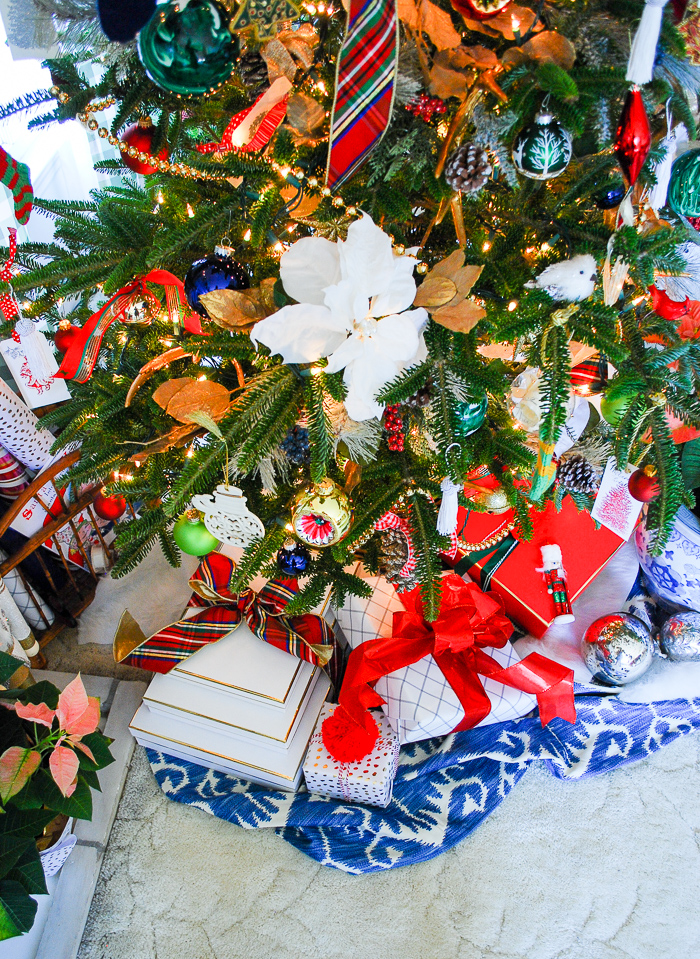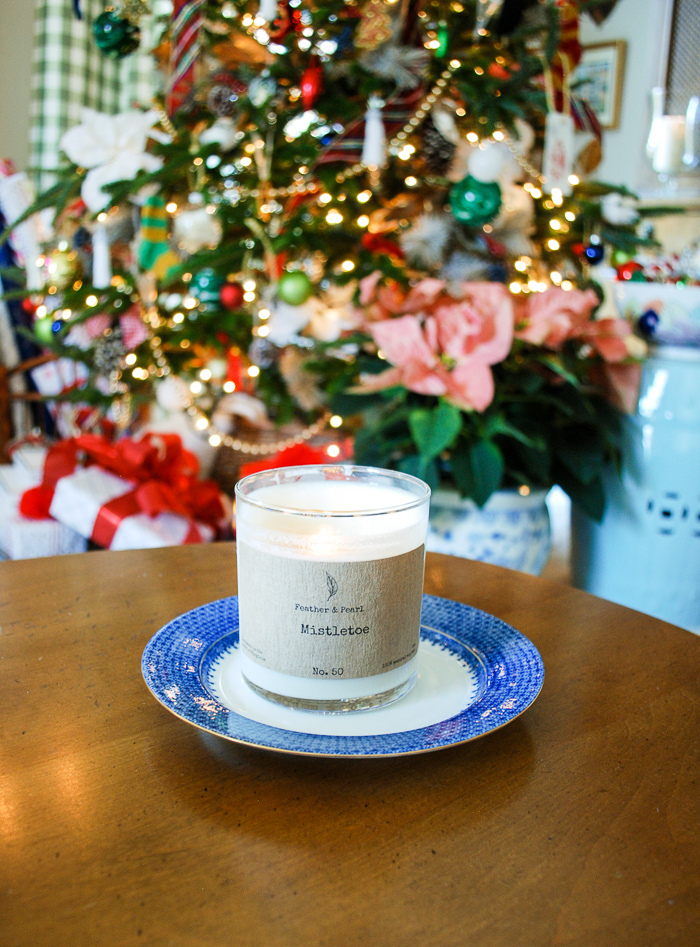 To mingle with the fresh scent of evergreen, I light my mistletoe candle from Feather & Pearl! It is the quintessential holiday scent!
Alright where is the wine? I'm ready for some twinkle gazing!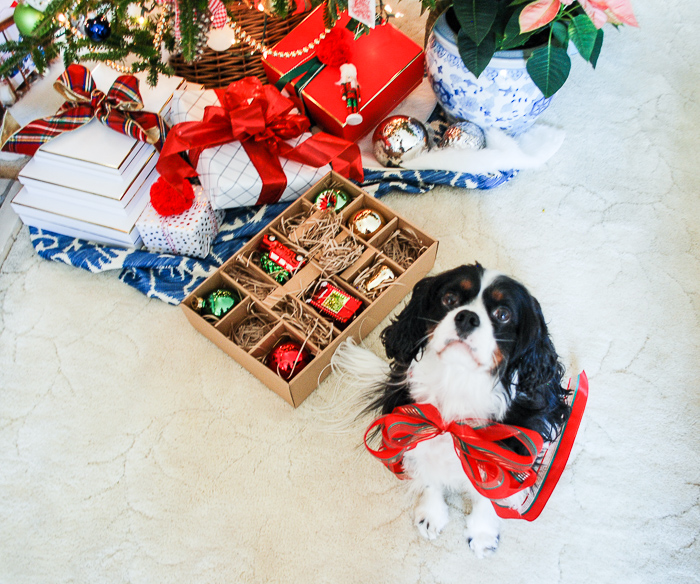 Henry and I wish you a preppy & plaid Christmas full of love and cheer!
Partying with A Stroll Thru Life…Between Naps on the Porch…The Dedicated House…Designthusiasm…