Al Fresco Summer Dining with Hydrangea Tablescape
Grab a glass of bubbly Prosecco and join me for some al fresco summer dining at this hydrangea tablescape!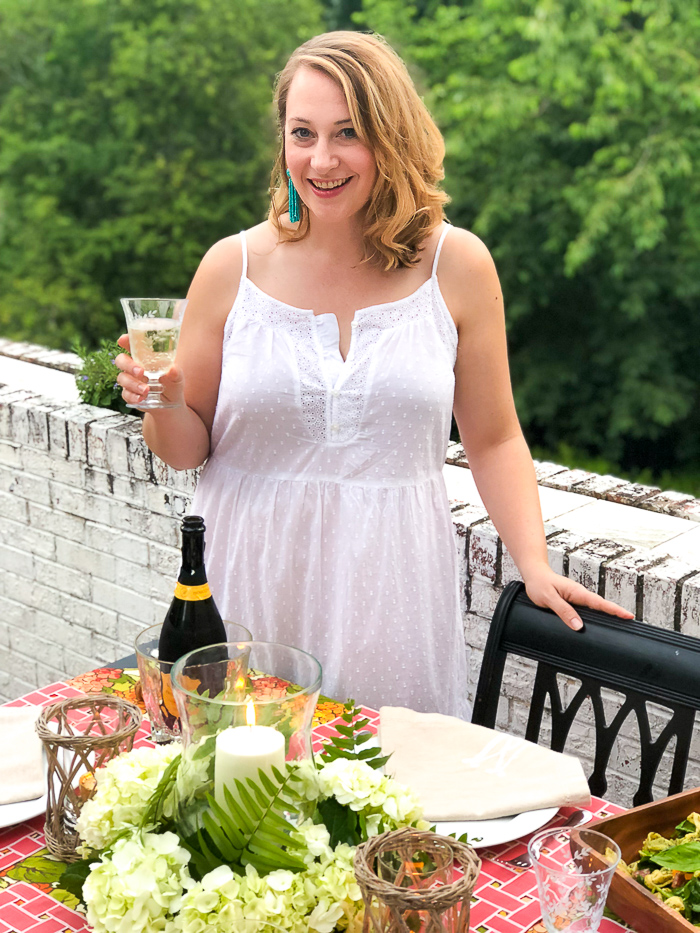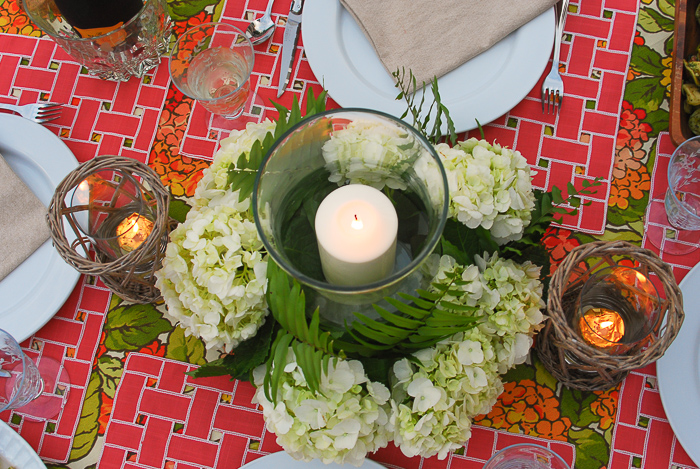 It's a sultry evening in July. The sun is wistfully sinking and the fireflies are just beginning to flash. The smell of charcoal wafts across the back yard and effervescent Prosecco tickles your nose as the cicadas tune up for the evening. Ah…summer in the South!
It's the season of al fresco dining! Time to set a vibrant table, whip up some simple dishes, pop the bubbly, and welcome friends in for a summer dinner party.
Let this hydrangea tablescape inspire your next al fresco summer dining adventure!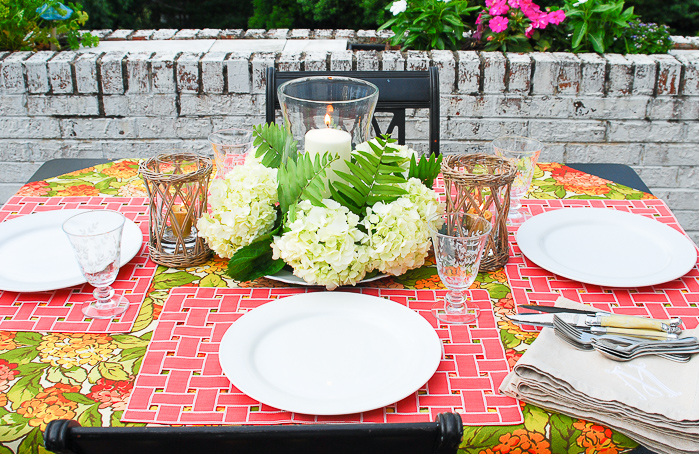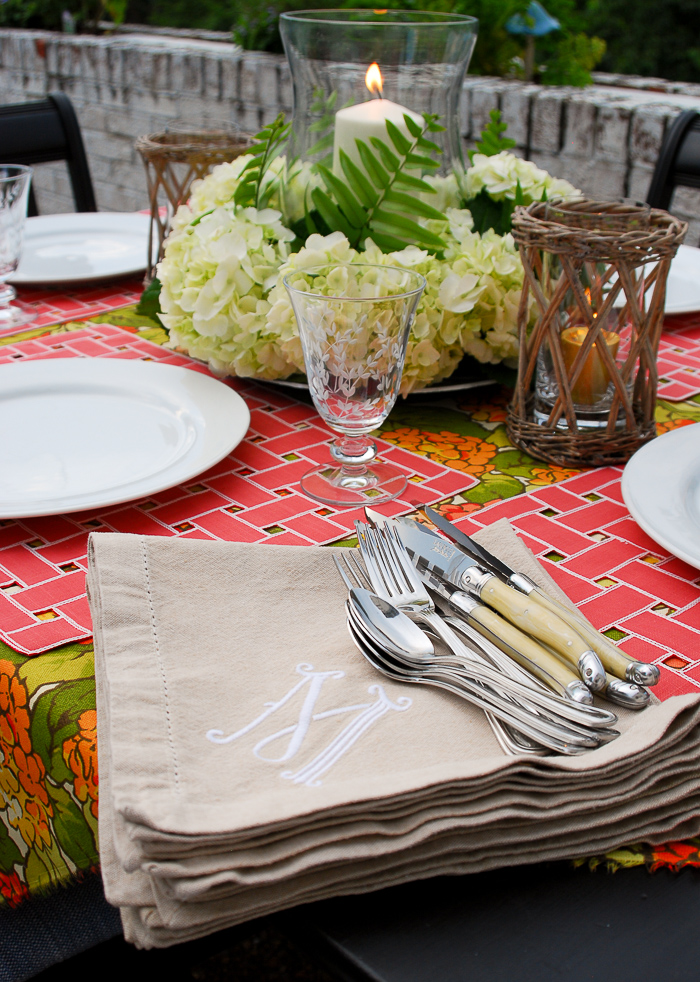 This hydrangea tablescape is all about the linens from the monogrammed napkins to the lattice placemats! Let's not forget the vibrant vintage hydrangea table cloth either. After all, the tablescape all started with this fabric find at a thrift store.
I love to collect vintage fabrics, and always watch out for eye catching bundles when thrifting. Vintage linens and fabrics are usually reasonably priced purchases, easy to store, and so useful for tablescapes, pillows, and holiday decor.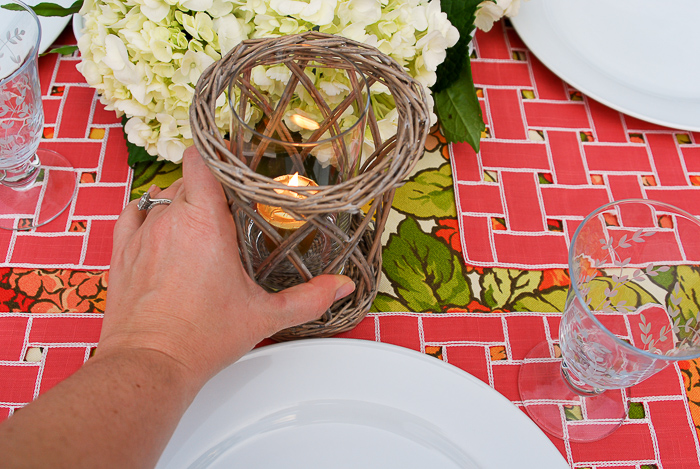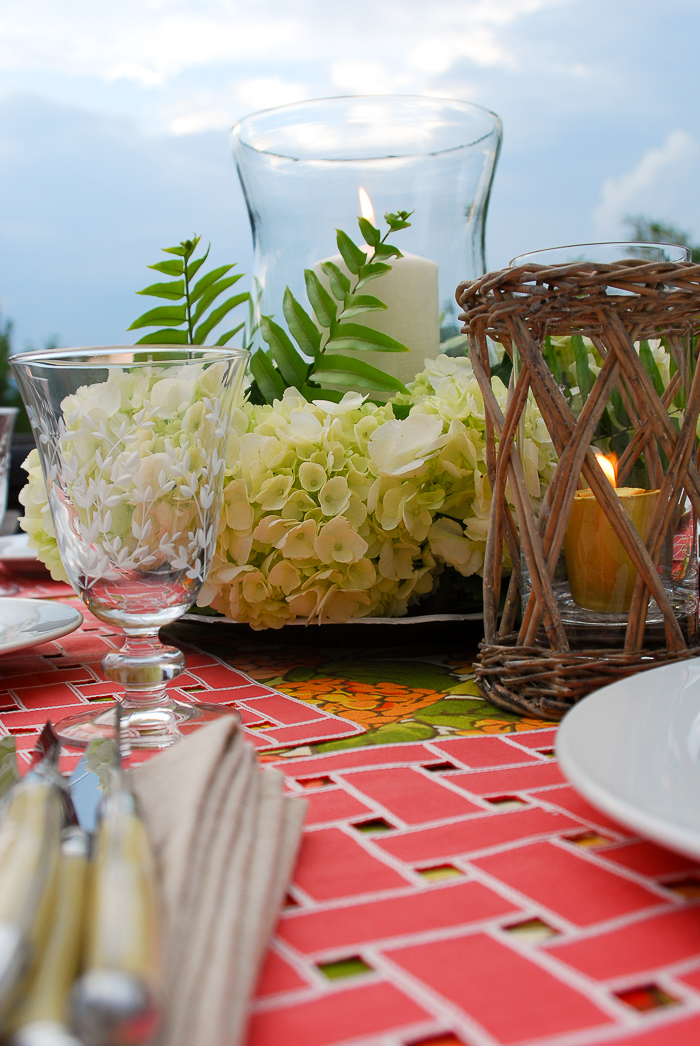 *This post contains affiliate links.*
To play up the vintage fabric motif of hydrangeas, I chose to create a hydrangea and fern centerpiece with hurricane lantern. This style centerpiece is so simple to create, and yet it has a dramatic effect. Learn how to create this centerpiece in this post!
Since the fabrics for this al fresco summer dining table are so vibrant, I choose simple white dishes and elegant etched goblets. Both pottery barn classics!
To further balance out the colors, I added earthy, rustic touches with the wicker votives and a wooden serving bowl for the pasta salad. I'm obsessing over wicker and rattan accessories right now like these votives and this drink stand.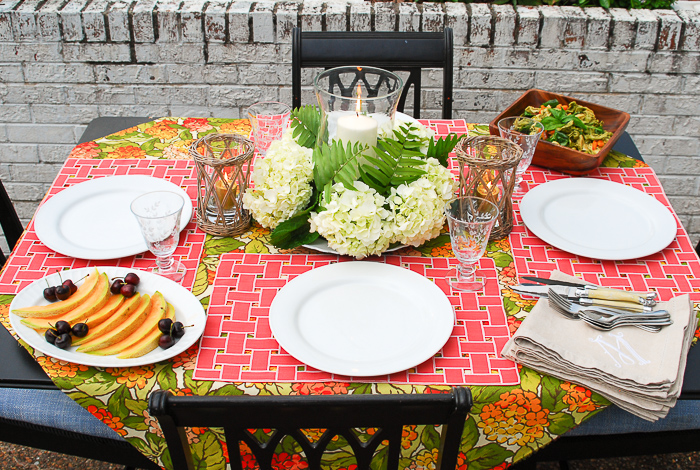 Of course, the al fresco summer dining menu is as equally important as the table decor. When eating outside it is important to keep it light and fresh with seasonal favorites. I also love to use the grill! Everyone enjoys the delicious smells and it saves on kitchen clean up.
Our menu included grilled pork chops, sliced cantaloupe and cherries, and tortellini salad with peppers and salami tossed in freshly made basil pesto. Yum! My recipe for the pesto tortellini salad here.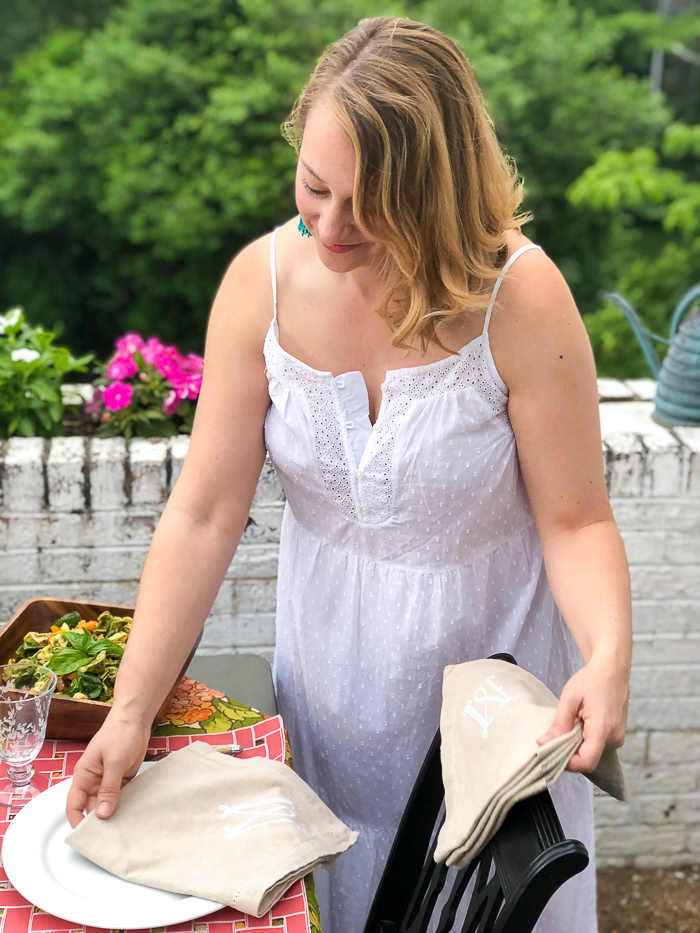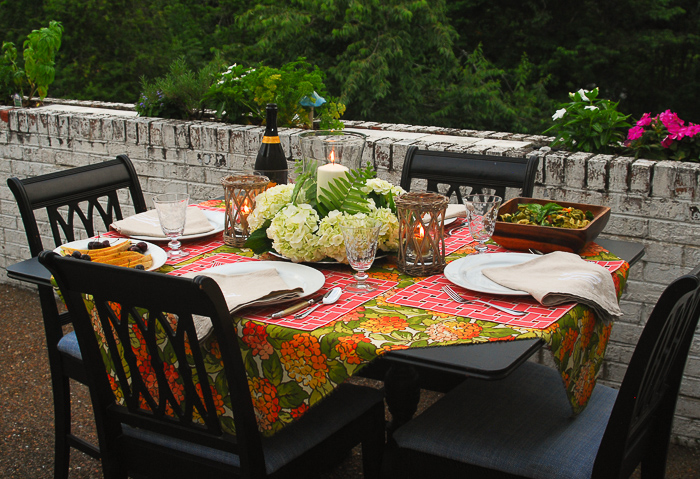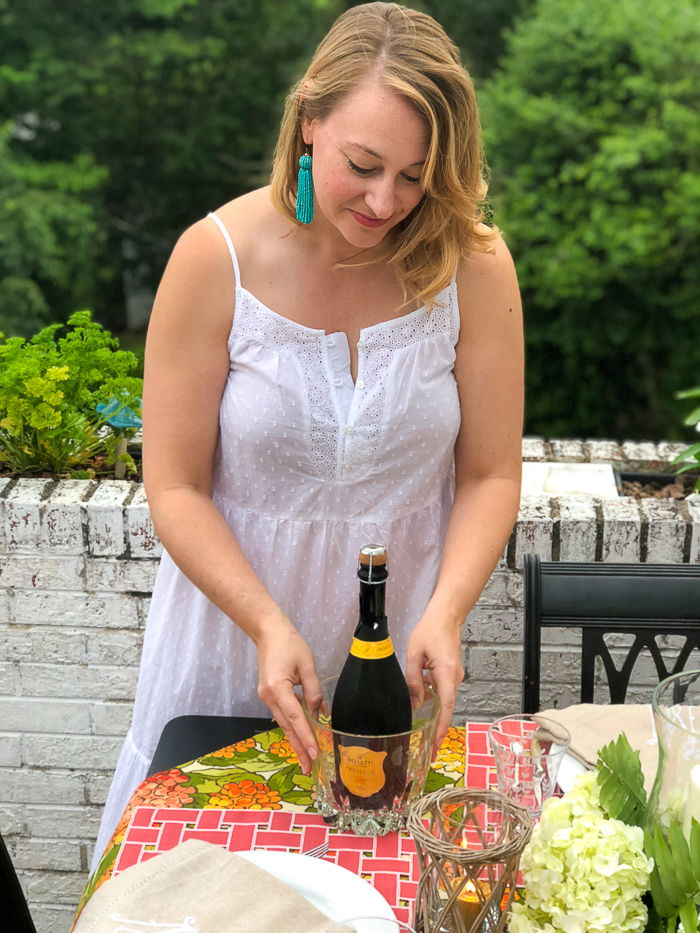 As the sun began to set we popped the cork on the bubbly to enjoy a cool, effervescent glass of Prosecco!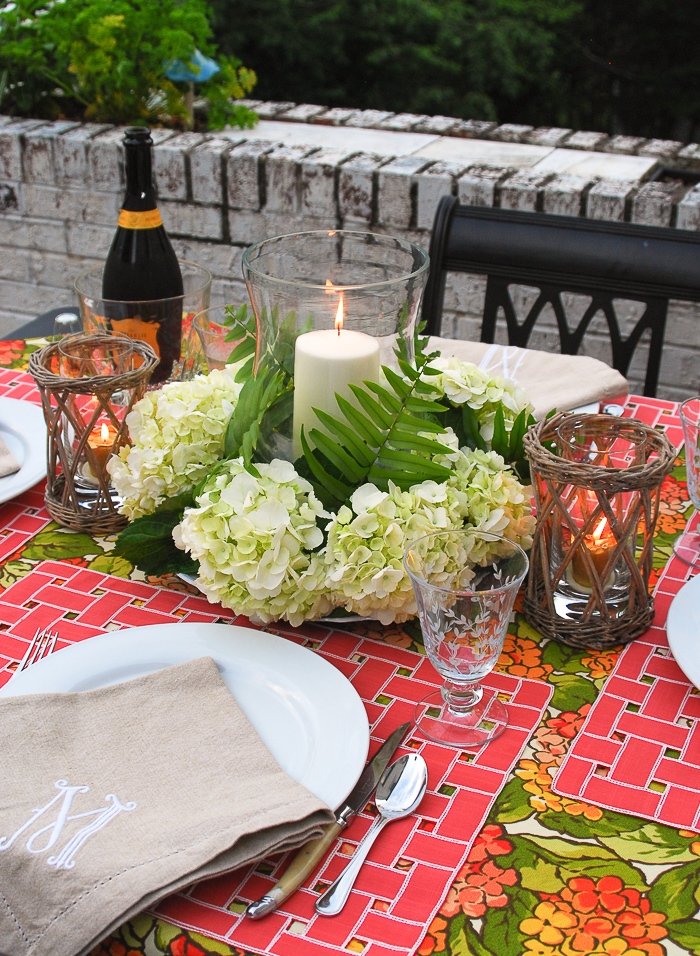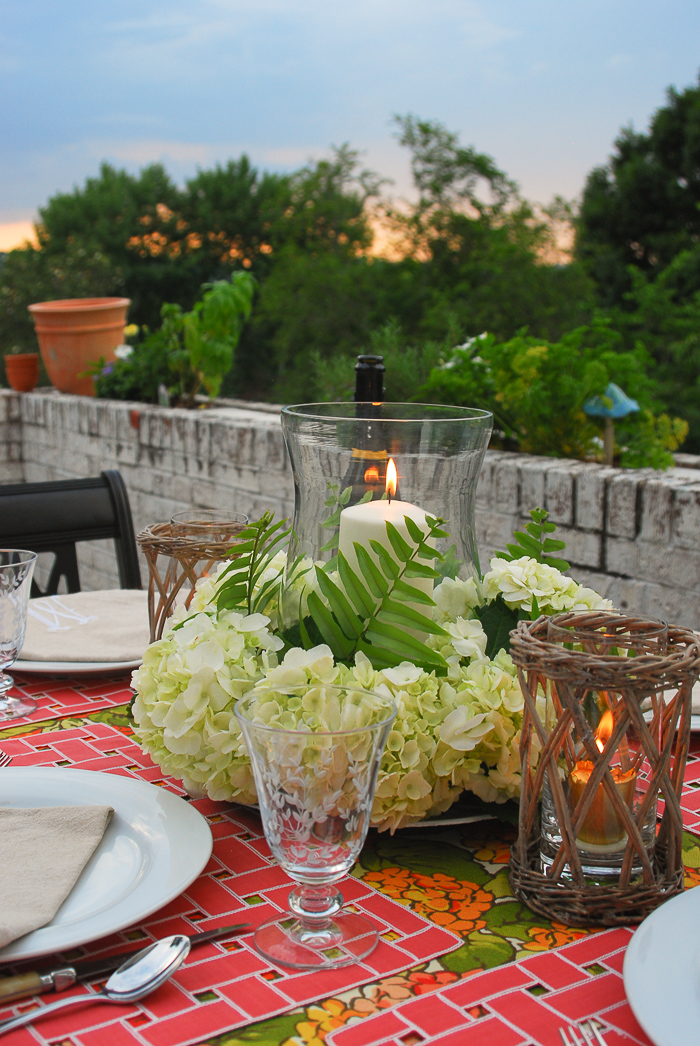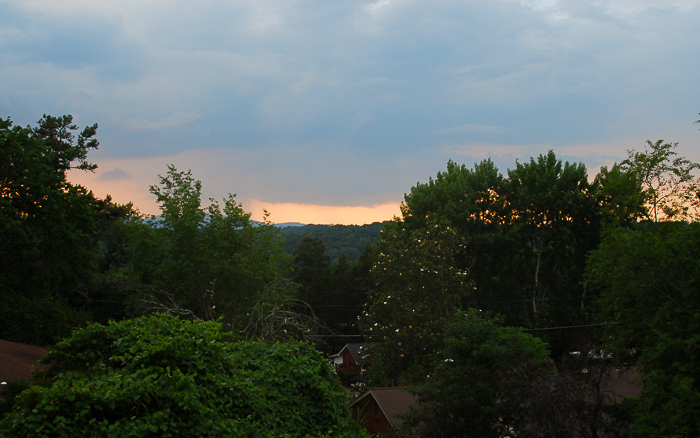 This summer sunset with its voluptuous blue clouds and sliver of peachy coral was truly the perfect back drop to our evening of al fresco summer dining!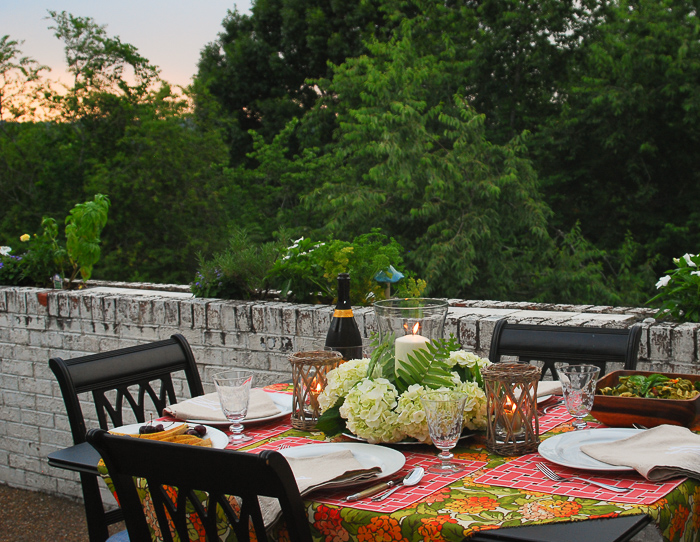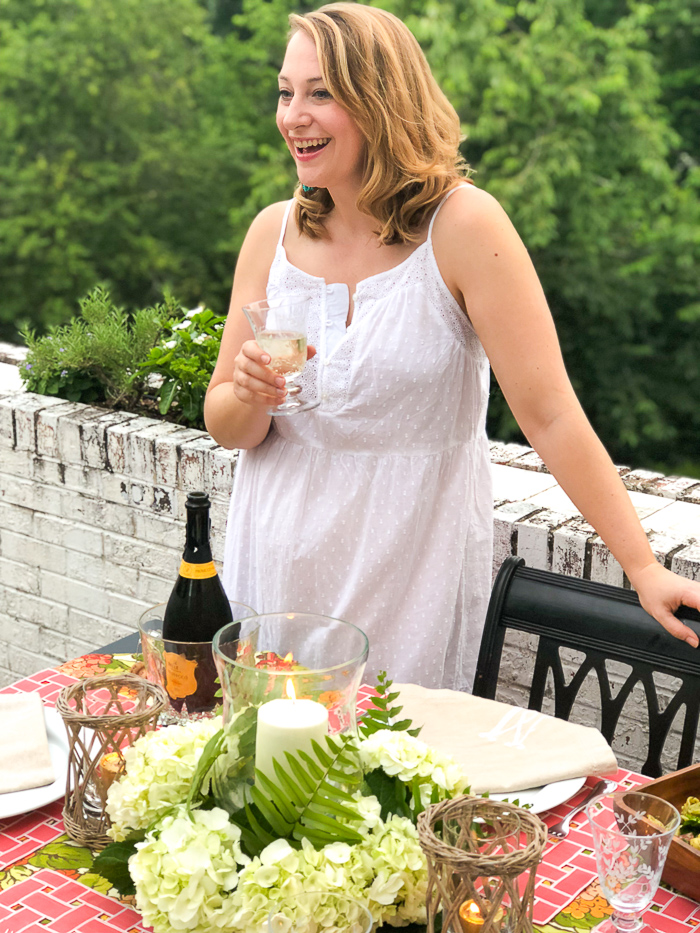 Cheers Y'all!
Partying with Between Naps on the Porch…Pumps & Pushups…
SaveSave
SaveSave
SaveSave
SaveSave
SaveSave
SaveSave
SaveSave
SaveSave
SaveSave
SaveSave