Dress Code – Wedding Guest Attire 101
Wedding guest attire demystified! Learn the secret to knowing how casual or formal to dress for all the weddings on your social calendar.
It is June and wedding season is officially here!
If your mailbox has filled with lovely paper confections, than it is time to get shopping and decide just the right wedding outfit to don for toasting your lovely friends and celebrating their union. But dressing for weddings can be tricky! You don't want to outshine the bride and groom, but you want to look your best so that you feel confident, and so that their photos are great! So, how do you strike the right balance?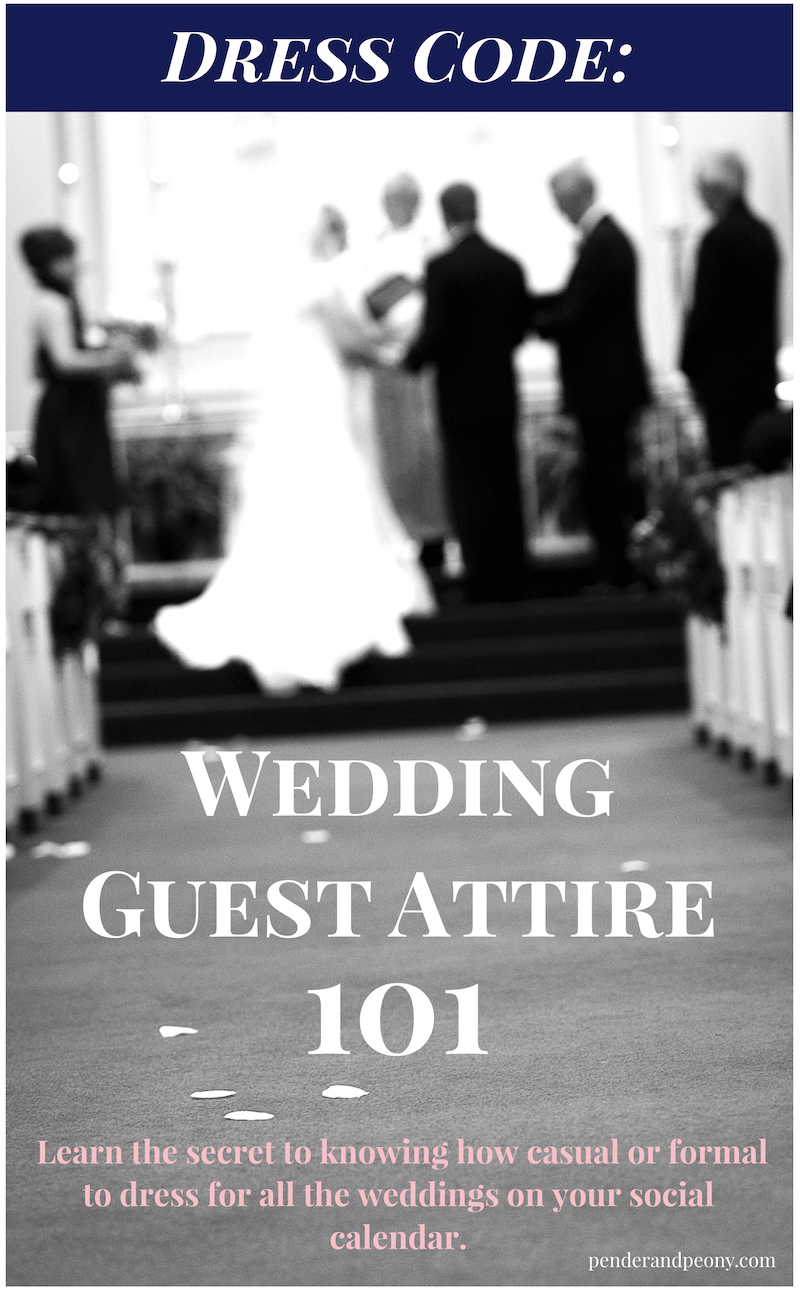 If the bride and groom are true etiquette sticklers à la Emily Post, than the invite will have no dress code specifications. If they are more modern there may be a simple one liner on the reception invite noting: cocktail attire, black tie, or white tie.
Deciding just what type and style of wedding guest attire to wear can be a challenge to say the least! So what is a gal to do?
Follow These simple rules of dressing for a wedding:
Don't wear all white or ivory
We all know this, but the little white dress is so au courant, and I know it maybe tempting to choose one for a summer wedding, especially if it is beach side but just don't! The bride will not thank you!
2. Don't wear all black
Now I realize this is an evolving rule, and black to a wedding is perfectly acceptable in many social circles especially for elegant evening affairs. However, in many circles, particularly in the South and I hear Europe, all black is still a faux pas. Just consider the reason behind this stricture: black is for mourning and a wedding is a celebration, so if you do decide to don black make sure the style is festive and you pair it with bright accessories.
3. Don't upstage the bride
Ahem… no brainer here, right? This wedding guest attire rule goes along with rule number 1, but extends to wearing something entirely too flashy or risqué.
4. Respect religious strictures
Find out from the bride and groom if there are any specific restrictions on dress for their religious ceremony then observe them. If not, as a general rule bare shoulders and décolletage are impolite in church, so cover thin straps or a strap-less dress with a light cardigan or shawl.
5. Dress with appropriate formality – Get ready for the secret…
This rule addresses the real challenge of dressing for a wedding: how to choose an outfit that is suitable for the level of formality of the wedding. No one enjoys showing up under-dressed or over-dressed (although if I had to choose, I would rather be over-dressed hands down). How does one know what to wear?
Here's the secret: Take your cues from the style and tone of the wedding, which should be evident from the invitation.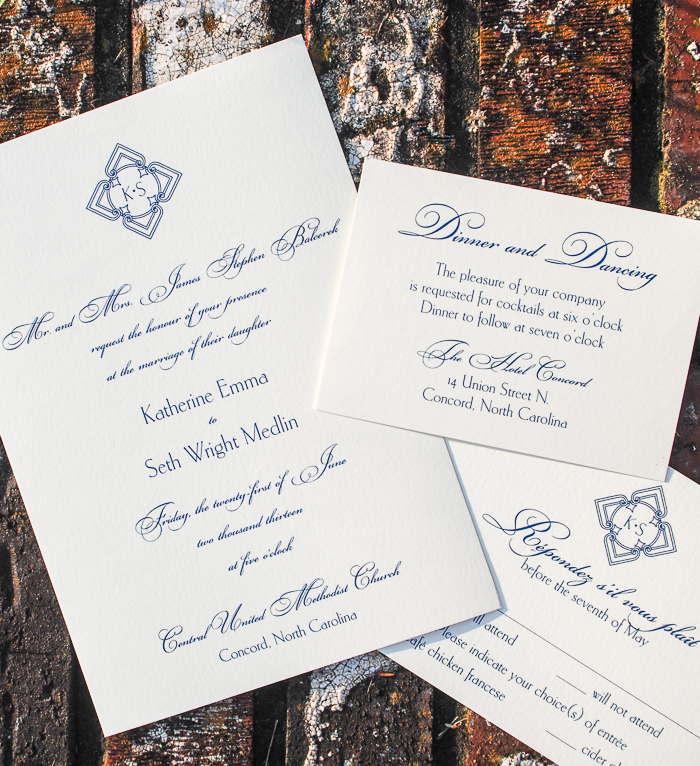 First examine the invitation itself:
Does it feel formal? Is the wording traditional and in beautiful calligraphy? Is it engraved on heavy-cardstock in subdued colors? Is the ceremony invite and reception invite separate? You can discern a world of meaning from the invitation itself about the tone of the wedding.
Next examine the contents. Look for the following with each type of wedding:
Informal or Casual Wedding
Time of day – usually morning or afternoon
Location – informal setting, such as a restaurant, garden, beach, family's home although the ceremony may still be held in a church
Attendants – 1 to 3
Reception style – brunch, lunch, or simple hors d'oeuvres
Semi-formal Wedding
Time of day – afternoon to evening
Location – more formal setting, such as a house of worship, a hotel, a club, a garden
Attendants – 2 to 6
Reception style – dinner served via buffet, heavy hors d'oeuvres, family style, or perhaps plated
Formal Wedding
Time of day – evening to night, usually after 6:00 PM
Location – formal setting, such as a house of worship, grand home, ball room, museum
Attendants – 4 to 10
Reception style – dinner is sit down or semi-buffet
Of course the variants to the style and tone of the wedding are endless, but let these factors guide you to the appropriate dress, which I'll detail below.
Wedding Guest Attire – Informal
Morning & Afternoon Weddings
Casual weddings are usually the least stressful. Just don't take casual too far; this does not mean jeans and t-shirts. Instead think: bright colorful skirts, sweet sundresses, and even chic pant or dress suits. Consider the location of the wedding carefully to know what to wear as it is likely some or all of the wedding may be outside.
I donned this pretty crochet dress from Taylor in vibrant blue for my brother's beach side wedding last year. The simple sheath was perfect for the sand and sun, but jazzed up by the interesting fabric. For shoes I choose a simple wedge sandal and my jewelry played up the beach vibe with little starfish earrings. Similar dress here and here.
What about my date? Guys' dress ranges from polos and khakis to blue blazers or day suits in linen or seersucker, depending on location.
What to wear to an informal wedding:
*This post contains affiliate links.*
Key trends informal wedding guest attire:
More conservative – higher neckline, longer sleeve

Fabrics – cotton, linen, poplin, eyelet in simple patterns or solid colors

Color – range of colors appropriate from soft pastels to bright summer hues
Accessories – small handbag, cheeky fascinator, low heeled pumps, strappy sandals, simple jewelry, cardigan or shawl
Dare to try a chic dress suit à la the Duchess of Cambridge
Wedding Guest Attire – Semi-Formal
Afternoon & Evening Weddings
Semi-formal weddings, in my opinion, are the most fun for which to choose an outfit. There are just so many options for beautiful cocktail dresses! An invitation might note the dress code as "cocktail attire," but remember sticklers for etiquette call for no dress code designation on the invitation.
Dresses should be flouncy and fun with a bit of sparkle or the pizzazz offered by a unique cut or beautiful fabric. You can go high or low with the hem-line, choosing a fit and flare knee-length dress or a flowing maxi.
What to wear to a semi-formal wedding:
Key trends semi-formal wedding guest attire:
Less conservative – lower neckline, sleeve-less, halter, or off the shoulder
Fabrics – Chiffon, crepe de chine, taffeta, jersey with subtle embellishments
Color – range of colors appropriate in solids or more bold patterns
Accessories – chic clutch with higher heels or wedges, dazzling jewelry
Try a fun ruffled number like this
What about my date? Your plus one should wear a suit and tie or a dinner jacket depending on location and tone of the wedding.
Wedding Guest Attire – Formal
Evening & Night Weddings
A formal wedding is about the glamour! Dark, rich colors are appropriate wedding guest attire in tea-length or floor-length dresses. Don't be afraid to wear a really snazzy cocktail dress if it is formal in feel with intricate embellishments like the blue floral one below.
The wedding invitation may say "Black Tie" or if the wedding is very formal "White Tie."
What to wear to a formal wedding:
Key trends formal wedding guest attire:
Tastefully risqué – low neckline, sleeve-less, halter, or off the shoulder
Fabrics – all fabrics from semi-formal as well as tulle, lace, and more glitzy embellishments
Color – darker, rich colors in solids or elegant patterns
Accessories – evening clutch with high heels, gloves, shawl, and dazzling jewelry
Dare to try a unique cut like a high-low hem or flutter sleeve
What about my date? Your handsome fella should wear a tuxedo or dinner jacket if it is "black tie" and a white tie and tails if it is "white tie."
I hope this little guide to wedding guest attire 101 has helped you prepare for all the weddings on your social calendar! Remember regardless of what you wear weddings are a celebration of the happy couple: tipple champagne, dance your feet off, and enjoy your family and friends!
---
Marry when June roses grow and over land and sea you will go.
~Victorian Wedding Rhyme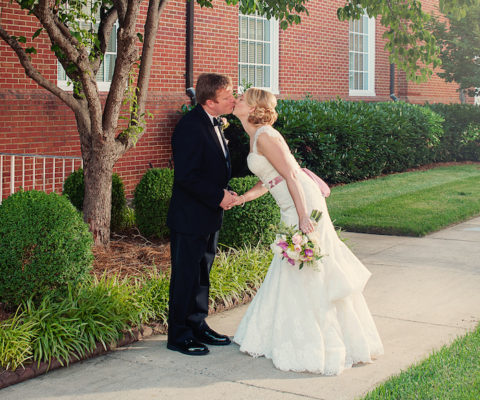 Love birds are chirping, church bells ringing, and romantic warm evenings encroaching. June is upon us and that means wedding season is in full swing. I am declaring June wedding month here on P&P for one very special reason: S. and I are celebrating our 5 year anniversary this month!
I can hardly believe we have been married half a decade already. It truly seems like yesterday we were picking invitations and rings, taste testing cake, and preparing for the big day.
In looking back on that happy event, I thought I would take the opportunity to share some wedding advice, tips, and insight we gleaned from our lovely experience. If you are interested in seeing details of our wedding check out this post on the ceremony and this post on the reception.
Featured on P&P's June Wedding Month:
7 Signs You Are at a Southern Wedding
Dress Code – Wedding Guest Attire 101
Wedding Registry – The Most Useful Wedding Gifts 5 Years Later
How to Prepare for Your Bridal Portrait
---
Partying with The How To Home…Pumps & Pushups…Straight A Style…My Girlish Whims…
SaveSave
SaveSave
SaveSave
SaveSave
SaveSave
SaveSave
SaveSave
SaveSave
SaveSave
SaveSave